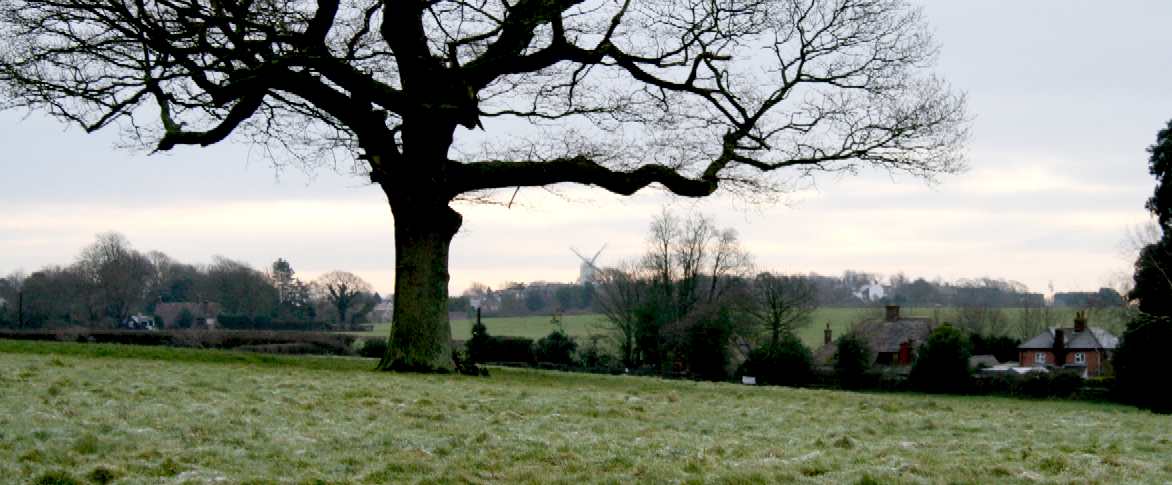 TIME CAPSULE - This oak tree is a local point of reference looking across the public footpath (Jubilee Walk) towards the Windmill at Windmill Hill. This is an important view because the mill you can see here that was restored with significant contributions from the Heritage Lottery Fund, ground flour for the Herstmonceux village bakery. That Bakery was the first in the country to cook loaves of bread using electricity in a village. This was only possible because just across this field and to the right (see below) an entrepreneur was generating electricity from his private works, and supplying that power to Herstmonceux village. Nowhere else in the world is there such archaeological evidence of the transition from combustion to resistance cooking.
DEPARTMENT OF CULTURE MEDIA & SPORT (DCMS)
This is England, but maybe not for much longer. The countryside and access to landmarks that have been enjoyed for over a hundred years, will be lost if mass developments like that proposed in Herstmonceux village get the go ahead. This is happening all over England where central government have been forced to order local authorities to build more houses.
In retaliation, local authorities are not consulting the experts when it comes to tourism and heritage, as proposed housing developments may impede the growth of an industry that our nation can and will rely upon for hundreds of years to come, and that value to the economy in turn relies on assets that are irreplaceable, unlike housing that can be located anywhere.
Fortunately, the Department for Culture, Media & Sport (DCMS) exists to help make Britain the world's most creative and exciting place to live, visit and do business. The DCMS aim to protect and promote our cultural and artistic heritage and help businesses and communities to grow by investing in innovation and highlighting Britain as a fantastic place to visit.

THE HORSE DRAWN AGE- View from the public footpath looking south. The generating buildings are an unmistakable feature in the landscape. Their were very few motor cars when this building was producing electricity, and contrary to the assertions of the applicant's heritage consultants, the buildings are more visible from the Lime Cross field and are an inseparable part of the countryside scene and the association with the village of Herstmonceux - as is clear from these photographs. It would be a travesty if this view was lost to ramblers and other walkers who enjoy the countryside so much. According to the National Planning Policy Framework such heritage assets and access to them from the countryside, are important planning considerations. Why then is Wealden District Council not including the DCMS on their list of consultees? We think that such consultation should be a mandatory part of the planning process, where a local authority that does not even maintain a list of local buildings of historic interest, is hardly likely to be able to gauge the importance of heritage assets in terms of tourist revenues. To argue otherwise would be perverse.
SECRETARY OF STATE FOR CULTURE & TOURISM
The Rt Hon Sajid Javid MP has been Secretary of State for Culture, Media and Sport since 9 April 2014. From April to July 2014 he was also Minister for Equalities. Previously he was Financial Secretary to the Treasury. He is the Conservative MP for Bromsgrove.
Before being elected MP, he worked in business and finance. Aged 25, he became a Vice President at Chase Manhattan Bank. He later moved to Deutsche Bank in London to help build its business in emerging market countries. Sajid left Deutsche Bank as a senior Managing Director in the summer of 2009 to give something back through politics.
Sajid Javid MP was born on the 5th of December 1969. Javid previously served as Economic Secretary from 2012 to 2013 and as the Financial Secretary to the Treasury from 2013 to 2014. Some commentators, including radio presenter Iain Dale, have stated that Javid has a chance of becoming Leader of the Conservative Party.

On 9 April 2014, Prime Minister David Cameron appointed Javid to the Cabinet as Secretary of State for Culture, Media and Sport and Minister for Equalities following the resignation of Maria Miller over her expenses. This made him the first MP to have been elected in 2010 to join the Cabinet, and the first British Pakistani MP to lead a Government Department. Shortly after his appointment, he was made a Privy Councillor. Javid defended media freedom and the right of the press to investigate wrongdoing by politicians and officials in his first appearance as culture secretary on BBC's Question Time. "The public were right to judge her on how she responded, there's absolutely nothing wrong with that," he said. "And the media … I don't think you can blame this on Leveson or the media or something. The media are a cornerstone of our democracy, their freedom is very important and if they want to investigate wrongdoing by politicians or any other public official they should do that and nothing should stop them from doing that."
His speech as Culture Secretary to the Union of Jewish Students' Annual Conference 2014 about the importance of diversity and free expression in the world of culture has been hailed by Isabel Hardman of The Spectator as "one of the finest speeches from a government minister I have ever read.'
NOV 2014 - The Asian Media and Marketing Group judged the list naming the Cultural Secretary top, beating Nobel Prize winner Malala and One Direction's Zayn Malik. Sajid Javid, is the first ever Asian male cabinet minister. Javid is quoted as saying: "Culture is more than a privilege. It's at the core of who we are and how we define ourselves. If you're not engaged with our cultural life, you're not engaged with our national life. And in 2014, too many Britons are culturally disenfranchised."
"The DCMS should be abolished," the Free Enterprise group said in a provocative report in 2013 called Weightwatchers for Whitehall. Javid, a sharp-suited, shaven headed 44-year old, was a member of the thrusting group of "new right" MPs that entered parliament in 2010. He stood aside from the Free Enterprise group when he became a minister in 2012 and how glad he must be his radical friends did not get their way.
CONTACT SAJID JAVID

House of Commons London SW1A 0AA
Tel: 020 7219 7027

or

18 High Street Bromsgrove B61 8HQ
Tel: 01527 872135

Email: sajid.javid.mp@parliament.uk
PARLIAMENTARY UNDER SECRETARY OF STATE FOR TOURISM
Helen Grant is the Minister for Sport and Tourism. Helen was born on the 28th of September 1961, she is a solicitor. She is also the current Member of Parliament for Maidstone and The Weald in Kent and the current Minister for Sport, Tourism & Equalities. She was elected at the 2010 general election, replacing the constituency's previous incumbent, Ann Widdecombe, who had decided to step down as an MP. Grant was the first black woman to be selected to defend a Tory seat and her election made her the Conservatives' first female black MP.

Grant received her first government appointment in September 2012, when she received the dual roles of Under-Secretary of State for Justice and Under-Secretary for Women and Equalities. Grant attracted media attention in November 2012 after it emerged she was allowed to claim the maximum expenses allowed within the IPSA rules for a London flat, despite her family home being within 20 miles of London.
HELEN GRANT - Born in London to a single mum, Helen was brought up on the Raffles council estate in Carlisle for much of her early childhood. She quickly showed sporting talent, becoming captain of the school tennis and hockey teams, and representing the County in Hockey, Tennis, Athletics, and Cross-Country. She later became under-16 Judo Champion in the North of England and Southern Scotland, then rather strangely, you might think, failed to answer any of five sporting questions posed by a reporter correctly. Ms Grant is quoted as saying: "My sports pub quiz knowledge may not be encyclopedic, but I understand the positive impact that participating in sport has on people's lives."
DCMS ON TOURISM
Tourism is one of the UK's biggest industries. It helps to create wealth and jobs throughout the country and can bring new life to run-down communities.

The DCMS want to help tourism grow even further by funding campaigns and other promotional work that will inspire more people to visit and explore more parts of Britain.

As with other industries, the DCMS want to removing unnecessary rules that make it more difficult or expensive for tourism businesses to grow.


DCMS TOURISM AGENDA

To help our tourism industry reach its full potential, the DCMS are taking the following actions.

1. Funding VisitEngland

Alongside the private sector, we fund VisitEngland to run marketing campaigns that encourage people living in the UK to take their holidays in England (known as 'domestic tourism').

With the help of VisitEngland campaigns, we want to increase the proportion of UK residents choosing to holiday in England to match those who holiday abroad.

2. Funding VisitBritain

Alongside the private sector, we are funding a £100 million campaign by VisitBritain to encourage international tourism. The GREATBritain image campaign has already provided more than £22 million to VisitBritain.

Together, the DCMS estimate both campaigns will bring 4.6 million extra visitors to Britain, £2.2 billion more spending in our economy and over 60,000 new jobs between 2011 and 2015.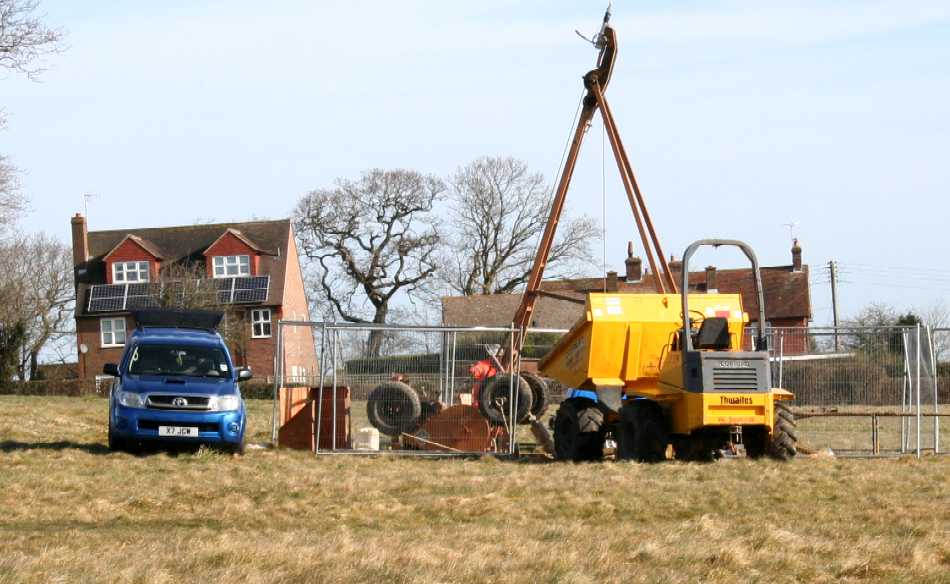 Is this planning thuggery? We are told that the first application on this site from 2014 is virtually identical to the January 2015 application, save for the name of the applicants. Apparently the name of the original applicants is now removed. How many people on the Parish Council are related to the original applicants and was the removal of the name so that interests did not have to be declared? if the owners of the site, or indeed any council member who might be related would care to comment, we'd be delighted to hear from you. And what about contamination of the land. Herstmonceux Museum relies on an ancient well for its water. With so many houses so close, their drinking water is bound to become contaminated.
PROMOTING THE UK TOURISM INDUSTRY

The DCMS work with the UK tourism industry to make it easier for it to grow by participating in international trade events and forums, advising it on ways to raise standards, and reviewing rules and regulations affecting the industry.

Ministers regularly meet with industry figures, host tourism roundtable meetings and go on regional visits, all with the aim of making better policy that helps the tourism industry to grow.
DCMS HISTORY
The DCMS originates from the Department of National Heritage (DNH), which itself was created on 11 April 1992 out of various other departments, soon after the Conservative election victory. The former Ministers for the Arts and for Sport had previously been located in other departments.

The DNH was renamed as the "Department for Culture, Media and Sport" on 14 July 1997, under the Premiership of Tony Blair.

The public footpath(s) across this field at Lime Cross is the only location in the whole wide world where you can see a windmill (left just below arm of oak tree) that ground flour for a village bakery, and the generating works (right of picture) that provided electricity for baking loaves (and more) from around 1909. The transition from one technology to another is captured in this unique setting in rural Sussex. If the developers are allowed to build on this field in large numbers, this view will go forever. Access to the countryside and historic buildings is supposed to be sacrosanct, according to the NPPF.
The visual appraisal carried out by the applicants agents, Barton Willmore LLP, of Soho Square, London, does not take into account the above observations as to this unique aspect of the proposed development site, and fails completely to mention that the view currently enjoyed by hundreds of people every week will be lost. Their incredibly long report (109 pages), fails to mention any of this.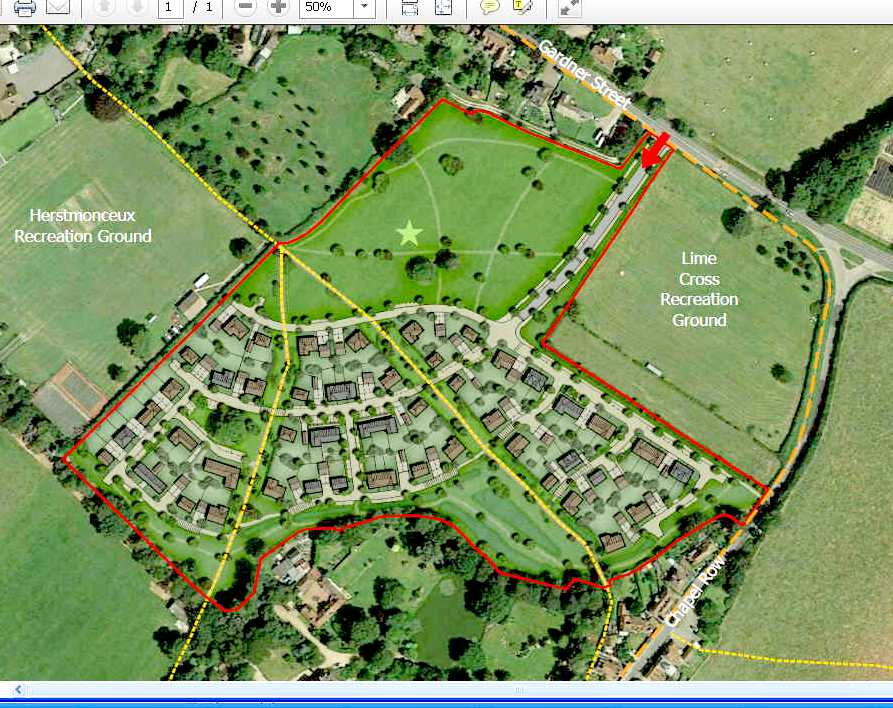 HOW TO RUIN TOURISM IN SUSSEX - There appear to be forty-nine units shown on the above site plan. It is unclear from this plan if some of the plots shown are garages adjacent to a house. It is therefore open to interpretation. What is clear, is that this clutter of houses will harm the views in an area that has great potential to attract tourists of all kinds. Even worse, is the fact that these houses would be considered to be windfall, hence another 70 would gain permission, really clogging up the works.
The real problem is that the village of Herstmonceux does need more affordable housing and that need should be addressed with a genuine application for affordable housing. What the village does not need is expensive houses that locals could never aspire to. That would mean and influx of wealthy investors who would no doubt rent these properties at huge cost to the ratepayer, which would be paid out by the local authority in a time of austerity. This is an unsustainable practice that should be stopped dead in its tracks. Otherwise you are opening the flood gates to an avalanche of uncontrolled building development in the UK.
DCMS PERSONNEL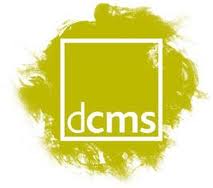 CONTACT THE DCMS
Main office address

Department for Culture, Media & Sport
100 Parliament Street
London
SW1A 2BQ

Email enquiries@culture.gov.uk

Contact form https://www.tools.culture.gov.uk/contactus/contactus.aspx

General enquiries 020 7211 6000
HERITAGE Vs DEVELOPER'S BANK BALANCE - THE MATH'S
As an example let us say that 50 houses are built that are for regular landlords. 50 X £350,000 = £17,500,000. That is seventeen and a half million pounds, one heck of an incentive for a land owner to turn his back on the real needs of the village - in return for a stack of wedge. We think that there should be a cap on the value of land, otherwise how can councils offer a rolling stock of land for affordable housing. The system as it stands is a shambles.
Now let us look at a genuinely affordable housing scheme involving 50 house. 50 X £70,000 = £3,500,000. That is £14,000,000 less for the developer. This would be £14 million that is earned on the backs of all of those men and women in the UK who cannot afford to buy their own home, because we keep giving planning consents for houses that nobody can afford, to keep the rich, rich and keep the ordinary man further and further away from home ownership. In other words, more deeply enslaved.
This is an elitist practice, that discriminates against poor people, that is perpetuated by the state (at the moment) - hence is potentially an Article 14 (discrimination) violation in combination with an Article 17 (state practice that impinges on another Article) violation. As we have no Article 13 in our Human Rights Act 1998, by design of the government, we also have no effective remedy. That was the whole point of leaving out Articles 1 and 13 from our home grown version of the European Convention, to deprive the nation of a means to challenge hundreds of identified HR breaches, without going to Europe.
In allowing the developer to get away with his plan to build as many expensive houses as possible, we are allowing the village of Herstmonceux to move further away from its village roots than ever. We are driving our local worksforce away and pushing local people, who might otherwise have remained local, to move elsewhere to find higher paid jobs to have any chance of ever affording their own home. This is not a sustainable practice and should be discouraged.
If approved, this planning application sends a signal to all other developers that they too can profit magnificently from a loophole that allows them carte blanche to build anywhere they like.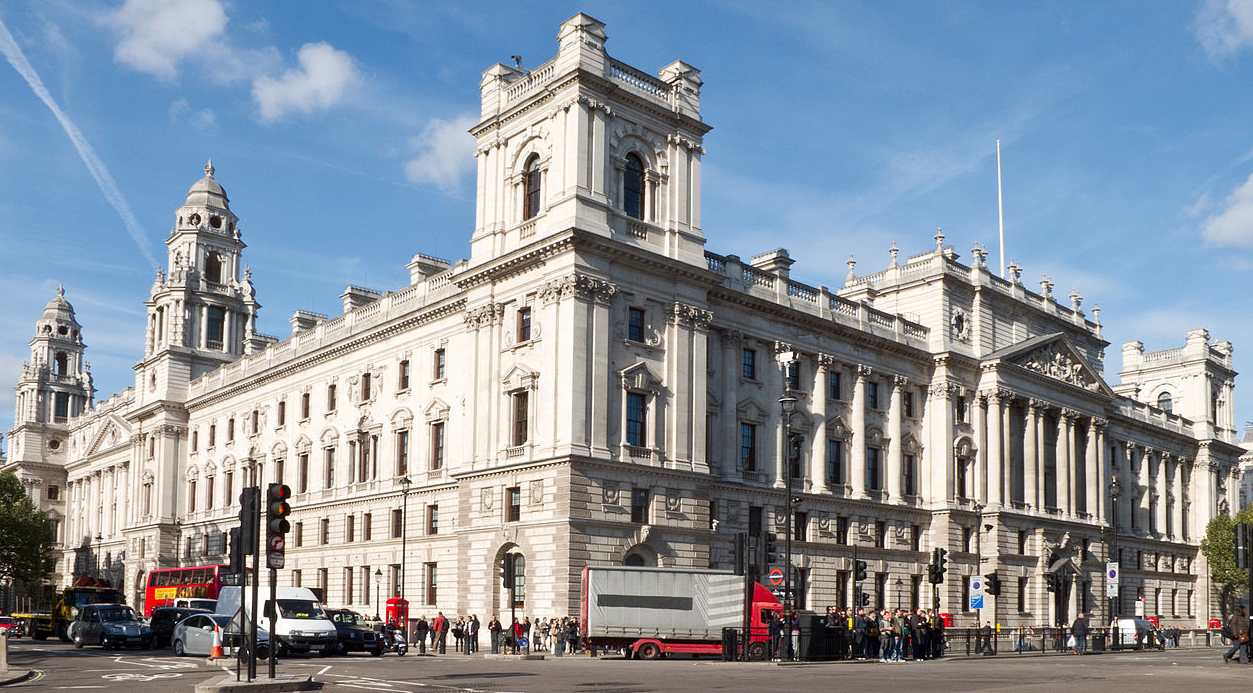 RAF HERSTMONCEUX - Finally, the building is not only a monument to the early electricity generating industry, it is also RAF Herstmonceux, from when it was used in World War Two as a hospital for wounded airmen, a radio outpost and bomb shelter. Lime house was used to billet RAF officers at the same time and Lime Cross recreation ground was the prisoner of war camp where Italian prisoners were held during hostilities. This important fact relating to what comes under the heading of Industrial Archaeology should also form part of the deliberations concerning heritage.
ZERO CARBON BRITAIN - SUSTAINABILITY TEST CASE
This is surely not what the Secretary of State is advocating, where the drive at the moment is for a closed loop economic cycle. The Secretary of State should thus be invited to call in this application if it is passed, either locally or on appeal. For it strikes at the heart of sustainability and what constitutes sustainable practice. It could thus become a test case.
CONSULTEES - WHO WERE NOT CONSULTED
Two glaring omissions are that of English Heritage and the Department for Culture Media and Sport. We are shocked to learn that English Heritage has not been approached, where it is their Monument at Risk programme that is on the line.
It is equally disturbing that where tourism is one of our biggest exports, that a unique historic building is in danger of being excluded from tourist's route by this application that is demonstrably insensitive to the need to attract overseas visitors.
New analysis from VisitBritain reveals that more international tourists are traveling across the country than ever before, with spending hitting new record levels in the majority of nations and regions for the first 9 months of 2014.

The new figures from the Office for National Statistics show that the first 9 months of 2014 overseas tourist spending reached new records in Wales (£303 million), Scotland (£1.5 billion), London (£8.9 billion), East of England (£693 million), North West (£849 million) and the South East (£1.7 billion). Note that the South East is by far the biggest earner.

Compared to the same period in 2013, from January to September 2014 overseas visits grew at a faster rate to Wales (14%), Scotland (12%) and Yorkshire (12%, reaching a new record of 1.08 million) than they did to London (6%).

Welcoming the figures, Tourism Minister Helen Grant is quoted as saying:

"Britain has so much to offer tourists and it's fantastic that more of them are exploring the country and helping to drive growth outside of London. I want overseas visitors to experience the very best of Britain and with a record £22 billion expected to be spent this year the tourism sector is well placed to keep up this momentum, as part of the Government's long-term economic plan."

Patricia Yates, VisitBritain's Director of Strategy and Communications, said:

"Inbound tourism is an export industry at which Britain is demonstrably successful, with further growth predicted this year. VisitBritain will continue to focus on the rebalancing of this growing industry in 2015 to benefit the whole country. Next week we will launch a £3 million Countryside is GREAT campaign to showcase the beauty of our countryside – from Cornwall to the Lake District, Pembrokeshire to the Scottish Highlands."
WHERE THEN IS THE TOURISM STATEMENT?
In all the documents cited so far by the applicants, there is no "Tourism Statement." Herstmonceux is a village that depends on visitors for income. The sites that tourists are likely to visit close by are Batemans and Windmill Hill. Some of these visitors, whether industrial archaeologists keen to see one of the last coal fired power stations (Battersea) or Rudyard Kipling fans, will want to see the sleepy little village of Herstmonceux where an electrical industry thought leader, The Baron de Roemer, was building his electrical supply empire, having sated his own desire for clean light and cooking. Not that long ago Herstmonceux lost the village Truggery, and to many that was a tragedy in tourism terms - and all because our local council have no real vision. They just do not seem to understand or value what they have/had. They are like sheep, blindly stumbling from one disaster to the next catastrophe, with their seats and expenses secure no matter what. Local politics appears to us to be all about greed or control for the fortunate few. For that reason we think that Lord Nolan's recommendations as to council officers not serving in a position for too long, should extend to the members of Parish councils.
It is well known that tourists plan holidays according to a theme. The theme in London, or London's top ten include:
4. Tate Modern
5. London Eye
10. Madame Tussauds
Herstmonceux's top ten theme tour of the UK might include:
1. Science Museum, London
2. Battersea Power Station, London
4. Rudyard Kipling's Batemans
5. Jubilee Walk & Edison Trail
6. Herstmonceux Museum, Lime Park (from the Edison Trail)
8. The Truggery
10. RAF Wartling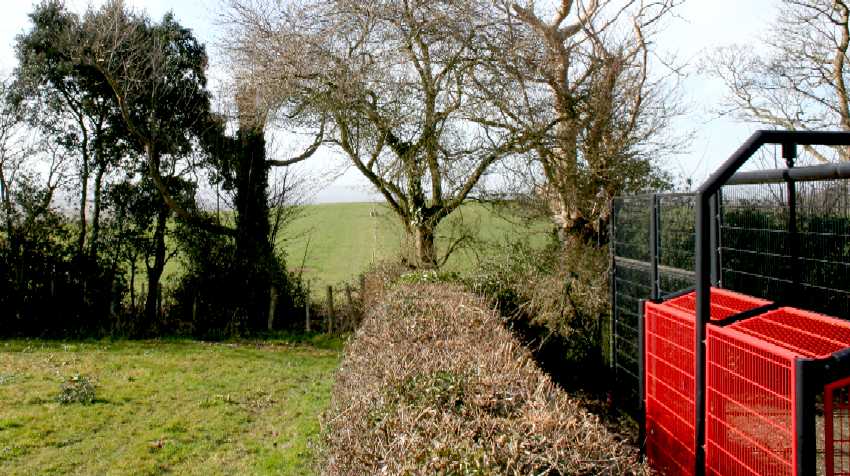 IRRATIONALITY - To put things in perspective you need to look at the field next door looking to Hailsham. This field does not interfere with a historic view. This field cannot contaminate the water supply for anyone. This field has superior access to the A271, not before the brow of a hill, and not at a speed sign and island that is sure to confuse motorists. The exit for the field above onto the A271 is also suitable for a mini roundabout. For all these reasons it makes a nonsense for any committee to give credence to this application, when there are so many more suitable alternatives. One should not grant consent on a site, simply because it has been put up as a possibility. One should look at the suitability in overall terms. Compulsory purchase gives councils the power to say where development should be. Why don't they use it?
LIST OF CONSULTEES WD/2015?0090/MAO
| CONSULTEE NAME | SENT | REPLY DUE | RECEIVED |
| --- | --- | --- | --- |
| . | . | . | . |
| ESCC - Highway Authority | 22/01/2015 | 12/02/2015 | - |
| Southern Water Services | 22/01/2015 | 12/02/2015 | - |
| WDC - Conservation and Design Officer | 22/01/2015 | 12/02/2015 | - |
| | 22/01/2015 | 12/02/2015 | - |
| Ministry of Defence | 22/01/2015 | 12/02/2015 | - |
| ESCC - County Archaeologist | 22/01/2015 | 12/02/2015 | - |
| Environment Agency (Solent & South Downs Area) | 22/01/2015 | 12/02/2015 | - |
| Police (Crime Prevention) | 22/01/2015 | 12/02/2015 | - |
| WDC-Rother - Pollution Control | 22/01/2015 | 12/02/2015 | - |
| WDC-Rother - Public Footpaths Officer | 22/01/2015 | 12/02/2015 | - |
| High Weald AONB Unit | 22/01/2015 | 12/02/2015 | - |
| WDC - Housing Department | 22/01/2015 | 12/02/2015 | - |
| ESCC - Development Contributions | 22/01/2015 | 12/02/2015 | - |
| ESCC - Strategic Planning | 22/01/2015 | 12/02/2015 | - |
| ESCC - Rights of Way (Footpaths) | 22/01/2015 | 12/02/2015 | - |
| ESCC - Flood Management | 22/01/2015 | 12/02/2015 | - |
| Herstmonceux Parish Council | 22/01/2015 | 12/02/2015 | - |
| | Not yet consulted | - | - |
| | Not yet consulted | - | - |
| Ramblers associations | Not yet consulted | - | - |
| | 22/01/2015 | - | - |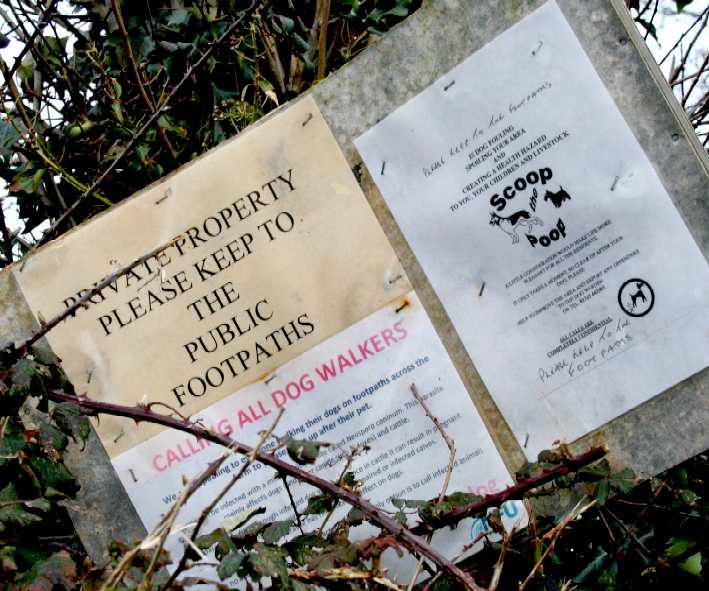 We thought that there was a right to roam, guaranteed to us by Statute. Taking a dog for a walk in the country and not allowing it to run free from time to time, seems to us to be a little bit unreasonable. We wonder if, as it appears, that if walkers have used so much of this field for so long, would they have created more public footpaths? Judging from the photographs spanning some 20 years, showing other well trodden paths on this field - we wonder if that is sufficient evidence to make those publicly used paths, official? If it is, that would explain the owners of the field posting these notices, trying desperately to prevent those other paths from being recognised.
HERSTMONCEUX ACTION GROUP
Finally, Herstmonceux has its own action group. Never before has a local issue affected so many people that an action group was necessary for this Sussex backwater, and why do you suppose that is? That is because they are concerned to protect our heritage and the splendid views that are the main reason that we get so many tourists in Sussex. We imagine that all of this group are well aware of the heritage issues and enjoy the views in the photographs on this page.
For many years Wealden District Council and the Parish Council have been saying there should be no development on this field, citing it as inappropriate. That apart, there is no space to provide a school for all of the children that 70 families would require. It takes time to plan for and to provide that kind of infrastructure.
WD/2015/0090/MAO - TRAFFIC IMPLICATIONS
This application is not only contrary to the Local Plan, but is considered by many to be downright dangerous. The A271 is a narrow country road that is already overloaded - with many traffic jams in the village high street causing motorists serious delays on occasion.
Imagine then the problems from trucks trying to gain access to this site. This is likely to include oil delivery trucks for central heating, furniture removals trucks, dustcarts and fire engines. Then there will be all the buildings supply trucks during the construction phase. Oh joy.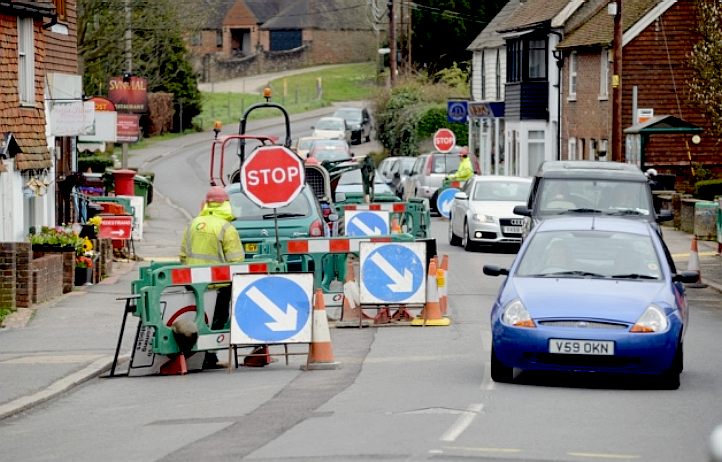 TRAFFIC JULY 2013 - The final stage of work to connect residents in Herstmonceux up to a new water main will take place during the school summer holidays.

Installation of the new 530-metre-long pipeline in Gardner Street, Herstmonceux, took place earlier this year.

James Smith, delivery manager for South East Water, said, "Our workforce will be back in the village on July 29 to complete this essential scheme.

"The new pipeline will mean an end to disruptive bursts and a more secure water supply to the village now and in the future. "The work will take place away from the shopping area so customers can continue parking outside the shops should they need to stop off."

To ensure motorists can continue using the road, construction will take place using temporary traffic lights with the work anticipated to complete by Friday August 30.

Work to install the new pipeline began on January 3 2013, but difficult ground conditions and a high number of utilities within the road hampered progress.

James said, "I am sorry that work to complete the installation of this pipeline has overrun, but by completing this work during the school summer holiday disruption to both residents and motorists should be limited.

"I would like to thank the local community, businesses and motorists for their continued patience and reassure them that we are working to complete this project as quickly as possible."

South East Water's £127,000 investment in Herstmonceux is part of the company's £390 million programme of investment between 2010 and 2015 which will, says the water company, ensure that clean, safe water continues to be delivered to its customers.
SUSSEX INDEX A - Z
CHIDDINGLY - HORSE SHOW and GYMKHANA
CUCKMERE VALLEY - EXCEAT
HERSTMONCEUX - MUSEUM - COSTS SCANDAL - PARISH COUNCIL - ACTION GROUP -
TWISSELLS MILL, OLD HEATHFIELD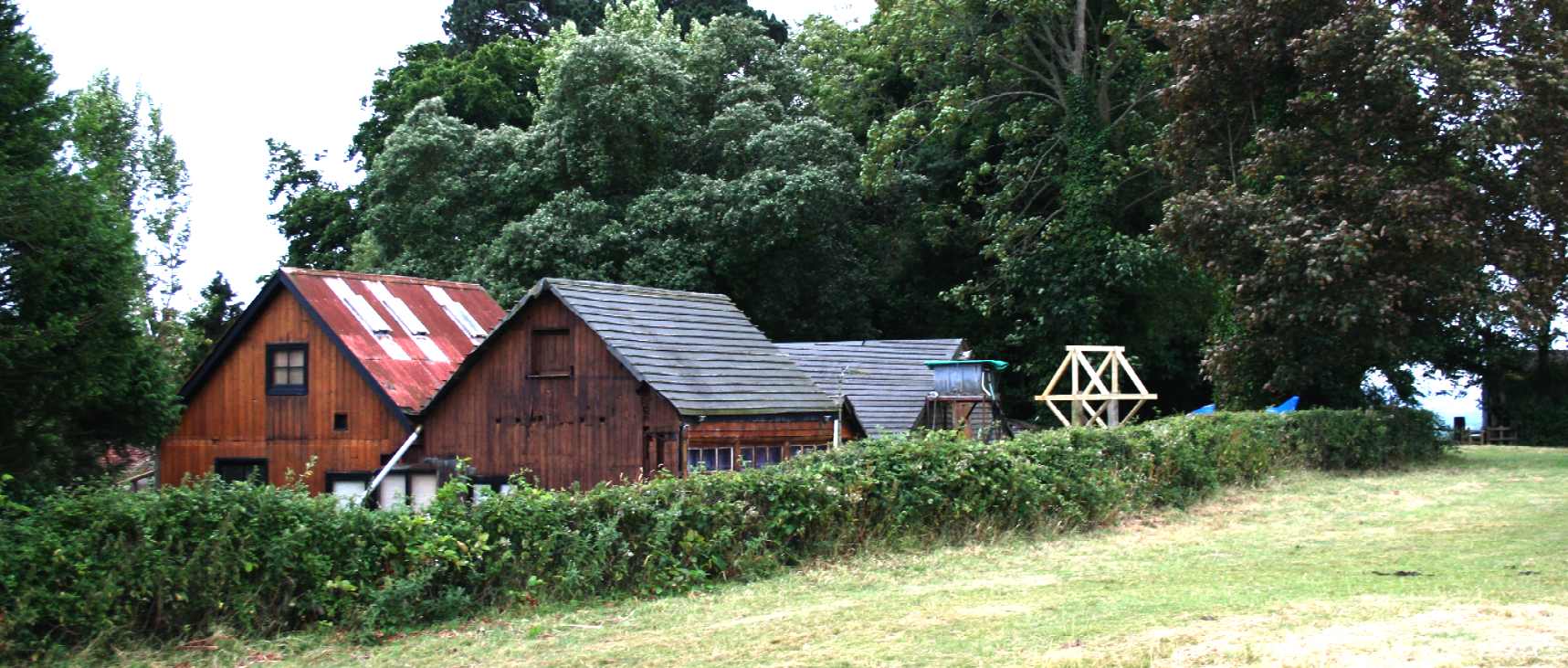 RURAL UNDERSTATEMENT - One of the very few old industrial timber buildings in the UK in its natural setting, clearly visible from the adjacent field and a rare treat for tourists who want to see rural development, leading to industrialization. The generating works at Herstmonceux is a unique find that could just as easily become buried under a housing estate. If we are going to allow the building of houses on green belt, would it not be better to allocate fields that don't have a history and superb views to ruin. There are thousands of acres of flat farmland in this vicinity that would not spoil an interesting tourist attraction.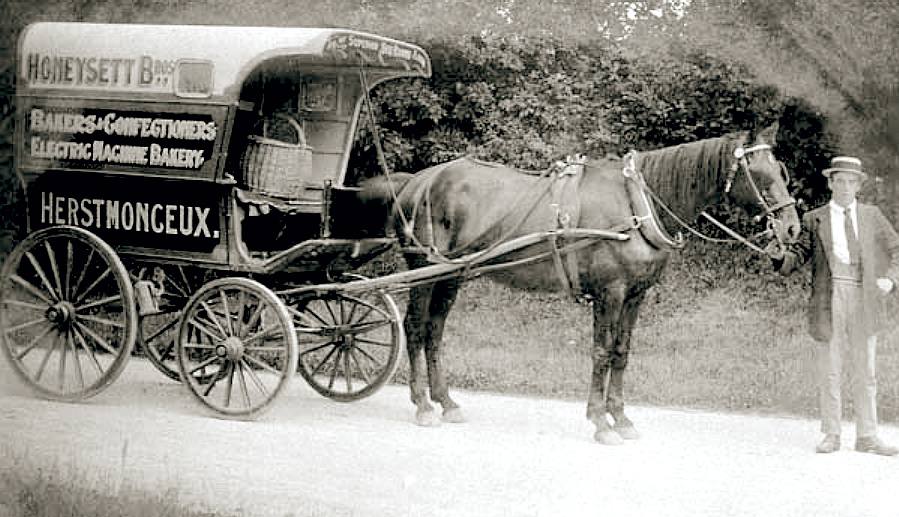 EVEN MORE LOCAL HISTORY - James married Sarah Shorter who had recently had a son Robert. Although it is not clear who Robert's father was, James certainly took on that role. Two of Robert's great-grandchildren, Stephen (1880-1940) and Robert Honeysett (1884-1912), were bakers and confectioners using the latest electric baking machinery as is clear from the sign writing on the side of this horse drawn wagon. Herstmonceux Bakery was one of the few in England at the time that could boast such innovation - all due to the Baron de Romer and his generating buildings in Lime Park. This photograph is from an old postcard courtesy of Mick Hall. In 1982 one villager told the Museum's curator that he would stand at the top of Lime Cross hill and look down to the village, where he could see the lights in the Bakery growing bright then dim in time with the sound of the generating engines in Lime Park. This picture is evidence that that conversation was more then likely factual. We do not know the name of the gentleman telling that tale. We are just pleased to be able to relay it to you.
AIR RAID SHELTER - This WWII bomb proof shelter would be seen as something of an obstacle to any reasonable replacement use for what is after all a brown-field site, as is the coal bunker to the left, where nobody uses coal for heating any more. The challenge is to keep the footprint (and as much as possible the fabric) of these archaeological assets intact and still find a beneficial use for the site. This picture is Copyright © Lime Park Heritage Trust, 18 December 2016. You will need the permission of the Trust to reproduce this picture except for private study, educational use by teachers for their students or where applicable, media review.
LINKS & REFERENCE
http://www.sussex-young-walkers.org.uk/
http://www.ramblers.org.uk/sussex
http://www.sussex-ramblers.org.uk/
http://new.polegateramblers.org.uk/
http://www.highwealdwalkers.org.uk/
https://www.tools.culture.gov.uk/contactus/contactus.aspx
https://www.gov.uk/government/organisations/department-for-culture-media-sport
http://en.wikipedia.org/wiki/Department_for_Culture,_Media_and_Sport
http://www.amberleymuseum.co.uk/
http://www.sajidjavid.com/
https://www.gov.uk/government/people/sajid-javid
https://twitter.com/sajidjavid
http://en.wikipedia.org/wiki/Helen_Grant_%28politician%29
http://www.helengrant.org/
Wikipedia Department_for_Culture_Media_and_Sport
Sussex Express county news concerns over housing plans in Herstmonceux
http://www.southeastwater.co.uk/
http://www.eastbourneherald.co.uk/news/local/more-water-works-set-for-rural-village-1-5310560
http://www.sussexexpress.co.uk/news/county-news/concerns-over-housing-plans-in-herstmonceux-1-5815244
Day out with the kids Museums-and-Galleries
http://www.sussex-southdowns-guide.com/sussex-museums
http://www.sussextourism.org.uk/
www.sussexpast.co.uk/properties-to-discover/lewes-castle
Brighton Royal Pavilion, Libraries & Museums
Daily Mail almost-6-000-buildings-historic-sites-risk-lost-neglect-decay-say-English-Heritage
http://www.english-heritage.org.uk/
http://www.thekeep.info/
http://www.heritagegateway.org.uk/gateway/
http://www.eastsussex.gov.uk/environment/archaeology/default.htm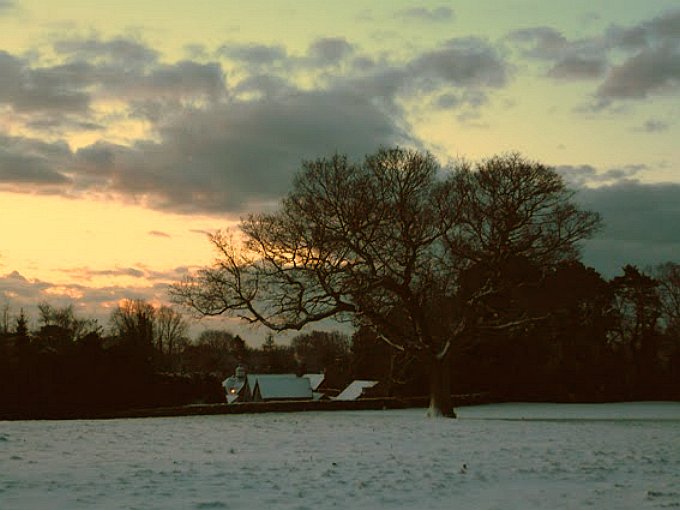 WINTER SUNRISE - January 2009. The snow has settled overnight on the hamlet of Flowers Green. Lime Park is a private estate off Church Road, or Chapel Row, depending on your direction of travel. It is on the way to Herstmonceux Castle from the village. The generating buildings are an attractive and familiar feature in the landscape. This view will be lost forever to walkers if the proposed planning application is granted consent. Note also, the famous oak tree - a landmark in the landscape.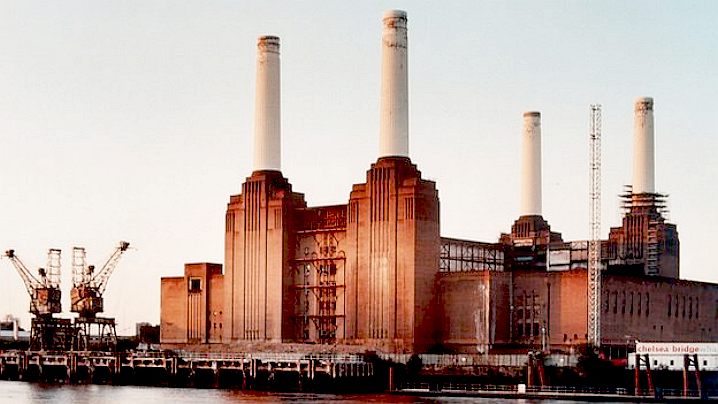 MMP EARLY ELECTRICITY GENERATION - Battersea Power Station (seen above) in London, is one of the other two buildings on the same Monument Protection Programme as Herstmonceux Museum. The other building is Batemans at Burwash (seen below), the home of Rudyard Kipling. Like Herstmonceux Museum, Battersea power station supplied electricity to homes and businesses in and around London, linked to other stations (that have now been demolished) via the National Grid. Batemans only generated a small amount of electricity, in fact just enough to power 10 light bulbs in the house.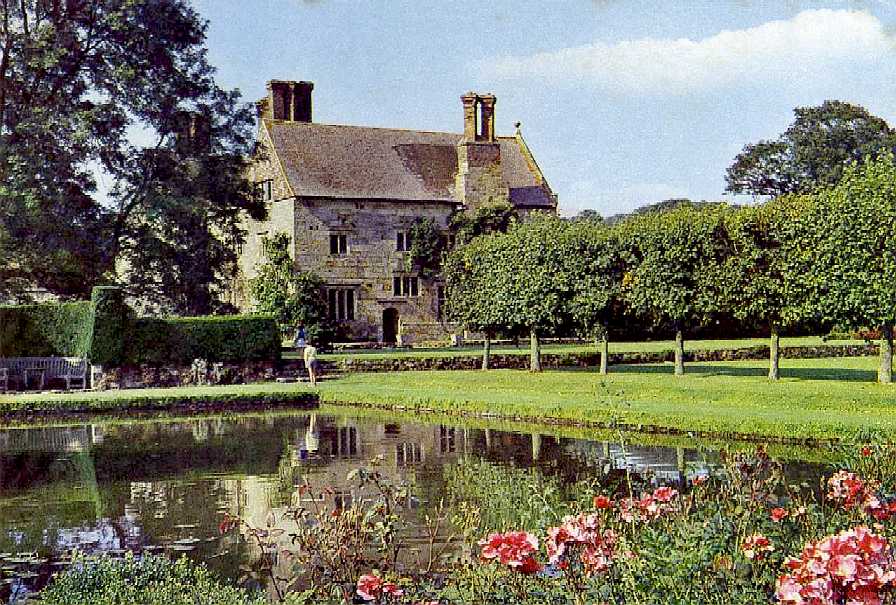 BATEMANS - is a 17th-century house located in Burwash, East Sussex, England. Author Rudyard Kipling lived in Bateman's from 1902 to his passing in 1936. His wife left the house to the National Trust on her death in 1939 and it has since been opened to the public. Bateman's is a modest Jacobean Wealden sandstone mansion built in 1634 for a local ironmaster, John Brittan. Six brick columns form a massive central chimneystack above the gabled facades. Today the rooms are left as they were when the Kipling family lived there, much as we are doing our best to keep the rooms at Herstmonceux, as they were when lived in by the local inventor.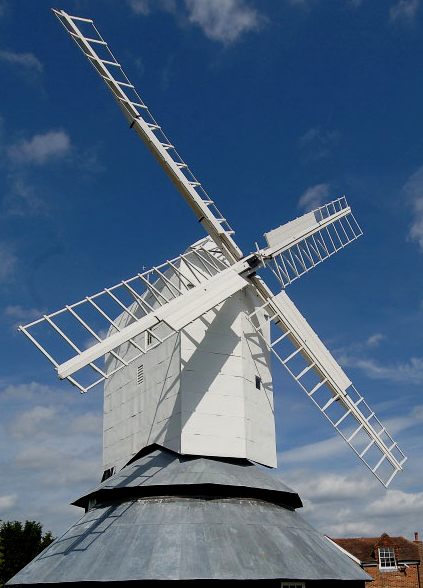 This is the windmill at Windmill Hill, ground the flour that was baked by electricity at Herstmonceux. The proposed 'Edison Walk,' would take ramblers from Herstmonceux Village to see the site of the old Bakery, then along the public footpaths in the field the subject of this application, to see Herstmonceux Museum, then across to Windmill Hill to see where the flour was milled - on the way to Burwash, to admire Rudyard Kipling's mill and electricity generating set. Thousands of people each year visit the many windmill sites in Sussex. The link with electricity for baking and back again to windmills as modern electricity generators is a fascinating technology tie up.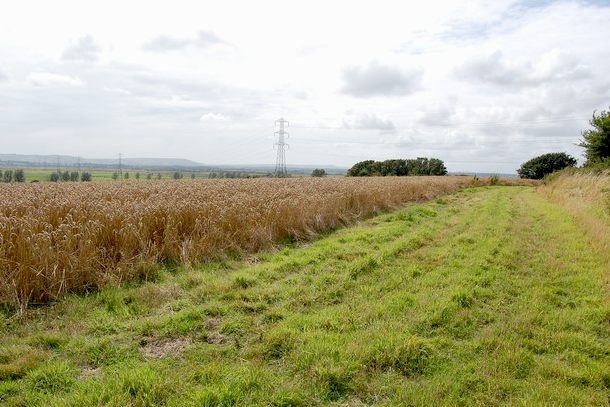 Another interesting ramble would be from RAF Wartling, along this public footpath, to RAF Herstmonceux. The Chain Home, early warning radar stations from WWII are very a very popular subject with schools and colleges. This walk would give students of industrial archaeology a snapshot of the interaction between RAF operations and the integration between villages. Herstmonceux Museum was the hospital for wounded airmen, while Lime House billeted RAF officers. The clear line of site that exists as of January 2015, will eliminate the opportunity for walkers to see this in the flesh - to be replaced by a housing estate for a get-rich-quick scheme.
HERITAGE INDEX A - Z
AVIATION - EASTBOURNE
BARCLAYS BANKING LET DOWN - MISSING ACCOUNT MONEY
BARON CARL VON ROEMER & CHARLES de ROEMER
CAMPBELL HALL - BLUEBIRD ELECTRIC CARS
GAS ENGINES - COAL CONVERSION, INTERNAL COMBUSTION
OBSERVATORY - HERSTMONCEUX CASTLE
SOLAR LADY - STATUE
COUNCIL OFFICERS HAVING CONDUCT OF PLANNING MATTERS RELATING TO HERSTMONCEUX MUSEUM
WEALDEN COUNCIL MEMBERS SITTING ON THE AREA PLANS SOUTH PLANNING COMMITTEE
Andrew Long - (no email address)
David White - cllr.david.white@wealden.gov.uk
Diane Dear - cllr.dianne.dear@wealden.gov.uk
Charles Peck - cllr.charles.peck@wealden.gov.uk
Chris Hardy - cllr.chris.hardy@wealden.gov.uk
Chris Triandafyllou - cllr.chriss.triandafyllou@wealden.gov.uk
Daniel Shing - daniel.shing@wealden.gov.uk
Dick Angel - cllr.dick.angel@wealden.gov.uk
Barby Dashwood-Morris - cllr.barby.dashwood-morris@wealden.gov.uk
Barry Marlowe - cllr.barry.marlowe@wealden.gov.uk
Bill Bentley - cllr.bill.bentley@eastsussex.gov.uk
Brian Jarman (deceased)
Brian West - (retired)
John Blake - cllr.john.blake@wealden.gov.uk
Lin Clark - cllr.lin.clark@wealden.gov.uk
Nigel Coltman - cllr.nigel.coltman@wealden.gov.uk
Nigel McKeeman - cllr.nigel.mckeeman@wealden.gov.uk
Raymond Cade - cllr.raymond.cade@wealden.gov.uk
Ron Cussons - cllr.ron.cussons@wealden.gov.uk
Stephen Harms - cllr.steve.harms@wealden.gov.uk
Stephen Shing - cllr.stephen.shing@wealden.gov.uk
Susan Stedman - cllr.susan.stedman@wealden.gov.uk
LOCAL NEWSPAPERS CONTACTED
Sussex Express - sussex.express@jpress.co.uk
amie.morrell@jpress.co.uk
Eastbourne Herald - eastbourne.herald@jpress.co.uk
The Argus - lucy.pearce@theargus.co.uk
Chapel Row leads into Church Road at the Junction of Lime Park. It's all very confusing for postal deliveries - a bit like the Bermuda Triangle. Why then was one road divided into two stretches? The answer to that is because at the southern end of Church Road, there is a reasonably large church, whereas, at the northern end, there is a smaller chapel. Right at the intersection of these two stretches of the same road is Lime Park, shown here as a dead end. If this planning application is approved, that is what the village will become: A Dead End - in terms of tourism and history. Herstmonceux RIP.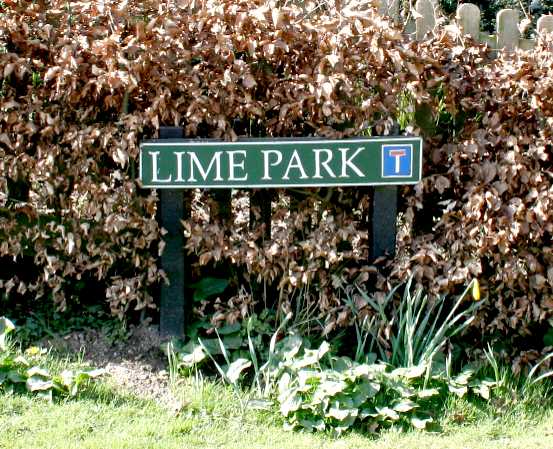 A CHAPEL - is a religious place of fellowship, prayer and worship that is attached to a larger, often nonreligious institution or that is considered an extension of a primary religious institution. It may be part of a larger structure or complex, such as a college, hospital, palace, prison, funeral home, church, synagogue or mosque, located on board a military or commercial ship, or it may be an entirely free-standing building, sometimes with its own grounds. Many military installations have chapels for the use of military personnel, normally under the leadership of a military chaplain. Until the Protestant Reformation, a chapel denoted a place of worship that was either at a secondary location that was not the main responsibility of the local parish priest, or that belonged to a person or institution. Most larger churches had one or more secondary altars, which if they occupied a distinct space, would often be called a chapel. Although chapels frequently refer to Christian places of worship, they are also commonly found in Jewish synagogues and do not necessarily connote a specific denomination.

A CHURCH - A church building, often simply called a church, is a building used for religious activities, particularly worship services. The term in its architectural sense is most often used by Christians to refer to their religious buildings but can be used by other religions. In traditional Christian architecture, the church is often arranged in the shape of a Christian cross. When viewed from plan view the longest part of a cross is represented by the aisle and the junction of the cross is located at the altar area. Modern church buildings have a variety of architectural styles and layouts; many buildings that were designed for other purposes have now been converted for church use; and, similarly, many original church buildings have been put to other uses. During the 11th through 14th centuries, a wave of building of cathedrals and smaller parish churches occurred across Western Europe. A cathedral is a church, usually Roman Catholic, Anglican, Oriental Orthodox or Eastern Orthodox, housing the seat of a bishop.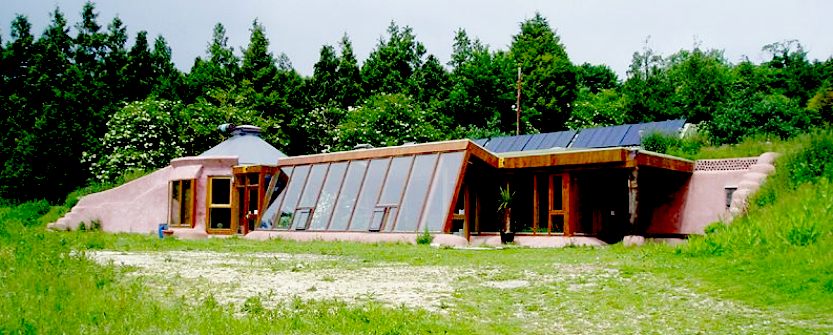 EARTHSHIP BRIGHTON - Sustainable building depends on design choices in terms of architecture, systems and materials. Some natural buildings are mainly defined by choice of material. Cob building, for example, can be used to build beautiful homes using earth from the site, but often with limited integration of appropriate systems. Other approaches can be more holistic, none more so than earthships. There are many ways you can break free of the shackles of society, and these days it is fashionable to use alternative technology to make a cave for yourself without being labeled a hippie. There is of course nothing wrong with being in touch with mother nature.