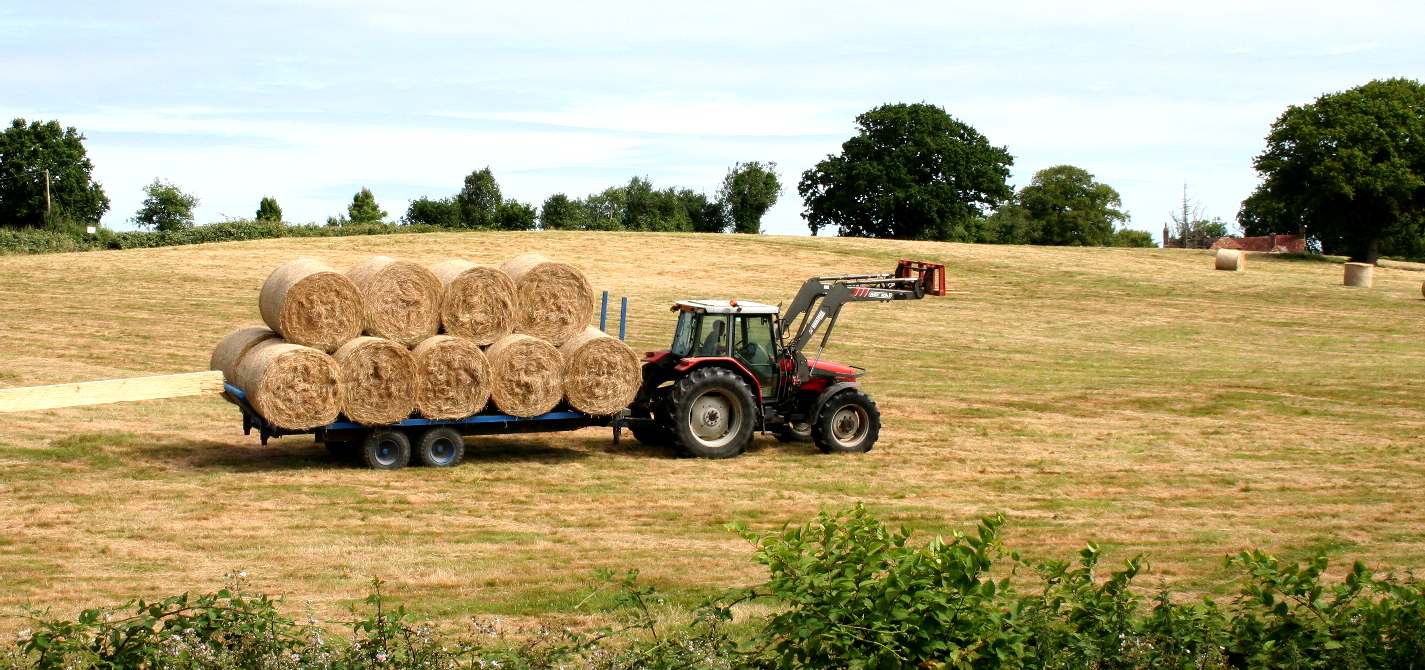 LIME CROSS FARMING - This is the harvest from one of the most loved fields in Herstmonceux, used by ramblers, hikers and dog walkers. This field is adjacent to Herstmonceux Museum and the cricket playing field in the village. Copyright photograph June 2017 all rights reserved Lime Park Heritage Trust.
LOADING - Farmers attach a spike to the front of their tractors to pick up the large round bales. In days gone by a bales of hay were oblong in shape and bound by string so that a person could lift and throw them without machinery. Copyright © photograph June 2017. You will need the permission of Lime Park Heritage Trust to use this picture. All rights reserved.
ABOUT TRACTORS
A tractor is an engineering vehicle specifically designed to deliver a high tractive effort (or torque) at slow speeds, for the purposes of hauling a trailer or machinery used in agriculture or construction. Most commonly, the term is used to describe a farm vehicle that provides the power and traction to mechanize agricultural tasks, especially (and originally) tillage, but nowadays a great variety of tasks. Agricultural implements may be towed behind or mounted on the tractor, and the tractor may also provide a source of power if the implement is mechanised.

The word tractor was taken from Latin, being the agent noun of trahere "to pull". The first recorded use of the word meaning "an engine or vehicle for pulling wagons or ploughs" occurred in 1901, displacing the earlier term "traction engine" (1859).
TRACTOR HISTORY

In 1892, John Froelich invented and built the first gasoline/petrol-powered tractor in Clayton County, Iowa, USA. A Van Duzen single-cylinder gasoline engine was mounted on a Robinson engine chassis, which could be controlled and propelled by Froelich's gear box. After receiving a patent, Froelich started up the Waterloo Gasoline Engine Company and invested all of his assets. However, the venture was very unsuccessful, and by 1895 all was lost and he went out of business.

Richard Hornsby & Sons are credited with producing and selling the first oil-engined tractor in Britain invented by Herbert Akroyd Stuart. The Hornsby-Akroyd Patent Safety Oil Traction Engine was made in 1896 with a 20 hp engine. In 1897, it was bought by Mr. Locke-King, and this is the first recorded sale of a tractor in Britain. Also in that year, the tractor won a Silver Medal of the Royal Agricultural Society of England. That tractor would later be returned to the factory and fitted with a caterpillar track.

The first commercially successful light-weight petrol-powered general purpose tractor was built by Dan Albone, a British inventor in 1901. He filed for a patent on 15 February 1902 for his tractor design and then formed Ivel Agricultural Motors Limited. The other directors were Selwyn Edge, Charles Jarrott, John Hewitt and Lord Willoughby. He called his machine the Ivel Agricultural Motor; the word "tractor" did not come into common use until later. The Ivel Agricultural Motor was light, powerful and compact. It had one front wheel, with solid rubber tyre, and two large rear wheels like a modern tractor. The engine used water cooling, by evaporation. It had one forward and one reverse gear. A pulley wheel on the left hand side allowed it to be used as a stationary engine, driving a wide range of agricultural machinery. The 1903 sale price was £300. His tractor won a medal at the Royal Agricultural Show, in 1903 and 1904. About 500 were built, and many were exported all over the world. The original engine was made by Payne & Co. of Coventry. After 1906, French Aster engines were used.
OLD & NEW - LEFT: CAT tractor with rubber caterpillar tracks instead of wheels for extra traction. RIGHT: Tractor Cassani model 40HP, at the Museo nazionale della scienza e della tecnologia Leonardo da Vinci of Milan.
The first successful American tractor was built by Charles W. Hart and Charles H. Parr. They developed a two-cylinder gasoline engine and set up their business in Charles City, Iowa. In 1903, the firm built 15 "tractors", a term with Latin roots coined by Hart and Parr, and a combination of the words traction and power. Their 14,000-pound #3 is the oldest surviving internal combustion engine tractor in the United States, and is on display at the Smithsonian National Museum of American History in Washington, D.C. The two-cylinder engine has a unique hit-and-miss firing cycle that produced 30 horsepower at the belt and 18 at the drawbar.

In 1908, the Saunderson Tractor and Implement Co. of Bedford introduced a four-wheel design, and went on to become the largest tractor manufacturer in Britain at the time. While the earlier, heavier tractors were initially very successful, it became increasingly apparent at this time that the weight of a large supporting frame was less-efficient than lighter designs. Henry Ford introduced a light-weight, mass-produced design which largely displaced the heavier designs. Some companies halfheartedly followed suit with mediocre designs, as if to disprove the concept, but they were largely unsuccessful in that endeavor.

While unpopular at first, these gasoline-powered machines began to catch on in the 1910s, when they became smaller and more affordable. Henry Ford introduced the Fordson, a wildly popular mass-produced tractor, in 1917. They were built in the U.S., Ireland, England and Russia, and by 1923, Fordson had 77% of the U.S. market. The Fordson dispensed with a frame, using the strength of the engine block to hold the machine together. By the 1920s, tractors with gasoline-powered internal combustion engines had become the norm.

Harry Ferguson applied for a British patent for his three-point hitch in 1926, a three-point attachment of the implement to the tractor and the simplest and the only statically determinate way of joining two bodies in engineering. The Ferguson-Brown Company produced the Model A Ferguson-Brown tractor with a Ferguson-designed hydraulic hitch. In 1938 Ferguson entered into a collaboration with Henry Ford to produce the Ford-Ferguson 9N tractor. The three-point hitch soon became the favorite hitch attachment system among farmers around the world. This tractor model also included a rear Power Take Off (PTO) shaft that could be used to power three point hitch mounted implements such as sickle-bar mowers. This PTO location set the standard for future tractor developments.
LINKS & REFERENCE
National Geographic animals mammals quirrels
http://www.bbc.co.uk/nature/life/Sciuridae
http://www.nationalgeographic.com/animals/mammals/group/squirrels/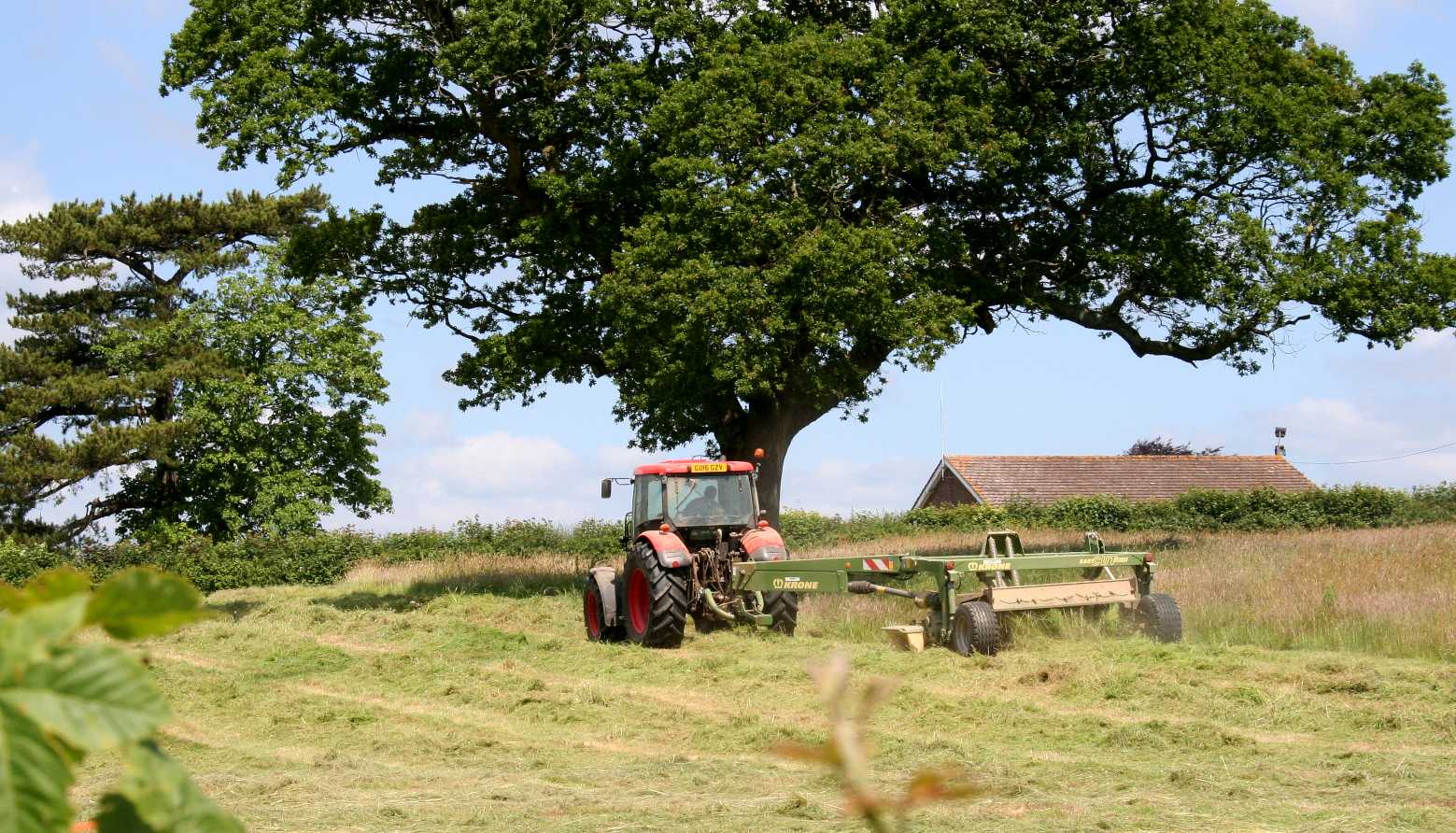 MAKING HAY - The heartwarming sight of a British farmer mowing tall grass in the field adjacent to Herstmonceux Museum. This grass was sun dried and baled in the space of a few hot days in the summer of 2017. Copyright © photograph June 2017. You will need the permission of Lime Park Heritage Trust to use this picture. All rights reserved.