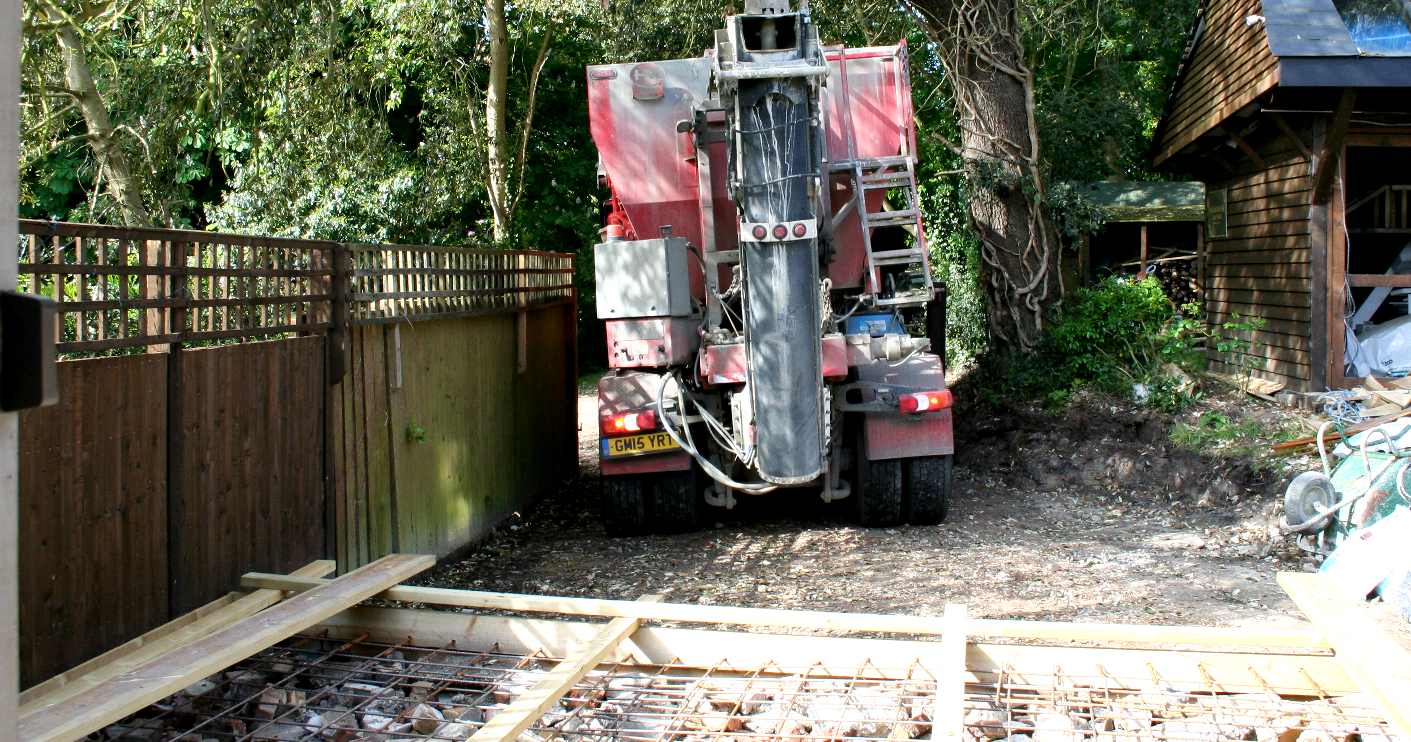 WILLIAM THE CONCRETER - The is a batch mix truck that comes to your site with ballast, cement and water onboard, to mix and pour in batches of up to 10 cubic meters. One of their trucks broke down with a dodgy clutch that caused us a few problems in the mix.
CALL 2 HIRE - A sweet little digger was hired from Call2Hire that turned out to be just what the doctor ordered to dig down into accumulated earth to allow for concreting and hardcore. The diesel plant was delivered on the back of a pickup at about 9:30 ish. They would pick up the machine later in the day after 4:00 giving us plenty of time to dig up and level the drive, where it was laden with years of soil and grass growth on one side below a sloping grass bank.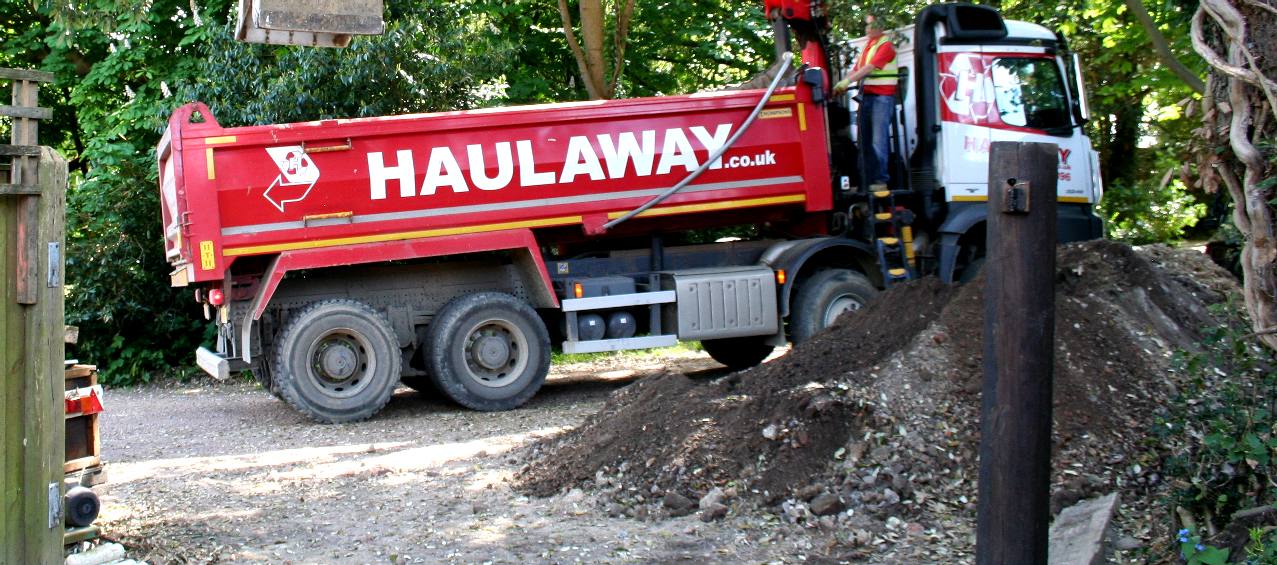 HAUL AWAY - One quick telephone call and this truck arrived to remove around 10 tons of soil and hardcore that was too dirty to use. Copyright photographs 9 May 2018 © Cleaner Ocean Foundation Ltd. All rights reserved except for educational use and media review.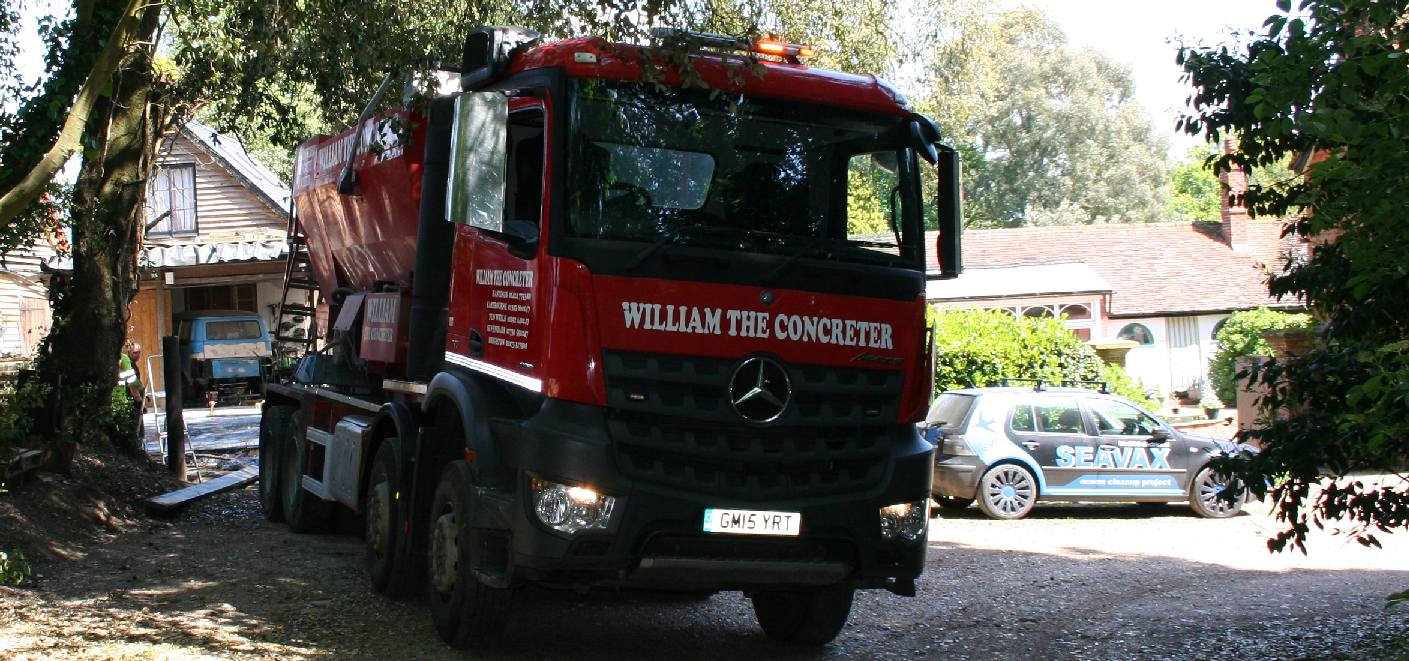 ON SITE DELIVERY - William the Concreter is a local from from Battle. This truck has an extendable chute to allow pours a reasonable distance from the truck based hopper. The chute also swivels from side to side. We found this service to be a little erratic, no doubt due to the demand for concrete in the summer. One delivery scheduled for an afternoon at 3:00pm was still not on site at 5:00pm, meaning that the concrete could not be poured. On site delays like this may well be the difference between a profitable project and a loss making disaster, so choose your suppliers carefully. Copyright photographs 14 May 2018 © Cleaner Ocean Foundation Ltd. All rights reserved except for education use and media review.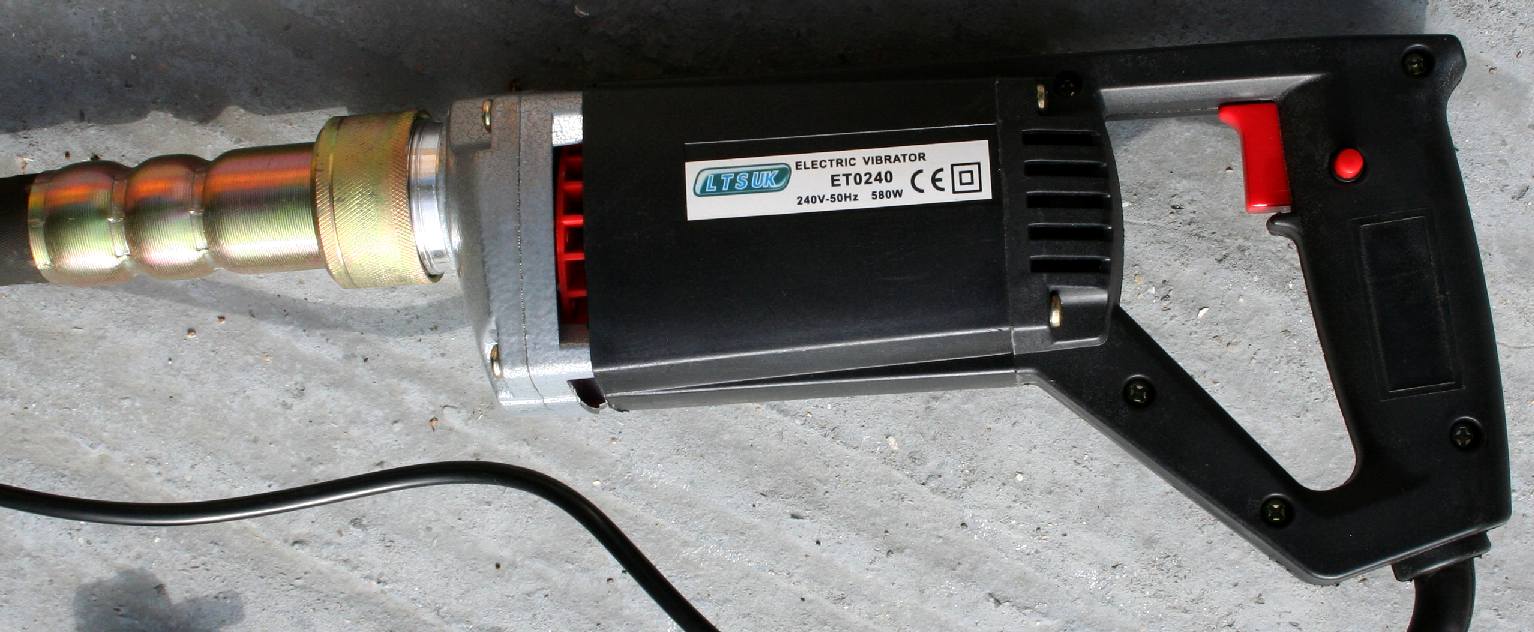 POKER - This hand held unit from Chris Bury, trading as MachineReturns, worked intermittently. Mostly when switching on the head, the end of the one meter hose did not vibrate. Then for no reason it would kick in and out again of high frequency vibrating mode. The goods are thus faulty by the looks of it. Once again, we are interested to learn of the explanation for this. What is this high-frequency poker supposed to perform like?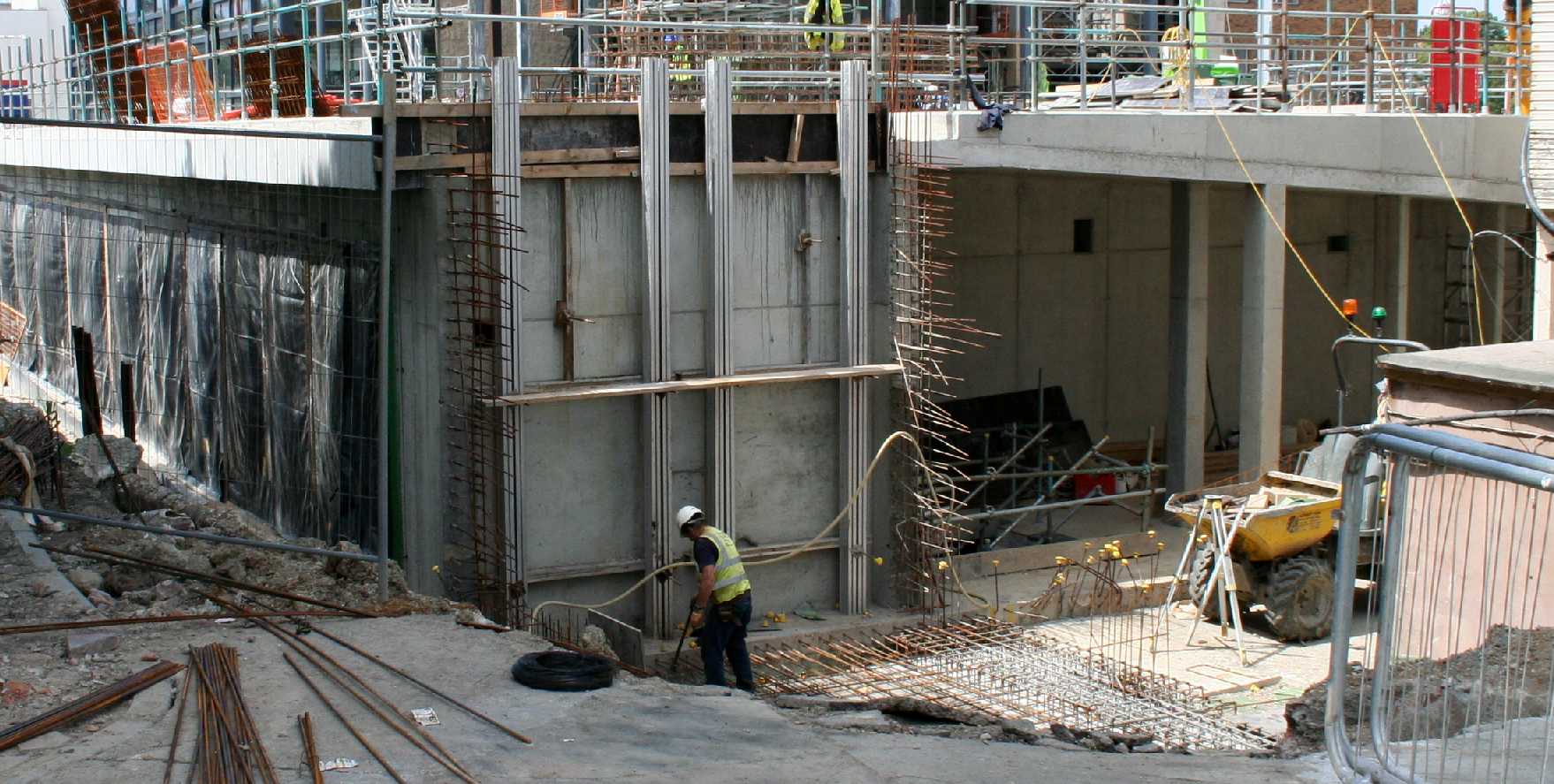 CIVIL ENGINEERING - This is the Congress Theatre in Eastbourne. Note how much steel reinforcing is being used in the construction.
TNT - Two out of Three = Nothing. If TNT have mislaid the 003 0f 3 packages, there will be some explaining to do, but then Chris Bury is in the clear. However, from the records relating to this purchase we anticipate a complex explanation from Mr Bury's staff - whatever happens. Finally, and too late, the 4 meter hose was delivered on Monday the 11th of June by TNT. Any building tool supplier should know that having men standing around on site, or a site not being developed, costs money.
Whoever was to blame for this, whether the carrier or the supplier, or both, a lesson will have been learned. Ebay is notorious for not taking responsibility for their advertisers. There have been cases of fraudsters advertising goods for sale, but then refusing to allow the purchaser to collect in person. If you come across this you are strongly advised to look into the credentials of the seller.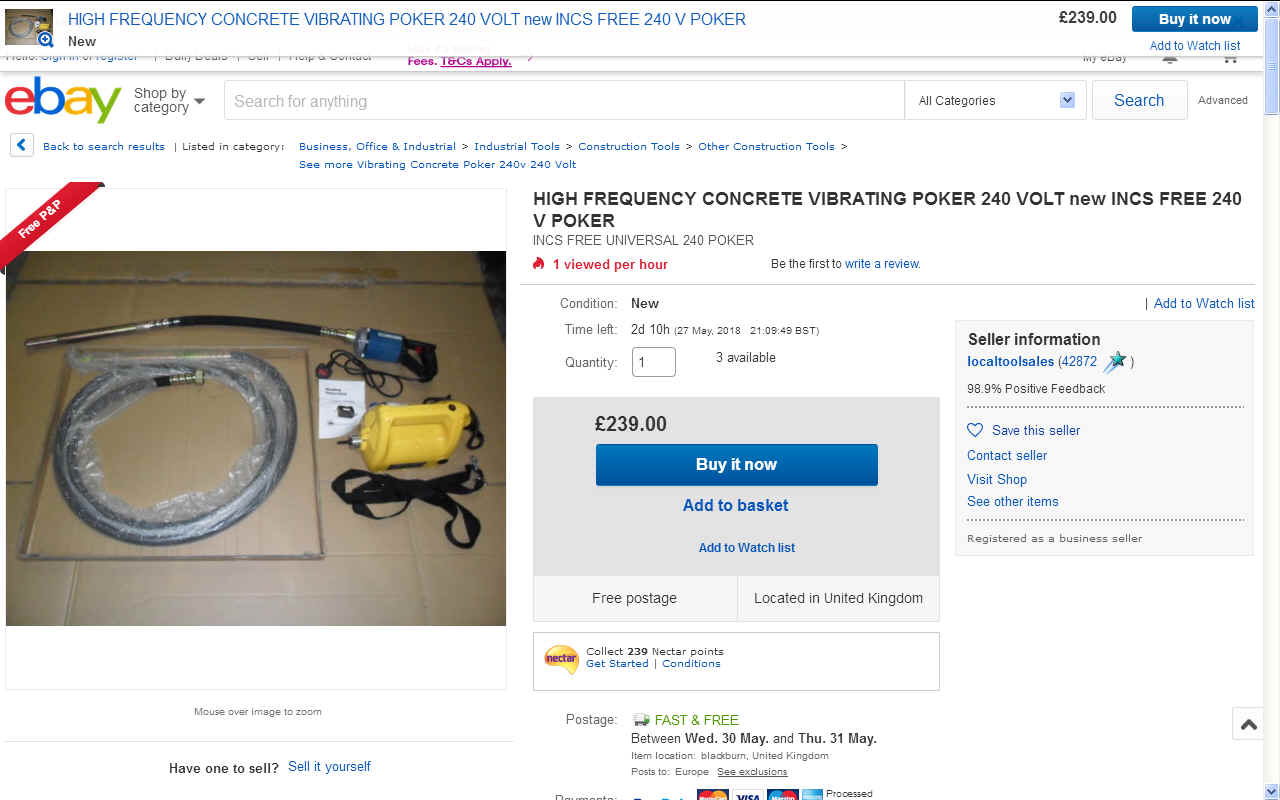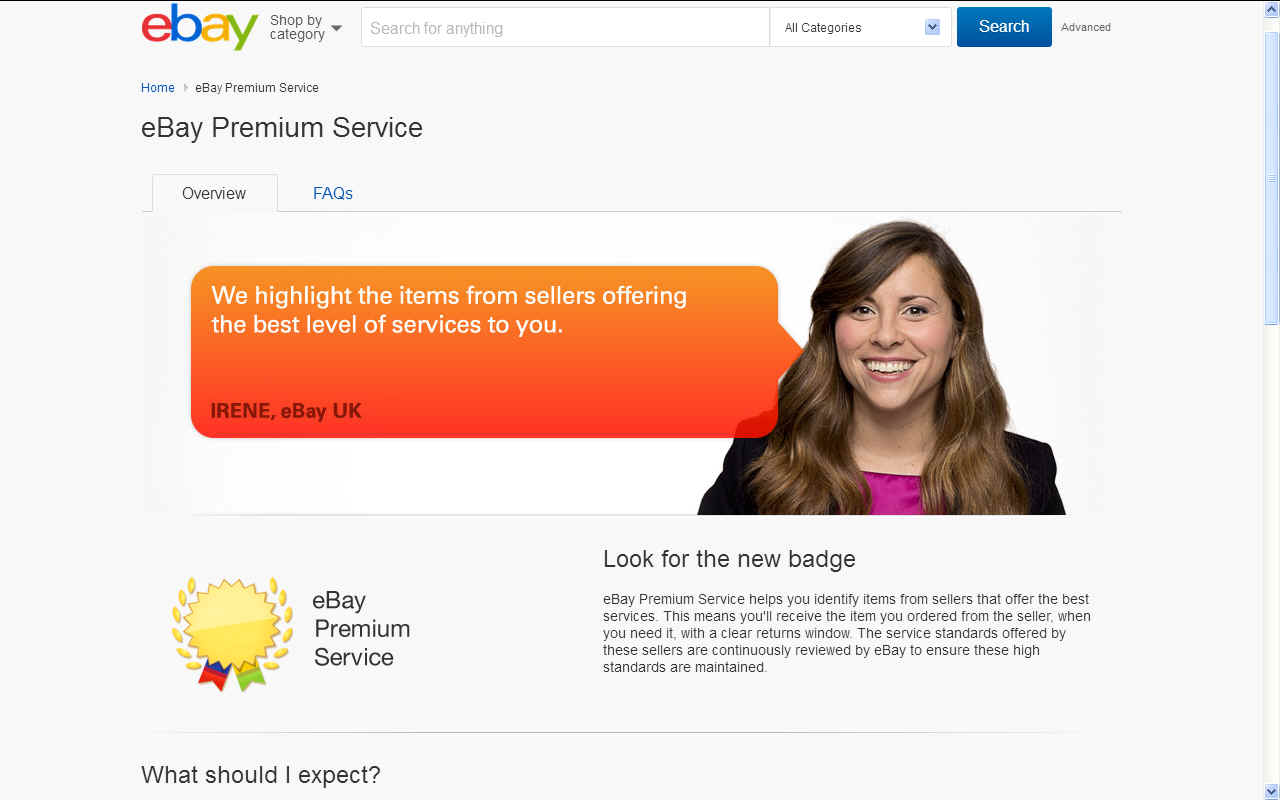 EBAY - This company offer no compensation for the time lost in trying to sort out any delivery or quality issues. Hence, there is no real guarantee, save that you may get the purchase price back. We would though like to see the vendors or fault goods, or those who advertise speedy delivery and do not follow through, with automatic fines from Ebay for failure to deliver on time.
CONCRETE AS A VERSATILE BUILDING MATERIAL:
Concrete has been used since Roman times as a building material. Today, we could not do without concrete in our modern society, especially steel reinforced concrete for giant civil engineering projects.
If you are a professional developer you may want to steer away from online transactions and stay with suppliers that you know and trust.