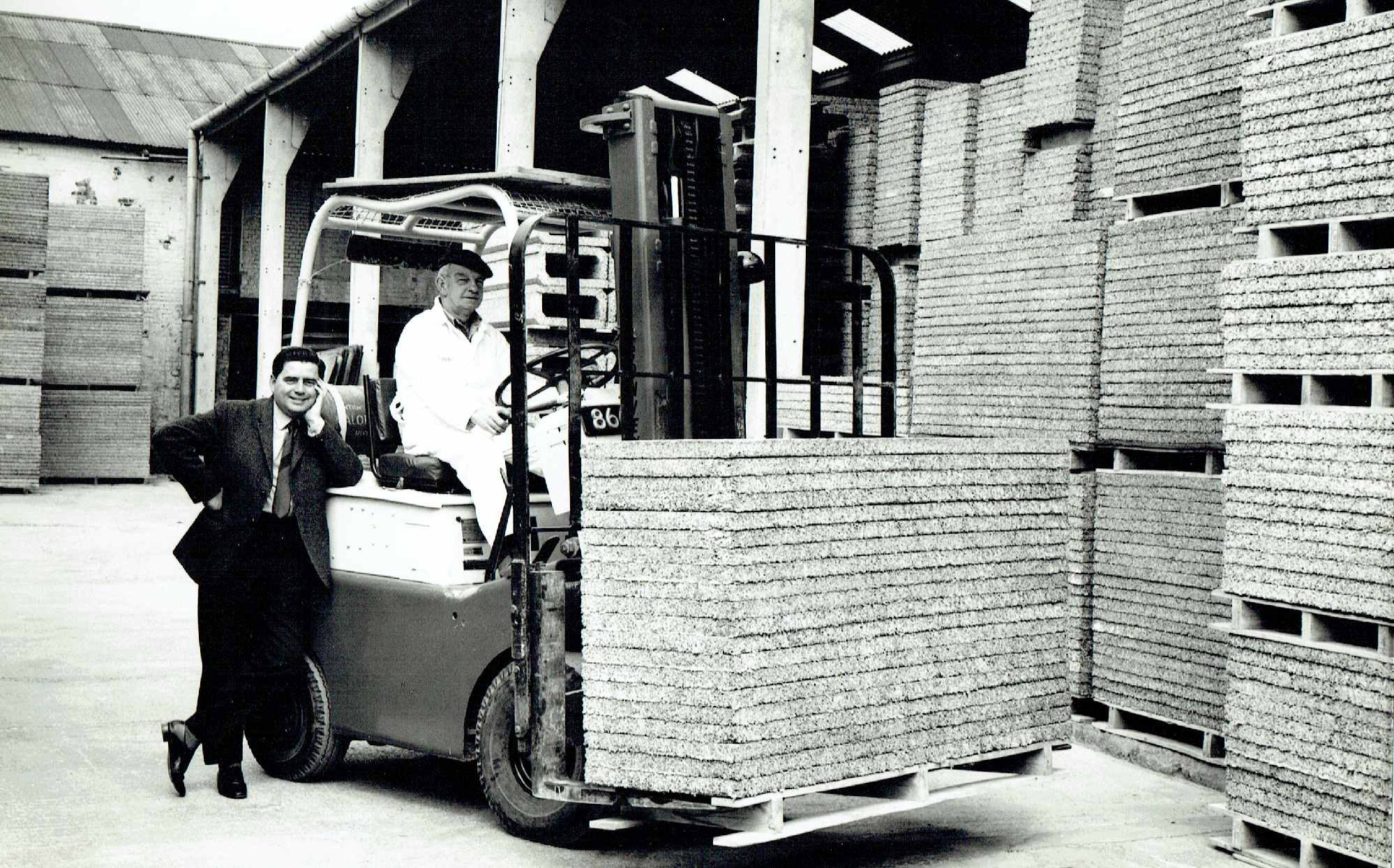 Frank Kruschandl at the factory in Seaford where he produced these fire resistant panels, blocks and prefabricated sections for affordable quick build housing.
AHEAD OF THEIR TIME
Firmcrete was a building business based in Seaford in East Sussex. They manufactured buildings using, a then, revolutionary cement and timber based material made from specially treated wood chips/shavings and cement with a few other secret ingredients. Flat panels were used mainly to insulate and protect the roofs of high rise blocks of flats and offices to waterproof them where concrete buildings are notorious for cracking and then leaking.
In years before Firmcrete, the GLC were spending a fortune on roof repairs on a never ending cycle. While exhibiting at an event in Crystal Palace in London, Firmcrete's then sales manager (Frank Kruschandl) was asked if he could come up with a solution, and that he did.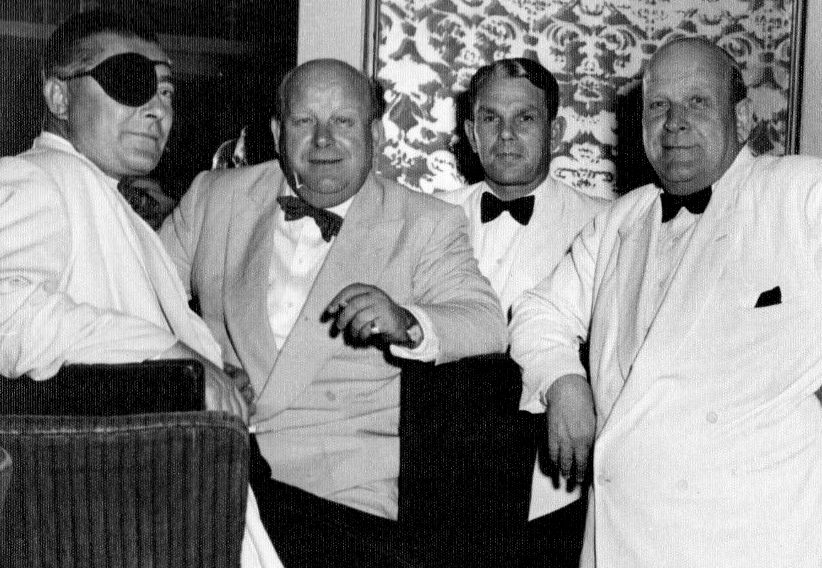 CALCUTTA - You may be forgiven for thinking that this is a scene from Casablanca, but this is Calcutta in 1955, with Edward Kruschandl (2nd from left) and his brother Hugo Kruschandl, a hotelier (far right), at a club with friends. Edward moved to Seaford in Sussex, England, where he began a building business called Firmcrete that was eventually sold to Tate & Lyle, the giant sugar producer for them to be able to use sugar cane fronds (waste) to make building materials. Edward, an entrepreneur, held many patents: (1952 GB722003 and 1965 DE1559585, GB938853, 262080) for the building material and processes used by Firmcrete Ltd. In those days there was an obsession with staying cool.
Edward Victor Kruschandl, set up the factory in Seaford to produce slabs and blocks by a patent (1952 GB722003) method, which was later bought by Tate & Lyle to produce building materials from sugar cane waste. Edward and his sons Nelson and Edward (deceased), worked with Frank to build an office and set up production lines in an old warehouse that paved the way to quantity production of a roofing system and much more.
Tate & Lyle had bought the business to develop it to use sugar cane fronds that was wasted, as part of the building material range. We are not sure how that panned out.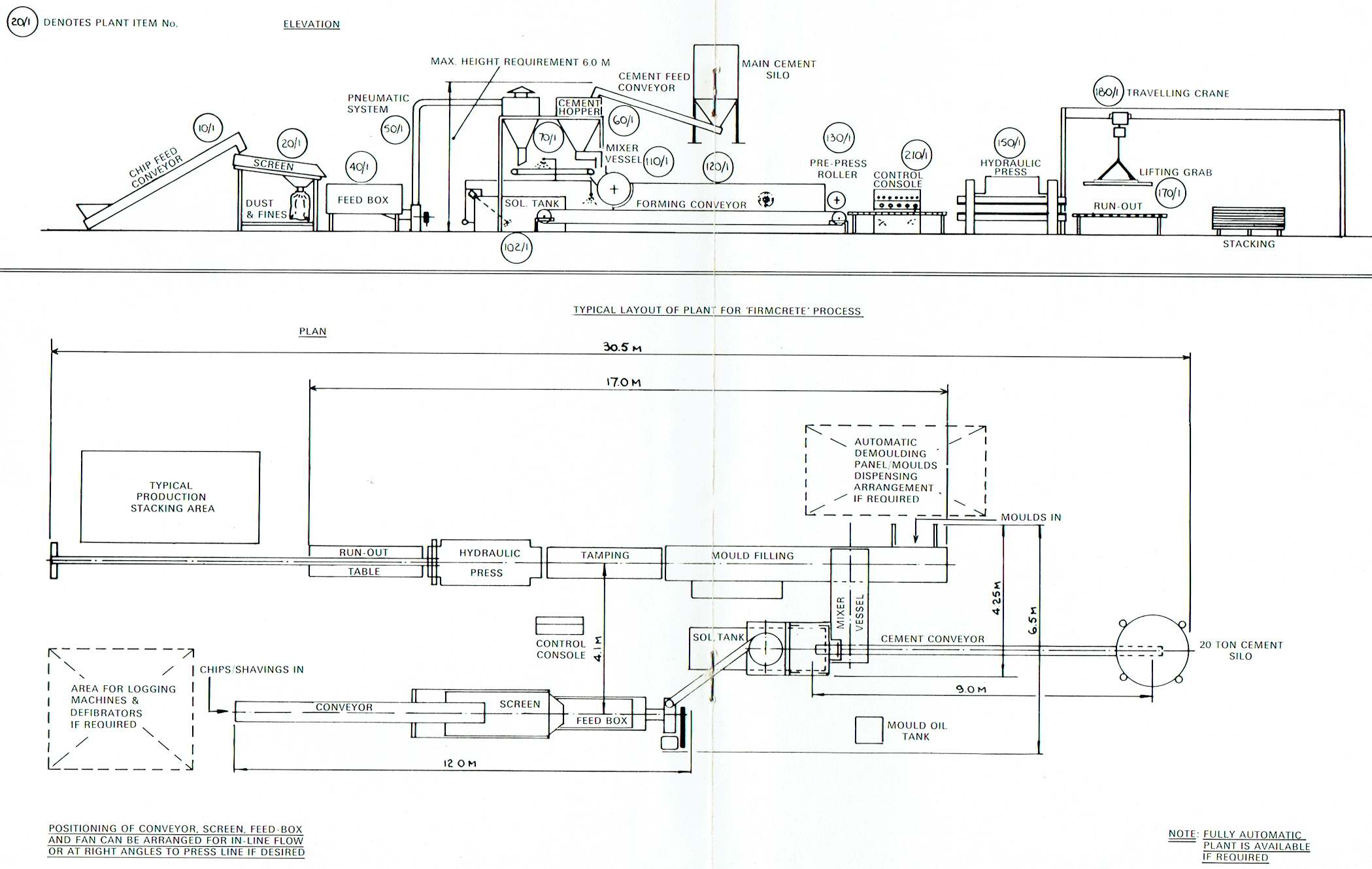 Substantial investment in plant made redundant overnight by unthinking politicians. There is nothing to prevent other entrepreneurs setting up to manufacture low cost housing.
MANAGEMENT CHANGEOVER
Frank Kruschandl (Edward's son) bought back the Firmcrete business from Tate & Lyle, when the
sugar giant found it difficult to produce enough panels of a high enough quality to fulfill contracts for the GLC (Greater London Council). The building company Wates, who had nobody reliable to fix their roofs, knew that Frank could run the operation in Seaford, East Sussex, which was where the factory was situated at 48 Brooklyn Road.
One can only imagine the pandemonium in Seaford as their head problem solver left the chiefs to their devices, only for them to realise that the kingpin was the gentleman who had just resigned in light of management deficiencies - that he could not resolve with the cast of characters in loftier positions.
Following this and after multiple contracts got seriously behind, the GLC sent a letter to T&L suggesting that they would be happy to work with Frank Kruschandl if he was available. They needed the problem solver who got things done from before the split, where the incumbent staff had no practical experience between them.
The factory changed hands for a nominal fee, thought to be £1 one pound. Frank got production back on track with private investors backing him, the secret being how the product was mixed and when certain operations were carried out. With a revitalized fixing team, a new name (Insulcrete Installations), new trucks and vans, all was well for several years.
Most of the business was flat roofing for high rise buildings in and around London. But, the product could be produced as hollow blocks and wall cassettes, with pre-fabricated floor joisting for quick-build homes. One house was built in 24 hours using this system in Rustington.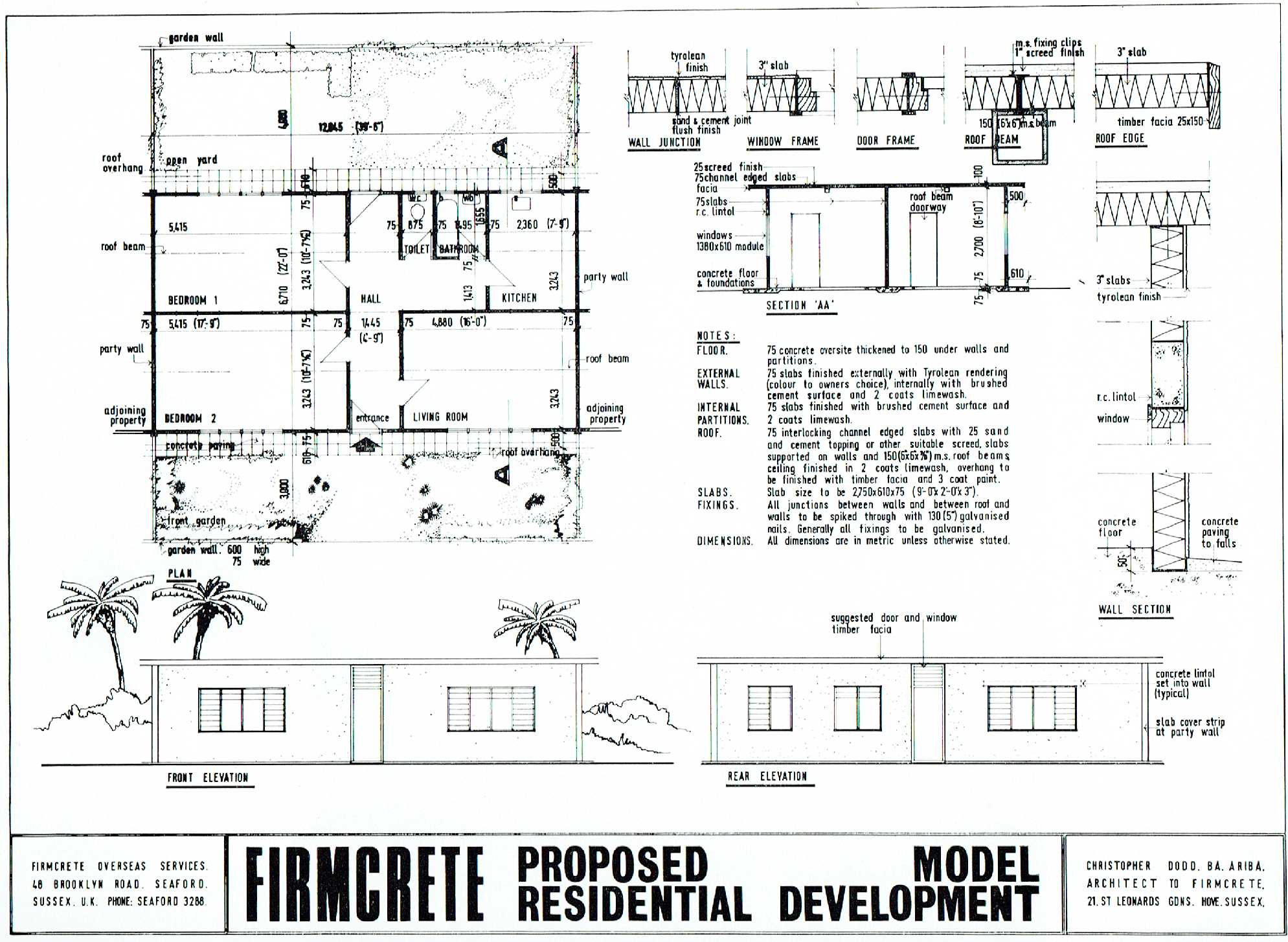 These low cost houses were designed for the Middle East and Africa, but would work equally well in Australia.
What escaped the attention of many people, is that although these houses were affordable and quick to build, they were also fire resistant. In those days sustainability was not a buzzword, let alone proofing against bush and wild fires. But in those days nobody cared about global warming.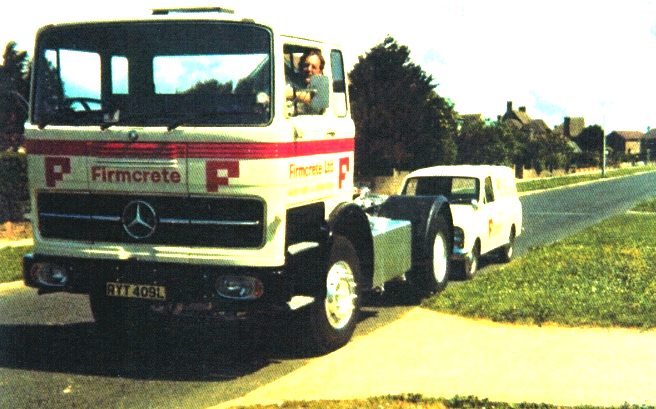 Firmcrete delivery truck (Beacon Road, Seaford) and fixing team vehicles at Newhaven
1. Firmcrete panels being stacked at the factory 2. A Quickbuild house under construction at Ashford
3. A diagram of the unit building system 4. A pre-fabricated Firmcrete wall cassette
Who knows what this system may have developed into today. But, the flat roofing business was killed off without warning by the Conservative Prime Minister, Margaret Thatcher. This caught Firmcrete unawares, having invested heavily in new German made machinery in good faith. The company did their best to survive the loss of their core business, by manufacturing and selling block making plants to Nigeria, Greece and other countries. It was though impossible to survive on intermittent sales, and so the company was wound down.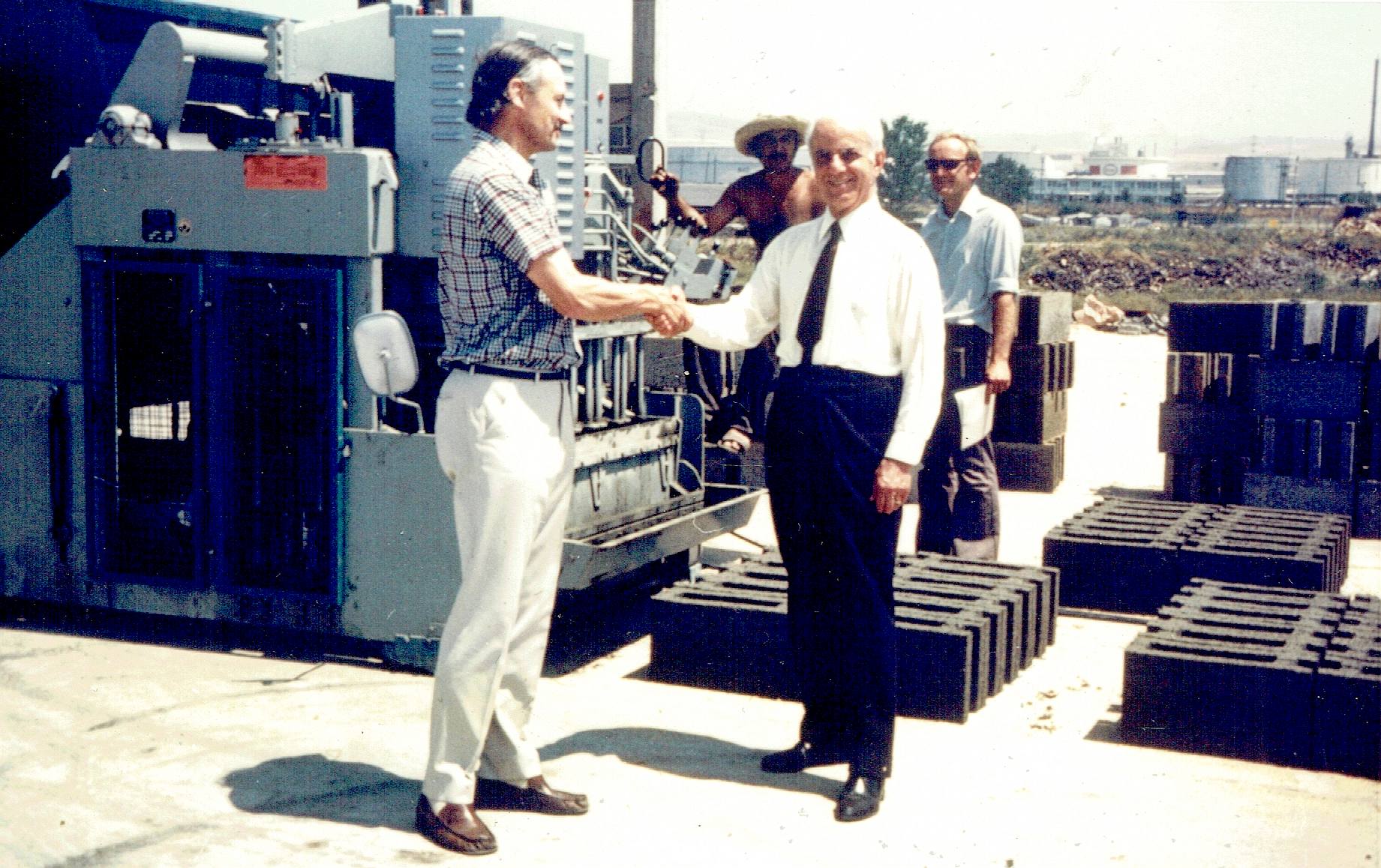 A block making plant delivered to Greece. Marcel Paulos shakes hands with the plant foreman. Nelson Kruschandl (son of Edward) is seen in the background on the right (wearing sunglasses). Nelson showed the proud owners of their new machinery, how to operate it in the 1970s, he was Frank's younger brother. These blocks were fireproof. Houses and other buildings could be built in the normal way, but would be cooler in summer and warmer in winter due to the thermal properties of the material.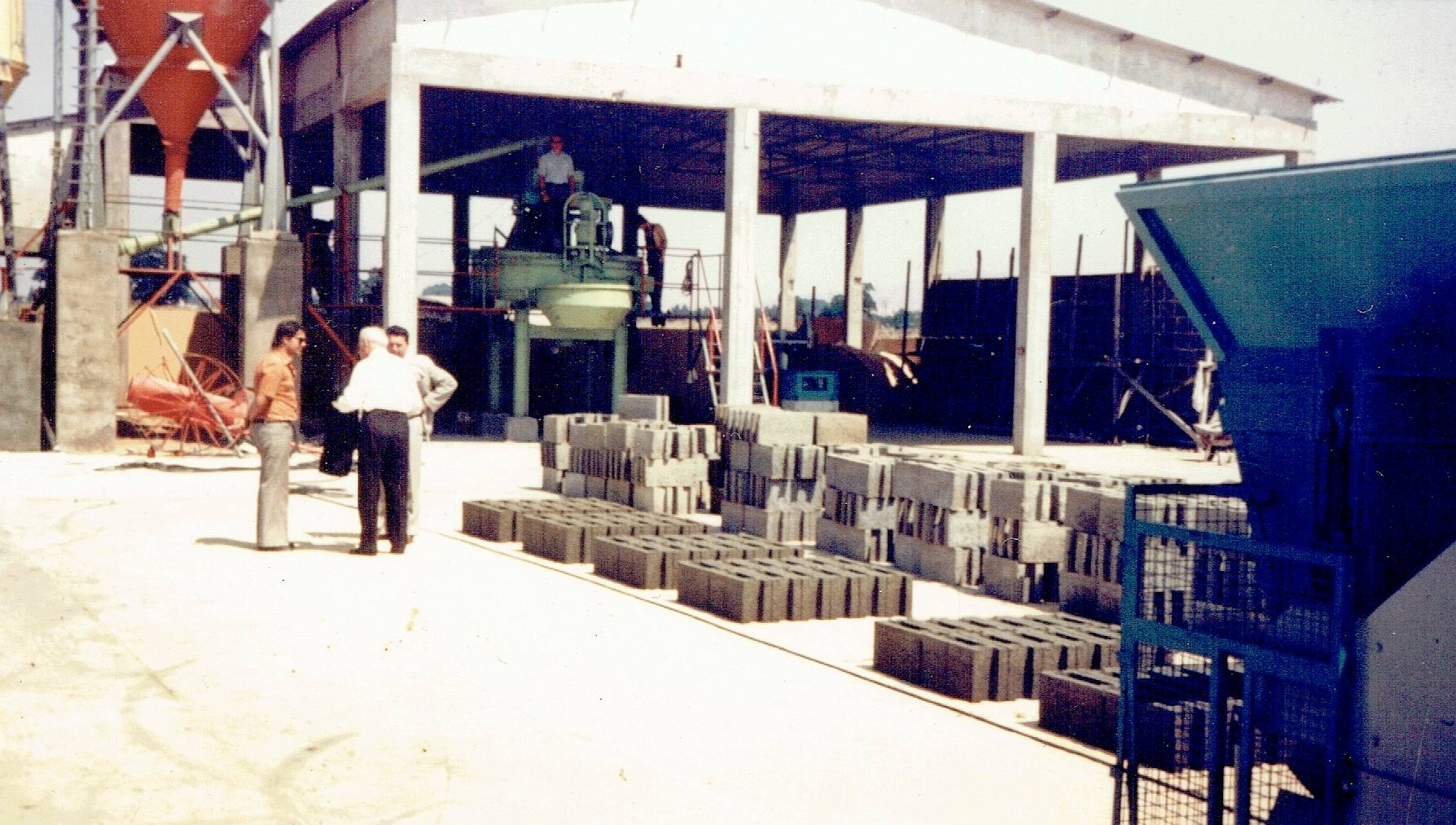 Marcel Paulos (white shirt) and Frank Kruschandl (cream suit) beside a successful run of block making, curing even in the hot Grecian sun. When supplying this machinery overseas, inevitably the purchasers would need training as to the dos and don'ts of production.
FIRE PROOF BUILDINGS
The shame of it is that Firmcrete had such high thermal insulation values, that it was ideal for the build of houses that are effectively fire proof, in areas prone to bushfires, such as the Australian outback and California.
When the business went into voluntary liquidation on the advice of accountants, roughly £1 million pounds worth of new machinery was sold for £16,000 sixteen thousand pounds as scrap, and they grabbed a house in Beacon Road that was given as security. Entrepreneurs like Frank were not appreciated as much as they are today. A company is only as good as the people behind it.
In our view the plant should have been put on the market as a going concern for house builders in India and Australia. Liquidators and accountants are only interested in instant cash on the table. They certainly don't investigate viable alternatives. They caught the entrepreneur at an all time low, having lost the contracts in London that was bread and butter for the company.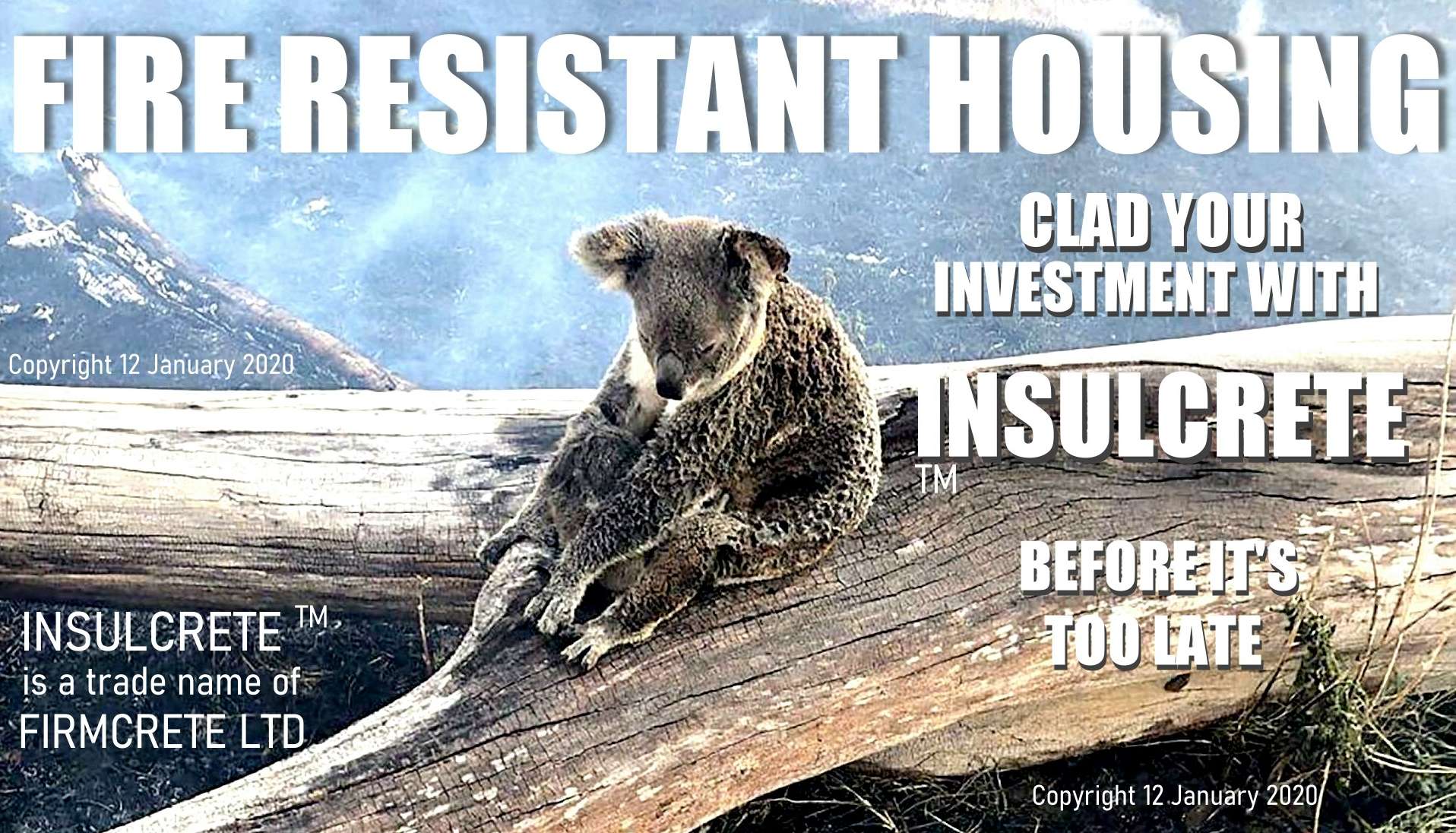 FOREST FIRE A TO Z
Arctic
Bolivian
British Columbian
Canadian - Saskatchewan
Chilean
Croatian
Ecuador
France
Greece
Malaysian
Mongolian
Portugal
Spain
Sweden
USA - California, Yosemite
- Montana
- Georgia
- Sacramento
UK - Saddleworth Moor
- Moray
- Dartmoor