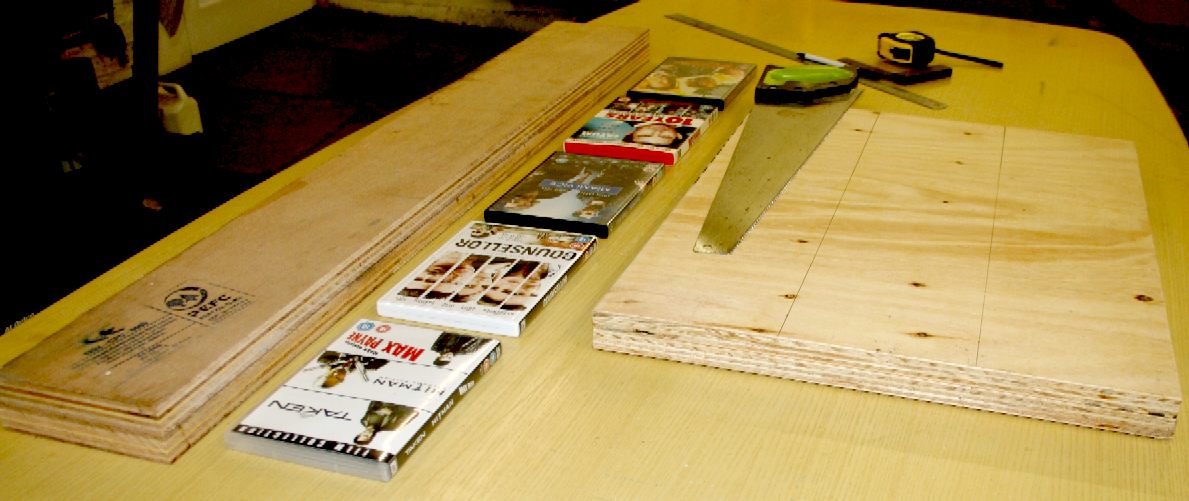 DIY 200 DVD & BLU-RAY CABINET - It does not take long for a film collection to get out of hand. Especially now that Amazon and Supermarkets are bringing down the cost of entertainment. Even the Pound Shop is recycling some classic movies in DVD format for, yes, just £1. So, when there were some 6" (150mm) wide plywood off-cuts, the next quick project was obvious: a do it yourself DVD cabinet.
A DVD case measures approximately 7 1/2" x 5 1/4" (190 x 135mm). A Blu-Ray case is a little smaller, at 6 3/4" x 5 1/4" (170 x 135mm). Allowing a little extra for comfort, we can make quite a nice DIY cabinet from the 150mm strips. But how many rows of shelves can we make? Well, coincidentally, we had a hardwood plywood strip 1" x 88" x 6" and another offcut of spruce 3/4" x 18" x 48". As you can see from the picture above, that gave us two upright sides 44" x 6", and six shelves 24" x 6". Forty-four inches is just under 1120mm and 1120mm divides by 220mm (8 11/16ths") to give us 5 shelves. Five shelves is enough to hold 200 DVD or Blu-Ray cases @ 40 cases per shelf - or around £1,500 worth of movies @ £7.50 average. Whereas, the plywood for this micro project cost less than £10 from Stamco. You could not even buy a chipboard unit that cheap. The cheapest flatpack that we could find online was £44 for a 148 DVD capacity storage unit. John Lewis do a 132 DVD cabinet for £99.
WOOD AS A BUILDING MATERIAL:
When it comes to sustainability, wood is one of the best materials imaginable - but only if it is grown in properly managed timber estates. The ships of old were built of wood by skilled craftsmen. Carpenters make furniture from wood. Wood is lighter the steel as a structural component but being a natural product is limited in size. Cars and planes have been built in wood.
About 45% of the UK's CO2 emissions come from buildings. The Climate Change (Scotland) Act 2009 aims to reduce emissions by at least 80% by 2050. In Scotland, sustainability of buildings is embedded into the building standards. These standards are constantly being increased. The Sullivan Report made recommendations to achieve total-life zero-carbon buildings by 2030. Climate change is now a serious issue threatening life on earth.
As the expected operational performance of buildings increase, the environmental impacts of the construction materials used become more significant. These impacts include; the use of raw materials; transportation, the resources used in manufacturing, and the emissions generated. For timber products embodied carbon is an important green credential. For a comparison of materials see the Inventory of Carbon and Energy prepared by Hammond and Jones of the University of Bath.
Timber captures and locks CO2 up, to a limited extent combating greenhouse gas build up. While is is growing, forests generate oxygen - and that is why we cannot afford to lose the Amazonian Rainforests. Trees absorb carbon dioxide as they grow while simultaneously providing biodiversity rich habitats for wildlife, a variety of ecosystem services and leisure spaces for local communities.

Timber is the only mainstream 100% renewable building material. Far from depleting natural resources, increased demand for sustainable timber increases demand for sustainable managed forest to provide it. It is a win-win situation.
The choice of sustainable materials is not the whole story however. Building design, process and quality are also important determinants of how well the building performs - as is the way in which it is ultimately used.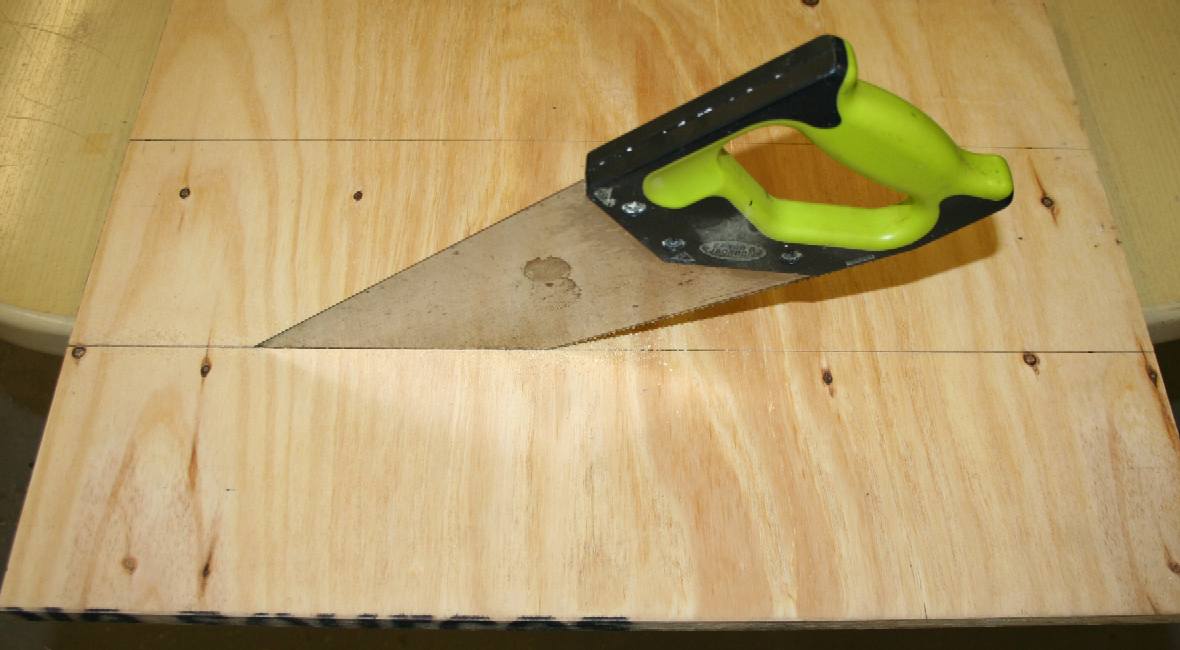 CUT TIGHT - It might sound obvious, but the thickness of your pencil, pen or marker, will determine how accurate your saw cuts are. That is assuming that your marking out technique is accurate, and that depends on your eyesight. Therefore, protect your eyes with appropriate safety glasses and wear corrective lenses if your eyesight is deteriorating with age or from staring at this page using a computer screen.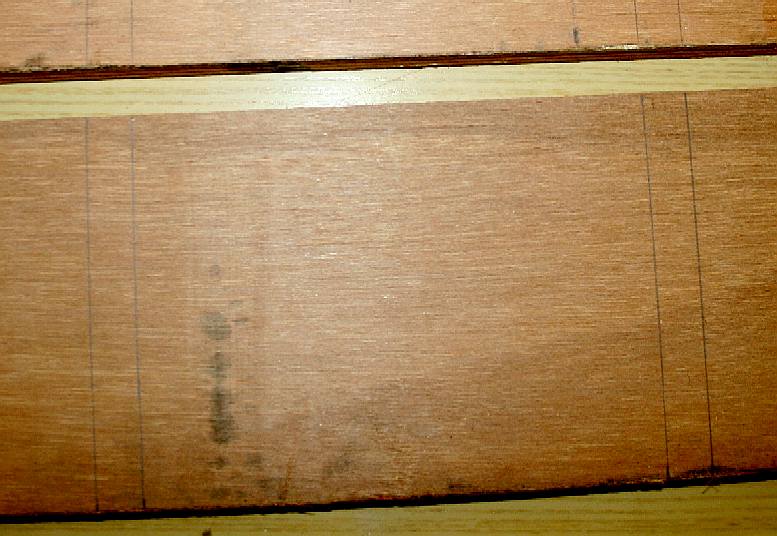 MEASURE ACCURATELY - Each side of the cabinet has to mirror the other, or the shelves will slope. Once you have marked out each side, bring them together to be sure of the alignment.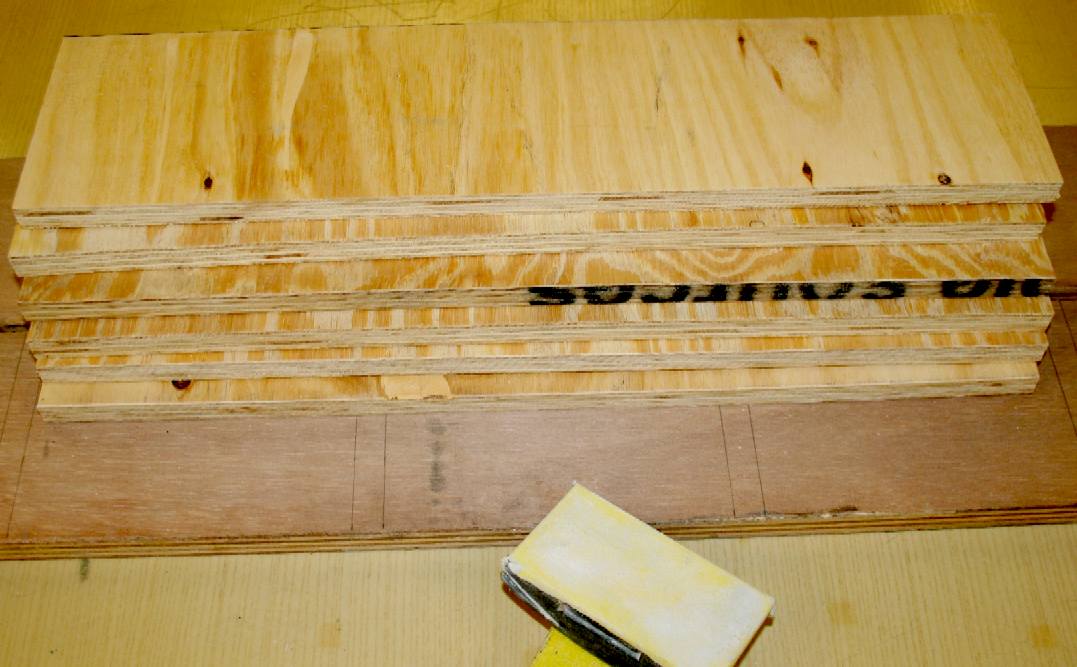 BEVEL THE EDGES - Nobody likes splinters, even one would ruin your movie. Once all the heavy cutting is complete, use a smoothing plane and sanding blocks - working through grades - to take off any rough edges. More on this when it comes to painting, varnishing or staining.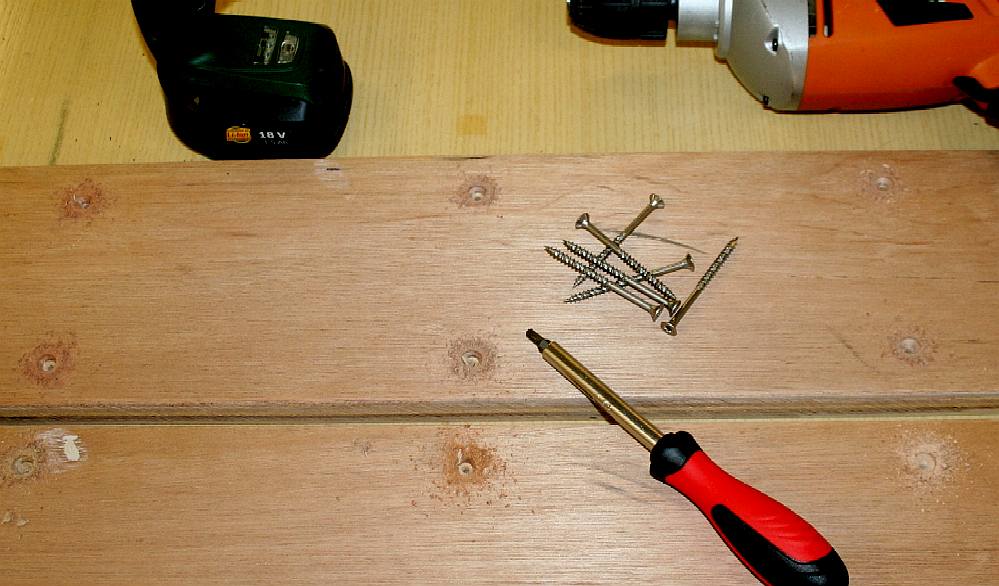 DRILL TIME - This unit is relatively simple. Instead of pins for the shelves and dowels to join the sides, base and top, we used stainless steel screws to make a really strong cabinet that will stand some seriously rough handling in case of moving. A plywood back and lockable cabinet front would really protect your movie collection from dust and unauthorized viewing. Youngsters will sneak out the 18 certificate movies while you are out. They may have nightmares as a result, but they'll do it again and again. Wouldn't it be great to build a whole wall as a cabinet with doors that look like a wall. Shades of Edgar Allan Poe.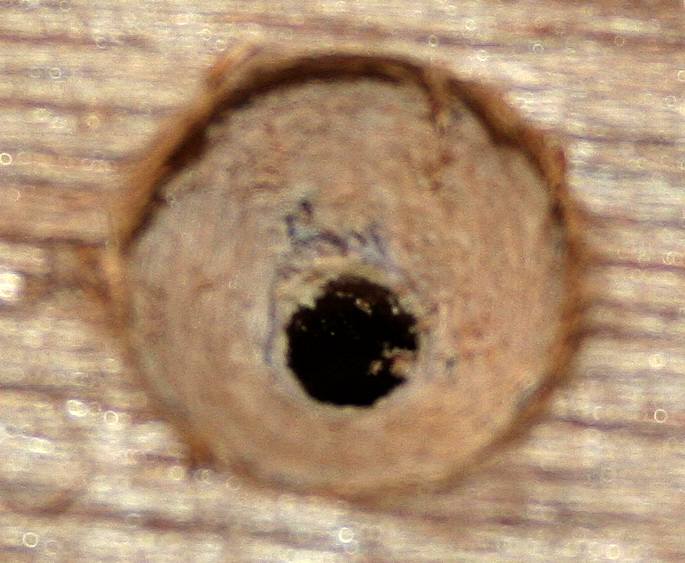 COUNTERSINK - You may want to stain and French-polish your cabinet, so countersink the screw heads, and if you feel the need, blank off with a small pellet of dowel.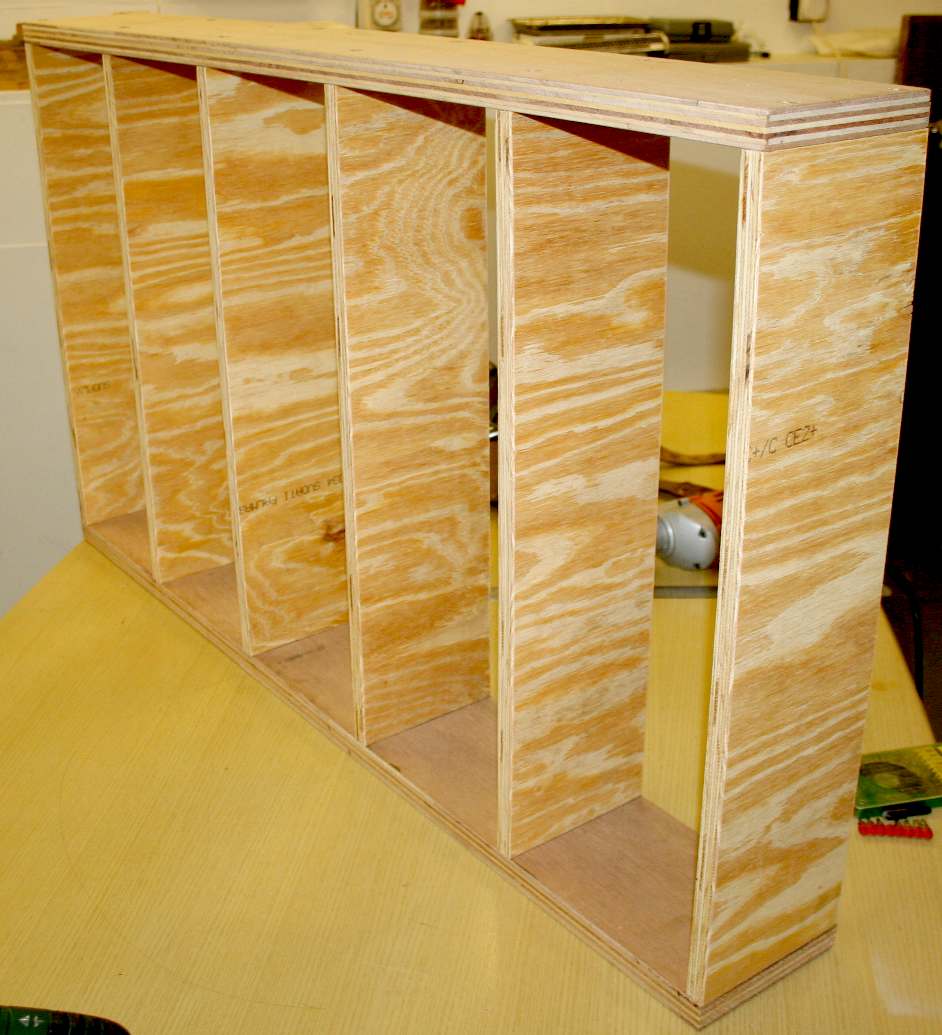 IT FITS - If your saw cuts are straight and your drilling is on target, when you assemble the shelves, you should end up with a unit looking like this. Don't forget this unit cost less than £10 to make, including the 24 stainless steel screws from Screwfix - because they were on offer.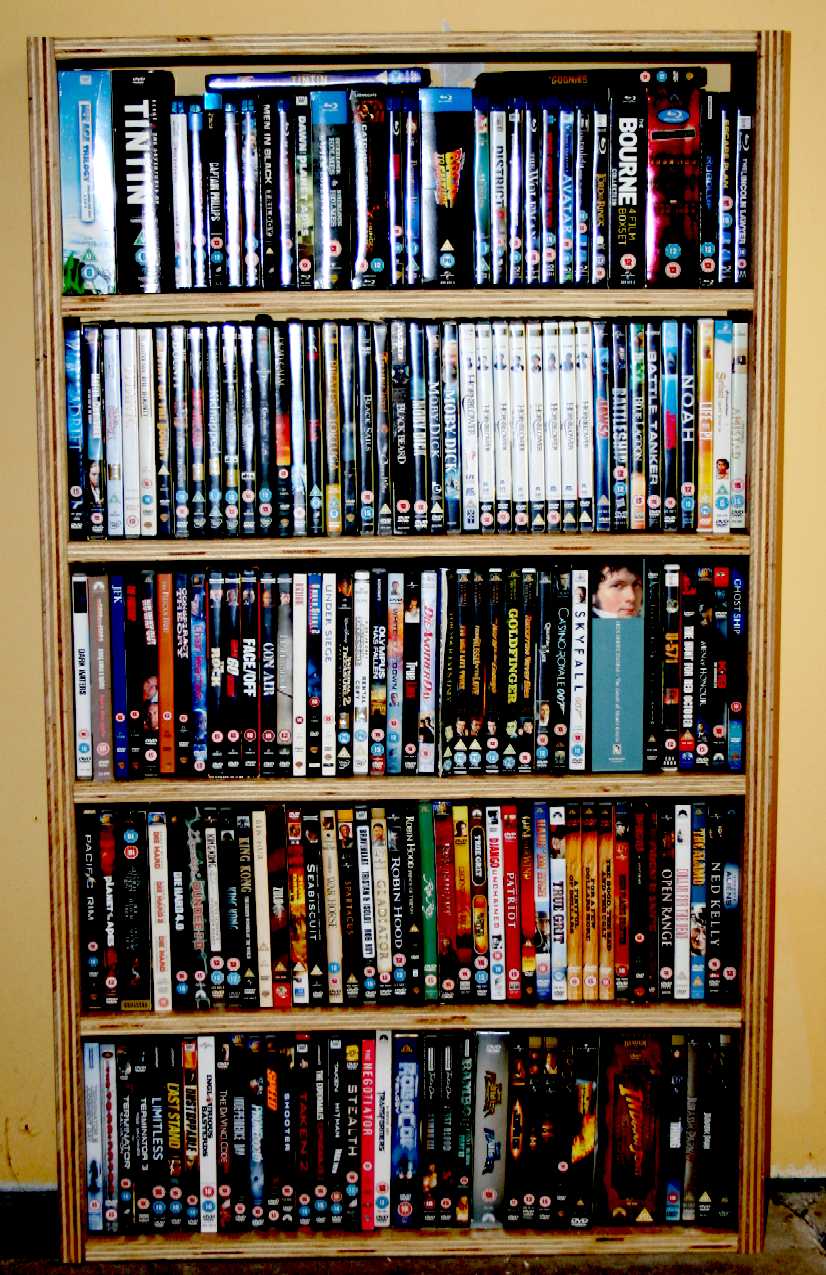 MOVIE TIME - If you've taken the trouble to make one of these cabinets, you may as well decorate it with your favourite movies. 200 films is nearly enough to keep you going from January to August - at the rate of one movie per night. Some Box sets carry two or even three film discs. Don't you just love those DVD boxed sets. They bring those out when you've just finished collecting the singles. Hmmmmm. And then they bring out the same film sets on Blu-Ray. Ahhhhhh. Patience is a virtue indeed. You'd need to be a saint.
The really great thing about a cabinet like this is that you can find the film that you fancy watching that evening - before you lose the mood. Three or four more cabinets will cater for some serious watching - or, maybe that secret wall! We like a bit of Indiana Jones and all those moving temple doors. Hey, now there's an idea. A door that is also a cabinet, or maybe a closet that rotates, as in 'Overboard' with Goldie Hawn and Kurt Russell. There is a lot of wasted space in a doorway. More than enough to squeeze in a 6" wide cabinet.
LINKS
http://www.disastercenter.com/guide/tsunami.html
http://www.independent.co.uk/flooding-and-landslides-after-himalayan-tsunami-hits-india
http://edition.cnn.com/2013/06/20/world/asia/india-floods
http://rt.com/news/toll-dead-region-floods-633/
http://www.huffingtonpost.ca/2012/11/04/tsunami-flooding-storm-surge-vancouver-richmond-earthquake
http://www.dailymail.co.uk/news/article-2174353/Japan-floods-2012
http://www.nws.noaa.gov/oh/hurricane/inland_flooding.html
http://www.johnlewis.com/john-lewis-abacus-cd-dvd-unit-fsc-certified/p1717139
http://www.wickes.co.uk/
UK Forest Products Association
Scottish Sustainable Construction Forum
Passivhaus Trust- UK Passive House Organisation
The Timber Research and Development Association
Sustainable construction materials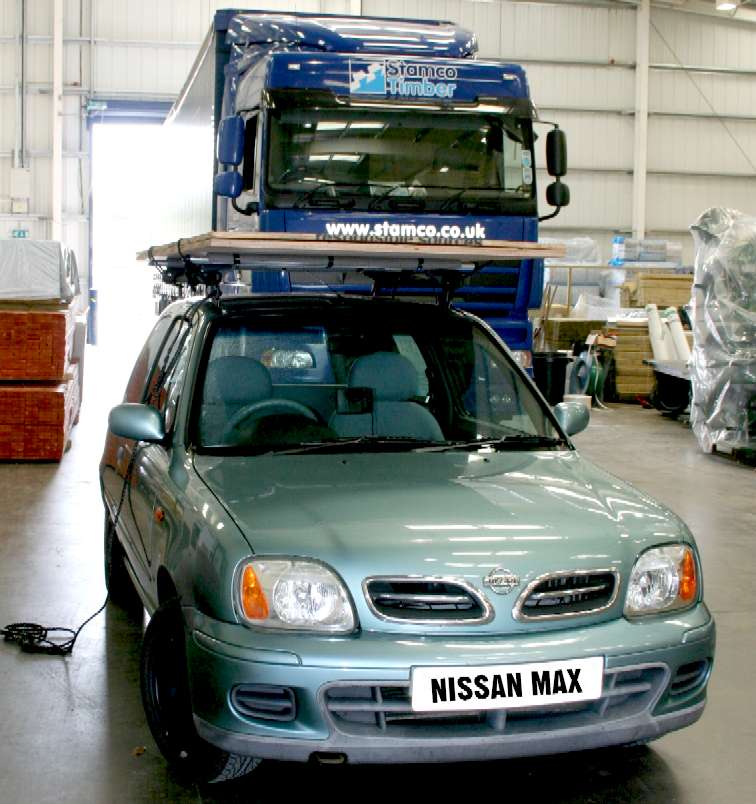 LITTLE & LARGE - You can pop down the road and pick up a few sheets of plywood on your roof-rack, but when you need bulk deliveries, Stamco has the right vehicle to deliver on site - in very timely fashion. The service is just as good whether it's a small job or a big one.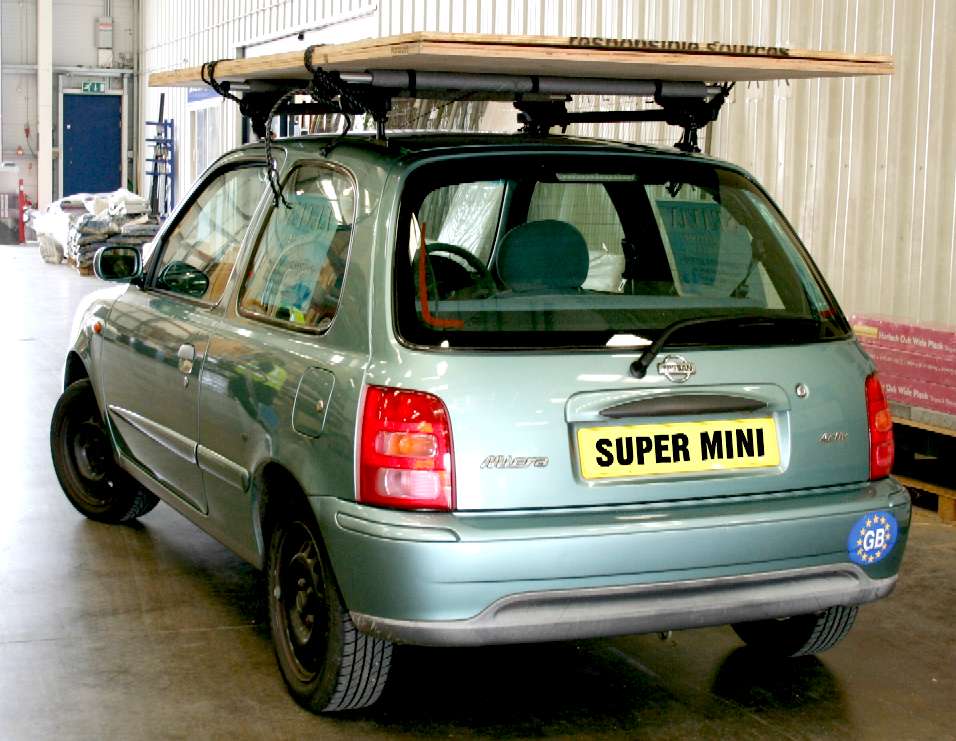 DIY FRIENDLY CARS - Wouldn't it be nice if car makers offered cars with roof-racks and tow bars as standard. These days a young couple need to be versatile, just as much as more experienced house buyers.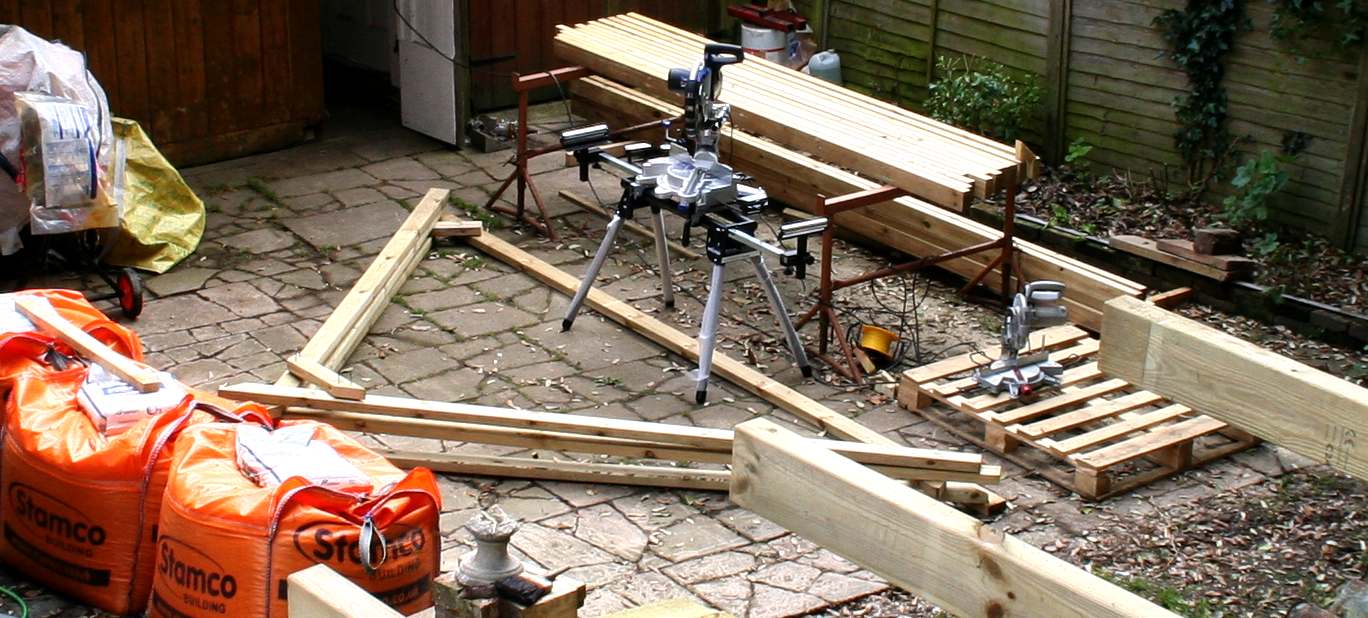 BIGGER PROJECTS - Stamco supply timber and building materials for bigger projects at very fair prices. Here you can see the trusses being made for the lean-to that was built several years ago. The roof was old corrugated iron that leaked in a few places. A pitched roof is the answer, though more expensive, they are better at keeping water out and more attractive. A circular saw or two speeds up production.