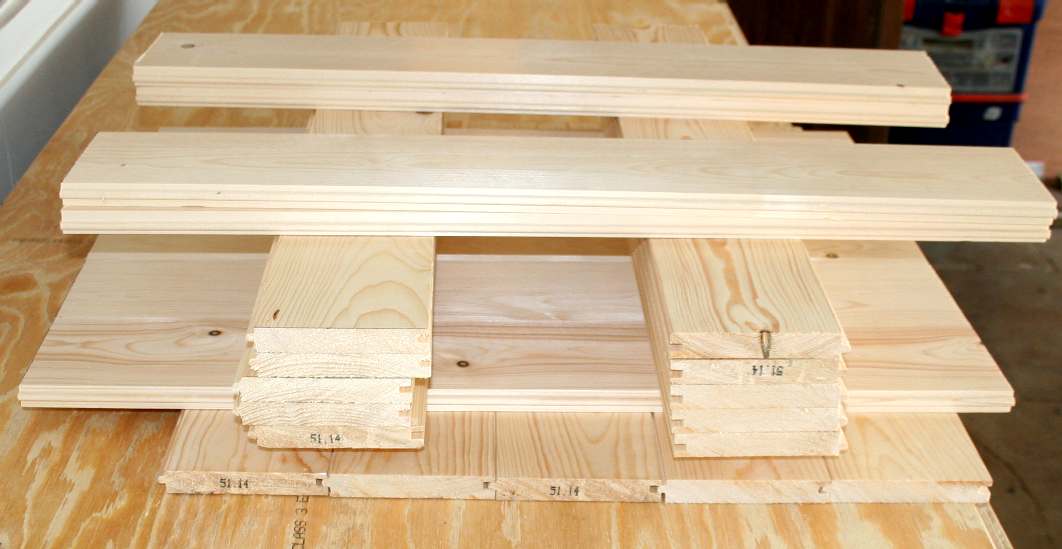 PLANED T&G FLOORING - A stack of boards cut to size. The width of these boards from our local Wickes supplier did not correspond with that stated on the label. This makes estimating accurately very difficult - especially online. When laid side by side the shortfall accumulates, until you will need to purchase additional wood to complete your project.
Very helpfully, Wickes took the trouble to telephone the Trust who had been delayed slightly to sort the matter for them. We are pleased to be able to say that the labeling matter was corrected and that Wickes very kindly offered to cover the additional cost of another board and the time to rectify. It is nice to know that if there is a problem, that this company will do their best to sort it for you. For their part, the Trust were pleased to be able to help this valued supplier by reporting the error, to ensure that they can continue to offer an excellent service to the trade and private home improvers.
WOOD AS A BUILDING MATERIAL:
When it comes to sustainability, wood is one of the best materials imaginable - but only if it is grown in properly managed timber estates. The ships of old were built of wood by skilled craftsmen. Carpenters make furniture from wood. Wood is lighter the steel as a structural component but being a natural product is limited in size.
About 45% of the UK's CO2 emissions come from buildings. The Climate Change (Scotland) Act 2009 aims to reduce emissions by at least 80% by 2050. In Scotland, sustainability of buildings is embedded into the building standards. These standards are constantly being increased. The Sullivan Report made recommendations to achieve total-life zero-carbon buildings by 2030.
As the expected operational performance of buildings increase, the environmental impacts of the construction materials used become more significant. These impacts include; the use of raw materials; transportation, the resources used in manufacturing, and the emissions generated. For timber products embodied carbon is an important green credential. For a comparison of materials see the Inventory of Carbon and Energy prepared by Hammond and Jones of the University of Bath.
Timber captures and locks CO2 up, to a limited extent combating greenhouse gas build up. While is is growing, forests generate oxygen - and that is why we cannot afford to lose the Amazonian Rainforests. Trees absorb carbon dioxide as they grow while simultaneously providing biodiversity rich habitats for wildlife, a variety of ecosystem services and leisure spaces for local communities.

Timber is the only mainstream 100% renewable building material. Far from depleting natural resources, increased demand for sustainable timber increases demand for sustainable managed forest to provide it. It is a win-win situation.
The choice of sustainable materials is not the whole story however. Building design, process and quality are also important determinants of how well the building performs - as is the way in which it is ultimately used.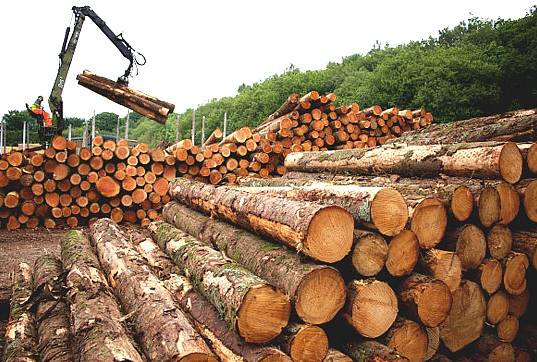 TIMBER SUPPLIES & LABELING - LETTER TO WICKES UK, RE: 1 Hammonds Dr, Eastbourne, East Sussex BN23 6PW Tel: 01323 431631 Email: customer.relations@wickes.co.uk
F.A.O. Gordon MacKenzie Ask for: Brian or Leslie
Head of Wickes Customer Services
Rhosili Road
Brackmills Industrial Estate EMAIL & RECORDED POST
Northampton
Northamptonshire, NN4 7JE
22nd June 2015

Dear Mr MacKenzie,


PTG FLOORING – EASTBOURNE, E SUSSEX


We sent you an email on the 19th of June 2015, to which we have not received an answer. Not having received an answer to that email we telephoned your offices this morning at approximately 11:50 and asked to speak with you.

We were told by Jean, that nobody was to be put through to you. She did offer to help but when the issue was explained in summary she said that we'd have to write in. We therefore have doubts about the assurances of that published on your contact webpage offering an email contact for yourself, which we think it is in the public interest to publish: http://www.wickes.co.uk/contactus#

We would like to bring a labelling mismatch issue to your attention and ask if you can explain the situation.

One of our Trustees purchased some PTG boarding from your store in Eastbourne, East Sussex, on the 11th of June. The labels on the product says 18 x 121mm. The receipt says 18 x 119 x 3 mm and the product measures 111mm across the flat, with another 5mm for the tongue, totalling 116mm.

We are struggling to understand how a board advertised at 121mm overall width can actually measure 116mm? The length is 3.0 metres and the thickness is 18mm. Please see the attached scan of the till receipt and product labels.

Your reply to this letter will be published here: http://www.cherrymortgages.com/wood.htm

We look forward to hearing from you at your very earliest convenience.


Yours sincerely





Max Energy Ltd (Trustee)
for Lime Park Heritage Trust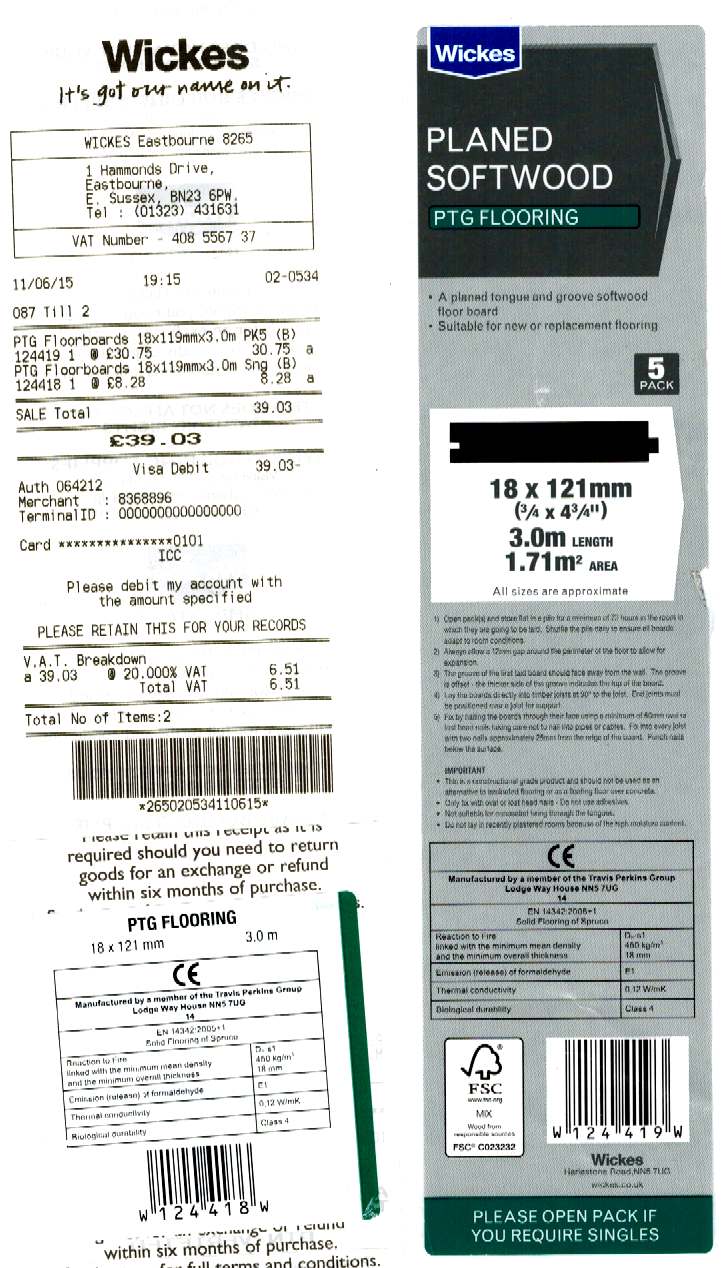 LINKS
http://www.disastercenter.com/guide/tsunami.html
http://www.independent.co.uk/flooding-and-landslides-after-himalayan-tsunami-hits-india
http://edition.cnn.com/2013/06/20/world/asia/india-floods
http://rt.com/news/toll-dead-region-floods-633/
http://www.huffingtonpost.ca/2012/11/04/tsunami-flooding-storm-surge-vancouver-richmond-earthquake
http://www.dailymail.co.uk/news/article-2174353/Japan-floods-2012
http://www.nws.noaa.gov/oh/hurricane/inland_flooding.html
http://www.wickes.co.uk/
UK Forest Products Association
Scottish Sustainable Construction Forum
Passivhaus Trust- UK Passive House Organisation
The Timber Research and Development Association
Sustainable construction materials