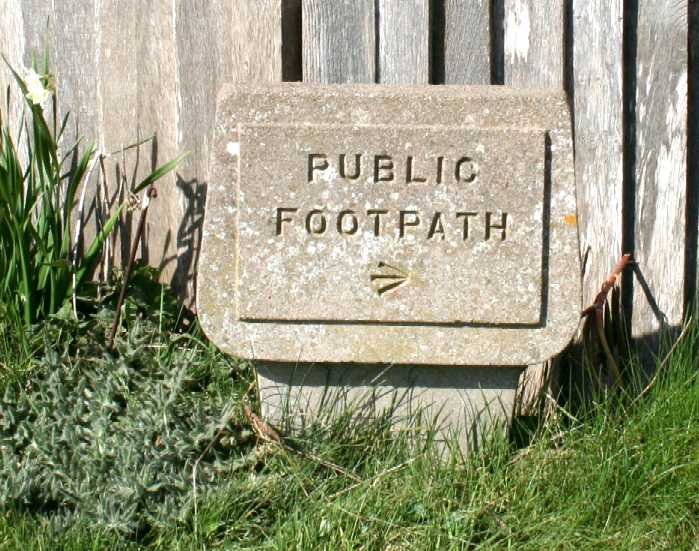 ACCESS TO THE COUNTRYSIDE - The bedrock of enjoyment of the Sussex countryside is the freedom to walk the land. The moment that you remove the paths that have been well trodden for centuries, you will have irreversibly destroyed the special character that England is famous for. Sussex RIP
THE ENGLISH COUNTRYSIDE
This character of old Blighty is under attack by a full scale invasion of gold diggers, all prospecting as hard as they can go. The Klondike like rush stems from local authorities not setting boundaries as they were asked to do by the Secretary of State as to forward plans for affordable housing. The blinking idiots failed to act to identify a rolling stock of land for affordable housing.
Many feel that this failure is not simple negligence, but a deliberate nurturing of a loophole that is allowing the grant of planning permission on sites that are wholly unsuitable, even where a district council has been saying that for years. This is thought to be the case because planning officers are intelligent people and clever strategists. That being the case they would know exactly what they were up to - and it stinks to high heaven.
Suddenly, prospectors have been given a green light to whack in applications, knowing that their chums on parish councils will turn a blind eye to extant polices in exchange for favours. You may have noticed an inexplicable policy reversal in your village. If that has happened you are witnessing corruption in your area. This is not a local phenomenon, it is a national disease that will change the character, hence exportability of the British Isles forever - into a glorified housing estate..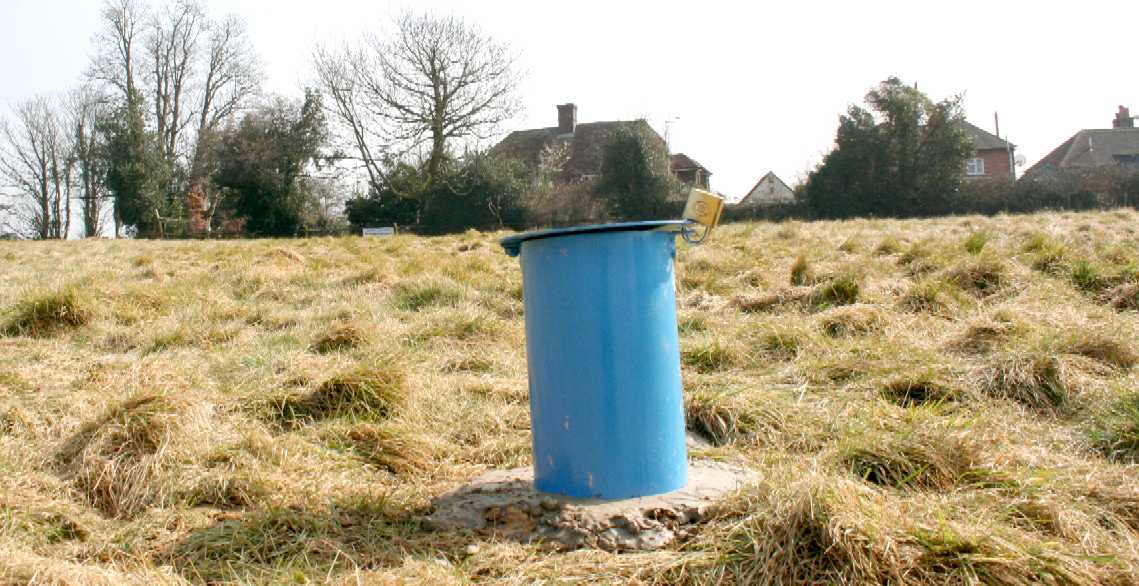 MAGIC MUSHROOMS - Wherever there is a gold rush, you will find these blue mushrooms sprouting from the land.
SECRETARY OF STATE FOR CULTURE & TOURISM
NOV 2014 - The Asian Media and Marketing Group judged the list naming the Cultural Secretary top, beating Nobel Prize winner Malala and One Direction's Zayn Malik. Sajid, is the first ever Asian male cabinet minister. Javid is quoted as saying: "Culture is more than a privilege. It's at the core of who we are and how we define ourselves. If you're not engaged with our cultural life, you're not engaged with our national life. And in 2014, too many Britons are culturally disenfranchised."
CONTACT SAJID JAVID

House of Commons
London, SW1A 0AA
Tel: 020 7219 7027

or

18 High Street Bromsgrove B61 8HQ
Tel: 01527 872135

Email: sajid.javid.mp@parliament.uk
PROMOTING THE UK TOURISM INDUSTRY

The DCMS work with the UK tourism industry to make it easier for it to grow by participating in international trade events and forums, advising it on ways to raise standards, and reviewing rules and regulations affecting the industry.

Ministers regularly meet with industry figures, host tourism roundtable meetings and go on regional visits, all with the aim of making better policy that helps the tourism industry to grow.
The DCMS originates from the Department of National Heritage (DNH), which itself was created on 11 April 1992 out of various other departments, soon after the Conservative election victory. The former Ministers for the Arts and for Sport had previously been located in other departments.

PROSPECTING - The registered public footpath(s) across this field at Lime Cross are not the only well trodden paths. There are dozens of other paths that dog and other walkers enjoy every day - as signified by the wear patterns in the grass. Millions of people love being outdoors whether for walking, cycling, running, exploring, climbing or visiting our National Parks and other open spaces. Over a 12-month period from March 2012 to February 2013, the English adult population participated in an estimated 2.85 billion visits to the natural environment with a total visitor spend of £21 billion.

The ten leading outdoor organisations, collectively representing over six million people with an interest in outdoor recreation and the conservation of our countryside, are: British Mountaineering Council, Campaign for National Parks, English Outdoor Council, Living Streets, Open Spaces Society, Outdoor Industries Association (Britain on Foot campaign), Ramblers, Sport and Recreation Alliance, Wild Network and the Youth Hostel Association.

These organisations are asking political parties to support six proposals for government action on the outdoors to help realise the full potential that recreation and the conservation of our countryside can bring to the nation. Whether it is a walk in the park, a nature trail or a high-octane climb in the mountains, the social, health and physical effects of outdoor recreation are felt throughout the country.

HOW TO RUIN TOURISM IN SUSSEX - Open spaces are a feature of the countryside that should be protected. In this case the whole field has been enjoyed by walkers for as long as anyone can remember. We wonder then if the site should be protected to preserve that right. Is this a case for enforcement or other application of the Prescription Act? If a use has been enjoyed for 25 years without the permission of the landowner, that use is protected in law.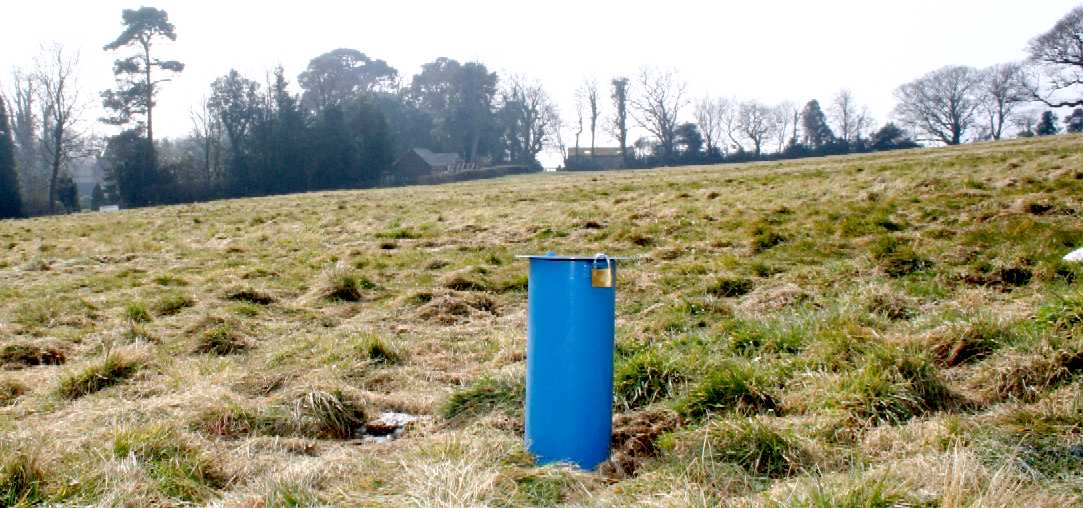 DRINKING WATER CONTAMINATION - Equally, you can see from the levels in this photograph that the ancient well used by Herstmonceux Museum for all of its water supply is subject to contamination that will arise if houses are built above the water table. If you check out the plans for the proposed application from December 2014 and January 2015 (they are identical save for the name of the applicant) you will see that houses are suggested on the slope leading to the Museum. It is thus inevitable that the water supply to this unique heritage asset will become contaminated if the proposed development is allowed to proceed. Herstmonceux Museum is the building above and to the left of the magic blue mushroom in the foreground. Planners should note that the water level in this well rises after heavy rainfall, proving that water from this hill finds its way into the Museum's well. Iron pipes from one of the well heads, leads into this field. We have no idea where those pipes terminate - as we write.
We recall another famous case some year ago where Wealden's planners effectively tried to prove that water flowed uphill. The solicitor and enforcement officer handling that case are no longer with this council, a positive sign perhaps.
The real problem is that the village of Herstmonceux does need more low cost housing and that need should be addressed with a genuine application for affordable housing in more suitable locations. What the village does not need is expensive houses that locals could never aspire to. That would mean an influx of wealthy investors who would no doubt rent these properties at huge cost to the ratepayer, which would be paid out by the local authority in a time of austerity. This is an unsustainable practice that should be stopped dead in its tracks. Otherwise you are opening the flood gates to an avalanche of uncontrolled building development in the UK, as a magnet for foreign investments.
DCMS PERSONNEL
Sue Owen - Permanent Secretary
Sarah Healey - Director General
Alison Pritchard - Director, Government Equalities Office
Samantha Foley - Director
Rita French - Director
Clare Pillman - Director
Ajay Chowdhury - Non-executive director
Dr Tracy Long - Non-executive director
Ruby McGregor-Smith CBE - Non-executive director
David Verey - Non-executive director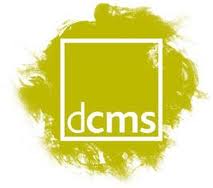 CONTACT THE DCMS
Main office address

Department for Culture, Media & Sport
100 Parliament Street
London
SW1A 2BQ

Email enquiries@culture.gov.uk

Contact form https://www.tools.culture.gov.uk/contactus/contactus.aspx

General enquiries 020 7211 6000
WILDLIFE CONSERVATION Vs DEVELOPER'S BANK BALANCE - NO CONTEST
Conservation good practice goes out the window when if comes to a gold rush. A meadow and the wildlife in it become expendable, contrary to the clear policies in the Wildlife and Conservation Acts. No proper count of species has been undertaken on this site.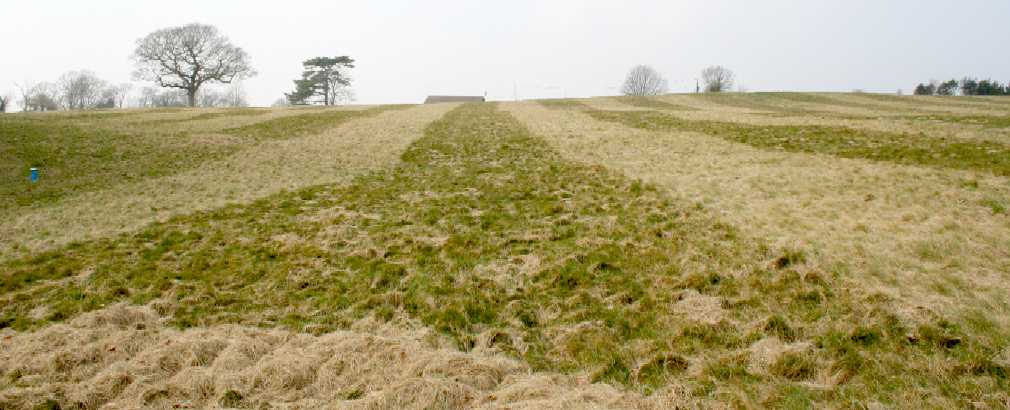 MEADOW SCARIFYING MARCH 2015 - We would not believe our eyes, this morning (17-3-15) a tractor was racing up and down the field adjacent to the Museum. Everyone in the countryside knows that bumblebees emerge at this time of year, and are at their most vulnerable in the cold mornings. It was a cold morning with bright sunshine inviting the bees to get to work.
If you leave the clippings in situ they will produce nitrogen and the coarse grasses will then out compete your wild flowers. This will have the effect of destroying wildflowers by increasing the vigour of more aggressive grasses - and so damaging the environment for bumblebees that depend on wild flowers for food. The field at Lime Cross was scarified on the 17th of March 2015. The intention of the landowner appears to be prevent any study of what wildlife there was, that might upset their planning application. This is (was) a species rich site before March 2015. The question then is: "Was this a deliberate act to destroy a natural habitat?"
BUMBLEBEES - The field at Lime Cross is home to hundreds of bumblebees. The above pictures were taken on the 17th of March 2015 shortly after the developers tractor scarified the land - leaving the cut grass to encourage the growth of grass over flowers. The picture on the left shows a bumblebee in the field. The picture on the right was taken inside Herstmonceux Museum, where a bee had entered the building via a window and become trapped inside (freed of course). The point here is that anyone walking in this field would see the many bees that depend on this meadow for their survival. The scarifying on the 17th March 2015 is sure to have damaged this habitat and the number of bees sighted shortly thereafter is suggestive of the harm that the tractors caused.
Sadly, bumblebees in the UK have been declining because of changes in agricultural practises that have largely removed flowers from the landscape, leaving the bumblebees with little to feed upon. Most UK species have declined greatly in recent years and two have become extinct in the UK since 1940.

In the UK there are 24 species of bumblebee but only eight are commonly found in most places. Bumblebees are found in a variety of habitats and most people should be able to attract them to their gardens if they have the right kinds of flowering plants. The dramatic decline in populations of most species, and the extinction of two species in the UK, show that something needs to be done.

It has been estimated that we have lost 97% of our flower-rich grassland since the 1930s. As bees rely entirely upon flowers for food, it is unsurprising that their populations began to rapidly decline in most places.
In 2006 the bumblebee researcher, Dave Goulson, founded a registered charity, the Bumblebee Conservation Trust, to prevent the extinction "of any of the UK's bumblebees.

The world's first bumblebee sanctuary was established at Vane Farm in the Loch Leven National Nature Reserve in Scotland in 2008.

In 2011, London's Natural History Museum led the establishment of an International Union for the Conservation of Nature Bumblebee Specialist Group, chaired by Dr. Paul H. Williams, to assess the threat status of bumblebee species worldwide using Red List criteria.
ZERO CARBON BRITAIN - SUSTAINABILITY TEST CASE
This is surely not what the Secretary of State is advocating, where the drive at the moment is for a closed loop economic cycle. The Secretary of State should thus be invited to call in this application if it is passed, either locally or on appeal. For it strikes at the heart of sustainability and what constitutes sustainable practice. It could thus become a test case.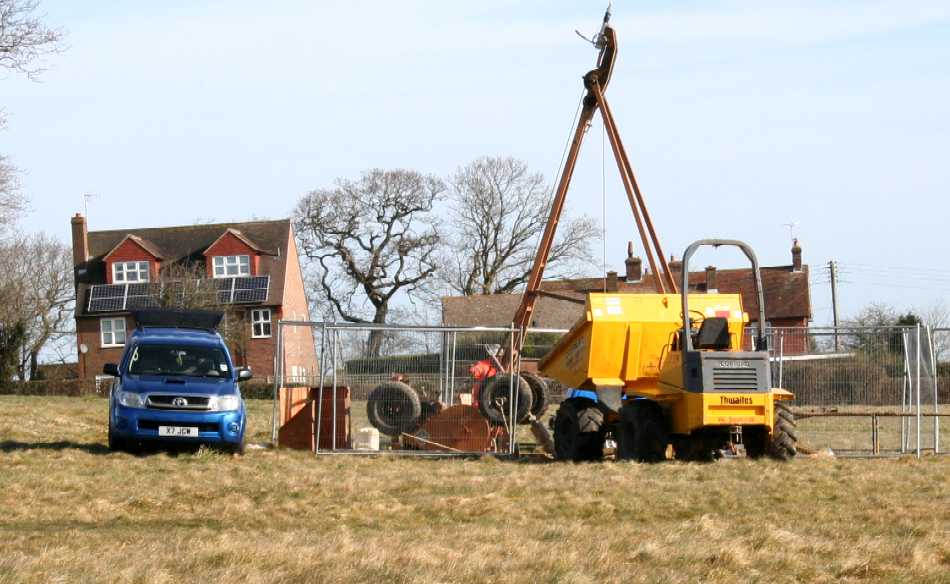 Is this planning thuggery? We are told that the first application on this site from 2014 is virtually identical to the January 2015 application, save for the name of the applicants. Apparently the name of the original applicants is now removed. How many people on the Parish Council are related to the original applicants and was the removal of the name so that interests did not have to be declared? If the owners of the site, or indeed any council member who might be related would care to comment, we'd be delighted to hear from you. And what about contamination of the land. Herstmonceux Museum relies on an ancient well for its water. With so many houses so close, their drinking water is bound to become contaminated.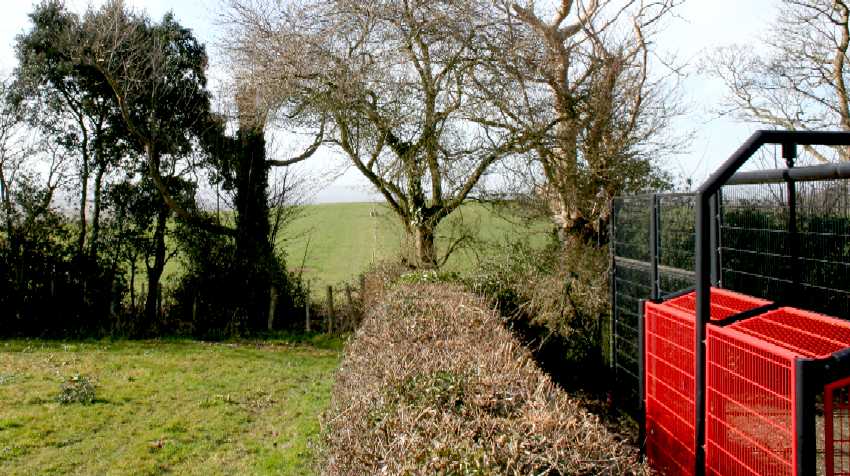 IRRATIONALITY - To put things in perspective you need to look at the field next door looking to Hailsham. This field does not interfere with a historic view. This field cannot contaminate the water supply for anyone. This field has superior access to the A271, not before the brow of a hill, and not at a speed sign and island that is sure to confuse motorists. The exit for the field above onto the A271 is also suitable for a mini roundabout. For all these reasons it makes a nonsense for any committee to give credence to this application, when there are so many more suitable alternatives. One should not grant consent on a site, simply because it has been put up as a possibility. One should look at the suitability in overall terms. Compulsory purchase gives councils the power to say where development should be. Why don't they use it?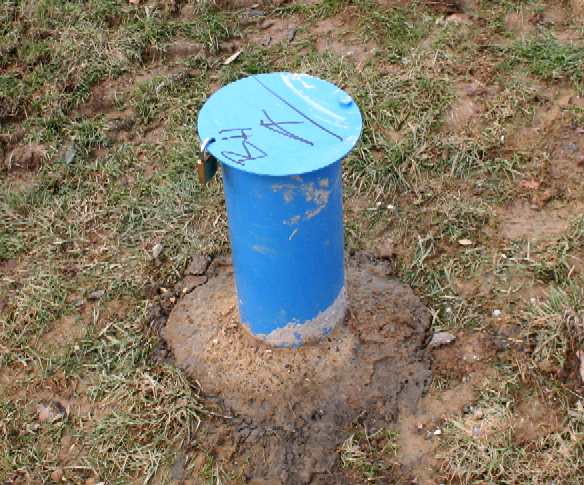 GOLD RUSH FEVER - They are everywhere, these blue steel mushrooms. Magic, if you are a landowner looking for a quick buck. The burning question is, were they located in the correct positions to be able to give an accurate assessment of the soil and water flow? We understand that Lime Park is the site of an ancient monastery.
WD/2015/0090/MAO - LOCAL GOVERNMENT CORRUPTION
This application is contrary to all Local Plan policies. It is considered by many to be downright dangerous where the A271 is a narrow country road with no prospect of a roundabout in this location as a means to accommodate the irregular movements that are accidents waiting to happen.
SUSSEX INDEX A - Z
CHIDDINGLY - HORSE SHOW and GYMKHANA
CUCKMERE VALLEY - EXCEAT
HERSTMONCEUX - MUSEUM - COSTS SCANDAL - PARISH COUNCIL - ACTION GROUP -
TWISSELLS MILL, OLD HEATHFIELD
LINKS & REFERENCE
http://www.saga.co.uk/lifestyle/gardening/q-and-a/how-to-make-a-meadow.aspx
http://www.sussex-young-walkers.org.uk/
http://www.ramblers.org.uk/sussex
http://www.sussex-ramblers.org.uk/
http://new.polegateramblers.org.uk/
http://www.highwealdwalkers.org.uk/
https://www.tools.culture.gov.uk/contactus/contactus.aspx
https://www.gov.uk/government/organisations/department-for-culture-media-sport
http://en.wikipedia.org/wiki/Department_for_Culture,_Media_and_Sport
http://www.amberleymuseum.co.uk/
http://www.sajidjavid.com/
https://www.gov.uk/government/people/sajid-javid
https://twitter.com/sajidjavid
Wikipedia Department_for_Culture_Media_and_Sport
Sussex Express county news concerns over housing plans in Herstmonceux
http://www.southeastwater.co.uk/
http://www.eastbourneherald.co.uk/news/local/more-water-works-set-for-rural-village-1-5310560
http://www.sussexexpress.co.uk/news/county-news/concerns-over-housing-plans-in-herstmonceux-1-5815244
Brighton Royal Pavilion, Libraries & Museums
Daily Mail almost-6-000-buildings-historic-sites-risk-lost-neglect-decay-say-English-Heritage
http://www.english-heritage.org.uk/
http://www.thekeep.info/
http://www.heritagegateway.org.uk/gateway/
http://www.eastsussex.gov.uk/environment/archaeology/default.htm
HERITAGE INDEX A - Z
BARCLAYS BANKING LET DOWN - MISSING ACCOUNT MONEY
BARON CARL VON ROEMER & CHARLES de ROEMER
CAMPBELL HALL - BLUEBIRD ELECTRIC CARS
GAS ENGINES - COAL CONVERSION, INTERNAL COMBUSTION
OBSERVATORY - HERSTMONCEUX CASTLE
SOLAR LADY - STATUE
COUNCIL OFFICERS HAVING CONDUCT OF PLANNING MATTERS RELATING TO HERSTMONCEUX MUSEUM
WEALDEN COUNCIL MEMBERS SITTING ON THE AREA PLANS SOUTH PLANNING COMMITTEE
Andrew Long - (no email address)
David White - cllr.david.white@wealden.gov.uk
Diane Dear - cllr.dianne.dear@wealden.gov.uk
Charles Peck - cllr.charles.peck@wealden.gov.uk
Chris Hardy - cllr.chris.hardy@wealden.gov.uk
Chris Triandafyllou - cllr.chriss.triandafyllou@wealden.gov.uk
Daniel Shing - daniel.shing@wealden.gov.uk
Dick Angel - cllr.dick.angel@wealden.gov.uk
Barby Dashwood-Morris - cllr.barby.dashwood-morris@wealden.gov.uk
Barry Marlowe - cllr.barry.marlowe@wealden.gov.uk
Bill Bentley - cllr.bill.bentley@eastsussex.gov.uk
Brian Jarman (deceased)
Brian West - (retired)
John Blake - cllr.john.blake@wealden.gov.uk
Lin Clark - cllr.lin.clark@wealden.gov.uk
Nigel Coltman - cllr.nigel.coltman@wealden.gov.uk
Nigel McKeeman - cllr.nigel.mckeeman@wealden.gov.uk
Raymond Cade - cllr.raymond.cade@wealden.gov.uk
Ron Cussons - cllr.ron.cussons@wealden.gov.uk
Stephen Harms - cllr.steve.harms@wealden.gov.uk
Stephen Shing - cllr.stephen.shing@wealden.gov.uk
Susan Stedman - cllr.susan.stedman@wealden.gov.uk
LOCAL NEWSPAPERS CONTACTED
Sussex Express - sussex.express@jpress.co.uk
amie.morrell@jpress.co.uk
Eastbourne Herald - eastbourne.herald@jpress.co.uk
The Argus - lucy.pearce@theargus.co.uk
Chapel Row leads into Church Road at the Junction of Lime Park. It's all very confusing for postal deliveries - a bit like the Bermuda Triangle. Why then was one road divided into two stretches? The answer to that is because at the southern end of Church Road, there is a reasonably large church, whereas, at the northern end, there is a smaller chapel. Right at the intersection of these two stretches of the same road is Lime Park, shown here as a dead end. If this planning application is approved, that is what the village will become: A Dead End - in terms of tourism and history. Herstmonceux RIP.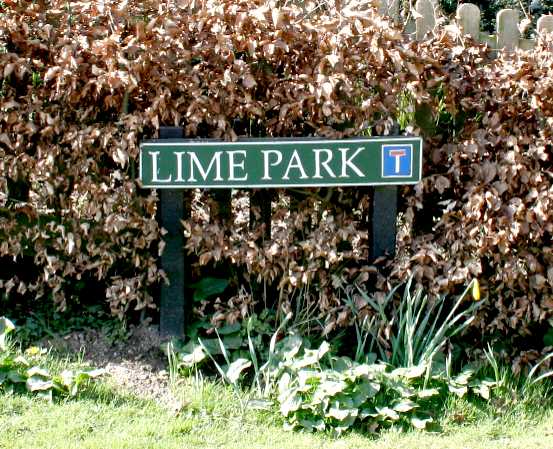 A CHAPEL - is a religious place of fellowship, prayer and worship that is attached to a larger, often nonreligious institution or that is considered an extension of a primary religious institution. It may be part of a larger structure or complex, such as a college, hospital, palace, prison, funeral home, church, synagogue or mosque, located on board a military or commercial ship, or it may be an entirely free-standing building, sometimes with its own grounds. Many military installations have chapels for the use of military personnel, normally under the leadership of a military chaplain. Until the Protestant Reformation, a chapel denoted a place of worship that was either at a secondary location that was not the main responsibility of the local parish priest, or that belonged to a person or institution. Most larger churches had one or more secondary altars, which if they occupied a distinct space, would often be called a chapel. Although chapels frequently refer to Christian places of worship, they are also commonly found in Jewish synagogues and do not necessarily connote a specific denomination.

A CHURCH - A church building, often simply called a church, is a building used for religious activities, particularly worship services. The term in its architectural sense is most often used by Christians to refer to their religious buildings but can be used by other religions. In traditional Christian architecture, the church is often arranged in the shape of a Christian cross. When viewed from plan view the longest part of a cross is represented by the aisle and the junction of the cross is located at the altar area. Modern church buildings have a variety of architectural styles and layouts; many buildings that were designed for other purposes have now been converted for church use; and, similarly, many original church buildings have been put to other uses. During the 11th through 14th centuries, a wave of building of cathedrals and smaller parish churches occurred across Western Europe. A cathedral is a church, usually Roman Catholic, Anglican, Oriental Orthodox or Eastern Orthodox, housing the seat of a bishop.