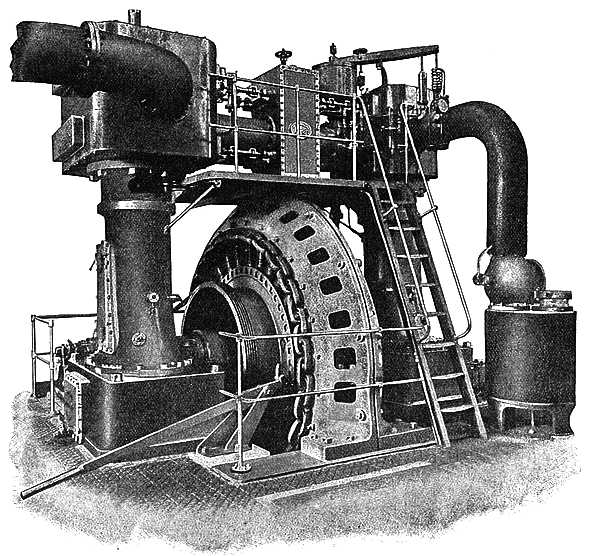 STEAM POWER - Ferranti two-phase generator steam set installed in 1903.
The power grid as we know it began with isolated power generation systems across the world starting in the 1870s. Many of these were rural developments, such as that at Herstmonceux in Sussex, England. The growth and eventual unification (still no world unification) of the system in Europe and the USA is what we term as "Electrification of our World", which is broadly divided between 110 and 240 volt systems. Power generation and transmission over distance is the most important consideration when it comes to supplying every corner of the planet.

DC power systems were popular from 1870's to 1880s. Small systems were sold to factories around the world, both in urban areas, and remote undeveloped areas for industrial/mining use. Thomas Edison, Charles Brush, and Werner von Siemens lead the largest efforts to electrify the world. DC systems powered factories and small downtown areas, but did not reach 95% of residents. Herstmonceux used an Edison-Hopkinson DC generator, or some such set that is extremely similar in design. We know this because we have part of a pulley wheel that matches the general configuration of that brand.
To make real the dream of supplying whole cities with electric power it was obvious to engineers that you would need to generate the power in one place (like a large river with great hydo-power potential) and transmit it to the cities and factories. This was accomplished is three main changes to generating fromat:
1. High Voltage Direct Current (HVDC) Power - This was the first method of transmitting electric power over distance. HVDC is the oldest and newest method of distance transmission, today it has reemerged in an advanced form to possibly replace major AC high-voltage routes.

2. Alternating Current (AC) - Developed first in France, Italy and Germany, AC quickly caught on as the best method for distributing electric power. Understanding and building AC systems required more advanced maths and physics than DC systems. There was a 10 year delay in AC commercial system development vs. DC, due to the change in equipment - a bit like swapping VHS tapes for Bluray discs.
3. Three Phase Power - Three phase AC power was first developed in Germany by August Haselwander in 1887. The world debut for the system was in 1891 at the Lauffen-Frankfurt demonstration [International Electro-Technical Exhibition] The demonstration set was built by Dolivo-Dobrowolsky and Oskar von Miller.
Mill Creek 1 in California was to be the first US commercial use of three phase power. Charles P. Steinmetz improved three phase and fully explained the concept using a mathematical model for the first time.
Deptford Power Station was a coal-fired power station on the south bank of the River Thames at Deptford, south east London. This station is regarded as the first modern high-voltage power station in the world - sadly now demolished.


LONDON - DEPTFORD

Deptford East

The first station was designed in 1887 by Sebastian de Ferranti for the London Electric Supply Corporation. It was located at the Stowage, a site to the west of the mouth of Deptford Creek once used by the East India Company. Built on an unprecedented scale and pioneering the use of high voltage (10,000V) AC current, generating 800 kilowatts. The station was intended as a large scale plant to supply central London. The need to lay distribution cables across the streets of numerous local authorities stirred up a Board of Trade Inquiry, and concerns about the wisdom of concentrating so much generating capacity at a single site. The company also lost customers due to early teething troubles and the station was eventually opened in 1891 on a smaller scale than envisaged. However it was still the world's largest power station at the time. The original building, known as Deptford East, remained in use until 1957.

Deptford West

A new Deptford West station was built on a former dry dock site and opened in 1929 by the London Power Company. Designed by Leonard Pearce, it had a single large concrete chimney at the northern, riverside end. In 1948 the LPC was nationalised under the Electricity Act 1947. In 1953 the station was extended following the same design, the new section having a similar chimney at each end. This section was known as Deptford West HP* (High Pressure). Generation ceased on 31 October 1983; the station had a generating capacity of 158 MW. Following demolition in 1992 the site was redeveloped for housing. The large coaling jetty in the Thames survives. A nearby park developed from a derelict site has been named Ferranti Park.

Coal supply

Coal was brought by sea from North East England or South Wales. The LPC and its nationalised successors had its own fleet of coastal colliers for this service, such as the 2,268 GRT SS Francis Fladgate built in 1933 and 2,904 GRT SS Oliver Bury built in 1945.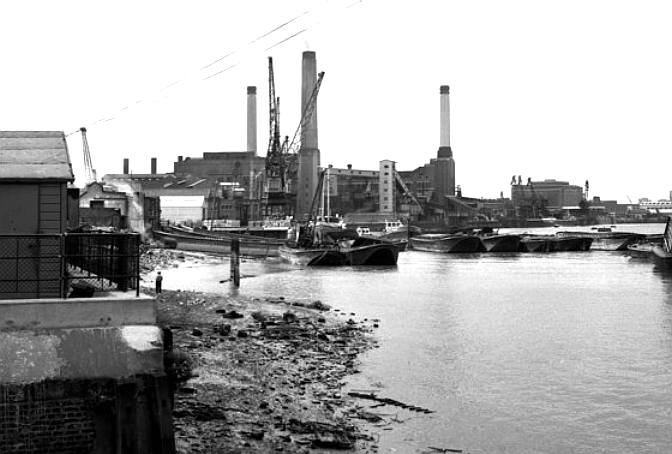 Very similar in design to Battersea, this was Deptford power station in London (River Thames) in 1973, before demolition to build houses.
1879 Dolgeville Dynamo Dolgeville Mill, Dolgeville, NY, USA. 1879
possibly the earliest hydropower in the US? more research is needed. This is not AC but represents a start to hydro electric power in North America.
1881 Niagara Falls, New York -A small dynamo supplied a few stores in in Niagara Falls with power for lighting. AC power came to this area 14 years later.
1882 Appleton Wisconsin, US DC power, 12.5 kW. Some claim this to be the first hydroelectric station in the world, this is easily disproved, however it was the first Edison hydroelectric station. It powered Van Depoele's early electric trolleys later in 1886.
1882 Miesbach to Munich, Germany- longest DC transmission to this date: 1400 volts 57 km distance built by Marcel Deprez. HVDC
Transmission length: 57 km (37 miles)
1884 Lanzo Torinese to Turino, Italy- 2000 volt 3 phase experimental transmission line. This information is from the Deutsches Museum in Munich and must be confirmed.
Transmission length: 40 km (25 miles)
1886 Great Barrington, Massachusetts The first AC power distribution system using transformers is built in the small city of Great Barrington. It used a Siemens generator and Edison's incandescent lights. Stanley and Z.B.D. had used the transformer in separate experimental systems in 1885, Great Barrington was the first full-scale installation.
Transmission length: ~1500 ft (455 meters)
1889 Oregon City Falls, Oregon, USA Longest DC transmission of power in North America is established south of Portland at Station A.
Transmission length 14 miles (DC Power)
1890 Oregon City Falls, Oregon, USA Experimental, 2 phase AC generators installed by Westinghouse at Powerhouse A, it sent power to Portland. It was 5 years later before regular commercial AC power was established in Powerhouse B.
Transmission length 14 miles (AC power)
1891: Telluride Colorado- Ames Hydroelectric Plant: 3000V, 133 Hz, single phase. It sent power to mining operations in the mountains near Telluride. It was a Westinghouse experimental project.
Transmission length: 2.5 miles
1891: Lauffen-Frankfurt Germany - A MAJOR STEP FORWARD: The first long-distance and 3-phase alternating current demonstration. This proved that three phase power worked the best for a power grid. This project was developed by Oskar von Miller and engineered by the founder of 3 phase AC power Mikhail Dolivo-Dobrovolsky.
Transmission length 175 km (109 miles)
1893: Redlands Mill Creek 1 powerhouse Redlands, CA 1893
The first 3-phase AC commercial power plant in the world. This used C.P. Steinmetz's improved 3-phase system.
Transmission line length: 7 miles
1893 Hellsjon - Grangesberg, Sweden: developed by Ernst Danielson, he also was involved in the Mill Creek Plant at Redlands, California in the same year.
Transmission line length: 10 km
1895: Pelzer Hydroelectric Plant, South Carolina This plant provided AC 3-phase power to the Pelzer Manufacturing Plant. 3300 V (no transformers were used on transmission)
Transmission line length: 2.75 miles
1895: Folsom Powerhouse, Folsom California Built near a reservoir that catches water from the Sierra Nevada outside of Sacramento.
Transmission line length: 22 miles

*The Folsom Prison opened a small AC powerhouse in 1893 as part of the same hydro system
1895: Willamette Falls, Oregon, USA. Powerhouse B is built on the Willamette River and supplies commercial AC power to Portland 14 miles away.
Transmission line length: 14 miles
1895:Niagara Falls AC Power Plants Westinghouse won the contract to build this power plant. GE won the contract for power transmission to Buffalo. The opening of the power plants was trumpeted in the international press more than any other hydro plant before, or possibly since. For this reason it is mistakenly believed to be the first. Nonetheless it was the largest hydro power plant till that date.
Transmission line length: 25 miles (1896)
1897: Mechanicville Power Station, Mechanicville, New York Transmission line length: 17 miles
This power station was built as an experiment of C.P. Steinmetz and commercial operation.
- Also the site of Albert W. Hull's HVDC experiments in 1932 read more about it.HVDC
Schaghticoke Power Station Schaghticoke, NY

Site of an experimental monocyclic power transmission 1908. This was a project by AC Pioneer Charles. P. Steinmetz.
After 1900 the number of power stations exploded. All across the world from Argentina to Singapore AC 3 phase power became established as the best way to supply populations with electric power.

Please see this Contact page to help other webmasters keep up to date with new finds, etc.
HISTORY - Gardner Street is the main road (now A271) that runs through the village of Herstmonceux. The road here is nothing more than a dirt track, because of course that is all that horses and carriages needed and cars were yet to come.
Herstmonceux Museum is a monument to the early electrical generating age, providing power to the nearby village via DC cables underground. The building itself is a monument to science; technology in action.
The museum is run by the Lime Park Heritage Trust. Admission is by arrangement for archaeological groups only at present.
Herstmonceux Museum
Lime Park Heritage Trust
Herstmonceux
East Sussex
BN27 1RF, UK
Telephone: 0044 1323 831727
Email: energy@solarnavigator.net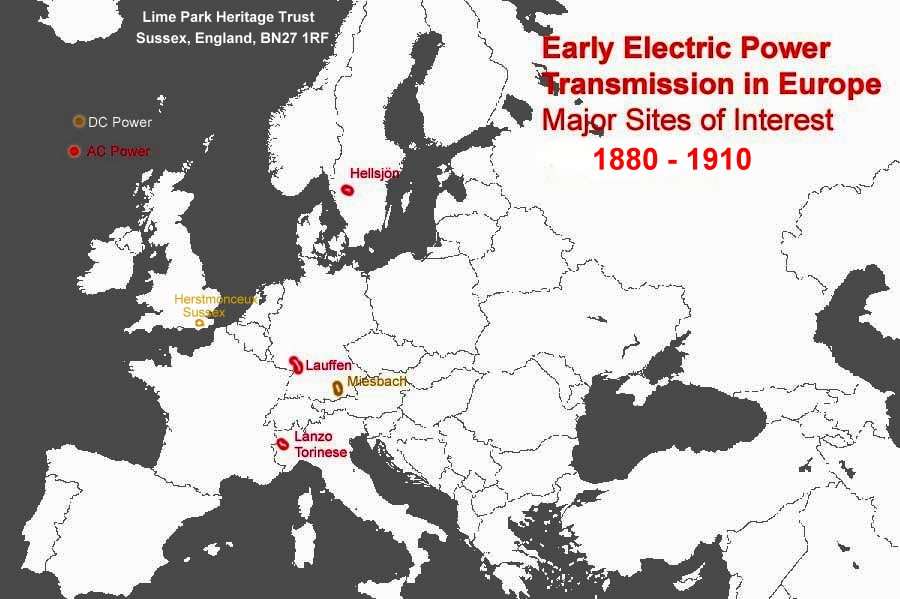 ARCHAEOLOGY - It is interesting to compare the development between Europe and the United States by 1910. US = 8 sites, EU = 5 sites. There are bound to have been more, but the political climate across the world does not favour conservation. Generally, it is left to individual enthusiasts and archaeological groups to keep the history alive.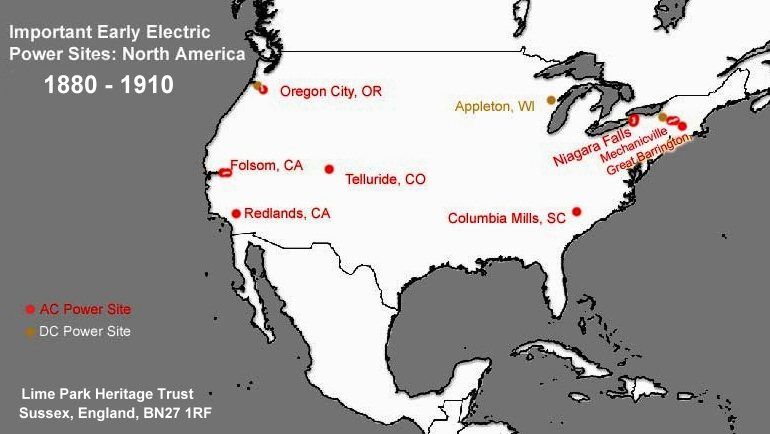 LINKS
http://edisontechcenter.org/HistElectPowTrans.html
Day out with the kids Museums-and-Galleries
http://www.sussex-southdowns-guide.com/sussex-museums
http://www.sussextourism.org.uk/
www.sussexpast.co.uk/properties-to-discover/lewes-castle
Brighton Royal Pavilion, Libraries & Museums
http://www.english-heritage.org.uk/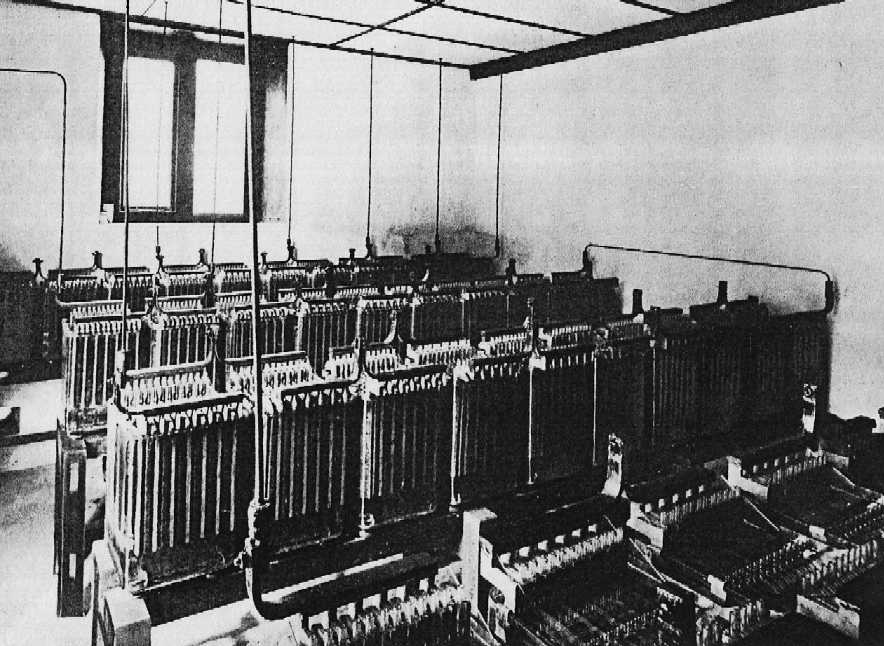 ARCHAEOLOGY - This is a near identical battery storage arrangement to that at Herstmonceux when the Museum was generating electricity for the village.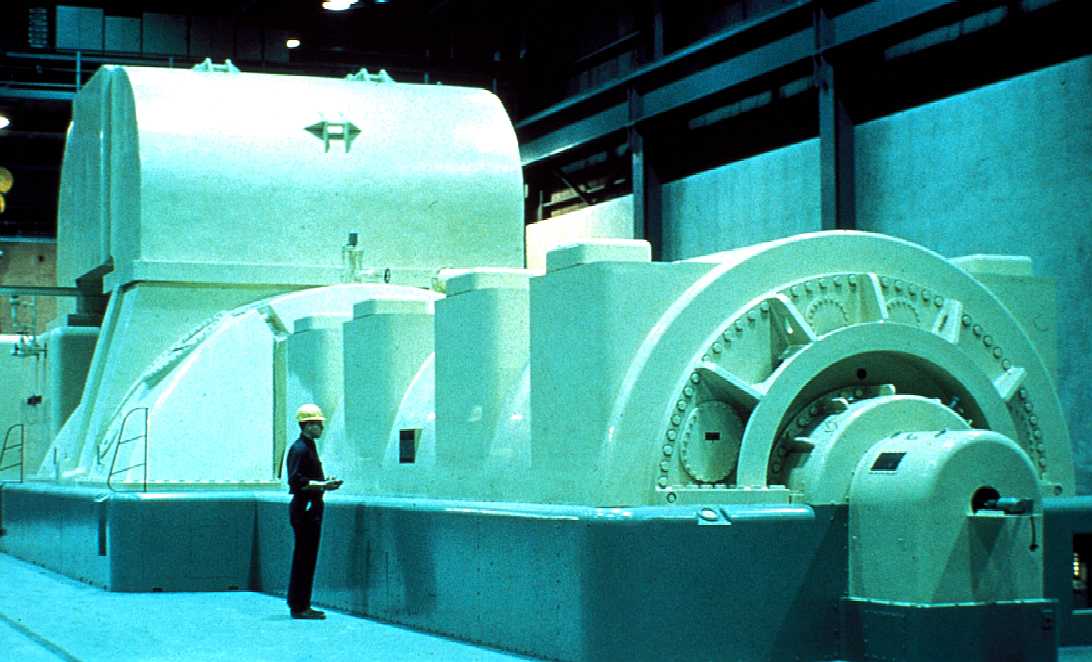 TODAY - Where would we be without electricity. This picture illustrates the progress and need for more and more energy.
HERITAGE INDEX A - Z
AVIATION - EASTBOURNE
BARCLAYS BANKING LET DOWN - MISSING ACCOUNT MONEY
BARON CARL VON ROEMER & CHARLES de ROEMER
CAMPBELL HALL - BLUEBIRD ELECTRIC CARS
GAS ENGINES - COAL CONVERSION, INTERNAL COMBUSTION
OBSERVATORY - HERSTMONCEUX CASTLE
SOLAR LADY - STATUE