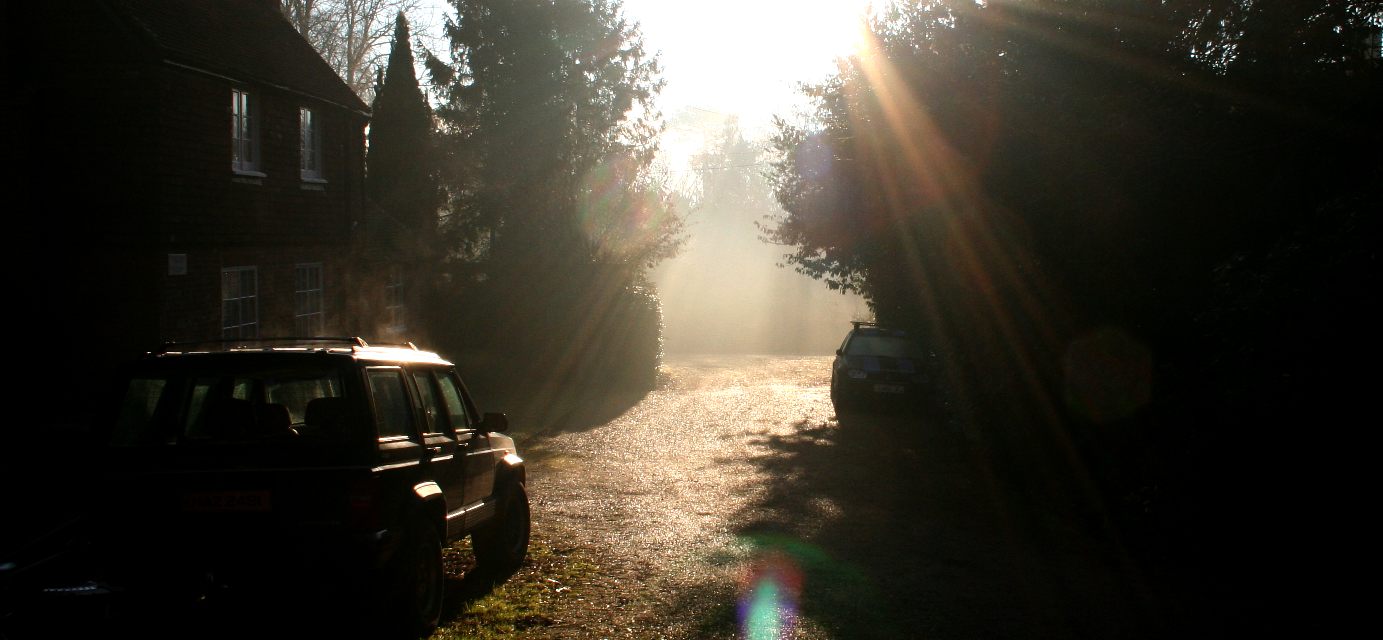 A BRIGHT FUTURE - The sun rises over Lime Park in January of 2017. Frost on the Jeep in the foreground is vaporized, causing the roof of the vehicle to steam as the sunshine steaks through the morning mist.
Herstmonceux Museum is a monument to the early electrical generating age, hence the building is itself a feature. This little gem of a wooden building once provided electricity to the whole village of Herstmonceux before 1909, generating enough electricity by 1913 for electric cooking and for the village bakery. That in itself is a significant technological achievement for any entrepreneur living in a Sussex backwater, in this case: Charles de Roemer.
This site is now under threat from a planning application to turn the field connecting the village with the generating building, via underground cables that should rightly be listed as monuments.
The only reason that certain emplacements are not listed monuments, is that the Trust does not have an income and cannot therefore operate in a managerial manner to qualify for listing. Indeed, listing would place financial burdens on the Trustees that would ruin them. The present funding system is not designed to protect small units such as ours, which is one reason why we lose so many monuments each year, hence the creation of the Heritage At Risk Register by Historic England.
Instead, the building is on a Monument Protection Programme with archives in London (EH) - that offers some degree of protective status, allied to archives held in Lewes (ESCC). Fortunately, most scientists, while protecting their employed positions in a complex political soup, are also seekers of the truth.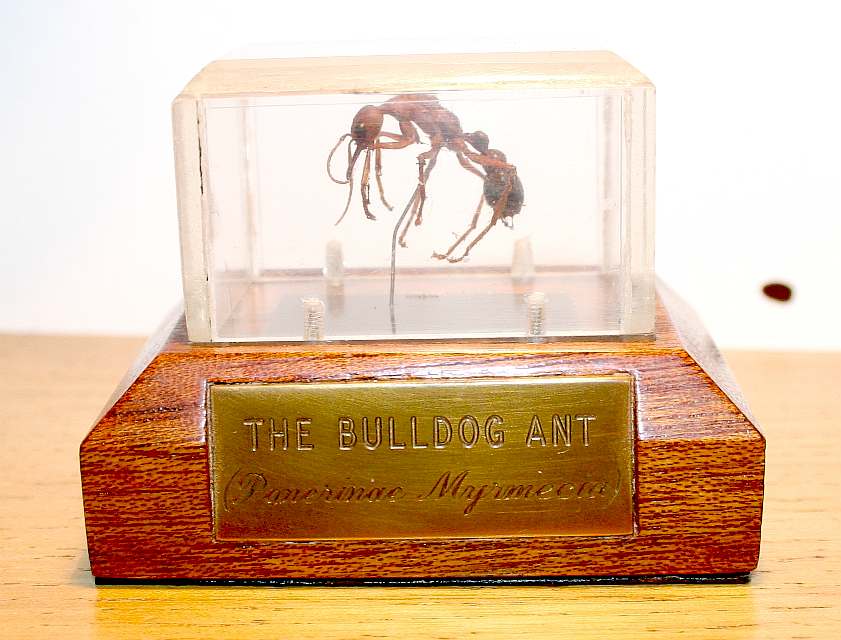 ROBOTICS - A giant robot ant was part constructed at Herstmonceux Museum in the early 1980s. The preserved specimen of Bulldog Ant that was used in the making and design of the robot is some 33 years old and still as good as the day when it was flown in from Australia with a Tarantula for company - which it ate.
AUTOMOTIVE EXHIBITS
While most people will be interested in the archaeology of the building as the exhibit, from 1982 onwards a local Sussex inventor produced a remarkable range of machines and other interesting artifacts that demonstrate a wide range of skills and interests to qualify the inventor as a renaissance man, or design genius. The Trust have been fortunate to secure these items as exhibits, some of which are detailed below, and please note that we will be adding to this page as more items are unearthed and need a good home.
AUTOMOTIVE - [LEFT] This was the second car built at Herstmonceux Museum by a local inventor. The first, a joystick car, we unfortunately cannot track down. The Bluebird Electric BE1 is/was the first car to be able to exchange batteries itself with built in patented loading equipment, seen here on display at another famous Museum; the National Motor Museum - Beaulieu. This car was driven by the grandson of Sir Malcolm Campbell for media articles and at the LETEC Awards held at the London Arena, but not during any of the high speed runs on the Polegate Bypass where it achieved around 160mph using high speed motorcycle tires and Lynch electric motors. These are not the tires seen in this picture, about which some people have commented. The tires shown here were ordinary car rubbers on steel rims for delivery purposes only. Thinner racing motorcycle tires were fitted on alloy rims for high speed runs. [RIGHT] - This was the third car built at Herstmonceux Museum by the same local inventor. Arguably one of the most beautiful land speed record vehicles, the Bluebird Electric BE2 is/was the second car in the series to be able to exchange batteries itself with a built in patented battery recharging system. The car is seen here on display in Chelsea, London at the Bluebird Store, then owned by Sir Terence Conran's group of companies. This car was not driven by the grandson of Sir Malcolm Campbell, Don Wales, but was used by him for publicity purposes while a partner with the inventor and while the inventor was promoting Mr Wales - the services for which, he alleges, that he was not paid. These vehicles were the means by which Don Wales (previously unknown) entered the land speed record arena.
NAUTICAL EXHIBITS
With electricity as the underlying theme, the car builder abandoned terra firma for the briny blue. This time solar power was the energy provider. In 1995 a solar boat model was exhibited at Earls Court in London together with a course map of the world that had been calculated to provide energy to circumnavigate the globe at between 7 - 10 knots at the right time of year. In May of 2012 the theory was put to the test by a team from Switzerland on a boat called 'PlanetSolar' when a UIM and Guinness world records were set for the first circumnavigation on solar power.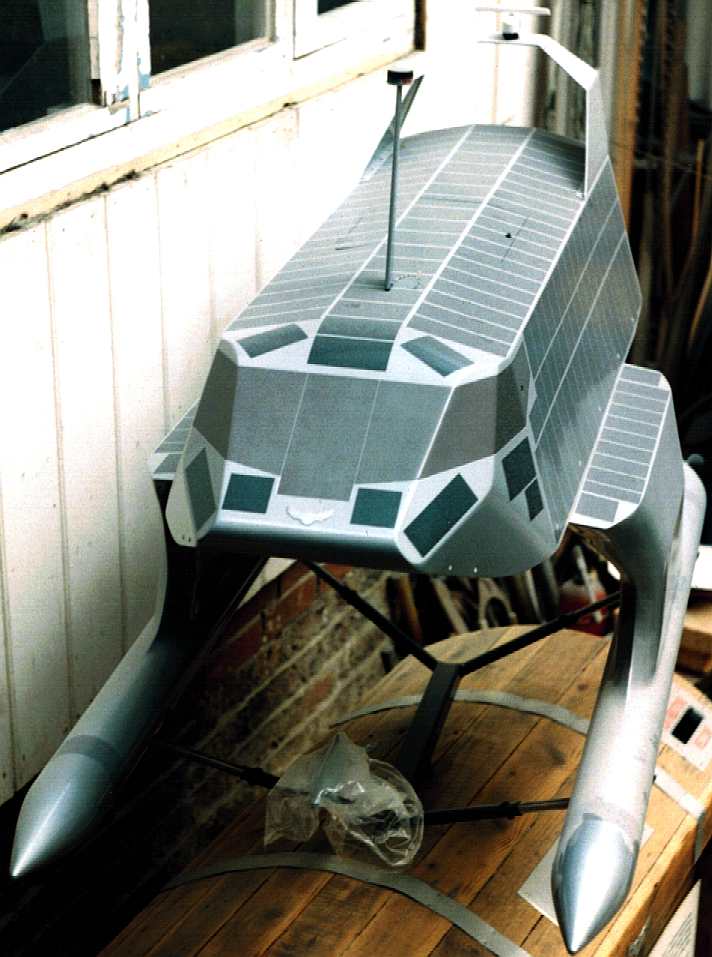 MARINE - This fully working solar powered SWATH model was exhibited by the inventor at Earls Court, Child Beale and the Eastbourne Arndale centre, before being retired for a more advanced SWASH hull that is much faster. It was built at Herstmonceux Museum from 1994 to 1995. The Trust have now acquired the vessel and the revolving treasure chest mechanism that powered the display.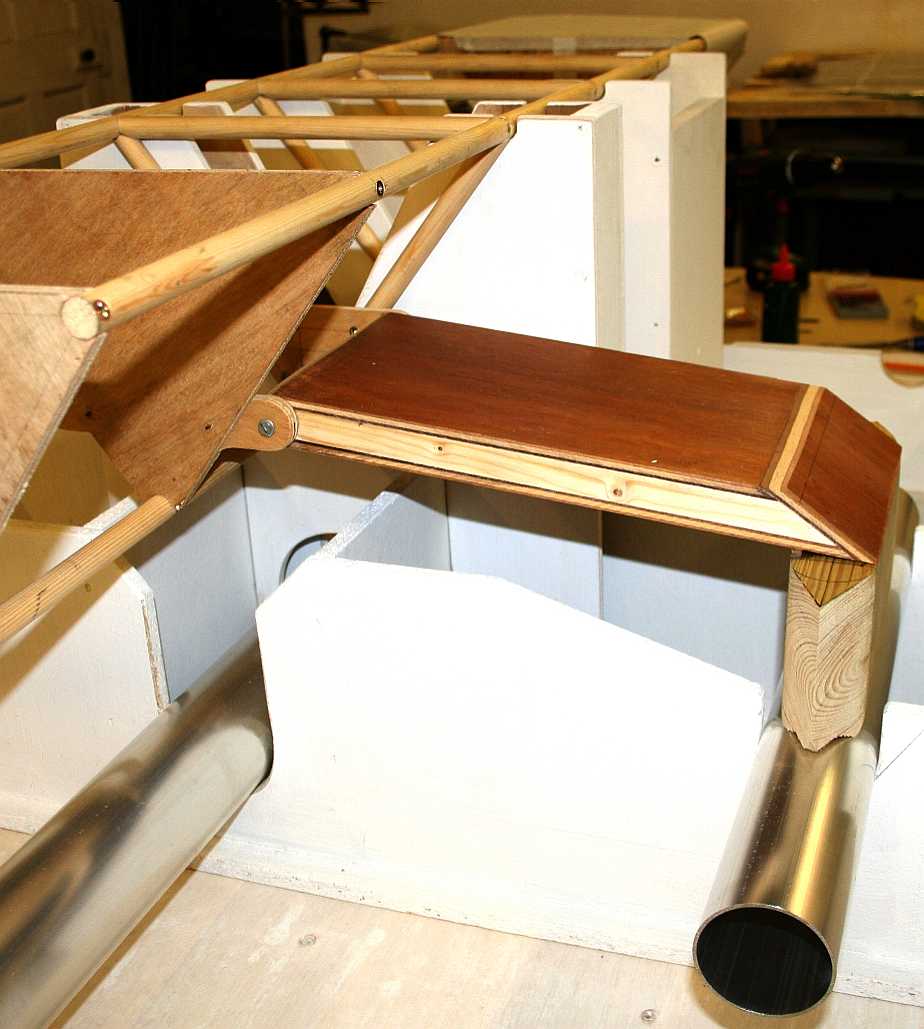 MARINE - This prototype SWASH model was/is the test-bed for another patent specification by the inventor in 2013, published in September 2014, this time for an autonomous boat that not only gathers energy from nature for propulsion from wind and solar devices, but also navigates the high seas without the need for a crew.
WORKING MUSEUM
In addition to the exhibits above and the original building layout and fabric, the inventor made a number of improvements to the building in line with sustainable, zero carbon living. These improvements contrast against the exhibits and working nature of the building to add extra grist to the inventions on display and the pioneering spirit that many such extraordinary individuals possess, some of which are:
Thomas A Edison
Few people will know that President Lincoln was an inventor and patentee, using his creativity to solve a maritime problem that he had identified. Many people will know that these persons exhibited high degrees of perseverance in the face of adversity. Much of which is at a local level, where politics may not be entirely just. Such happenings may stir you to wonder at what may have been achieved by this man if neighbor ambitions were removed from the equation and local politics had been discrimination free.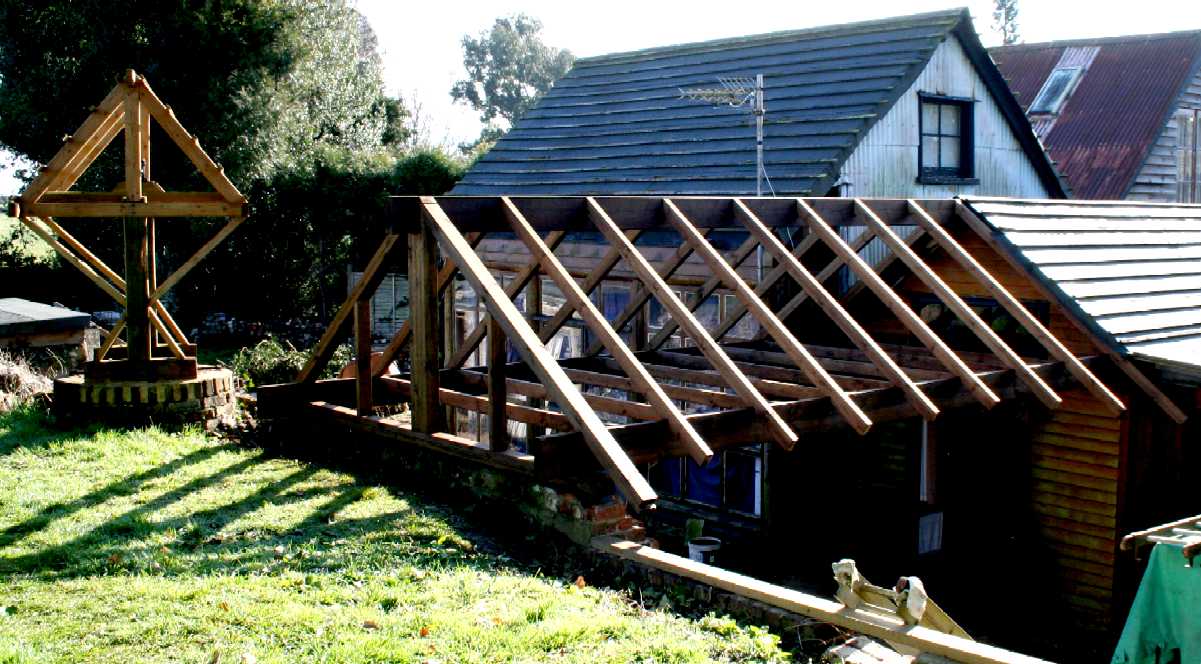 ZERO CARBON - The installation of a wooden framed 'solar' conservatory in 2014 and an automatic well pumping system in 2013 for onsite supply of affordable heat and water. If houses are to be truly sustainable, they will have to feature such built-in facilities. This is truly an example of the past showing the way to a better future.
NEW ROOF - This museum outbuilding gets (2016) a new roof that will be used as a space saver to house and display the BE2. The whole unit is to be upgraded as funds allow, to make a showcase that will last, display, and keep the exhibits in good condition.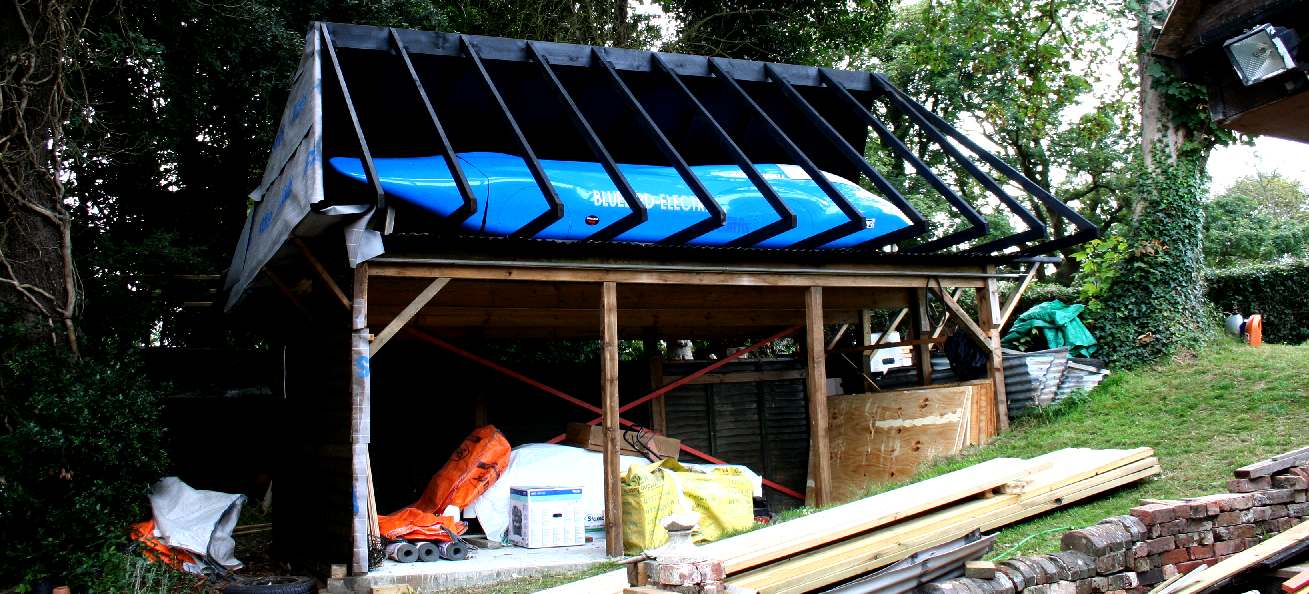 SHOWCASE - The BE2 is installed in the roof space. A laminated glass roof will be fitted so that visitors to the Museum can observe the vehicle. This beautifully streamlined electric car will be spot lit. We call this our observatory.
CONTACTS
Herstmonceux Museum
Lime Park
Herstmonceux
East Sussex
BN27 1RF, UK
Telephone: 0044 1323 831727
Email: energy@solarnavigator.net
The museum is run by the Lime Park Heritage Trust. Admission is by arrangement for archaeological groups only at present.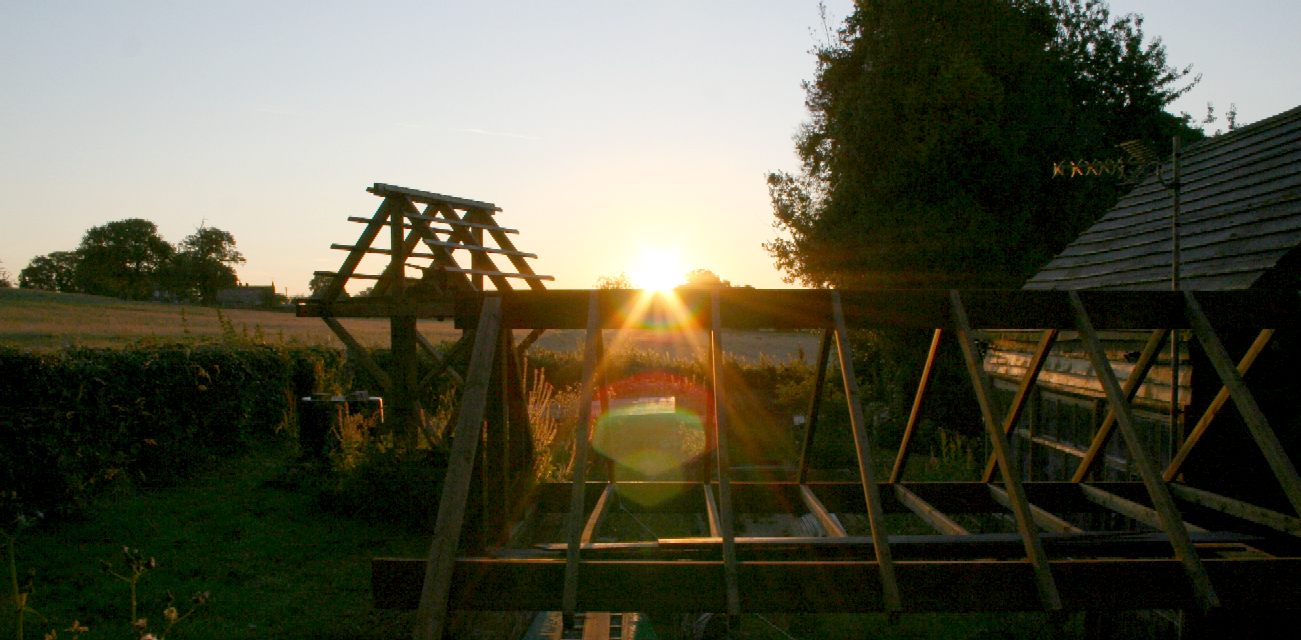 SUNRISE @ HERSTMONCEUX SCIENCE MUSEUM - June 21 2014, 5:00am on the morning of a fabulous summer dawn, reflecting sunlight off buildings to give an orange glow.
LINKS
Day out with the kids Museums-and-Galleries
http://www.sussex-southdowns-guide.com/sussex-museums
http://www.sussextourism.org.uk/
www.sussexpast.co.uk/properties-to-discover/lewes-castle
Brighton Royal Pavilion, Libraries & Museums
http://www.english-heritage.org.uk/
http://www.thekeep.info/
http://www.heritagegateway.org.uk/gateway/
http://www.eastsussex.gov.uk/environment/archaeology/default.htm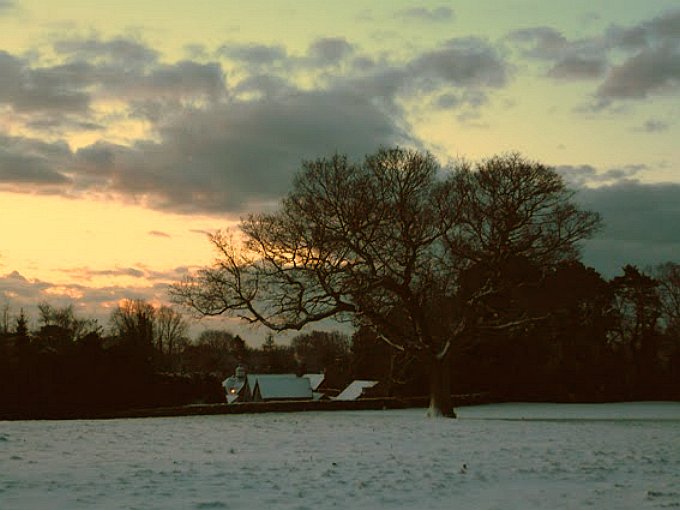 WINTER SUNRISE - January 2009. The snow has settled overnight on the hamlet of Flowers Green. Lime Park is a private estate off Church Road, on the way to Herstmonceux Castle. The generating buildings are an attractive and familiar feature in the landscape.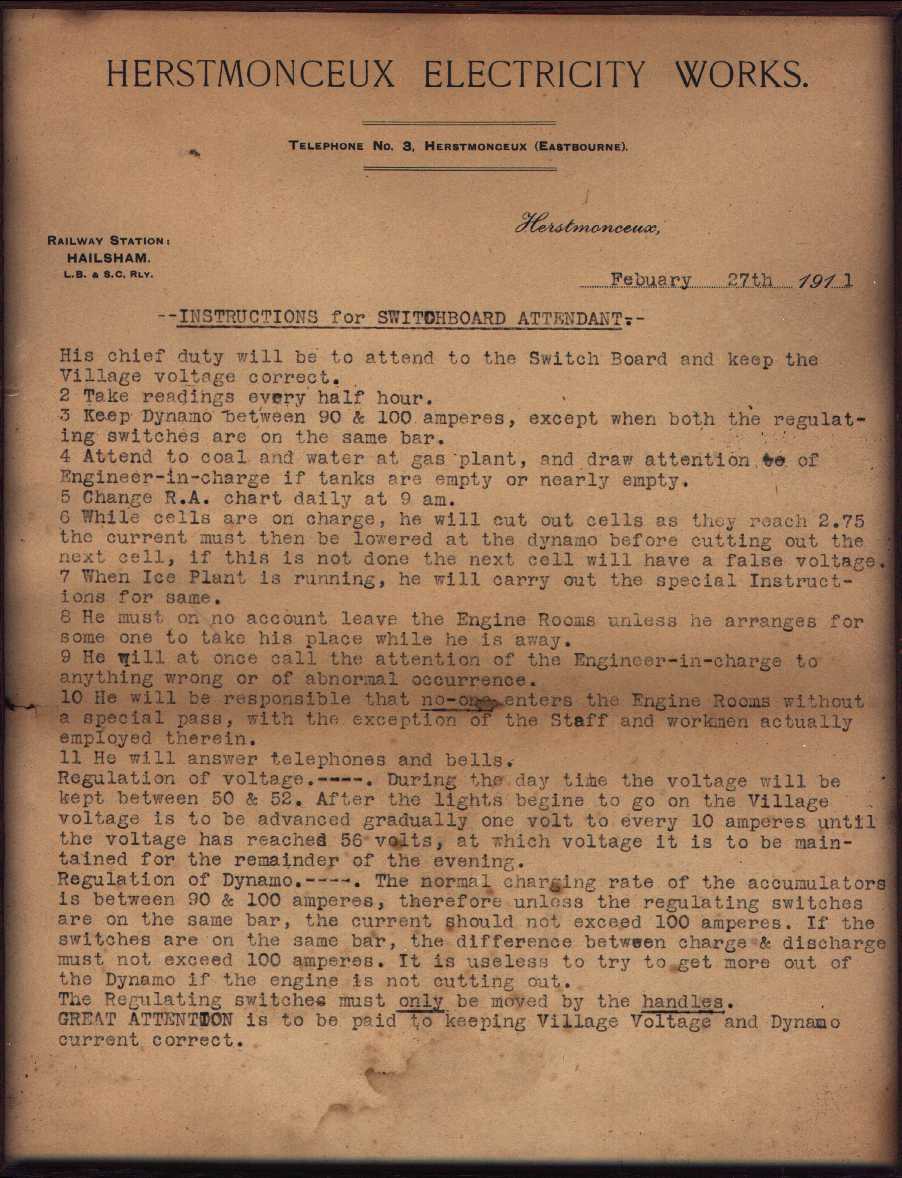 ANTIQUE DOCUMENT - This is an amazingly rare find, a document dated from February of 1911. These are one of a series of instructions to the engineers who were operating the generating machinery in Lime Park. You may notice that in addition to generating electricity for the village, that plant was in situ for making ice. Luxury indeed in 1911.
HERITAGE INDEX A - Z
AVIATION - EASTBOURNE
BARCLAYS BANKING LET DOWN - MISSING ACCOUNT MONEY
BARON CARL VON ROEMER & CHARLES de ROEMER
CAMPBELL HALL - BLUEBIRD ELECTRIC CARS
GAS ENGINES - COAL CONVERSION, INTERNAL COMBUSTION
OBSERVATORY - HERSTMONCEUX CASTLE
SOLAR LADY - STATUE