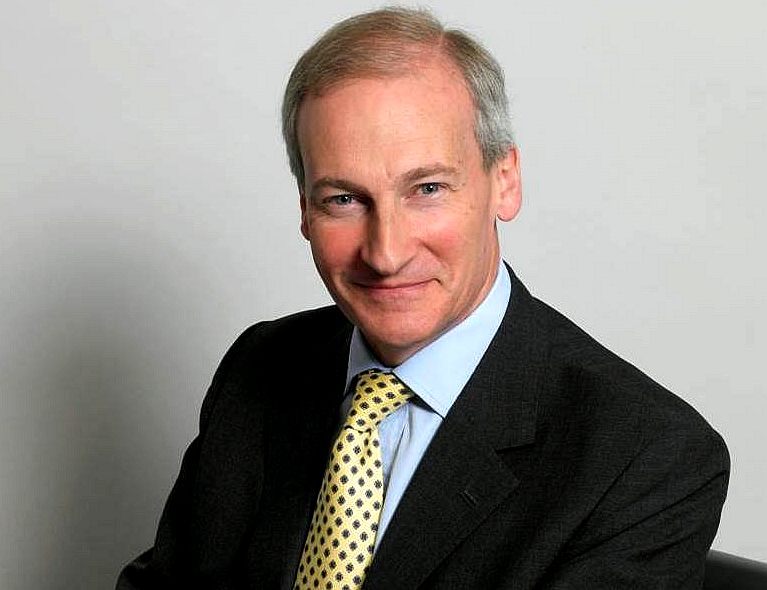 Sir Laurie Magnus
20 MARCH 2017

Sir Laurie Magnus has been reappointed as Chairman of Historic England from 1 September 2017 until 31 August 2021.

Sir Laurie was originally appointed on 1 September 2013, having previously been Deputy Chairman of The National Trust since 2005. During his first term as Chairman, his responsibilities have included leading the establishment of Historic England under its current name and overseeing the transfer of responsibility for the management of its National Heritage Collection to a new charity, The English Heritage Trust.

Sir Laurie Magnus is quoted as saying:

"I am delighted to have been appointed for a second term as Chairman of Historic England. The "New Model" which established Historic England and The English Heritage Trust with their separate responsibilities in 2015 is an exemplar of public service reform. I am hugely grateful for being given the opportunity to continue working to achieve a successful outcome and supporting Historic England's outstanding staff and expert volunteers to champion the dynamic and wide ranging contribution of England's heritage to the nation's economic and social welfare. "

Duncan Wilson, Chief Executive of Historic England, is quoted as saying:

"I am very pleased to have the opportunity of working with Laurie for a further four year term as Historic England establishes itself as the champion and protector of England's precious historic buildings and places. I can think of no one better equipped to take forward this challenge."

Sir Laurie has nearly 40 years of experience in the corporate finance advisory business, latterly specialising in the financial institutions sector. He is a Senior Adviser (Europe) at Evercore Partners, having started his career at Samuel Montagu (HSBC Investment Bank) and then worked successively for Phoenix Partners, Donaldson Lufkin & Jenrette, Credit Suisse First Boston and Lexicon Partners, where he was Chairman before its acquisition by Evercore in 2011.

He is Chairman of JP Morgan Income & Capital Trust plc and Pantheon International plc. He is a non-executive director of Aggregated Micro Power Holdings plc and Fidelity Japanese Values plc.

In the not for profit sector, he is a trustee of The English Heritage Trust and The All Churches Trust and Chairman of The Windsor Leadership Trust. He is a former trustee of Landmark Trust and Barbican Centre Trust and a former Chairman of B-eat, the eating disorders charity.
Funding for essential repairs is not available from the Heritage Lottery Fund for privately owned buildings - no matter how important they may be if they are located in the countryside. That same rules apply to grants from Historic England.
If you own a historic building in the country - you are on your own. Be careful not to get listed or you will be required to comply with reams of regulations and unable to effect repairs without serious legal and planning costs attaching. With these burdens you are liable to be made bankrupt via local authority pressures - and you will lose your property.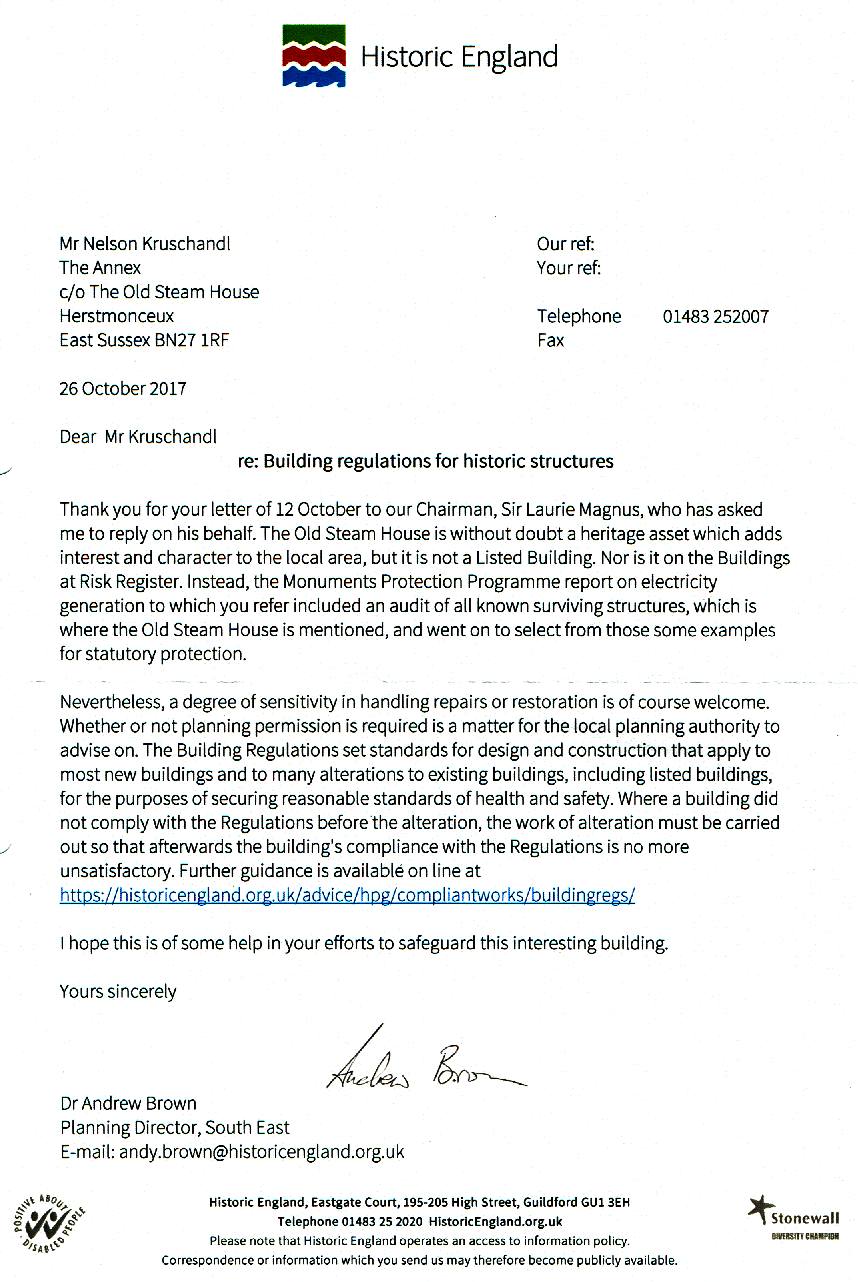 BUILDING REGULATIONS - In reply to a letter abut building regulations, this rather non-committal letter tells that new build sections or reconstructions of historic buildings are likely to be restricted or made more expensive (depending on which way you look at it) by having to comply with building regulations.
ABOUT HISTORIC ENGLAND
Historic England (officially the Historic Buildings and Monuments Commission for England) is an executive non-departmental public body of the British Government sponsored by the Department for Culture, Media and Sport (DCMS). It is tasked with protecting the historical environment of England by preserving and listing historic buildings, ancient monuments and advising central and local government.

The body was officially created by the National Heritage Act 1983, and operated from April 1984 to April 2015 under the name of English Heritage. In 2015, following the changes to English Heritage's structure that moved the protection of the National Heritage Collection into the voluntary sector in the English Heritage Trust, and the body that remained was rebranded as Historic England. Historic England has a similar remit to and complements the work of Natural England which aims to protect the natural environment.

The body also inherited the Historic England Archive from the old English Heritage, and projects linked to the archive such as Britain from Above, which saw the archive work with the Royal Commission on the Ancient and Historical Monuments of Wales and the Royal Commission on the Ancient and Historical Monuments of Scotland to digitise, catalogue and put online 96,000 of the oldest Aerofilms images. The archive also holds various nationally important collections and the results of older projects such as the work of the National Buildings Record, later absorbed by the Royal Commission on the Historical Monuments of England and the Images of England project which set out to create a freely accessible online database of the 370,000 listed properties in England at a snapshot in time at the turn of the millennium.
HERITAGE AT RISK REGISTER

The Heritage at Risk Register covers:

* Grade I and II* listed buildings (the baseline register is 1999); Grade II listed buildings in London only (the baseline register is 1991)

* Structural scheduled monuments (base year is 1999) and scheduled monuments (base year is 2009)

* Registered parks and gardens (base year is 2009)

* Registered historic battlefields (base year is 2008)

* Protected wreck sites

* Conservation areas (base year is 2010).

The national Register is produced as an online database, and as a register for each of the nine English regions.

The site's condition and trends are published for each entry. The Register is accompanied by a summary that provides key statistics and includes:

* The number of each type of heritage asset that is assessed as at risk.

* The percentage of each designated asset type at risk.

* The number of additions and assets removed from the Register each year.

Each entry is given a priority for action, ranging from A: "immediate risk of further rapid deterioration/loss of fabric and no solution agreed", to F: "repair scheme in progress (and where applicable) end user found". It is possible to search the register online—by location, asset type and condition.

Many English planning authorities publish their own 'Heritage at Risk' or 'Buildings at Risk' registers, and several are published on local council websites, e.g. Bolsover District Council and Essex County Council.

The 2011 annual report focuses on industrial heritage.
KEY STATISTICS

Listed in the 2014 Heritage at Risk register in England are the following:

497 conservation areas (6.1% of the total)
887 places of worship
339 industrial sites
4 protected wreck sites
889 Grade I and II* listed buildings (4%)
3,012 scheduled monuments (15.2%)
93 registered parks and gardens (5.7%)
6 registered battlefields (13%)


A survey undertaken in 2011 found that the percentage of listed industrial buildings at risk was three times greater than the national average for listed buildings at risk.
One of the best ways of looking after an old industrial building is to re-use it. Industrial Heritage at Risk covers the period 1750 - to date, in particular from the Industrial Revolution to the onset of the First World War in 1914. This has been selected as a period in which the United Kingdom was a world leader in industrialisation.
THE TELEGRAPH AUGUST 7 2013
Sir Laurie Magnus has been named by ministers as the replacement for Baroness Kay Andrews, who stepped down at the end of last month.

His appointment comes with EH facing an uncertain future, after the Government announced earlier this summer that it was to become a charity by 2015. The plan is ultimately for the organisation to become self sufficient, by establishing new commercial activities and forming partnerships with sponsors.

Ministers hope Sir Laurie's experience in investment banking - which goes back more than three decades - will help in this process.

By contrast, his predecessor, Baroness Andrews came from a background in politics.

She was an adviser to Neil Kinnock, the former Labour leader, and sat as a Labour peer until her EH appointment, in 2009.

The switch to a charitable status is intended to make it easier for EH to attract donations and sponsors for programmes like the blue plaques scheme, and to help with the upkeep of its historic sites.

The new charity will manage the National Heritage Collection, which includes Stonehenge and Dover Castle. Other powers such as listing buildings will remain government funded.

The new charity will still be called English Heritage and the 420 sites in the National Heritage Collection will remain in public ownership.

EH is currently undergoing a 38 per cent real terms cut in the grant it receives from the Department for Culture, Media and Sport from £131 million in 2010/11 to £89 million in 2014/15.

For the following year, a further cut, of ten percent in real terms - amounting to £6.9 million - is expected. Funding from Westminster will eventually be tapered down to nothing.

A spokesman for the Department for Culture, Media and Sport said: "Sir Laurie Magnus was recruited by a selection panel chaired by an independent Public Appointments assessor. As English Heritage works closely with business, and looks to grow the income from its portfolio of public historic buildings... we have no doubt Sir Laurie's business and heritage background will be invaluable."

Sir Laurie, an Oxford University graduate, will be paid £40,000 for working up to two days a week for the Government body, £5,000 less than his predecessor, who had the same work commitments.

The 57-year-old is the third baronet of Tangley Hill, Wonersh, in Surrey, having inherited the title on the death of his uncle, 25 years ago. He lists interests in Who's Who as fishing, reading and walking. He will relinquish his role as deputy chairman of the National Trust when he takes up his new post on September 1, for a four-year term.

Announcing his appointment, Maria Miller, the Culture Secretary, said: "Our unique heritage draws hundreds of thousands of visitors to our shores each year, from buildings such as the Tower of London to monuments from our ancient past such as Stonehenge.

"English Heritage is now entering a really exciting period in its development and new Government investment of £80 million, announced last month, means that we have a fantastic opportunity to transform the future of England's heritage for generations to come.

"Sir Laurie's long and distinguished career in finance, coupled with his passion for – and experience of – the heritage world, make him an ideal choice to carry this work forward."

Sir Laurie, a father of three, said: "The heritage sector in England is a tremendous force for good. It celebrates our extraordinary national history, educating and inspiring millions, building bridges across generations and bringing employment and growth. English Heritage has an exceptional collection of historic properties and a proud record. Baroness Andrews has been a respected and effective chairman and I look forward to continuing her great work."

Sir Laurie is also a patron of the Landmark Trust, which seeks to protect historic buildings, and is a trustee of Beat, the eating disorders charity.
CONTACT HISTORIC ENGLAND
Historic England
The Engine House
Fire Fly Avenue
Swindon SN2 2EH
Website: https://historicengland.org.uk/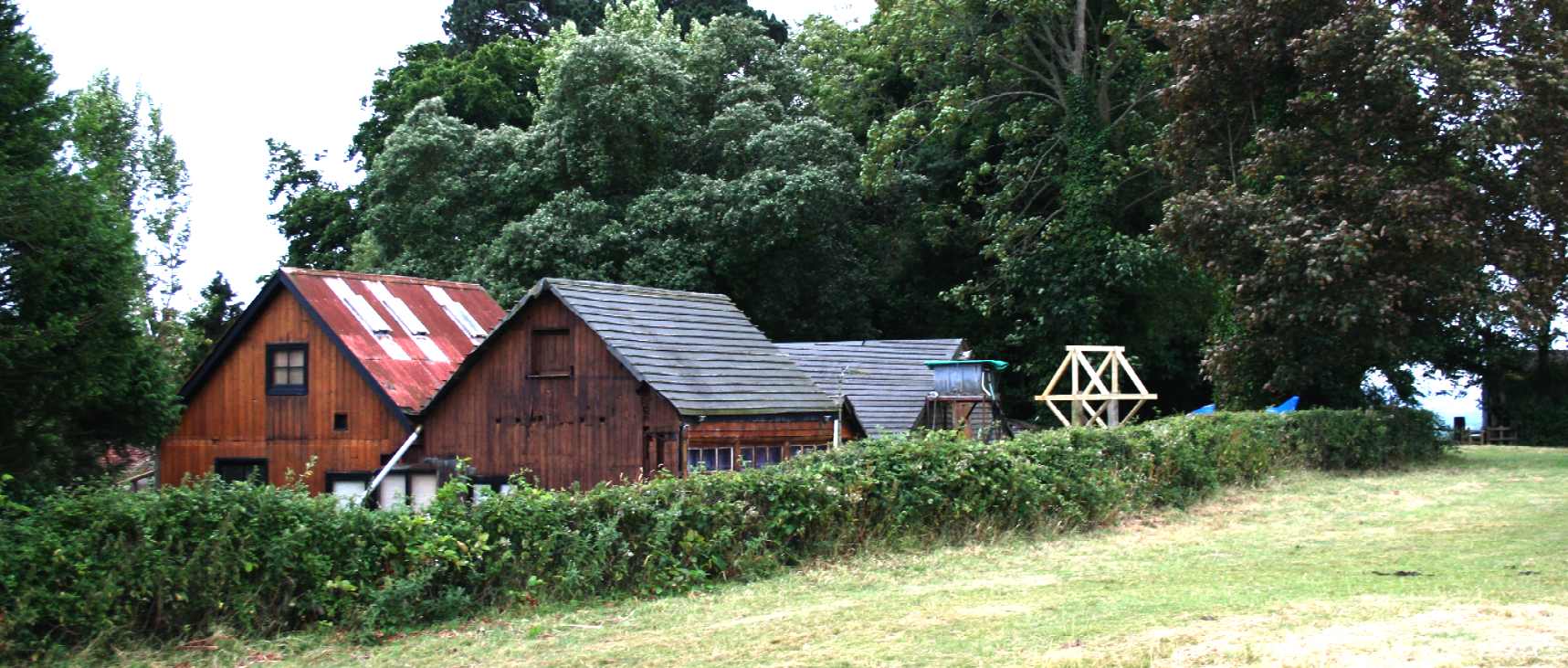 WORLD LEADING MONUMENT AT RISK - The main generating buildings when in need a new roof and other repairs. The felt roof was a temporary measure to prevent water ingress, where privately owned historic buildings are not considered to be important enough to warrant help from the Heritage Lottery Fund or Historic England. A third range of the twin gabled building is missing where it is taken down to remove the large gas engine inside, but not returned to the original layout because of World War Two. Planning permission is not required to re-instate as this would constitute a repair, but in any event Permitted Development rights allow up to a 50% percent increase in area if the height of the original building is not exceeded. The Trust is considering full reinstatement, subject to building regulations being waived to enable an authentic reconstruction.
LINKS
https://www.gov.uk/government/news/the-secretary-of-state-reappoints-chair-of-historic-england
https://historicengland.org.uk/
http://www.english-heritage.org.uk/
http://www.sussexmuseums.co.uk/
http://www.museumsassociation.org/
http://www.thekeep.info/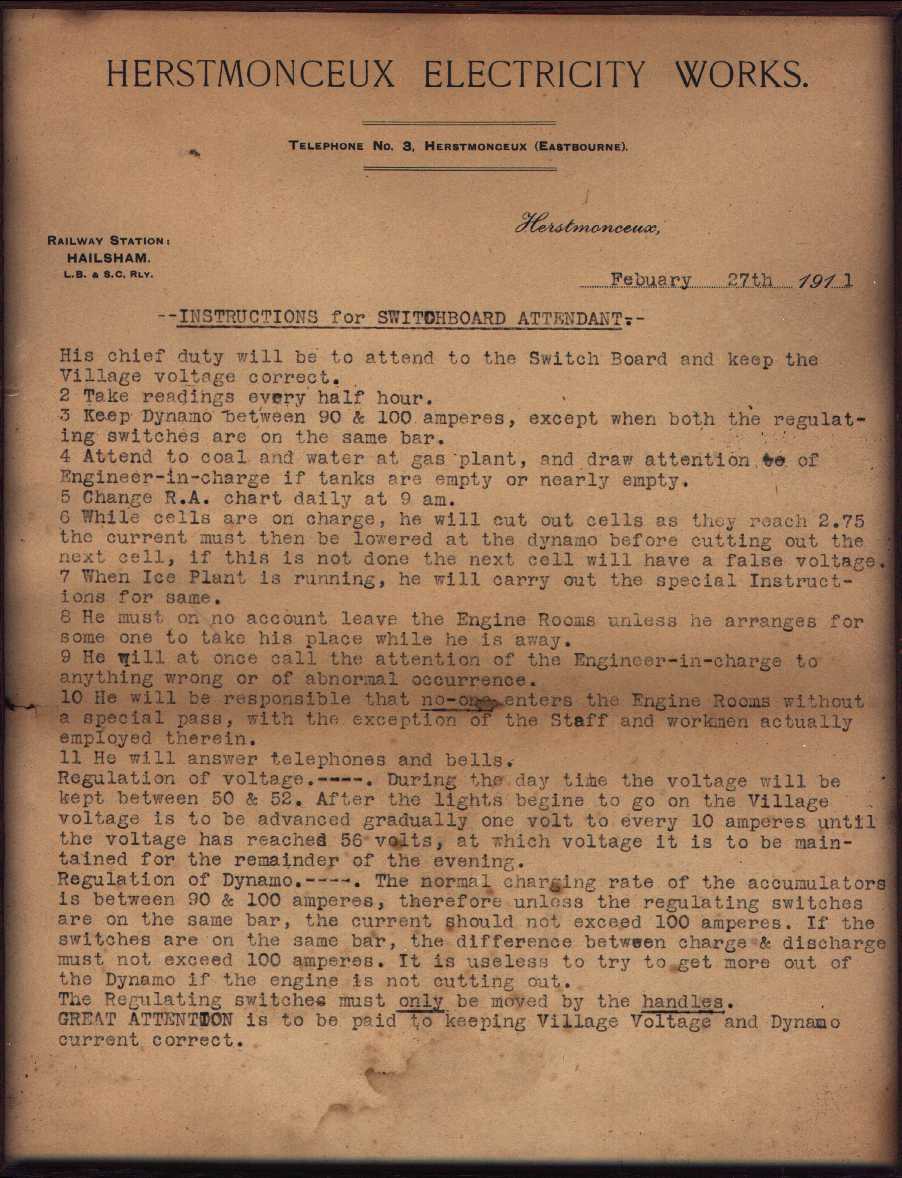 ANTIQUE DOCUMENT - This is an amazingly rare find, a document dated from February of 1911. These are one of a series of instructions to the engineers who were operating the generating machinery in Lime Park. You may notice that in addition to generating electricity for the village, that plant was in situ for making ice. Luxury indeed in 1911.
HERITAGE INDEX A - Z
CAMPBELL HALL - BLUEBIRD ELECTRIC CARS - BE1 - BE2 - BE3 - BE4
GAS ENGINES - COAL CONVERSION, INTERNAL COMBUSTION
OBSERVATORY - HERSTMONCEUX CASTLE
SOLAR LADY - STATUE
HOME | A-Z INDEX | MEMBERS | MPS | OFFICERS