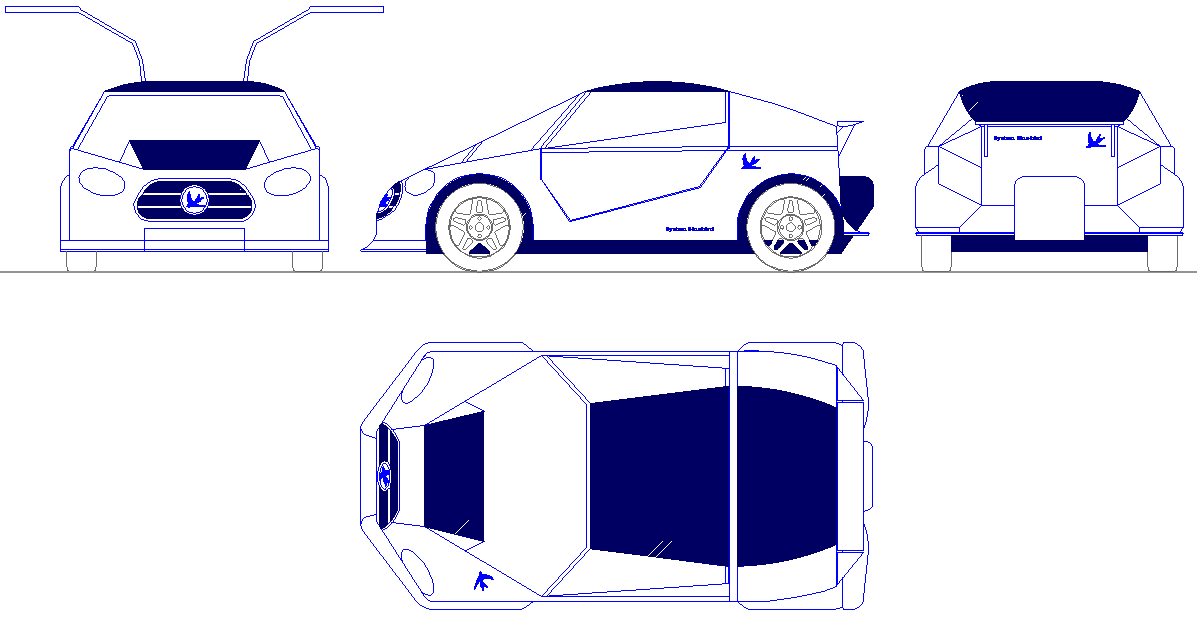 TRIBUTE - This nippy little electric sports car was produced in the workshops at Herstmonceux Museum. It is the only road car to (legally) bear the famous blue bird legend that is a registered trademark to protect against imitations of the cartridge exchange system and other design features. Incomplete at the moment, the car will be on display to the public in the grounds of the Museum close to Campbell Hall.
AUTOMOTIVE EXHIBITS
While most people will be interested in the archaeology of the building itself as the main exhibit, together with coal bunker and other underground works, from 1982 onwards a local Sussex engineer produced a remarkable range of machines and other interesting artifacts that demonstrate a wide range of skills and interests to qualify the 'conceptual designer' as a renaissance man, or design genius. The Trust have been fortunate to secure these items as exhibits, some of which are detailed below, and please note that we will be adding to these pages as more items are unearthed and need a good home.
A joystick controlled car was the first vehicle constructed in the workshops at the Museum, but we cannot locate this car to be able to offer it a home. As a lad the automotive engineer was inspired by Donald Campbell's CN7 bluebird, as seen in the Collins series of books for children. We have that original volume which will be a display item. Later he named his cars Bluebird as a tribute to Ken Norris and Reid Railton, both designers of Bluebird vehicles, with Railton working for Malcolm Campbell and Norris working for Donald Campbell. The grandson of Malcolm Campbell was taken on to drive the electrically powered Bluebirds, as seen in the pictures below, Don Wales was more than pleased to join in with these projects, the aim of the engineer being to promote electric vehicles and his patented cartridge refueling system - as being the ultimate range extender for EVs.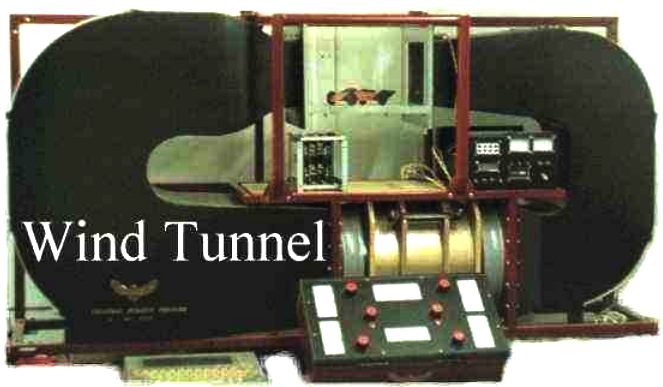 AUTOMOTIVE TECH - Another of the inventions that were produced at the workshops at Herstmonceux Museum: a desktop sized wind tunnel with electronic strain gauges for measuring aerodynamic lift and down-force, even with a revolving table to examine side winds. This machine was used to develop the BE1 and BE2 cars and still works today, but needs a bit of attention to bring it back to its former glory.
AUTOMOTIVE ART - This was the second car built at Herstmonceux Museum by a local inventor before it was a Museum. The first, a joystick car, we unfortunately cannot track down, but would like to be able to give the "Borzoi" combined-lever (steering, braking and acceleration) prototype a home if that was of interest to the current owner(s). The Bluebird Electric BE1 is/was the first car to be able to exchange batteries itself with built in patented loading equipment, seen here on display at another famous Museum; the National Motor Museum - Beaulieu. This car was driven by the grandson of Sir Malcolm Campbell for media articles, Big Breakfast, and at the LETEC Awards held at the London Arena, but not during any of the high speed runs on the Polegate Bypass where it achieved around 160mph using high speed motorcycle tires and Lynch electric motors. These are not the tires seen in these pictures, about which some people have commented. The tires shown here were ordinary car rubbers on steel rims for delivery purposes only [left] and ordinary motorcycle tyres [right]. Thinner racing motorcycle tires with a circular 'V' casing were fitted on the same (but modified) alloy rims for high speed runs - and it is the faster wheels that the car will be sporting when on display in the Campbell Hall.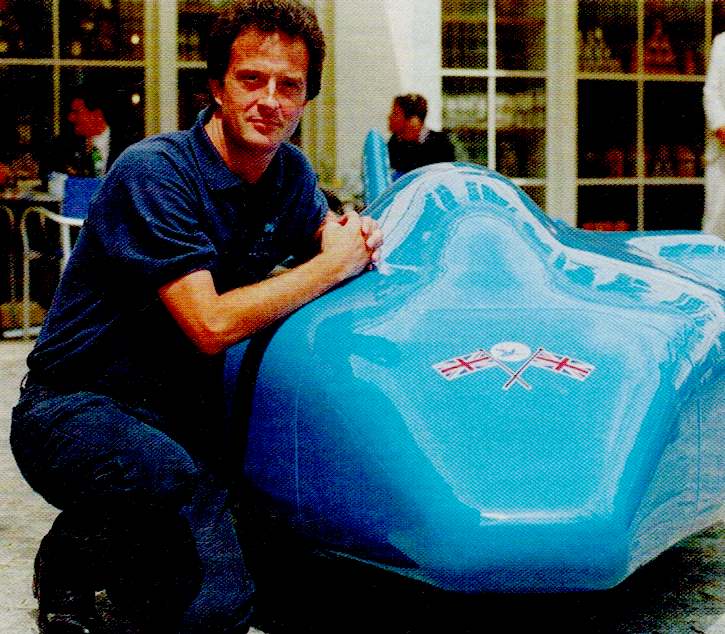 AUTOMOTIVE ART - This was the third car built at Herstmonceux Museum by the same local inventor. Arguably one of the most beautiful land speed record vehicles, the Bluebird Electric BE2 is/was the second car in the series to be able to exchange batteries itself with a built in patented battery recharging system. The car is seen here on display in Chelsea, London at the Bluebird Store, then owned by Sir Terence Conran's group of companies. This car was not driven by the grandson of Sir Malcolm Campbell, Don Wales - seen above - but was used by him under license from the inventor for publicity purposes while a partner with the inventor and while the designer was promoting Mr Wales - the services for which, the inventor alleges, that he was not paid. These vehicles were the means by which Don Wales (previously unknown) entered the land speed record arena. This is the Campbell connection that led the inventor to meet and subsequently consult with Ken Norris, as to the merits of these designs. We are told that Ken liked the steel and stainless steel space frames and all wheel drive concept. Ken Norris and his brother Lewis Norris, were of course, the engineers who designed the famous CN7 jet powered car and K7, jet powered boat for Donald Campbell. Hence, the display that houses these land speed record gems is named: Campbell Hall.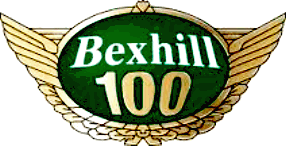 ELECTRIC BLUEBIRD DEVELOPMENT HISTORY
The inventor of the cartridge exchange refueling system for electric vehicle lived in Polegate for a time with his wife. While living in this suburb of Eastbourne he met Paul Faulkes-Halbard who at the time was the owner of Filching Manor Motor Museum situated just outside the village of Jevington - famous for Banoffee pie and the Hungry Monk restaurant. Paul was the owner of the K3 blue bird boat of Sir Malcolm Campbell fame, a restoration project now passed to his son Karl Faulkes-Halbard, also a collector of Campbell memorabilia and operator of the Campbell go kart racing circuit.
While a resident in Polegate, the "Bluebird Electric" project was formed by the inventor, when the driving services of Don Wales was secured following a meet up at the Bexhill-On-Sea motoring festival: The Bexhill 100.
The Bluebird-Electric 1 was soon built by hand and on display at Beaulieu and other venues, which succeeded in raising the funds to build the Bluebird-Electric 2 with Sir Terence Conran contributing a significant sum, except that the builder/designer was never paid for his work even though he made the cars and came up with the marketing strategy, applied for and was granted patents, etc., and that is what makes this story so much more intriguing than if there were no rankles in the telling.
PAUL FAULKES-HALBARD - An avid collector and restorer of motor vehicles, Paul saved many a vehicle from the scrap heap, lavishing time and money on bringing back into use umpteen vintage and veteran cars and the K3 Blue Bird boat of Sir Malcolm Campbell. The K3 had been left to rot at a fun park when Paul found it and brought it back to his Sussex workshops where it received many hundreds of man hours to put in a new alloy underside, timber frames and deck. A Rolls Royce Merlin derived V12 engine was installed and mated to the original propeller shaft to once again see this magnificent hydroplane on the water. If not for Paul and his son Karl and the team of engineers and craftsmen they had assembled, this boat would long ago have given way to wet rot from being left outside in the rain. you can see these amazing historic vehicles at Filching Manor Motor Museum near Polegate.
It turns out that Sir Malcolm and his son Donald Campbell also had moments when they refused to settle with creditors and former project partners. That is no way for public school boys to carry on if they expect to receive applaud for their conduct or even to be knighted as Sir Malcolm was. It was probably cash-flow problems that led to Donald Campbell spectacularly flipping his K7 on Lake Coniston, to the amazement of a shocked world audience. If he'd had more funding, presumably more test tank work would have revealed the instability of the jet boat and the risks Donald was running. Ken Norris was aware of the limitations of the K7 and warned Donald of the dangers, but the rules at the time prohibited air control surfaces and the tailfin on both the CN7 and K7 was pushing the boundaries, where John Cobb's Railton Mobil Special had no fins at all and came close to 400mph.
Ignoring all of that, we have the cars that came out of the business side of the electric land speed record cauldron. A car is a car, it does not try to cheat you. It is an inanimate object until it hits the track or road in the hands of a skilled driver. Cars are part of our culture and necessary for transport in our modern high-octane world. One reason, in fact the main reason for the development of these electric cars was and is to help stave off global warming in a move to a circular economy. Shame then about the infighting that effectively made the racing aspirations of the driver a no go for possible sponsors - at least for the foreseeable future. We live in hope.
Following the LSR fiasco, and with the dust settled, the Ecostar DC50 was born. The little gem of a city sports car is the direct descendant of its electric racing cousins. It is not a paper exercise like other pretenders to the EV throne that abound. It is a real project with something tangible to show for the input of the many contributors and volunteers - and yes it drives when assembled - where at the moment the motors and other parts are kept locked away separately for security purposes and to prevent corrosion while not in use.
So, high hopes for the future of the brand that inspired so many generations of engineers. We must learn from the past to be able to plan for the future - and that is why museums like ours are so important culturally and socially. Herstmonceux Museum is one of the smallest in the UK, potentially qualifying for a Guinness Book World Record one day.
BE4 WOODEN FRAME - The bodywork, or more correctly, the buck, is made from ordinary softwood with some plywood panels. The same foam system is used as the formers for carbon fibre or other composite panels. The timber needs to be liberally treated with a good quality (Ronseal) wood preserver before being painted and ready for display. The idea is that when our volunteer Trustees have the time, that some of the key parts of this vehicle, such as the body moldings, are completed and fitted. The car is fitted with 48 volt Lynch motors at the moment, powered by lithium batteries and controlled via a Curtiss speed controller. If funding had been available, the car would have been fitted with 50kW wheel motors, one per wheel - making this a 270 horsepower wolf in sheep's clothing.
GULL WING DOORS - One of the key features of this stunning small car is the "gull-wing" doors. They open using gas struts and are manually closed. Gull wing doors allow easier access for the drivers of very low vehicle, but are only seen on more exotic cars and custom vehicles because of the design complexities and additional cost of production.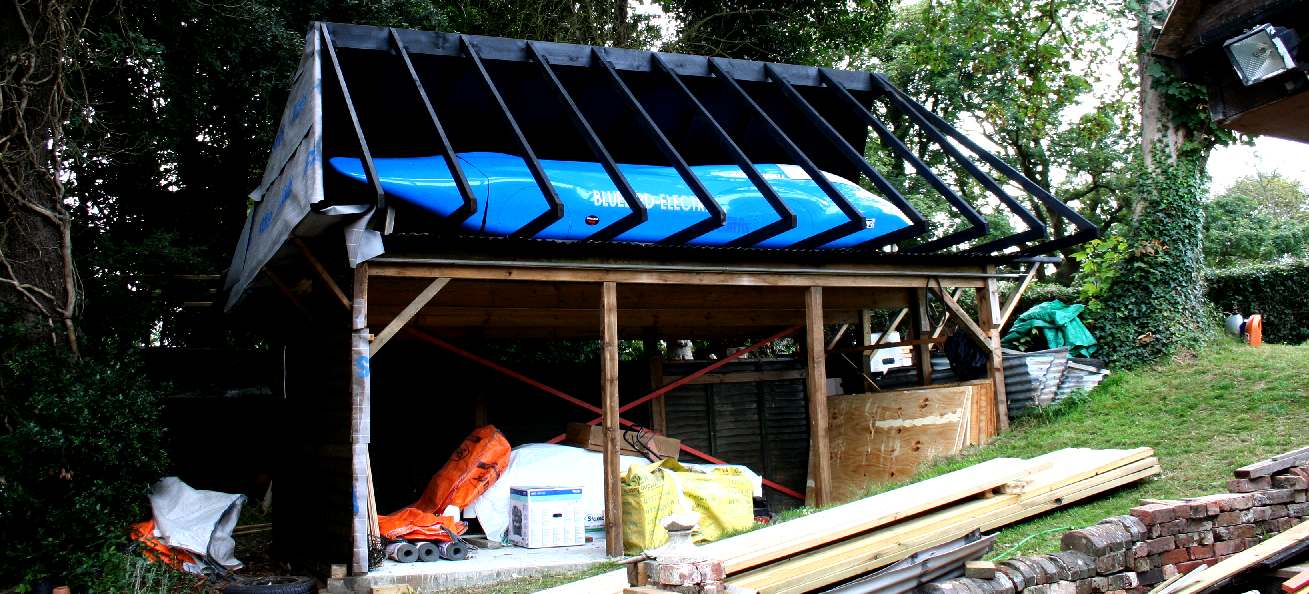 SHOWCASE - The BE2 is installed in the roof space. It took four strong men to shoehorn the car into the rooftop showcase. A laminated glass roof will be fitted so that visitors to the Museum can observe the vehicle. Before this, the car was open to the elements. Fortunately the two-pack paint is really tough. This beautifully streamlined electric car will be spot lit. We call this roof display our observatory, not to be confused with the Observatory a mile or two down the road that houses several very interesting telescopes and domes - and is well worth a visit.
CONTACTS
Herstmonceux Museum
Lime Park
Herstmonceux
East Sussex
BN27 1RF, UK
Telephone: 0044 1323 831727
Email: energy@solarnavigator.net
Herstmonceux Museum, including Campbell Hall, is run by the Lime Park Heritage Trust. Admission is by arrangement for archaeological groups only at present. Please telephone to make an appointment for viewing at least 3 months ahead to avoid disappointment. Eventually, we hope to be able to publish more regular opening times and have staff to man the Museum on those occasions.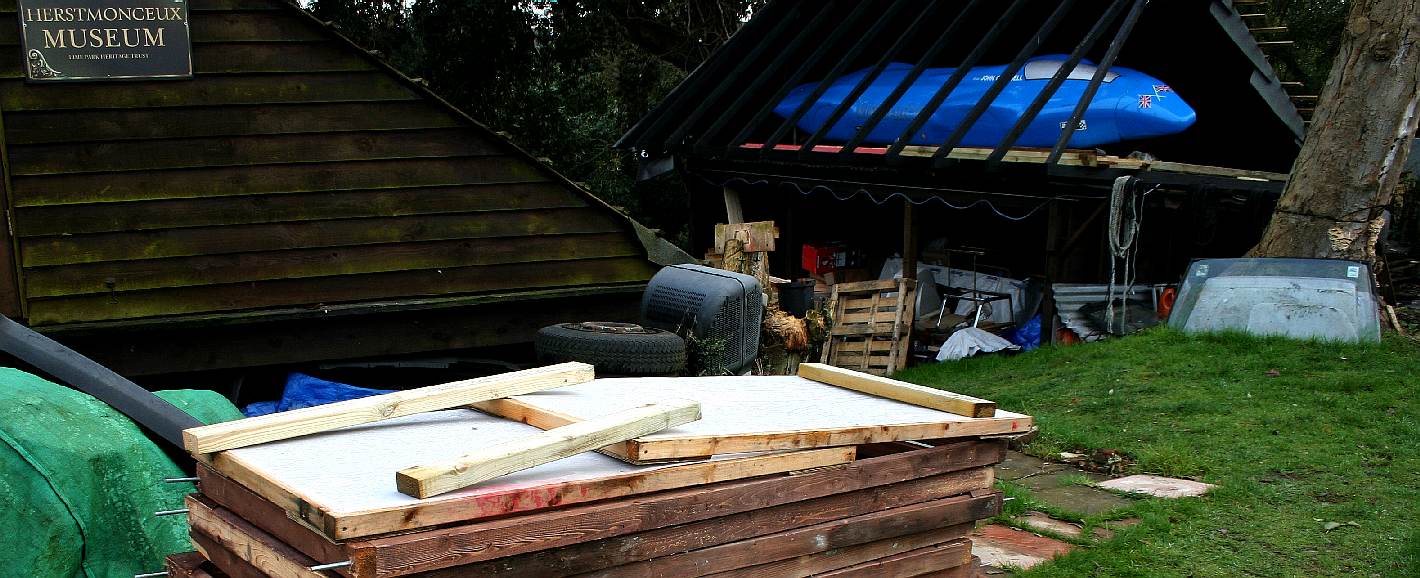 SCENERY - The display case for the Ecostar DC50 tribute car is made from recycled timber. The stack of wooden frames in the foreground were used by the Smooth Faced Gentlemen for umpteen performances of Titus Andronicus in and around London, including the Pleasance and Greenwich Theatres, between 2012 and 2015. This stagecraft needed to be resistant to water based special effects to simulate the extraordinary bloodletting in this gruesome play. You can see some of the red dye that stained the wood, despite a hectic clean-up schedule after each performance. We are grateful to the Smooth Faced ladies for this contribution to our recycling programme.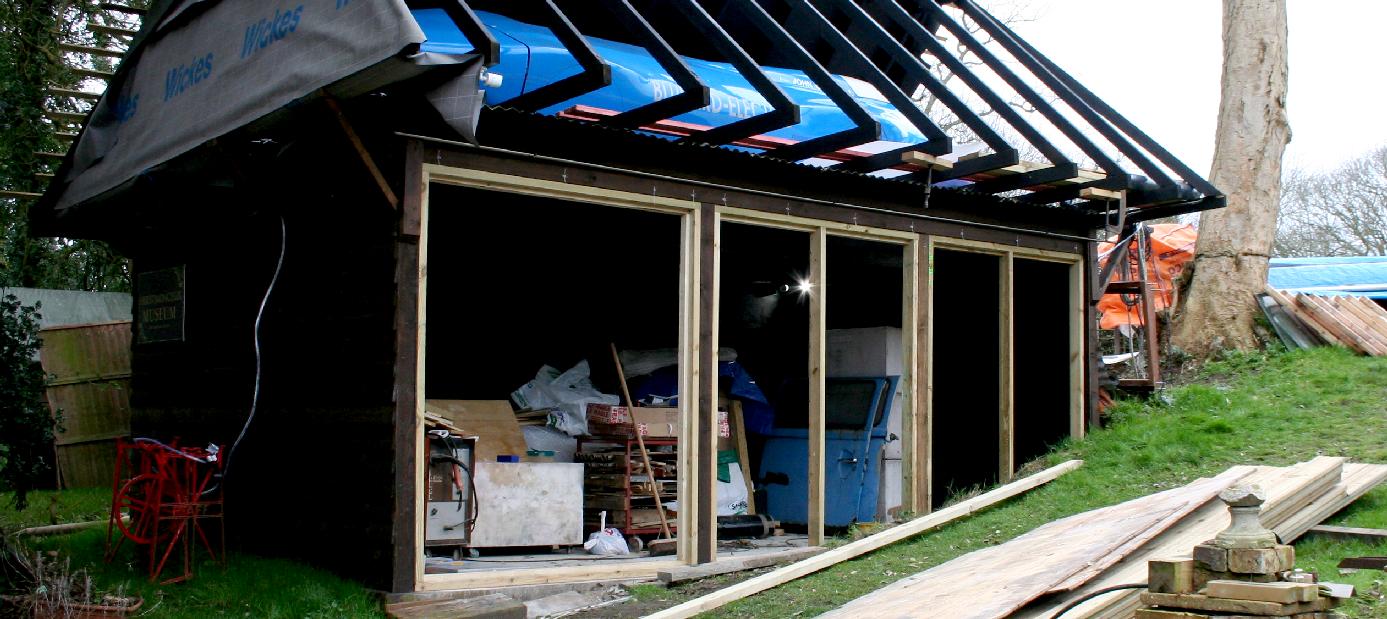 FRAMED - It is nearly time to fit the security glass, with the treated timber frames almost completed. At the moment Campbell Hall is filled with overspill from the working element of the Museum. We also need to make two French style doors so that maintenance staff can get in to clean the exhibits from time to time.
FIFTY YEAR ANNIVERSARY DAILY MAIL 4 JAN 2017 - According to an article in the Daily Mail online, the daughter of hero Donald Campbell who died as he attempted a new water speed record has laid flowers on Coniston Water to mark the 50th anniversary of the tragedy.

Gina Campbell, who is the spitting image of her grandfather, visited the Cumbrian lake on the morning of the 4th of January 2017 to remember her father, 45, who died on January 4 1967 when his jet-powered boat, Bluebird K7, flipped into the air and disintegrated. She was among a small party who traveled by boat to the site of the crash and laid flowers on the lake at the exact time of the tragedy.

During the journey she clutched her father's teddy bear mascot, Mr Whoppit, which was found among the wreckage 34 years later. Campbell broke eight world speed records on water and on land in the 1950s and 1960s and remains the only person to set both world land and water speed records in the same year. He was posthumously awarded the Queen's Commendation for Brave Conduct.

In his fatal record attempt on the Cumbrian lake, Campbell - the son of Sir Malcolm Campbell, who himself held land and water speed records - had set himself a target of reaching 300mph (480kph). In 2001 Campbell's body - with his race suit intact - and the wreckage of Bluebird were recovered from the depths of the lake. He was buried later that year in the village of Coniston.

Speaking at Coniston Water, Ms Campbell is quoted as saying: 'This is the site of 50 years ago where he met his Waterloo.

'Luckily there is a lot of people that still support his achievements and it is very humbling for me to be able to be here and represent my family and pay my own respects to my father.

'It is really hard to describe one's emotions. For me the biggest one is humility. I am just so proud to be my father's daughter and to have witnessed what he did in his life, and that people are still following him here today is fantastic. 'His life lives on through on a lot of other people's imagination and their own courage.' 'He was with my dad through all his achievements and through his death so I thought he had better come along today and relieve the moment.'
'It was beyond these days of risk assessment and health and safety, and he went out and he did what he did. He did it most times with huge success.'
Before the memorial service began as crowds gathered at the village green, Ms Campbell is quoted as saying that: "The day had been 'bittersweet'. 'My dad did not do things for public display but I think he would be delighted to see the public here today.'

Holding her father's teddy bear mascot, Gina is quoted as saying: 'He survived the accident with my dad. He has got his life jacket on today because we don't want any more emotions in the water. After she laid a wreath at her father's graveside, she spoke of feeling 'pride' at the public recognition of 'a true hero'. Gina Campbell had a close call with death herself while piloting a high speed hydroplane during one of her water speed record attempts. The boat she was driving flipped over in exactly the same way as the K7 had on the fateful day. Fortunately, Gina survived the 160 mph incident to race another day.

A public remembrance service will take place later at his memorial on the village green before more wreaths are laid at Coniston Cemetery. It is hoped that Bluebird will be restored by next year and will take to Coniston Water again before it finds a permanent home in the village's Ruskin Museum. From an article by Steph Cockroft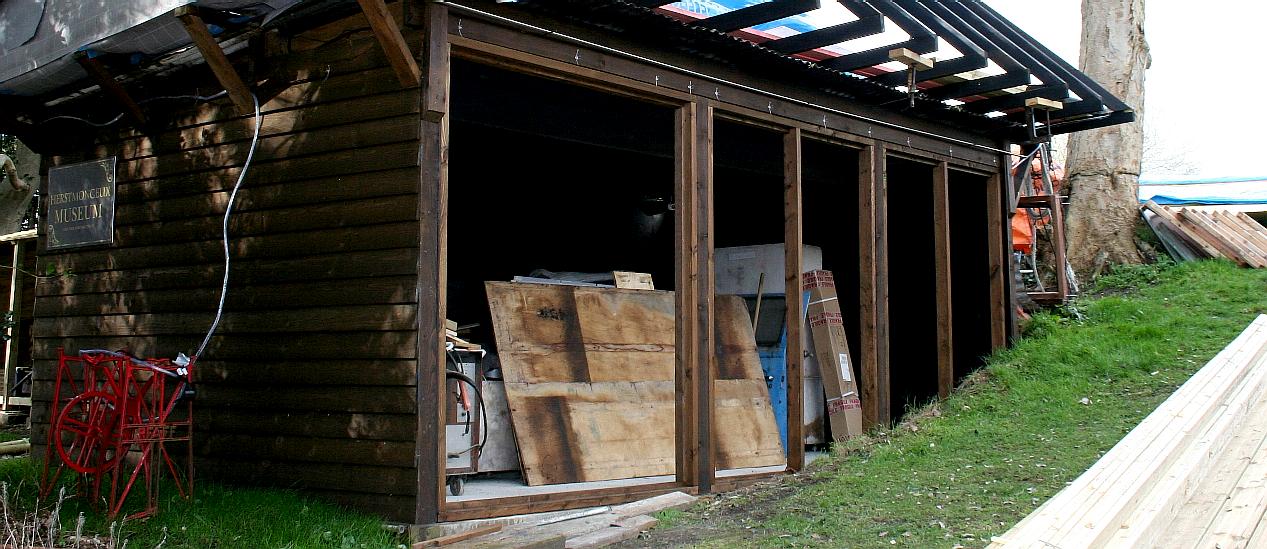 STAINED - Closer still. Reminiscent of one of Sir Malcolm's and Donald's boat sheds, the frames of Campbell Hall are liberally soaked in wood treatment and coloured to closely match (and complement) the upright posts and feather edge boarding. Copyright photograph © 23 February 2017 all rights reserved. You will need the permission of Lime Park Heritage Trust to reproduce this picture except for education private study or review.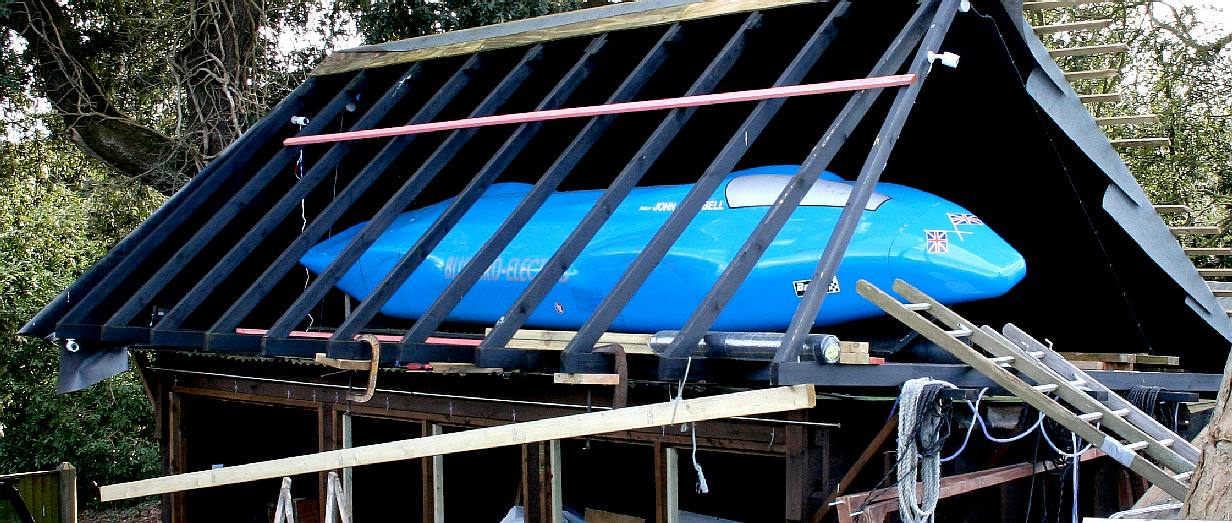 ROOFING - The roof has to be brought down, better to frame the BE2 with a series of laminated glass windows. In this picture you see a pink batten that is used as a guide. The timber at an angle near the eves is to be fixed in place to form a frame for the facias. Copyright photograph © 24 February 2017 all rights reserved. You will need the permission of Lime Park Heritage Trust to reproduce this picture except for education private study or review.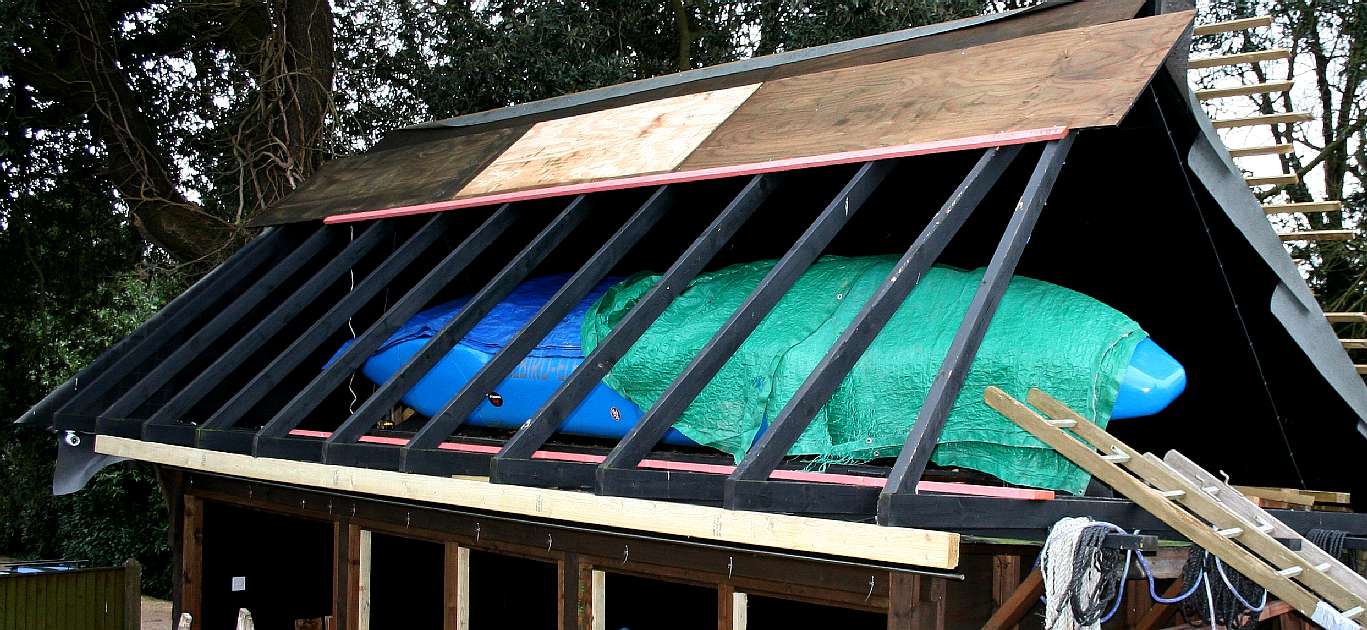 TREATMENT - Sheets of plywood have first been treated with wood preserver and then painted black on the underside - where it would be very difficult to paint in-situ with the land speed record car taking up all the space. Tarpaulins protect the electric Bluebird from the building activity. Copyright photograph © 25 February 2017 all rights reserved. You will need the permission of Lime Park Heritage Trust to reproduce this picture except for education private study or review.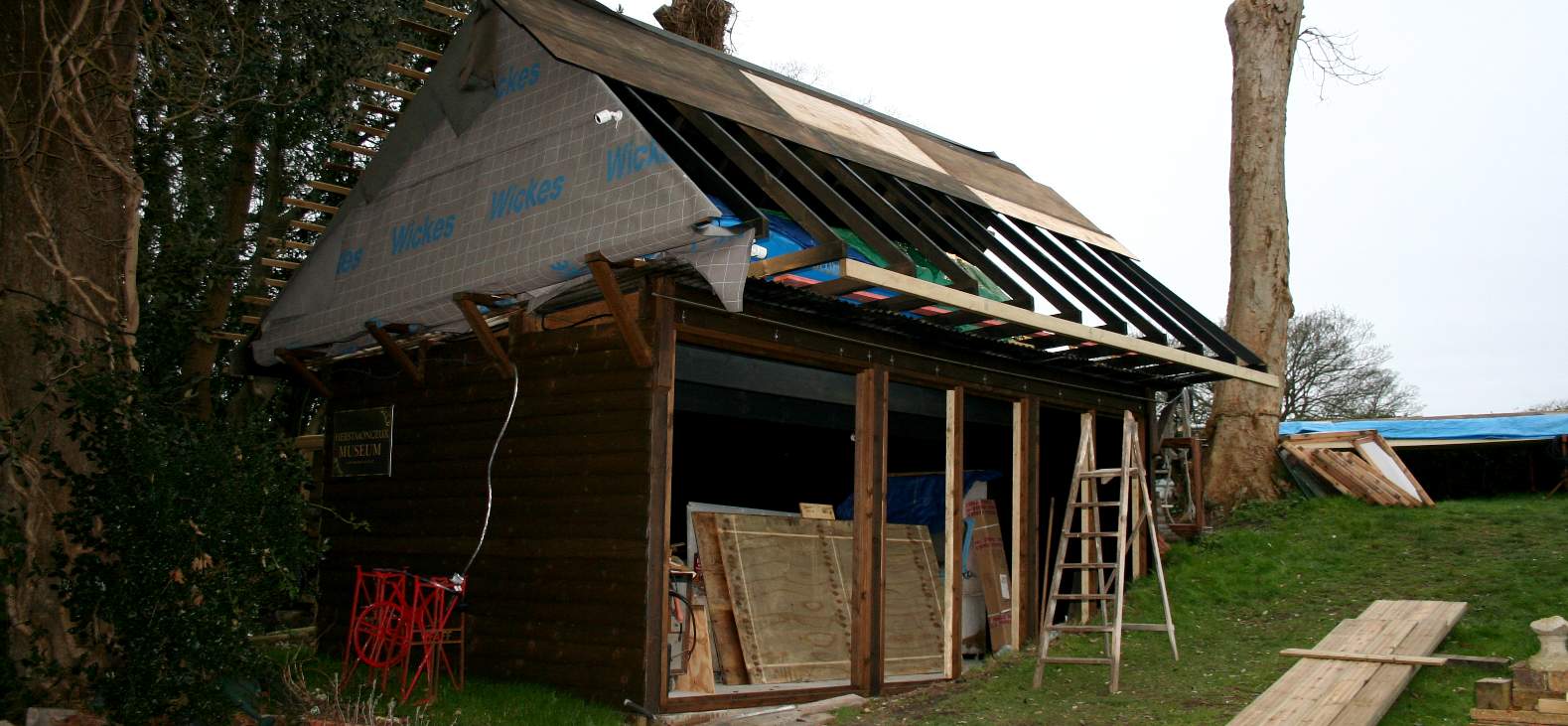 BOARDED - Another row of pre-treated plywood is added to achieve the correct height for the display. The ends need to be trimmed back and the feather-edge boarding completed on the gable end. Copyright photograph © 25 February 2017 all rights reserved. You will need the permission of Lime Park Heritage Trust to reproduce this picture except for education private study or review.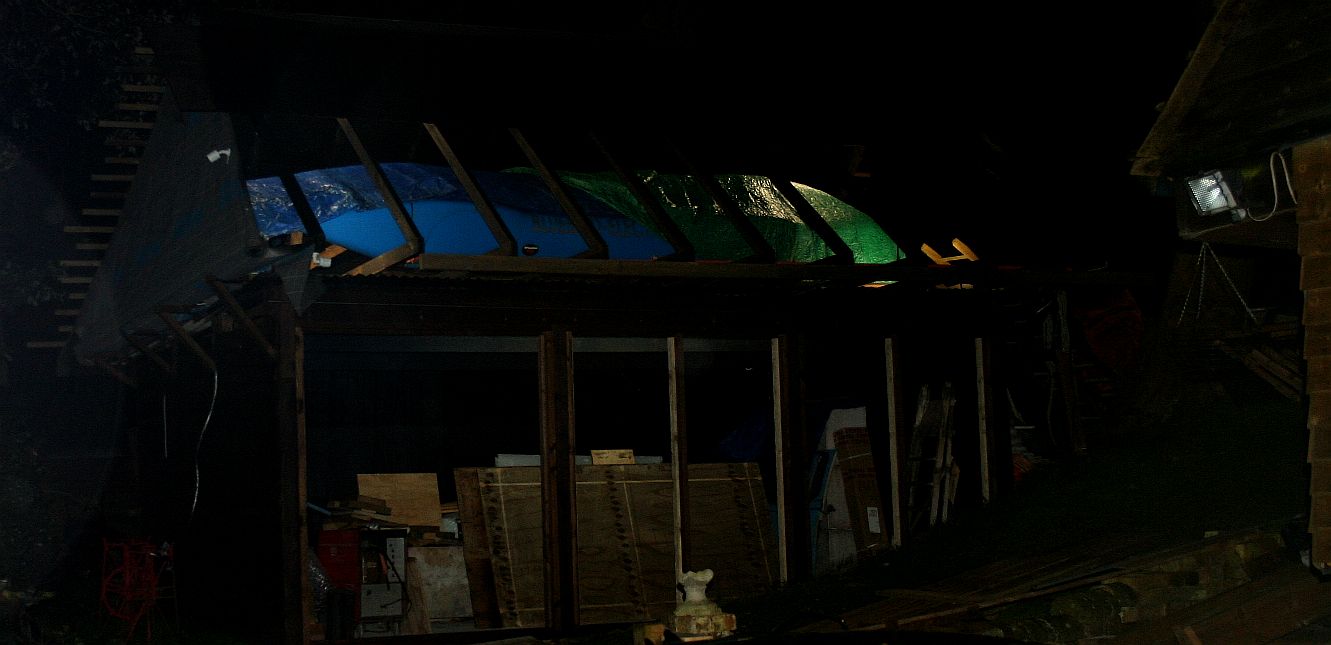 NIGHT - We had run out of timber, so gave the plywood a protective coat of exterior paint, while we wait for another delivery from Stamco in Eastbourne and Hastings. Over the years this company have provided most of the timber for the restoration of the Museum and other improvements. Copyright photograph © 26 February 2017 all rights reserved. You will need the permission of Lime Park Heritage Trust to reproduce this picture except for education private study or review.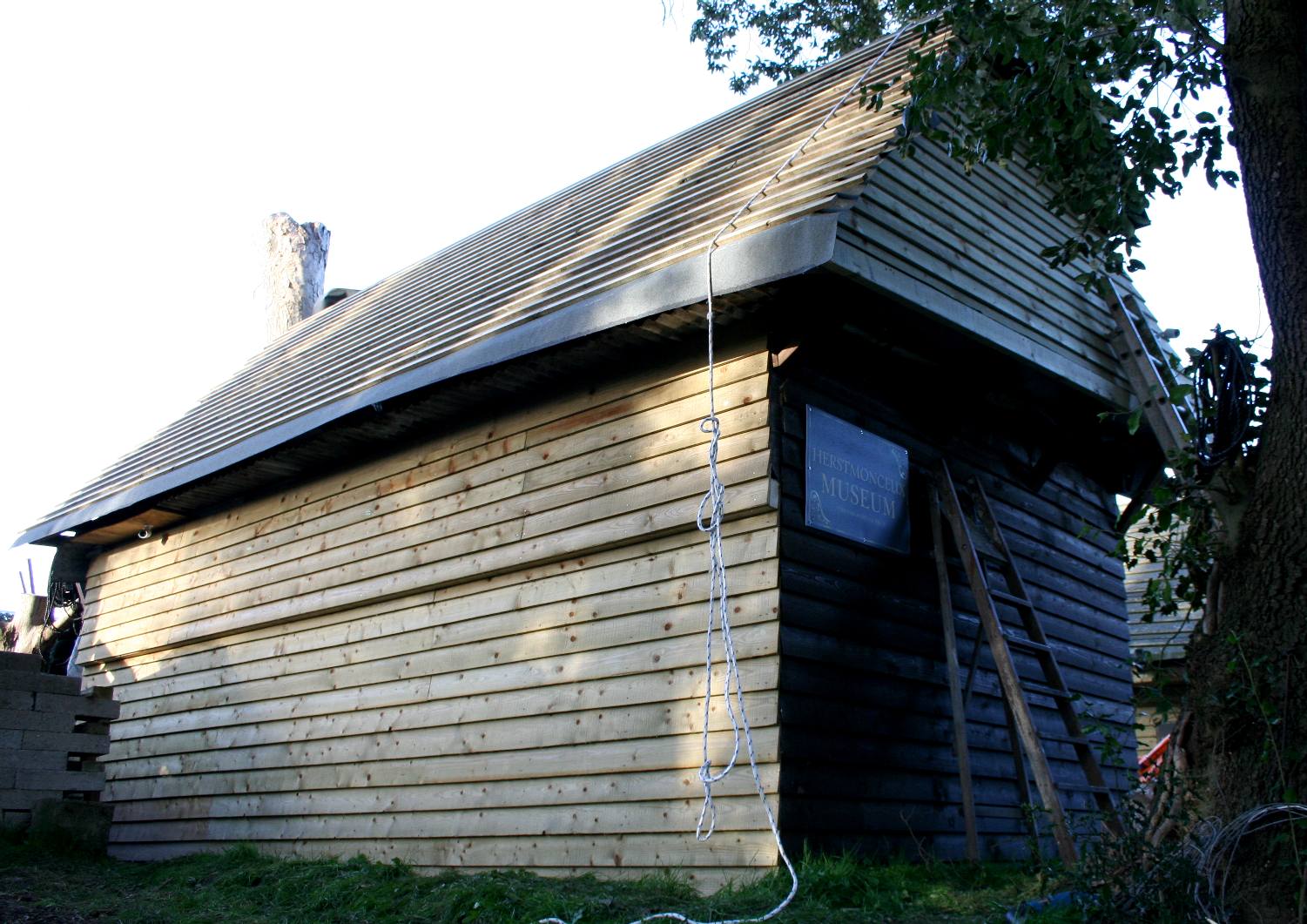 RUSTIC - Feather edged boarding is applied to the frames. These tapered timbers are pressure treated to help preserve the wood from the elements, insect attack, dry and wet rot. We will apply another coat of treatment that also colours the wood. We do not use creosote, that only lasts a couple of seasons at best. We use Ronseal wood protection products. Watch the sell by label. Even with this quality brand we have come across mixes that are old, when the waxes used in the formula tend to solidify. Otherwise, this is a great product. Copyright photograph © 9 March 2017 all rights reserved. You will need the permission of Lime Park Heritage Trust to reproduce this picture except for education private study or review.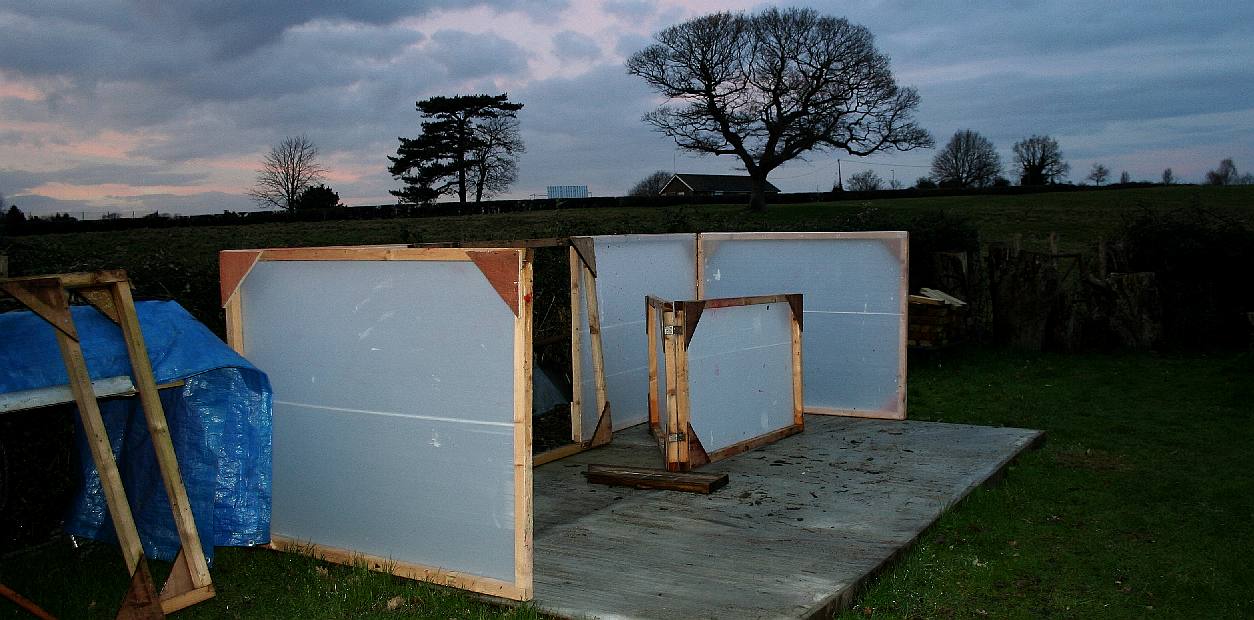 SUNSET - February 2017, these plastic screens were the splash guards for the stage performances of the Smooth Faced Gentlemen for their production of Titus Andronicus, when the all female cast liberally spread blood (food dye) all over each other in the graphic re-telling of this most tragic play by William Shakespeare.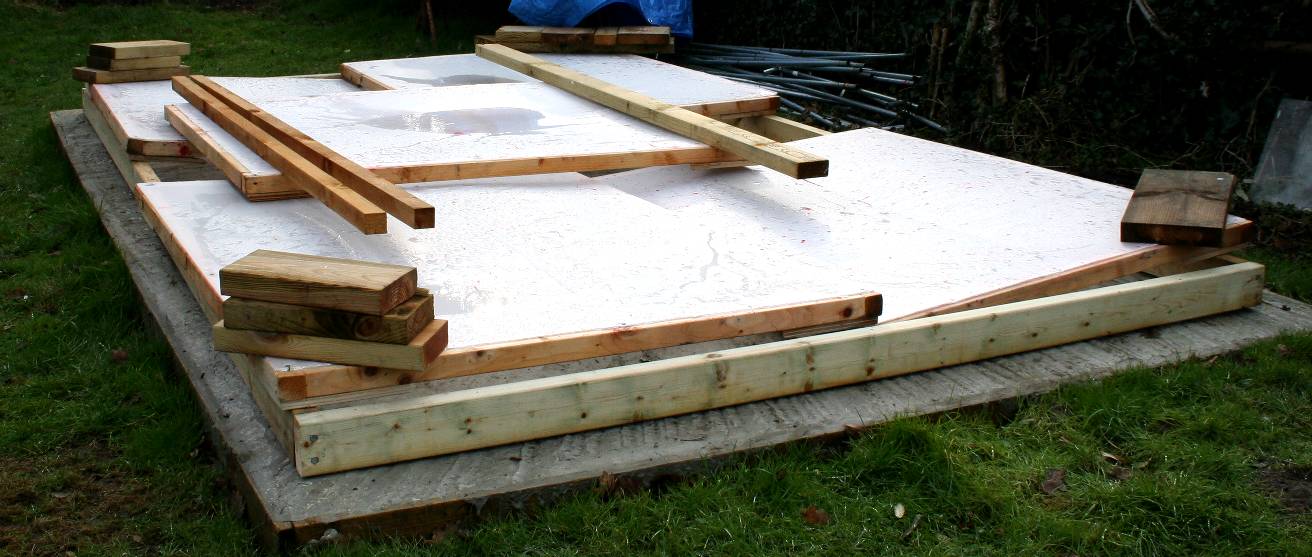 STACKED - February 2017, the much traveled plastic screens were cleaned down to remove all of the hinges and other quick release catches that actors use for fast set up and scene changes. Then the corrugated plastic was removed (for other recycling) and the nails taken out. With the high cost of skilled labour, it is quicker and cheaper to use new timber, that is perhaps treated. That philosophy goes against the grain for conservationists like our Trustees. Our friends in Eastbourne provided the base timber, where this frame is transportable and needed something. We can always rely on Stamco for quality timber and a speedy delivery service.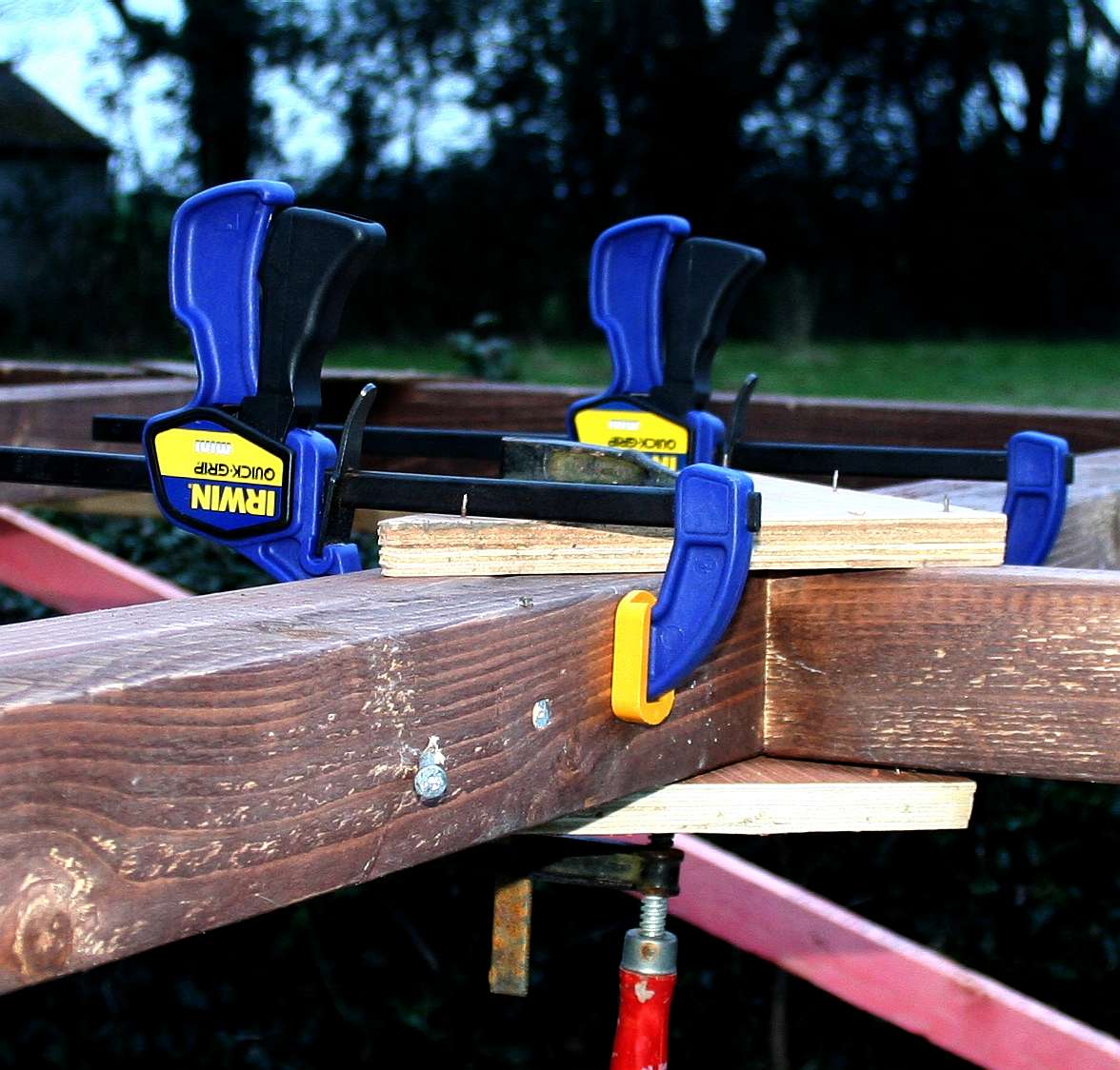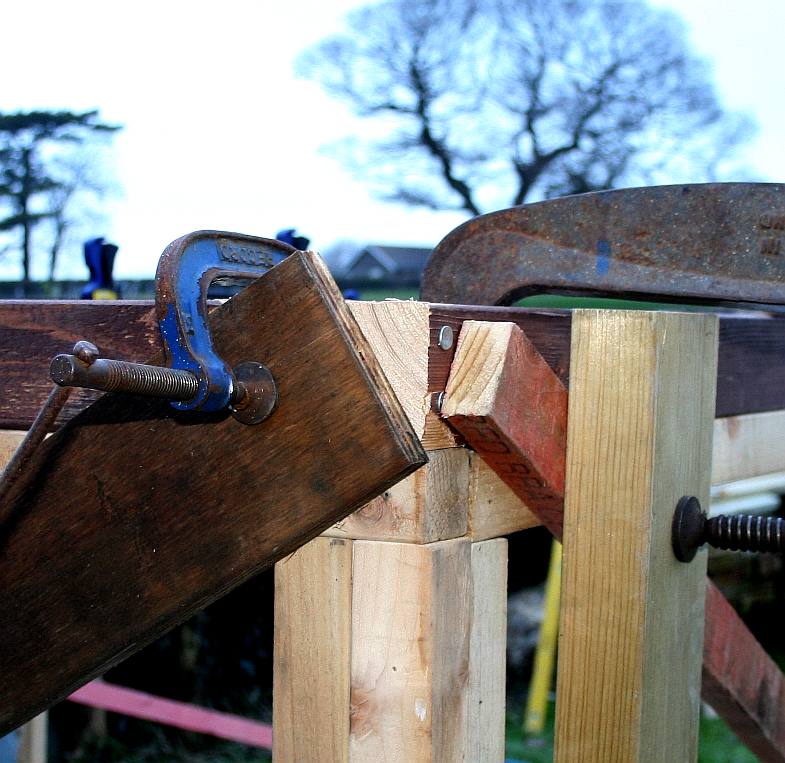 CLAMPS - Trying our best to make the irregular, regular. Recycled timber can sometimes require a little extra lining up using clamps. Once reasonably square, galvanized nails are used to join the old stage frames together with some additional carpentry to make this bespoke conversion fit snugly around the exhibit.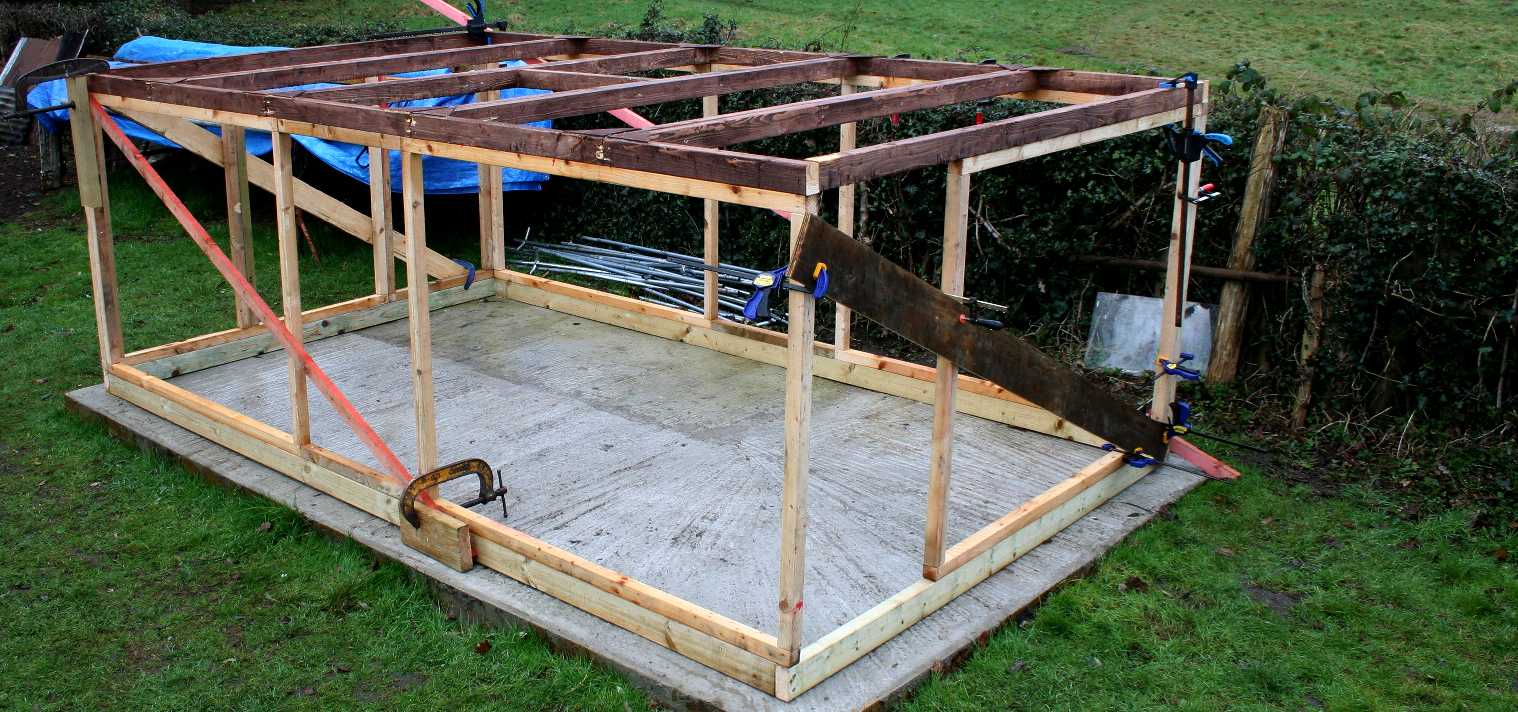 TRIANGULATION - It is important to get a display case like this as upright and square as possible. Use planks and other timber lengths with multiple clamps to get one corner straight using a spirit level. Work from the one upright corner to the next and then the next repeating the process, until the frame is square. It was more difficult use pre-made frames where the carpenter had no control over how accurate these frames were. Fortunately, they were not too bad. Copyright photographs © February 2017. You will need the permission of the Lime Park Heritage Trust to be able to use these pictures, except for educational and use and private study.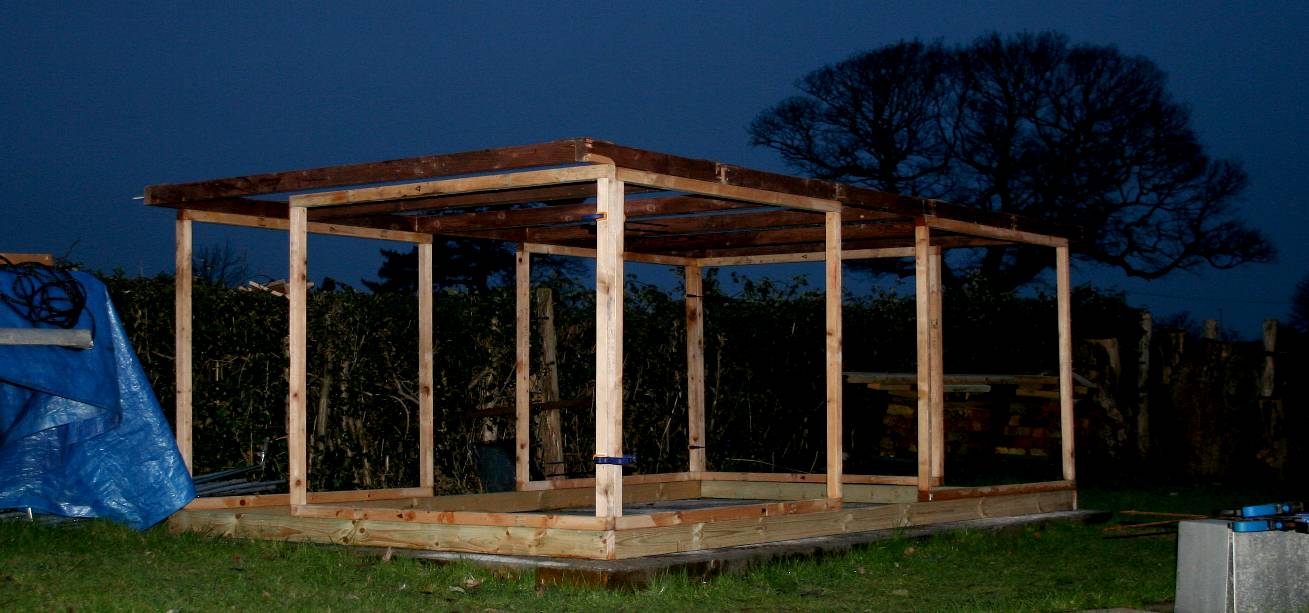 DUSK AGAIN - February 2017 was a wet winter in Sussex. In years gone by this slope would have been covered in snow at this time of the year. Climate change is to blame for sure with man burning fossil fuels at an alarming rate, rearing livestock and crops that produce methane. It is not just meat production that is to blame, more carbon dioxide in the atmosphere and rising temperatures cause rice agriculture to release more of the potent greenhouse gas methane (CH4) for each kilogram of rice it produces according to relatively recent research from 2012. The problem stems from population growth. The more people on planet earth, the more food we need and land to grow crops. But just how many people can our ecosystems sustain without causing irreversible extinctions, rising seas and eventually, conflict from rising tensions. Food security is likely to be one of the major issues from 2020. It is already on the UN's agenda along with blue growth, that aims to feed the world from our oceans.
DUSK YET AGAIN - February 2017. Drizzle was coming down slowly enough to allow a coat of wood preservative to be applied. We used a formula that prevents wet and dry rot and protects against woodworm. The frame still needs some work, but will eventually be painted satin black and fitted with glass. For now a temporary covering of UV stabilized polythene will have to suffice. Another coat of preservative was applied the next morning.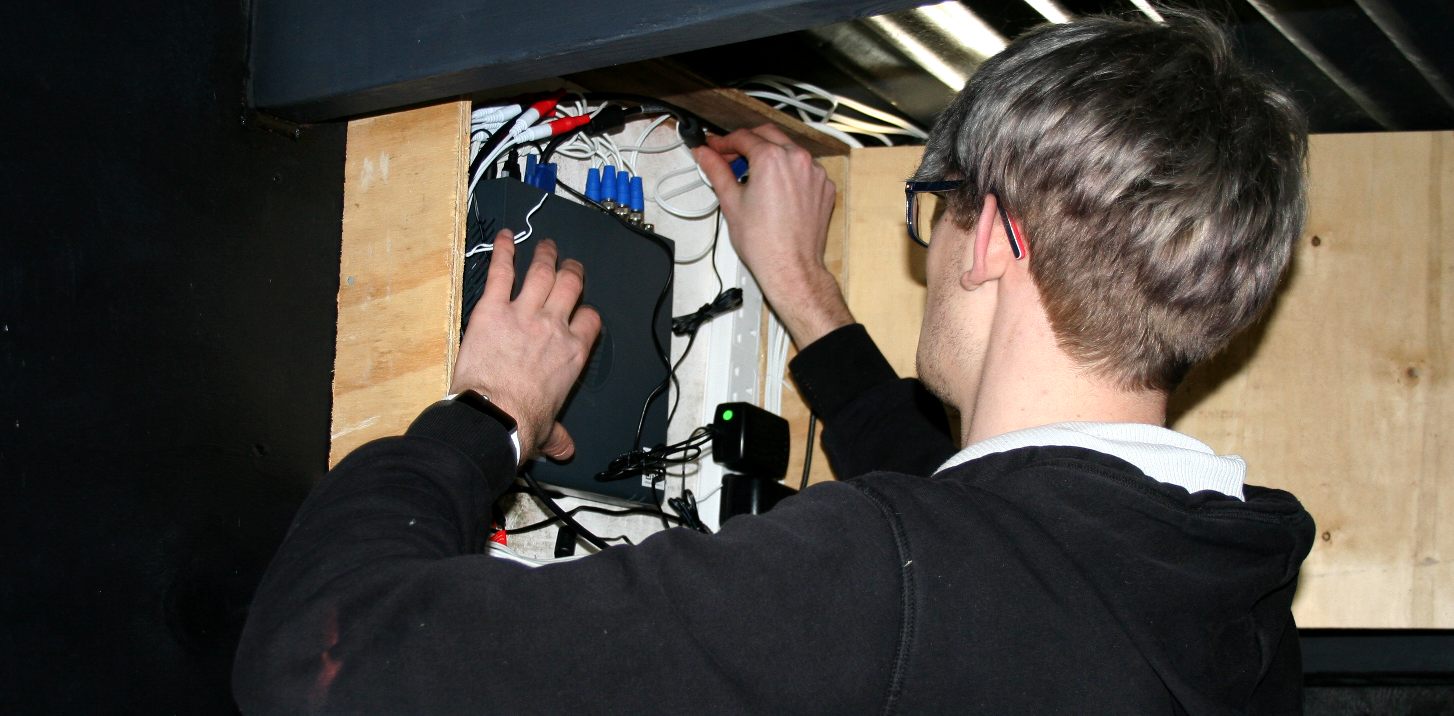 SURVEILLANCE - Sometimes it is necessary to record who is coming and going, just in case of accidents, insurance claims or other problems. CCTV systems are now widely available at reasonable cost and the quality is stunning with the latest 1080p high definition colour cameras. Here a volunteer tests the installation before it is steel armour encapsulated to prevent vandalism and to preserve evidence of any such incidents. Copyright photographs © 16 February 2017. You will need the permission of the Lime Park Heritage Trust to be able to use these pictures, except for educational and use and private study.
CCTV (closed-circuit television) is a TV system in which signals are not publicly distributed but are monitored, primarily for surveillance and security purposes. CCTV relies on strategic placement of cameras and private observation of the camera's input on monitors. The system is called "closed-circuit" because the cameras, monitors and/or video (hard drive) recorders communicate across a proprietary coaxial cable run or wireless communication link. Access to data transmissions is limited by design.

Older CCTV systems used small, low-resolution black and white monitors with no interactive capabilities. Modern CCTV displays can be high-resolution colour, providing the CCTV administrator with the ability to zoom in on an image or track something (or someone). Talk CCTV allows the administrator to speak to people within range of the camera's associated speakers. What is happening at Herstmonceux Museum can be monitored remotely from anywhere in the world using the internet or a mobile phone.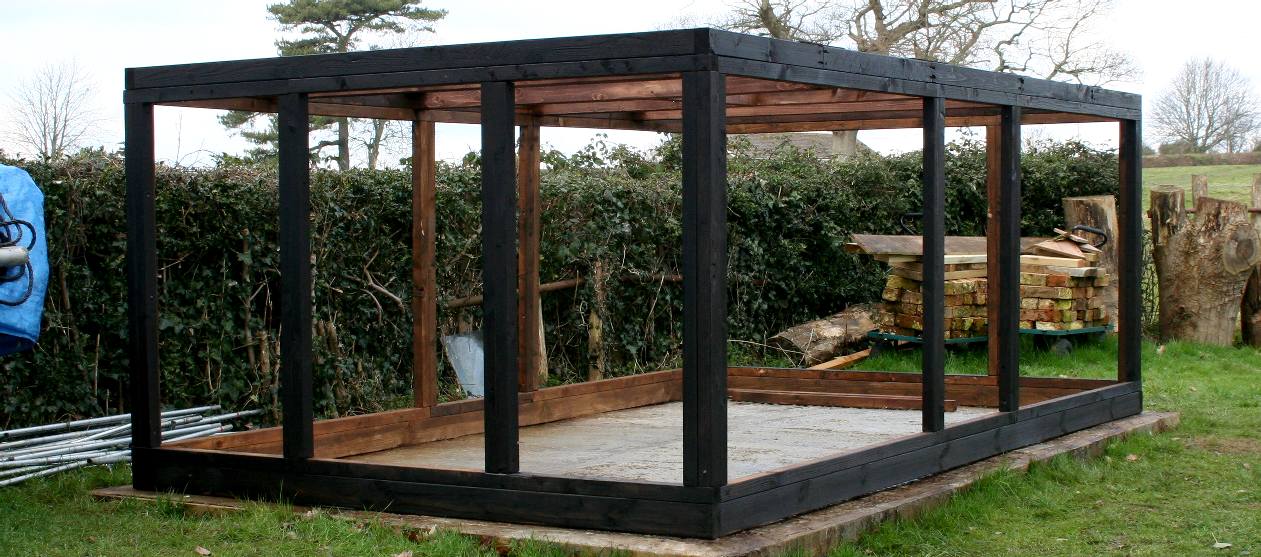 PAINTING - When painting it is important that the wood is clean and grease free. There are now some fantastic garden paints, a slight improvement on masonry paint, though both are designed to be used outside with up to 15 years of protection in between re-painting. Here the frame still needs to be primed on the inside and undersides. Copyright photograph © 17 February 2017. You will need the permission of the Lime Park Heritage Trust to be able to use these pictures, except for educational and use and private study.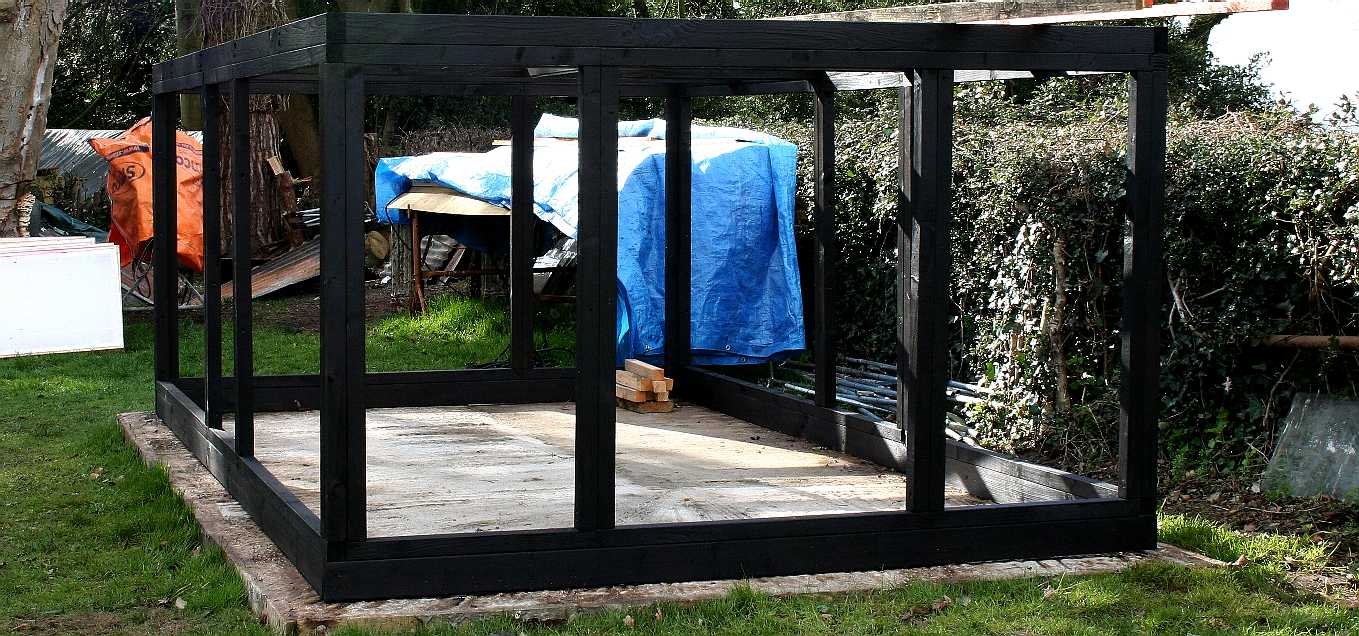 PORTABLE - With the first coat of paint dry, the next item to sort is the wheels and the hydraulic lift. This is to be a portable display case that is transportable for shows and other events rather than a static display. Copyright photograph © 23 February 2017. You will need the permission of the Lime Park Heritage Trust to be able to use these pictures, except for educational and use and private study.
LINKS
Day out with the kids Museums-and-Galleries
http://www.sussex-southdowns-guide.com/sussex-museums
http://www.sussextourism.org.uk/
www.sussexpast.co.uk/properties-to-discover/lewes-castle
Brighton Royal Pavilion, Libraries & Museums
http://www.dailymail.co.uk/news/article-4087226/Speed-hero-Donald-Campbell-s-daughter-lays-flowers-Coniston-Water-50-years-died-trying-smash-record-jet-boat-Bluebird.html
http://www.dailymail.co.uk/home/search.html?s=&authornamef=Steph+Cockroft+for+MailOnline
http://campbellcircuit.co.uk/
http://www.english-heritage.org.uk/
http://www.thekeep.info/
http://www.heritagegateway.org.uk/gateway/
https://www.sciencedaily.com/releases/2012/10/121021154455.htm
http://www.eastsussex.gov.uk/environment/archaeology/default.htm
HERITAGE INDEX A - Z
BARCLAYS BANKING LET DOWN - MISSING ACCOUNT MONEY
BARON CARL VON ROEMER & CHARLES de ROEMER
CAMPBELL HALL - BLUEBIRD ELECTRIC CARS
GAS ENGINES - COAL CONVERSION, INTERNAL COMBUSTION
OBSERVATORY - HERSTMONCEUX CASTLE
SOLAR LADY - STATUE