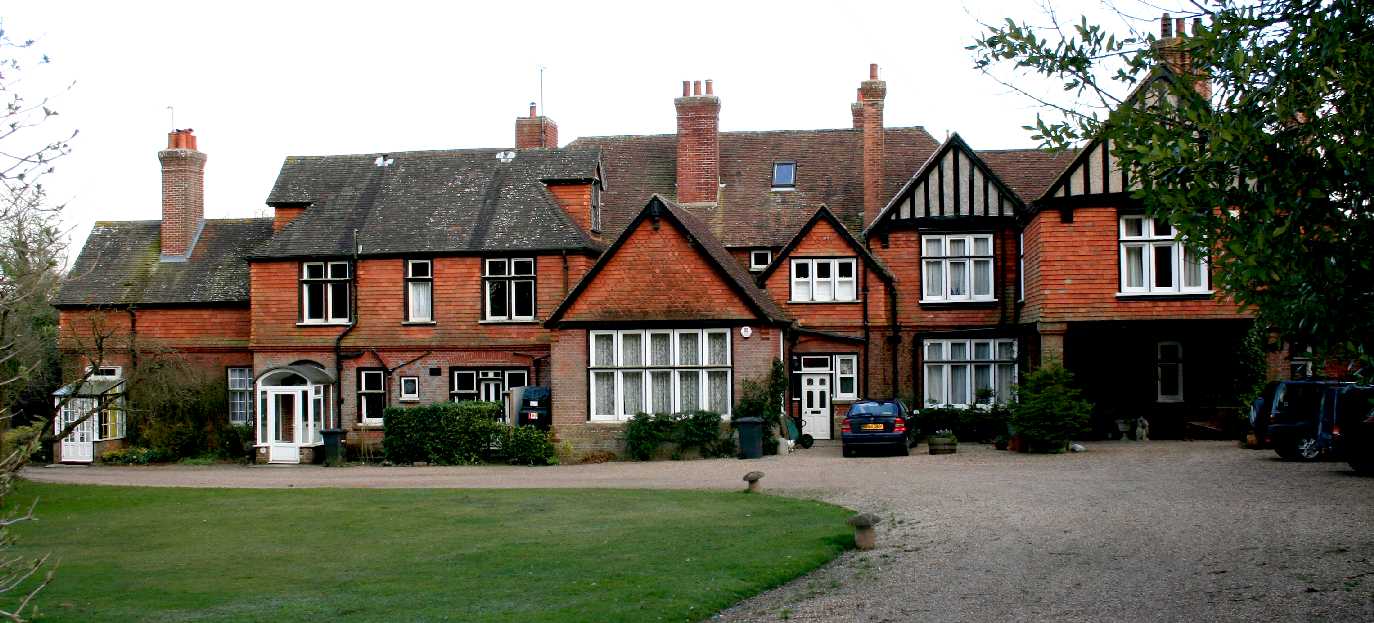 LIME HOUSE - This is a magnificent Edwardian country house set in a private park, but also a nightmare in terms of cost where keeping wood rot at bay and leaking roofs watertight can present maintenance problems and where the rooms are so large and so hard to heat economically without servants to constantly tend the fireplaces. The house is now divided into four smaller units which has lowered the running costs and made them highly sought after. Central heating means that servants are no longer needed to keep the fires alight, making the significant chimney stacks redundant - and simply a convenient attachment point for television aerials.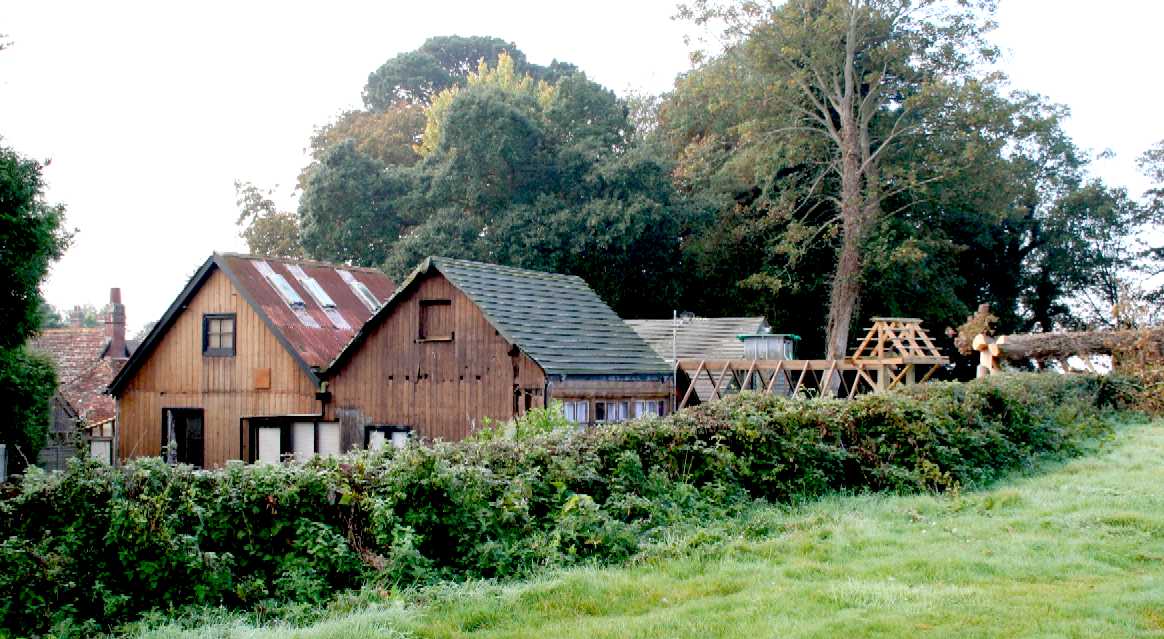 ELECTRICITY GENERATION - This rare wooden building in Lime Park is a miraculous survivor of years of neglect and failure on the part of both the Parish Council and local authority (Wealden District) to recognise the historic asset on their doorstep. Charles William de Roemer, the son of the Baron Carl Henry Von Roemer and a gifted electrical engineer, built this complex on the other side of the park to house his generating machinery and storage batteries. Part of the building is not shown here while awaiting repairs, but this valuable conservation work began again in earnest in the summer of 2016. Conversion of period buildings makes them highly sought after as wealthier people look for something more interesting to live in. For example, Zoopla scores period buildings highly. Period buildings are generally over 100 years in age and considered of historic importance or may be a historically listed building. In this condition the property would attract developers rather than house hunters, but with a bit of restoration work, such properties are snapped up by culture vultures. Due to the timber construction this building has some elements of a Swiss Cottage style interwoven with the practical generating use. It does though blend into its surroundings rather well.
LIME PARK HERSTMONCEUX
If you are in any way interested in buildings then the chances are that you will have a favorite architectural style of home. For many it's a deeply emotional attachment and all about what most resonates and makes you think of "home".

In the UK "style" has become synonymous with "period" for example Georgian, Victorian, Edwardian and Modernist. Of course, one style didn't stop and another start on the single day that one monarch died and another ascended the throne, but there was an undeniable shift in style during each era as tastes changed.
Throughout history, home designs have been influenced by the "architecture du jour." In the not far off future, when computer costs come down and construction companies change their methods, homeowners and builders may be able to design anything for themselves in a CAD program and send it to their local timber factory for processing..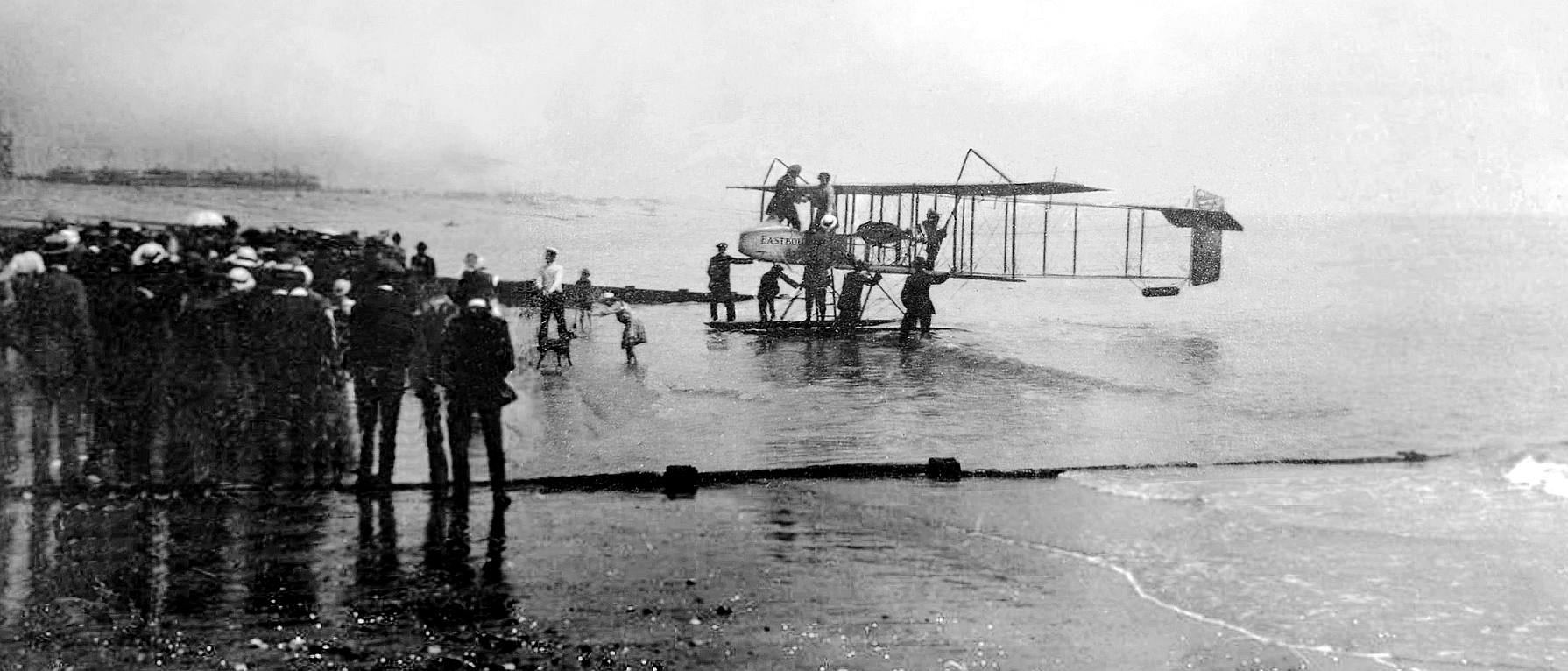 EASTBOURNE AVIATION COMPANY - The Baron, Charles Henry de Roemer lived in Lime Park, Herstmonceux, Sussex, England with Lady de Roemer, the father and mother of Major Charles William de Roemer of Lime Park, Hurstmonceux. The only directors of the EAC by 31-12-1921 were Bernard Fowler (founder), C. W de Roemer and H. Roll (solicitor). This company built 250 Maurice Farman biplanes under license at their Seaplane Base factory and developed a monoplane before ceasing to trade in 1924. The above picture clearly shows the 'Longhorn' sporting the name of the EAC while landing at Eastbourne beach. Four aircraft were built and 19 airmen trained before war broke out in 1914. Thereafter the airfield became a RNAS Training Station at which over 120 men learned to fly.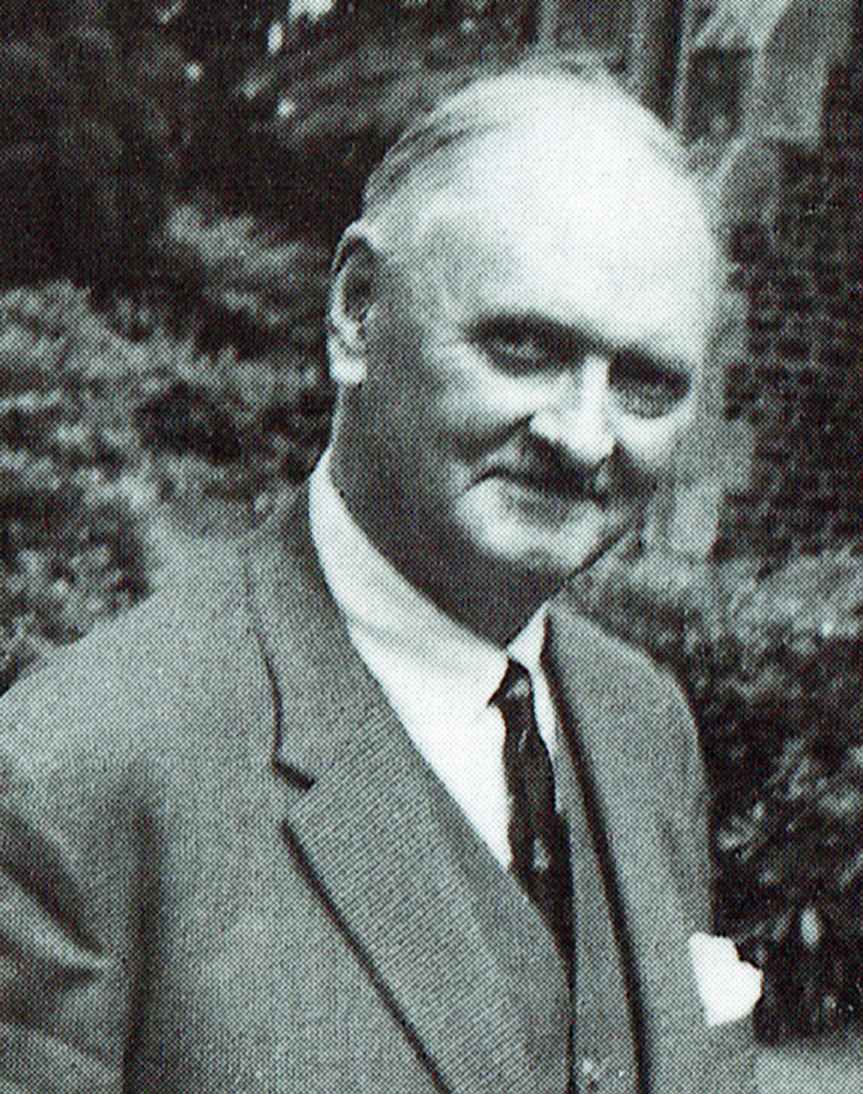 CHARLES De ROEMER - was an Etonian. He served in the Royal Field Artillery 31st Division, as a Second Lieutenant and Royal Air Force as a Captain, then Major. Apart from his interest in electricity generation and flying he was also a Justice of the Peace and member of the London Area Committee of the National Fitness Council. He died on the 14th of April 1963. He married Audrey Margaret Liddell on the 21st of November 1917. Audrey de Roemer was the daughter of Charles Lyon Liddel (1861) and Margaret Emily Gresham Leveson-Gower (1862). She died on the 15th of August 1967.
Charles worked with other well known electrical engineers of the day, thought to include John Hopkinson, Joseph Swan and Thomas Edison.

Sources: Burke's Peerage, Baronetage & Knightage, 107th edition, volume 3 (page 3289) edited by Charles Mosley. Published by Burke's Peerage (Genealogical Books) Ltd, Wilmington, Delaware, U.S.A., 2003.
EASTBOURNE AVIATION COMPANY
Before the First World War and RAF Hertmonceux, Charles W de Roemer became interested enough in aviation to join forces with Bernard Fowler to produce aircraft at workshops on the Crumbles at Eastbourne in Sussex. In fact he appears to have been the financier for the Hucks Waterplane Company (No: 122681) that was registered in London on the 19th of June 1912. The authorised share capital was £5,000 pounds issued as £1 shares. Frank Hucks of 2a Adelaide Road, South Hamptstead, London became the Company Secretary with one £1 share and von Roemer of Lime Park, Herstmonceux became a Director with five hundred £1 pound shares.
By way of propping up the waterplane company, Charles subscribed further capital in the form of debentures of £2,500 (on the 25th June) £1,393 (on 20th September) and a further £450 on the 29th of October 1912. Clearly, without his backing this company would not have had the financial muscle to get into production.
Charles was a director of the EAC and being a Major in the RAF it is hardly surprising that he allowed Lime Park to be used by the RAF in World War Two. Where Charles W had ceased generating electricity by 1932, it appears that having the generating rooms underused that he had no difficulty in converting the buildings to a temporary hospice for wounded airmen.
There is a comprehensive publication by Lou McMahon and Michael Partridge on the history of the Eastbourne Aviation Company from 1911 to 1924.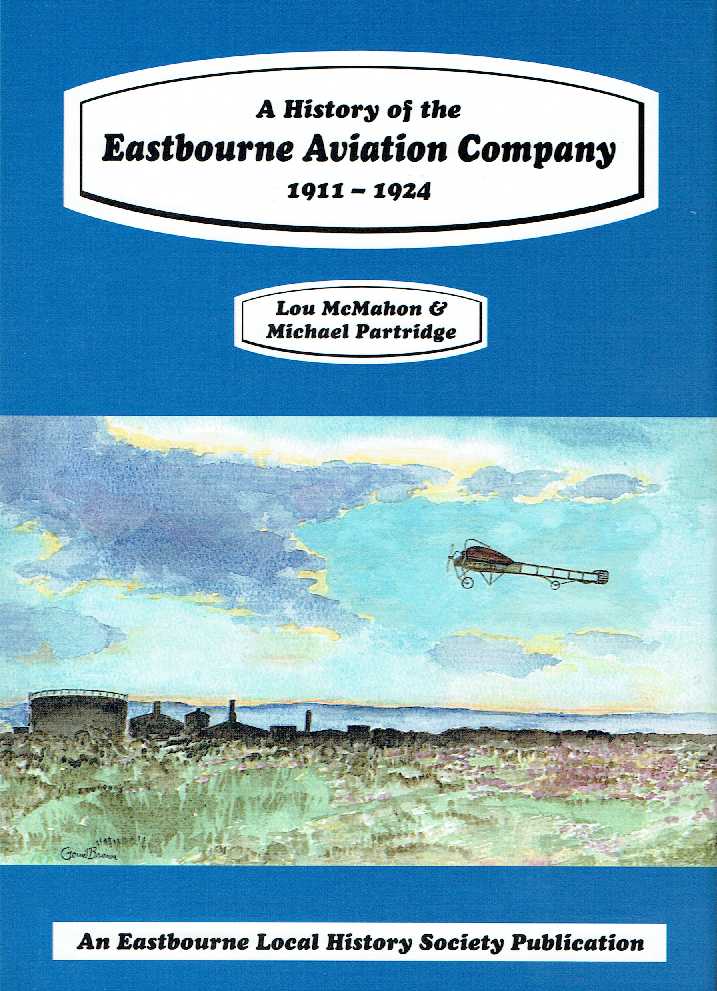 ARCHITECTURAL PERIODS
11,600 BC to 3,500 BC - Architecture in Prehistoric Times

Archaeologists "dig" prehistory. Göbekli Tepe in present day Turkey is a good example of archaeological architecture. Before recorded history, humans constructed earthen mounds, stone circles, megaliths, and structures that often puzzle modern-day archaeologists.

Prehistoric architecture includes monumental structures such as Stonehenge, cliff dwellings in the Americas, and thatch and mud structures lost to time.

3,050 BC to 900 BC - Ancient Egypt

In ancient Egypt, powerful rulers constructed monumental pyramids, temples, and shrines. Far from primitive, enormous structures such as the Pyramids of Giza were feats of engineering capable of reaching great heights.

850 BC to 476 AD - Classical

From the rise of ancient Greece until the fall of the Roman empire, great buildings were constructed according to precise rules. The Classical Orders, which defined column styles and entablature designs, continue to influence building design in modern times.

527 to 565 AD - Byzantine

After Constantine moved the capital of the Roman empire to Byzantium (now called Istanbul) in 330 AD, Roman architecture evolved into a graceful, classically-inspired style that used brick instead of stone, domed roofs, elaborate mosaics, and classical forms. Emperor Justinian (527 AD to 565 AD) led the way.

800 to 1200 AD - Romanesque

As Rome spread across Europe, heavier, stocky Romanesque architecture with rounded arches emerged. Churches and castles of the early Medieval period were constructed with thick walls and heavy piers.

1100 to 1450 AD - Gothic Architecture

Pointed arches, ribbed vaulting, flying buttresses, and other innovations led to taller, more graceful architecture. Gothic ideas gave rise to magnificent cathedrals like Chartres and Notre Dame.

1400 to 1600 AD - Renaissance Architecture

A return to classical ideas ushered an "age of awakening" in Italy, France, and England. Andrea Palladio and other builders looked the classical orders of ancient Greece and Rome. Long after the Renaissance era ended, architects in the Western world found inspiration in the beautifully proportioned architecture of the period.

1600 to 1830 AD - Baroque Architecture

In Italy, the Baroque style is reflected in opulent and dramatic churches with irregular shapes and extravagant ornamentation. In France, the highly ornamented Baroque style combines with Classical restraint. Russian aristocrats were impressed by Versailles in France, and incorporated Baroque ideas in the building of St. Petersburg. Elements of the elaborate Baroque style are found throughout Europe.

1650 to 1790 AD - Rococo Architecture

During the last phase of the Baroque period, builders constructed graceful white buildings with sweeping curves. These Rococo buildings are elegantly decorated with scrolls, vines, shell-shapes, and delicate geometric patterns.

1730 to 1925 AD - Neoclassicism in Architecture

A keen interest in ideas of Renaissance architect Andrea Palladio inspired a return of classical shapes in Europe, Great Britain and the United States. These buildings were proportioned according to the classical orders with details borrowed from ancient Greece and Rome.

Architectural styles changed gradually throughout these periods as the neo-classical influence gradually faded. The Victorian period tends to be divided into Early up to c1860 and Late from then to c1900.

The main catalyst for change was the introduction of bay windows in 1860. Throughout the period, there was more uniformity as standardised materials began to be used. In the later period the popular plan was to build houses on rectangular grids, often one room wide plus corridor with the front door set to one side

1890 to 1914 AD - Art Nouveau Architecture

Known as the New Style, Art Nouveau was first expressed in fabrics and graphic design. The style spread to architecture and furniture in the 1890s. Art Nouveau buildings often have asymmetrical shapes, arches and decorative surfaces with curved, plant-like designs.

As the Victorian era merged into the Edwardian period (c1900 to 1914) houses were increasingly built with lower ceilings and more ornamentation and there was a growing preference for red brick and stained glass in front doors.

1895 to 1925 AD - Beaux Arts Architecture

Also known as Beaux Arts Classicism, Academic Classicism, or Classical Revival, Beaux Arts architecture is characterized by order, symmetry, formal design, grandiosity, and elaborate ornamentation.

1905 to 1930 AD - Neo-Gothic Architecture

In the early twentieth century, Gothic ideas were applied to modern buildings. Gargoyles, arched windows, and other medieval details ornamented soaring skyscrapers.

1925 to 1937 AD - Art Deco Architecture

Zigzag patterns and vertical lines create dramatic effect on jazz-age, Art Deco buildings. Interestingly, many Art Deco motifs were inspired by the architecture of Ancient Egypt.

1900 to Present - Modernist Styles in Architecture

The 20th and 21st centuries have seen dramatic changes and astonishing diversity. Modern day trends include Art Moderne and the Bauhaus school coined by Walter Gropius, Deconstructivism, Formalism, Modernism, and Structuralism.

1972 to Present - Postmodernism in Architecture

A reaction against the Modernist approaches gave rise to new buildings that re-invented historical details and familiar motifs. Look closely at these architectural movements and you are likely to find ideas that date back to classical and ancient times.
CONTACT US
The Curator
Lime Park Heritage Trust
Herstmonceux Museum
Lime Park
Herstmonceux
East Sussex
BN27 1RF, United Kingdom
Telephone: 0044 1323 831727
LINKS
Maureens Choice A_Sussex_Sunset
https://en.wikipedia.org/wiki/Farman_MF.7
http://www.eastbournehistory.org.uk/timeline.php
http://www.thepeerage.com/p1827.htm
http://www.raf.mod.uk/
http://www.tyrrellsussexbooks.com/books_3.php
http://www.maureenschoice.co.uk/book_windows/a_sussex_sunset.html
HERITAGE INDEX A - Z
BARCLAYS BANKING LET DOWN - MISSING ACCOUNT MONEY
BARON CARL VON ROEMER & CHARLES de ROEMER
CAMPBELL HALL - BLUEBIRD ELECTRIC CARS
GAS ENGINES - COAL CONVERSION, INTERNAL COMBUSTION
OBSERVATORY - HERSTMONCEUX CASTLE
SOLAR LADY - STATUE