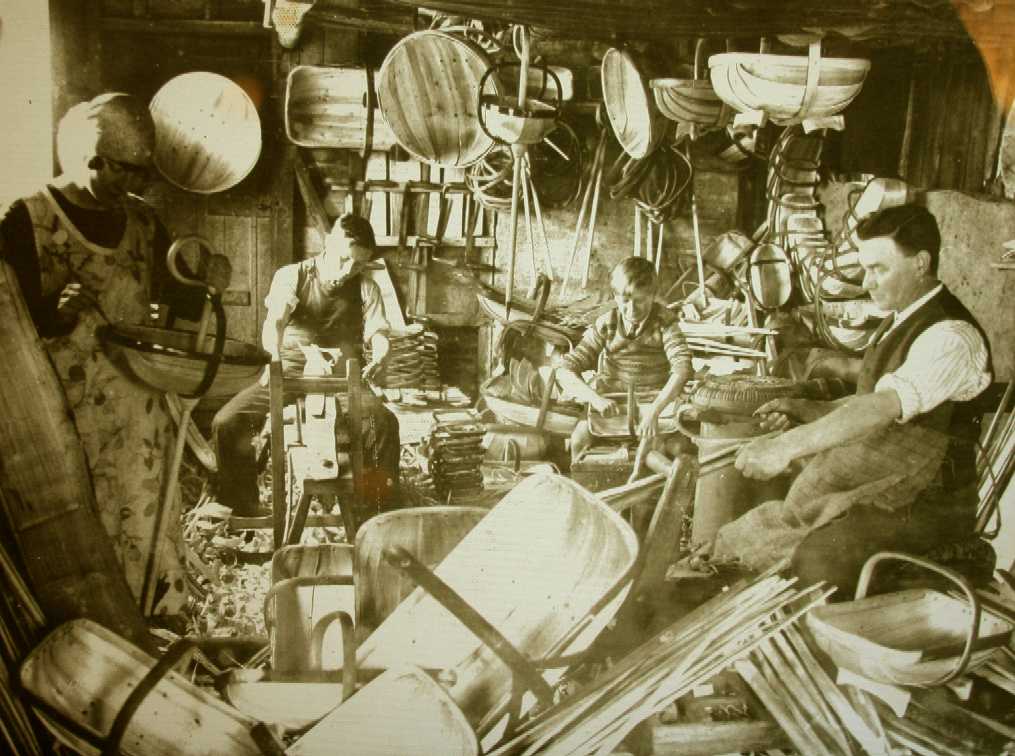 TIME CAPSULE - A Sussex trug is a wooden basket mainly used for gardening. It is made from a handle and rim of coppiced sweet chestnut wood which is hand-cleft then shaved using a drawknife. The body of the trug is made of five or seven thin boards of cricket bat willow, also hand-shaved with a drawknife. They were probably originated in Sussex because of the abundance of chestnut coppice and willows found on the marshes.

Shapes and sizes became standardised, the most well-known shape being the "common or garden" trug ranging in volume from one pint to a bushel. However, there is a diverse range of traditional trugs from garden and oval trugs to the more specialised "large log" and "walking stick" trugs. Trugs date back to the 1500s, with active trade in Horsham.

Thomas Smith of Herstmonceux, displaying his trugs at the Great Exhibition of 1851, gave the basket wider renown; he was rewarded when Queen Victoria purchased several for members of the Royal family. Further appearances at international exhibitions followed at the 1855 Universal exhibition in Paris; the First International Forestry Exhibition in Edinburgh 1884 and London International Inventions Exhibition.

By the 1970s, Herstmonceux remained as a significant centre of trug production, with four firms operating in or near that village: Greens of Hailsham, R. Reed, R.W. Rich and Sons, and Thomas Smith and Sons.
DEPARTMENT OF CULTURE MEDIA & SPORT (DCMS)
This is England, but maybe not for much longer. The countryside and access to landmarks that have been enjoyed for over a hundred years, will be lost if mass developments like that proposed in Herstmonceux village get the go ahead. This is happening all over England where central government have been forced to order local authorities to build more houses.
In retaliation, local authorities are not consulting the experts when it comes to tourism and heritage, as proposed housing developments may impede the growth of an industry that our nation can and will rely upon for hundreds of years to come, and that value to the economy in turn relies on assets that are irreplaceable, unlike housing that can be located anywhere.
Fortunately, the Department for Culture, Media & Sport (DCMS) exists to help make Britain the world's most creative and exciting place to live, visit and do business. The DCMS aim to protect and promote our cultural and artistic heritage and help businesses and communities to grow by investing in innovation and highlighting Britain as a fantastic place to visit.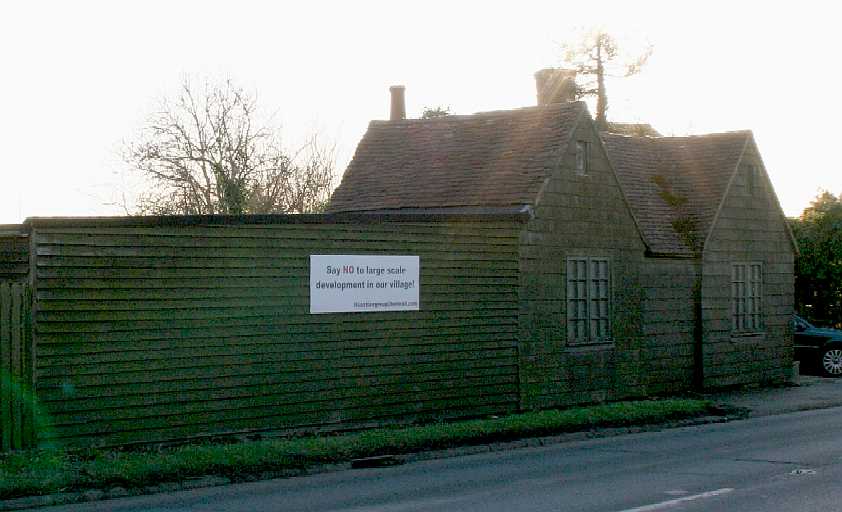 Herstmonceux lost the most famous Truggery of all, when Thomas Smith and Sons ceased to operate in return for a few more houses in the village. Short sighted or what. The Parish Council let our history go just like that. A trust should have been formed to save the original workshops as a tourist attraction.
SECRETARY OF STATE FOR CULTURE & TOURISM
The Rt Hon Sajid Javid MP has been Secretary of State for Culture, Media and Sport since 9 April 2014. From April to July 2014 he was also Minister for Equalities. Previously he was Financial Secretary to the Treasury. He is the Conservative MP for Bromsgrove.
Before being elected MP, he worked in business and finance. Aged 25, he became a Vice President at Chase Manhattan Bank. He later moved to Deutsche Bank in London to help build its business in emerging market countries. Sajid left Deutsche Bank as a senior Managing Director in the summer of 2009 to give something back through politics.
Sajid Javid MP was born on the 5th of December 1969. Javid previously served as Economic Secretary from 2012 to 2013 and as the Financial Secretary to the Treasury from 2013 to 2014. Some commentators, including radio presenter Iain Dale, have stated that Javid has a chance of becoming Leader of the Conservative Party.

On 9 April 2014, Prime Minister David Cameron appointed Javid to the Cabinet as Secretary of State for Culture, Media and Sport and Minister for Equalities following the resignation of Maria Miller over her expenses. This made him the first MP to have been elected in 2010 to join the Cabinet, and the first British Pakistani MP to lead a Government Department. Shortly after his appointment, he was made a Privy Councillor. Javid defended media freedom and the right of the press to investigate wrongdoing by politicians and officials in his first appearance as culture secretary on BBC's Question Time. "The public were right to judge her on how she responded, there's absolutely nothing wrong with that," he said. "And the media … I don't think you can blame this on Leveson or the media or something. The media are a cornerstone of our democracy, their freedom is very important and if they want to investigate wrongdoing by politicians or any other public official they should do that and nothing should stop them from doing that."
His speech as Culture Secretary to the Union of Jewish Students' Annual Conference 2014 about the importance of diversity and free expression in the world of culture has been hailed by Isabel Hardman of The Spectator as "one of the finest speeches from a government minister I have ever read.'
CONTACT SAJID JAVID

House of Commons London SW1A 0AA
Tel: 020 7219 7027

or

18 High Street Bromsgrove B61 8HQ
Tel: 01527 872135

Email: sajid.javid.mp@parliament.uk
DCMS ON TOURISM
Tourism is one of the UK's biggest industries. It helps to create wealth and jobs throughout the country and can bring new life to run-down communities.

The DCMS want to help tourism grow even further by funding campaigns and other promotional work that will inspire more people to visit and explore more parts of Britain.

As with other industries, the DCMS want to removing unnecessary rules that make it more difficult or expensive for tourism businesses to grow.


DCMS TOURISM AGENDA

To help our tourism industry reach its full potential, the DCMS are taking the following actions.

1. Funding VisitEngland

Alongside the private sector, we fund VisitEngland to run marketing campaigns that encourage people living in the UK to take their holidays in England (known as 'domestic tourism').

With the help of VisitEngland campaigns, we want to increase the proportion of UK residents choosing to holiday in England to match those who holiday abroad.

2. Funding VisitBritain

Alongside the private sector, we are funding a £100 million campaign by VisitBritain to encourage international tourism. The GREATBritain image campaign has already provided more than £22 million to VisitBritain.

Together, the DCMS estimate both campaigns will bring 4.6 million extra visitors to Britain, £2.2 billion more spending in our economy and over 60,000 new jobs between 2011 and 2015.
PROMOTING THE UK TOURISM INDUSTRY

The DCMS work with the UK tourism industry to make it easier for it to grow by participating in international trade events and forums, advising it on ways to raise standards, and reviewing rules and regulations affecting the industry.

Ministers regularly meet with industry figures, host tourism roundtable meetings and go on regional visits, all with the aim of making better policy that helps the tourism industry to grow.
DCMS HISTORY
The DCMS originates from the Department of National Heritage (DNH), which itself was created on 11 April 1992 out of various other departments, soon after the Conservative election victory. The former Ministers for the Arts and for Sport had previously been located in other departments.

The DNH was renamed as the "Department for Culture, Media and Sport" on 14 July 1997, under the Premiership of Tony Blair.
DCMS PERSONNEL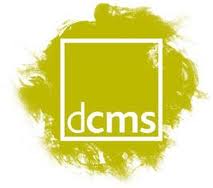 CONTACT THE DCMS
Main office address

Department for Culture, Media & Sport
100 Parliament Street
London
SW1A 2BQ

Email enquiries@culture.gov.uk

Contact form https://www.tools.culture.gov.uk/contactus/contactus.aspx

General enquiries 020 7211 6000
HERSTMONCEUX TOP TEN ATTRACTIONS
1. Science Museum, London
2. Battersea Power Station, London
4. Rudyard Kipling's Batemans
5. Jubilee Walk & Edison Trail
6. Herstmonceux Museum, Lime Park (from the Edison Trail)
8. The Truggery
10. RAF Wartling
SUSSEX INDEX A - Z
CHIDDINGLY - HORSE SHOW and GYMKHANA
CUCKMERE VALLEY - EXCEAT
HERSTMONCEUX - MUSEUM - COSTS SCANDAL - PARISH COUNCIL - ACTION GROUP -
TRUGS - TRUGGERY
TWISSELLS MILL, OLD HEATHFIELD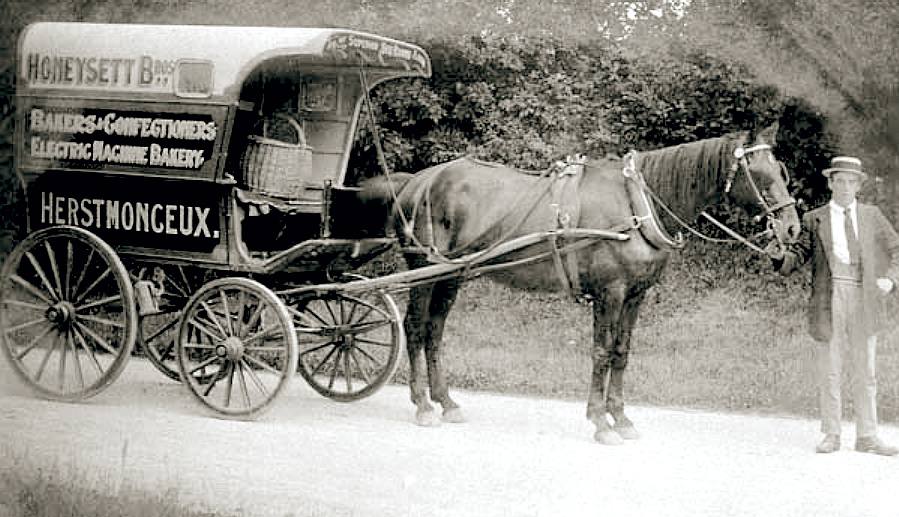 EVEN MORE LOCAL HISTORY - James married Sarah Shorter who had recently had a son Robert. Although it is not clear who Robert's father was, James certainly took on that role. Two of Robert's great-grandchildren, Stephen (1880-1940) and Robert Honeysett (1884-1912), were bakers and confectioners using the latest electric baking machinery as is clear from the sign writing on the side of this horse drawn wagon. Herstmonceux Bakery was one of the few in England at the time that could boast such innovation - all due to the Baron de Romer and his generating buildings in Lime Park. This photograph is from an old postcard courtesy of Mick Hall. In 1982 one villager told the Museum's curator that he would stand at the top of Lime Cross hill and look down to the village, where he could see the lights in the Bakery growing bright then dim in time with the sound of the generating engines in Lime Park. This picture is evidence that that conversation was more then likely factual. We do not know the name of the gentleman telling that tale. We are just pleased to be able to relay it to you. The generating rooms are now almost restored as a working museum.
LINKS & REFERENCE
http://en.wikipedia.org/wiki/Sussex_trug
Wikipedia Department_for_Culture_Media_and_Sport
Sussex Express county news concerns over housing plans in Herstmonceux
Day out with the kids Museums-and-Galleries
http://www.sussex-southdowns-guide.com/sussex-museums
http://www.sussextourism.org.uk/
www.sussexpast.co.uk/properties-to-discover/lewes-castle
Brighton Royal Pavilion, Libraries & Museums
Daily Mail almost-6-000-buildings-historic-sites-risk-lost-neglect-decay-say-English-Heritage
Batemans is a 17th-century house located in Burwash, East Sussex, England. Author Rudyard Kipling lived in Bateman's from 1902 to his passing in 1936. His wife left the house to the National Trust on her death in 1939 and it has since been opened to the public. Bateman's is a modest Jacobean Wealden sandstone mansion built in 1634 for a local ironmaster, John Brittan. Six brick columns form a massive central chimneystack above the gabled facades. Today the rooms are left as they were when the Kipling family lived there, much as we are doing our best to keep the rooms at Herstmonceux, as they were when lived in by the local inventor.
HERITAGE INDEX A - Z
AVIATION - EASTBOURNE
BARCLAYS BANKING LET DOWN - MISSING ACCOUNT MONEY
BARON CARL VON ROEMER & CHARLES de ROEMER
CAMPBELL HALL - BLUEBIRD ELECTRIC CARS
GAS ENGINES - COAL CONVERSION, INTERNAL COMBUSTION
OBSERVATORY - HERSTMONCEUX CASTLE
SOLAR LADY - STATUE
COUNCIL OFFICERS HAVING CONDUCT OF PLANNING MATTERS RELATING TO SUSSEX TRUGS
WEALDEN COUNCIL MEMBERS SITTING ON THE AREA PLANS SOUTH PLANNING COMMITTEE 2015
Andrew Long - (no email address)
David White - cllr.david.white@wealden.gov.uk
Diane Dear - cllr.dianne.dear@wealden.gov.uk
Charles Peck - cllr.charles.peck@wealden.gov.uk
Chris Hardy - cllr.chris.hardy@wealden.gov.uk
Chris Triandafyllou - cllr.chriss.triandafyllou@wealden.gov.uk
Daniel Shing - daniel.shing@wealden.gov.uk
Dick Angel - cllr.dick.angel@wealden.gov.uk
Barby Dashwood-Morris - cllr.barby.dashwood-morris@wealden.gov.uk
Barry Marlowe - cllr.barry.marlowe@wealden.gov.uk
Bill Bentley - cllr.bill.bentley@eastsussex.gov.uk
Brian Jarman (deceased)
Brian West - (retired)
John Blake - cllr.john.blake@wealden.gov.uk
Lin Clark - cllr.lin.clark@wealden.gov.uk
Nigel Coltman - cllr.nigel.coltman@wealden.gov.uk
Nigel McKeeman - cllr.nigel.mckeeman@wealden.gov.uk
Raymond Cade - cllr.raymond.cade@wealden.gov.uk
Ron Cussons - cllr.ron.cussons@wealden.gov.uk
Stephen Harms - cllr.steve.harms@wealden.gov.uk
Stephen Shing - cllr.stephen.shing@wealden.gov.uk
Susan Stedman - cllr.susan.stedman@wealden.gov.uk
LOCAL NEWSPAPERS CONTACTS
Sussex Express - sussex.express@jpress.co.uk
amie.morrell@jpress.co.uk
Eastbourne Herald - eastbourne.herald@jpress.co.uk
The Argus - lucy.pearce@theargus.co.uk