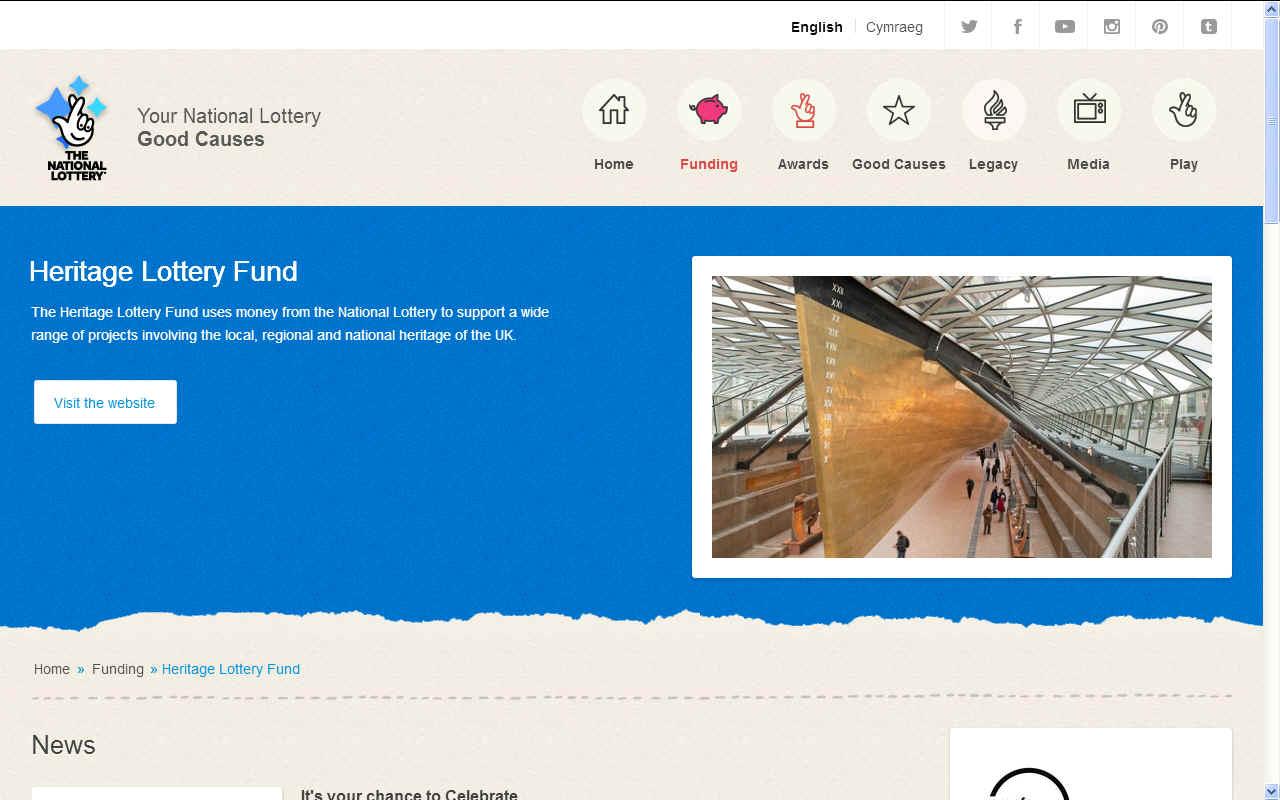 The Heritage Lottery Fund (HLF) awards money from The National Lottery to preserve and transform the heritage of the UK through innovative projects that will make a lasting impact on people and places, and bring heritage to life for generations to come.

The Heritage Lottery Fund supports projects ranging from museums, parks and historic places to archaeology, natural environment and cultural traditions. Since 1994, HLF has supported just over 35,000 projects allocating more than £5.3billion across the UK.

Many of our most famous landmarks, including Stonehenge in Wiltshire, Rosslyn Chapel in Midlothian, the Giantís Causeway in Moyle and Cardiff Castle in Cardiff, have benefitted from the Heritage Lottery Fundís support. Additionally, thousands of community heritage projects are providing opportunities for people to explore historic buildings, protect the environment, learn new skills, delve into archives and discover untold stories.
The Heritage Lottery Fund (HLF) distributes a share of National Lottery funding, supporting a wide range of heritage projects across the United Kingdom.

Since it was set up in 1994, under the National Lottery Act, it has awarded over £7.1billion to more than 40,000 projects, large and small, helping people across the UK explore, enjoy and protect their heritage.

HLF supports all kinds of projects, as long as they make a lasting difference for heritage, people and communities. These vary from restoring natural landscapes to rescuing neglected buildings, from recording diverse community histories to providing life-changing skills training.

The Heritage Lottery Fund provides grants from £3,000 to over £5million. A complete list of funding programmes can be found on the HLF website. They include:

Sharing Heritage

Grants from £3,000 to £10,000, to help discover and share local heritage. This can be anything from recording personal memories to conserving wildlife.

Our Heritage

Grants from £10,000 to £100,000. Projects can focus on anything from personal memories and cultural traditions to archaeological sites, museum collections and rare wildlife.

Heritage Grants

Grants of over £100,000 for larger heritage projects of any kind. Examples of high-profile Heritage Grant recipients include: Stonehenge visitor centre (£10m); renovation of York Minster, including the 600-year-old Great East Window (£10m); Mary Rose preservation and display (£26m); restoration of St Georgeís Market, Belfast (£2m); refurbishment of Kelvingrove Art Gallery and Museum, Glasgow (£13m).

It has a range of targeted grant programmes which fund projects with a particular focus, including: First World War; parks; landscapes; young people; and community heritage. Its Heritage Enterprise and Townscape Heritage programmes focus on place-based regeneration. The Fundís Resilient Heritage and Heritage Endowment programmes aim to support the long-term financial sustainability of the UKís heritage.




CONTACTS
Head office
Heritage Lottery Fund
7 Holbein Place, London
SW1W 8NR

Tel: 020 7591 6000
Fax: 020 7591 6001
Text phone: 020 7591 6255

Grant enquiries
(9amĖ5pm Monday to Friday)
Tel: 020 7591 6042 / 6044
Email: enquire@hlf.org.uk
Funding for essential repairs is not available from the Heritage Lottery Fund for privately owned buildings - no matter how important they may be if they are located in the countryside. That same rules apply to grants from Historic England.
If you own a historic building in the country - you are on your own. Be careful not to get listed or you will be required to comply with reams of regulations and unable to effect repairs without serious legal and planning costs attaching.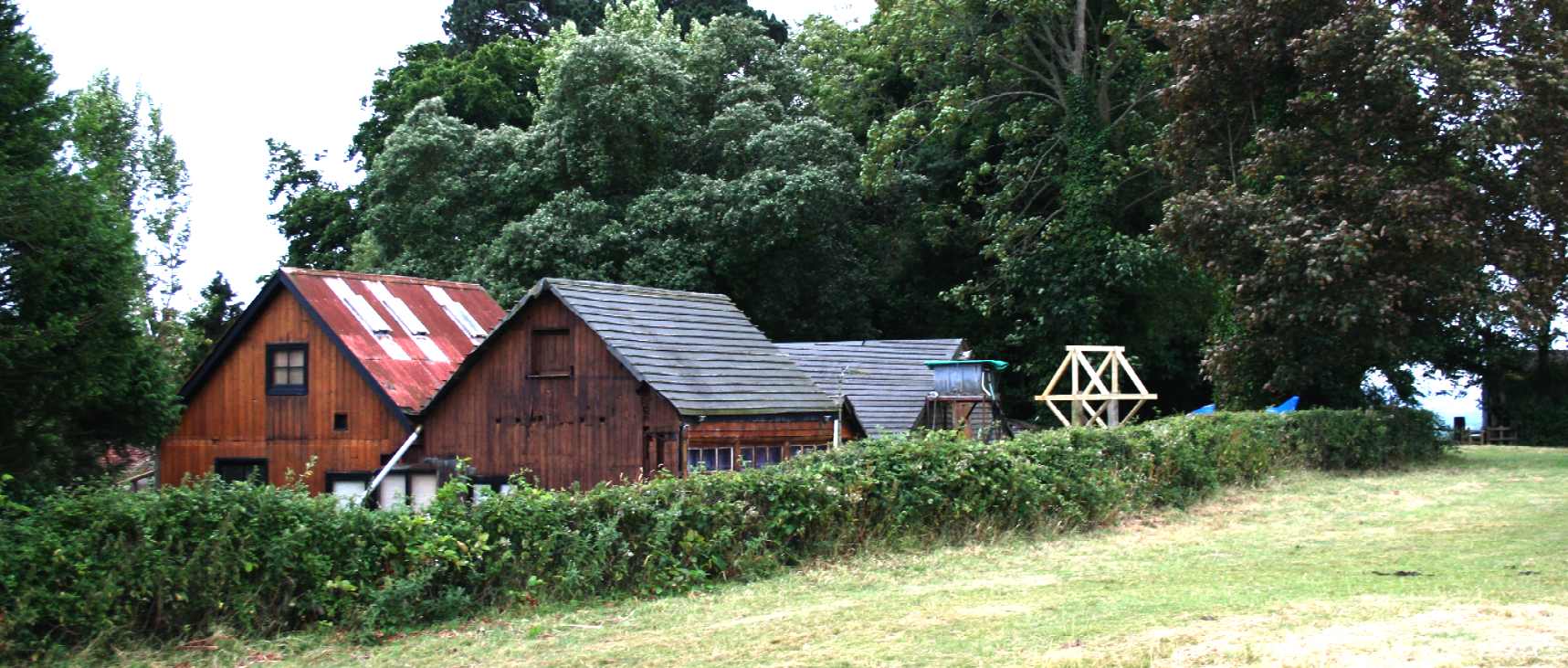 MONUMENT AT RISK - The main generating buildings when in need a new roof and other repairs. The felt roof was a temporary measure to prevent water ingress, where privately owned historic buildings are not considered to be important enough to warrant help from the Heritage Lottery Fund or Historic England. A third range of the twin gabled building is missing where it is taken down to remove the large gas engine inside, but not returned to the original layout because of World War Two. Planning permission is not required to re-instate as this would constitute a repair, but in any event Permitted Development rights allow up to a 50% percent increase in area if the height of the original building is not exceeded. The Trust is considering full reinstatement, subject to building regulations being waived to enable an authentic reconstruction.
LINKS
https://www.hlf.org.uk/looking-funding/our-grant-programmes
https://en.wikipedia.org/wiki/Heritage_Lottery_Fund
http://www.sussexmuseums.co.uk/
http://www.museumsassociation.org/
http://www.english-heritage.org.uk/
http://www.thekeep.info/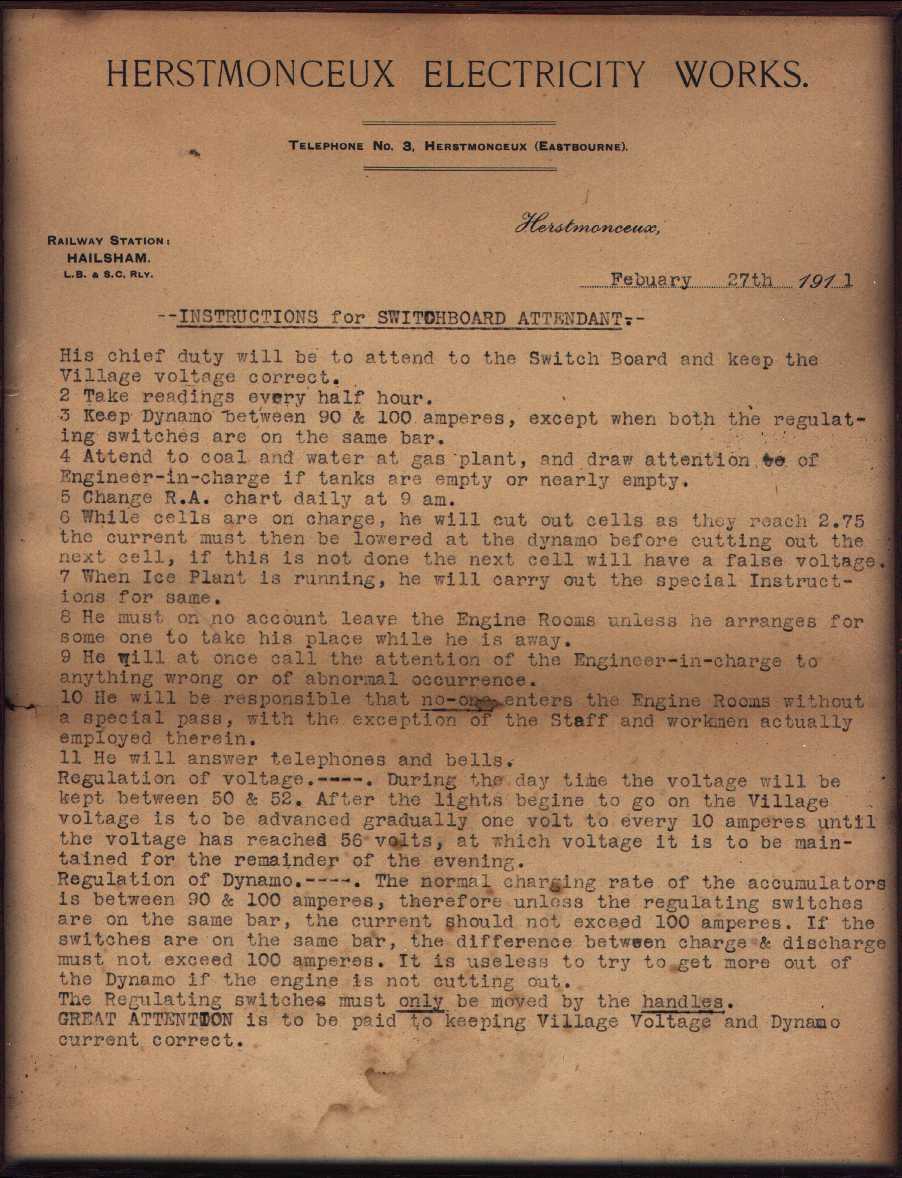 ANTIQUE DOCUMENT - This is an amazingly rare find, a document dated from February of 1911. These are one of a series of instructions to the engineers who were operating the generating machinery in Lime Park. You may notice that in addition to generating electricity for the village, that plant was in situ for making ice. Luxury indeed in 1911.
HERITAGE INDEX A - Z
CAMPBELL HALL - BLUEBIRD ELECTRIC CARS - BE1 - BE2 - BE3 - BE4
GAS ENGINES - COAL CONVERSION, INTERNAL COMBUSTION
OBSERVATORY - HERSTMONCEUX CASTLE
SOLAR LADY - STATUE
RED SKY - Red s