ZERO CARBON BUILDINGS - There are not many buildings in England that are heading towards reducing their carbon footprint to below 1990 levels. Herstmonceux Museum is one such building, but the clever planners at Wealden District Council are doing their best to prevent the Trust and other contributors from doing just that. If this is an example of local authority interference - and we have every reason to believe that it is - then Her Majesty's wishes as in the goals of the Climate Change Act 2008 are not going to be met by 2050 or ever. What a disappointment for the United Nations this is going to be.
The Climate Change Act 2008 (c 27) is an Act of the Parliament of the United Kingdom. The Act makes it the duty of the Secretary of State to ensure that the net UK carbon account for all six Kyoto greenhouse gases for the year 2050 is at least 80% lower than the 1990 baseline, toward avoiding dangerous climate change. The Act aims to enable the United Kingdom to become a low-carbon economy and gives ministers powers to introduce the measures necessary to achieve a range of greenhouse gas reduction targets. An independent Committee on Climate Change has been created under the Act to provide advice to UK Government on these targets and related policies. In the act Secretary of State refers to the Secretary of State for Energy and Climate Change.
Councils are, therefore, bound by the tenets of the Climate Change Act 2008 to reduce greenhouse gas emissions to 1990 levels. Our Government has given all local authorities until 2050 to achieve that goal and do their part. Fat chance.
The problem here is that planning departments do not really understand the physics sufficiently to know what they are looking at - never mind being creative enough to find innovative ways to bring about the reductions in their area (pro-rata) that Whitehall have set down as a statutory requirement.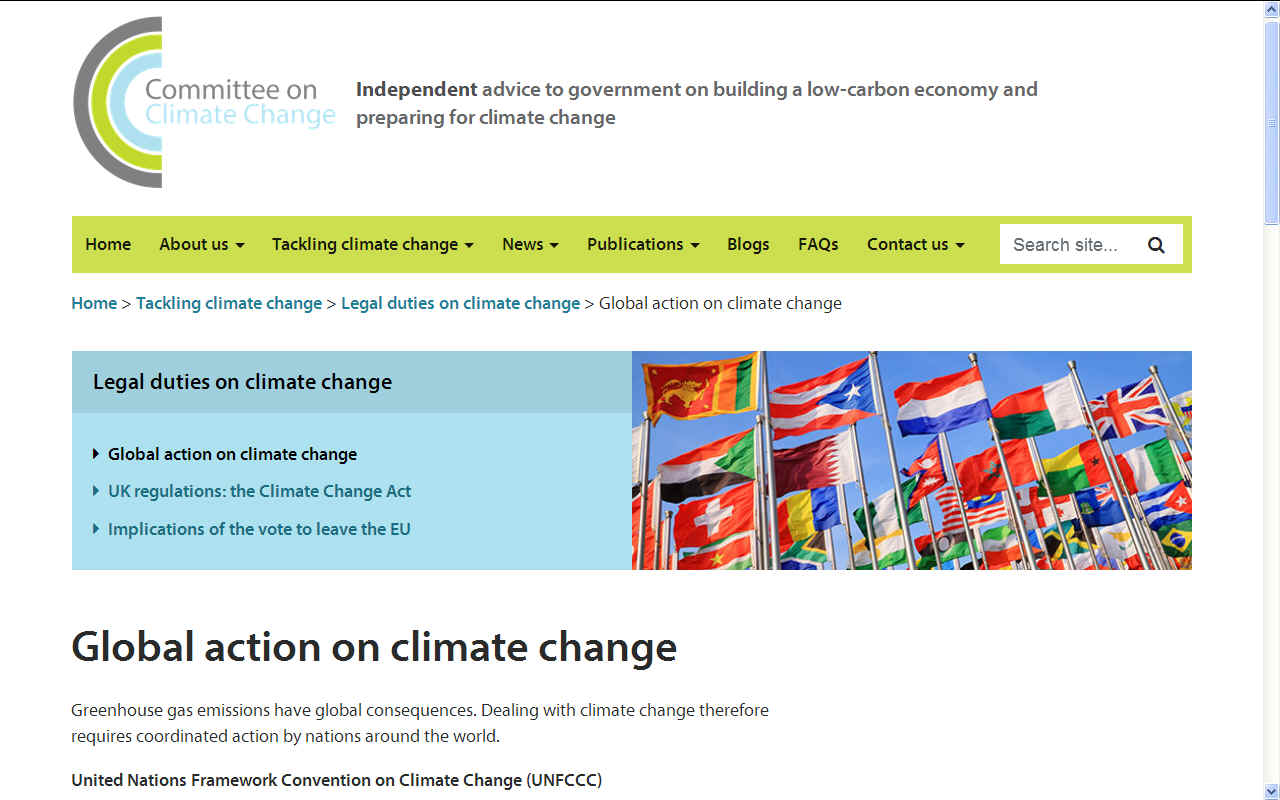 COMMITTEE ON CLIMATE CHANGE - Leaving the EU would change how UK carbon budgets are delivered: where policies previously agreed at EU level no longer apply or are weakened, new UK policies will need to replace them. But it does not change the need to cut greenhouse gas emissions, the level of carbon budgets (which are set in UK law), or the duty on the Government to act to tackle climate change.

In October 2016 the Committee published a briefing on the implications of the vote to leave the EU on UK carbon budgets. The main findings are that:

The UK's climate goals have not changed. The UK's 2050 target and legislated carbon budgets (including the fifth carbon budget set in July 2016) remain appropriate as part of a UK contribution to global efforts to tackle climate change, including the Paris Agreement.

Existing UK commitments need strong new policies that set a clearer direction across the economy, irrespective of Brexit. The Government's plan to meet carbon budgets must be able to meet them whatever the circumstances as the UK leaves the EU.
Some policy previously set at EU level should be preserved and strengthened in future.

The UK, alongside other Member States, has played a key role in developing EU-level mechanisms to control emissions in some areas, particularly where it makes sense to take a coordinated approach (e.g. because the relevant market is EU-wide).

If these mechanisms continue to be strengthened through the 2020s as required by the EU's climate ambition they would cover 55% of the emissions reduction required in the UK to 2030.

In areas where these EU-level mechanisms are working effectively, or could with suitable reform, the UK should either remain in these schemes (where coordination continues to make sense) or replicate them at UK level. These include product and efficiency standards (e.g. for fuel efficiency of cars and energy efficiency of consumer goods), the EU Emissions Trading System, rules for trading of electricity, and research collaboration and innovation funding.

The UK should take opportunities to improve on some EU policy approaches. For example, the Common Agricultural Policy (CAP). The CAP does not directly target greenhouse gas emissions reduction in agriculture although it provides funding for afforestation, which can reduce emissions. A UK-based policy framework should link farming support more closely to actions that would reduce emissions.

The Committee also noted that, after leaving, the UK may need to submit a national pledge of effort to the UN climate process, which could be based on legislated carbon budgets. Meeting the UK's existing targets will be a positive contribution to global climate action.

The Committee will continue to monitor developments on Brexit and the implications for carbon budgets, particularly in the context of our annual progress reports to Parliament.
UNITED NATIONS FRAMEWORK ON CLIMATE CHANGE (UNFCCC)

The UNFCCC was created in 1992 as the main forum for international action on climate change. Its overall aim is to:

"achieve… stabilization of greenhouse gas concentrations in the atmosphere at a level that would prevent dangerous anthropogenic interference with the climate system. Such a level should be achieved within a time frame sufficient to allow ecosystems to adapt naturally to climate change, to ensure food production is not threatened and to enable economic development to proceed in a sustainable manner."

195 countries have joined the international agreement (known as a convention). Negotiations focus on four key areas:
* mitigating (reducing) greenhouse gas emissions
* adapting to climate change
* reporting of national emissions
* financing of climate action in developing countries
THE KYOTO PROTOCOL

UNFCCC negotiations led to the Kyoto Protocol in 1997. The Kyoto Protocol set a target for 37 industrialised countries to reduce their emissions by an average 5% below 1990 levels, for the period of 2008 to 2012. As part of this group the UK committed to a 12.5% reduction in greenhouse gas emissions.

The targets were met successfully. Overall, the 37 countries reduced global emissions by over 10%. But this was not enough to offset the increasing emissions from other industrialising countries (such as China), meaning total global emissions grew over the period.

A second Kyoto commitment period has been agreed from 2013 to 2020. Fewer countries have signed the second commitment agreement, although the UK and the EU are participating.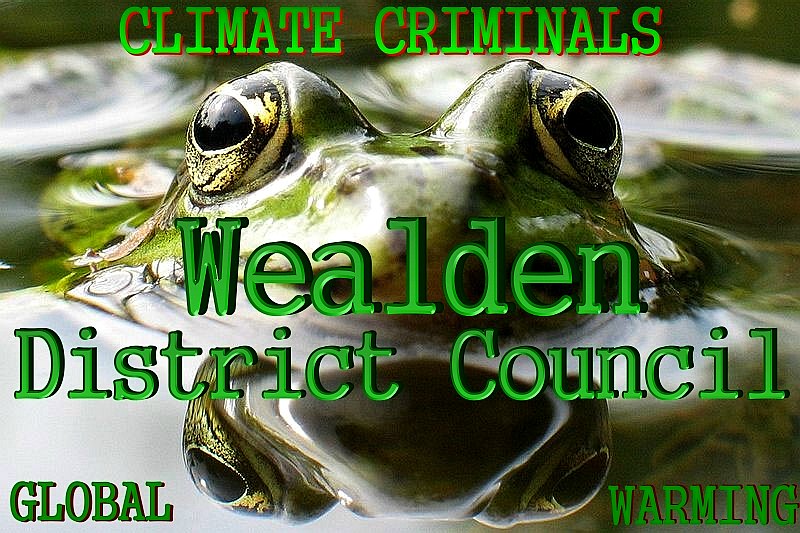 WEALDEN DISTRICT COUNCIL - We can only report on what is happening local to us. You will need to see if your local authority are acting for the common good, or if they are doing the same as our climate dimwits in Sussex. This is as of January 2019. We hope that by 2020 we can say that our climate fools have either been on a climate awareness course, or that planning-speeding has been outlawed - preferably by statute. Because we all know that if there is a loophole or any gray area at all, this council will use it to make another fast buck.
THE PARIS AGREEMENT
Continuing UNFCCC negotiations led to the Paris Agreement in December 2015.

The Paris Agreement is the first truly global effort to reduce emissions. To date, 160 UNFCCC parties have made voluntary pledges to reduce emissions up to 2030, including China, the US and the European Union (on behalf of the UK and other EU nations).

The main aim of the Paris Agreement is to hold the increase in global average temperature to well below 2°C above pre-industrial levels and to pursue efforts to limit warming to 1.5°C.

Overall, the current pledges would lead to lower global emissions compared to previous expectations. But further action will be required to keep warming to below 2°C or 1.5°C.

Recognising this gap in ambition, the Paris Agreement schedules a review of pledges in 2018 so that countries can tighten them where possible. There will be another review in 2023 and further reviews every five years after that.
PREPARING FOR CLIMATE CHANGE

The UNFCCC commits all signatory nations to formulate, implement, publish and update measures to prepare for the impacts of climate change, known as 'adaptation'. It also commits countries to cooperate on adaptation and provides a variety of support mechanisms for the implementation of adaptation measures in developing countries.

In 2010, the Cancun Adaptation Framework was adopted, and it was agreed that adaptation must be given the same priority as mitigation. The framework calls for further action on adaptation including reducing vulnerability and increasing resilience to climate change in developing countries.
The Paris Agreement also places significant emphasis on the need for adaptation action around the world.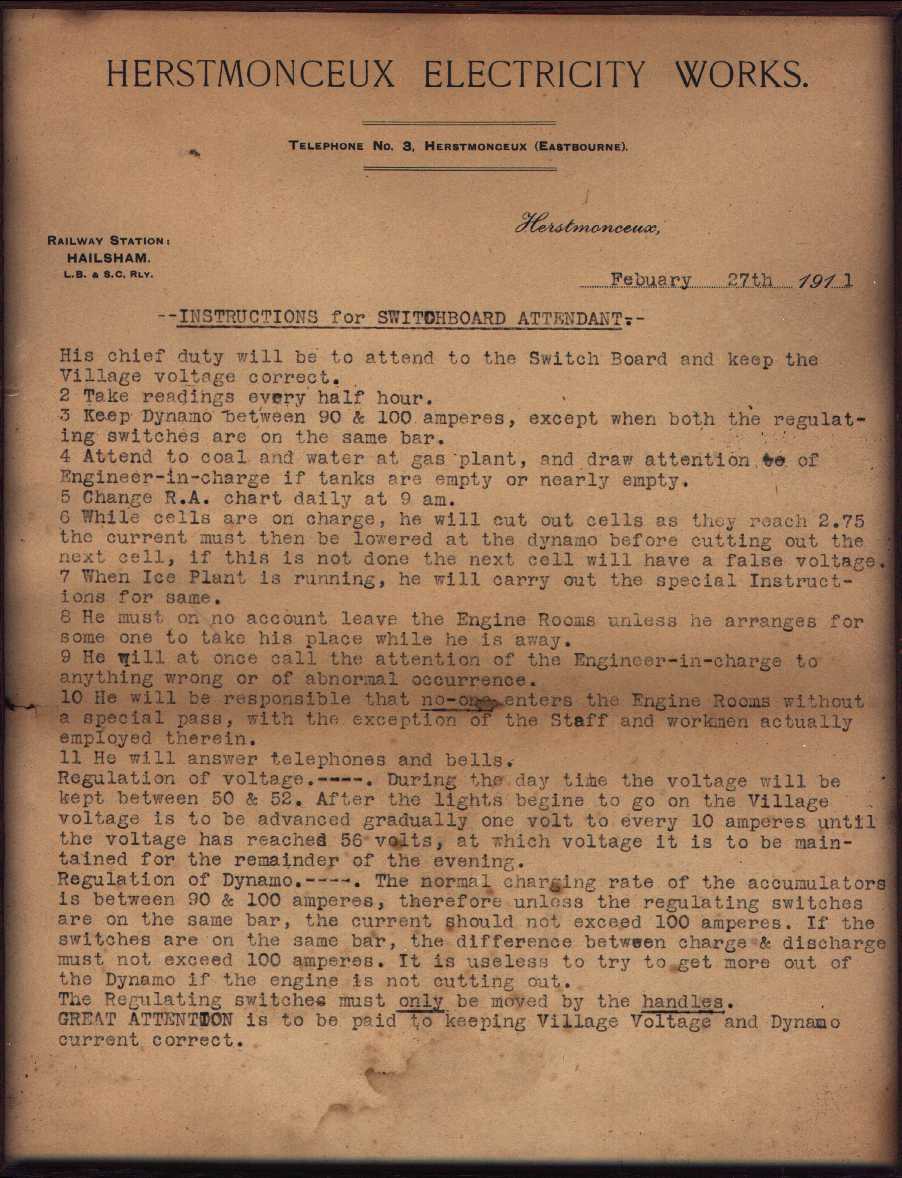 ANTIQUE DOCUMENT - This is an amazingly rare find, a document dated from February of 1911. These are one of a series of instructions to the engineers who were operating the generating machinery in Lime Park. You may notice that in addition to generating electricity for the village, that plant was in situ for making ice. Luxury indeed in 1911.
The Baron and Charles de Roemer would have been proud to learn that their enterprise at the turn of the Century would be re-used in such an innovative way and no doubt appalled that any local authority would seek to undermine such ingenuity.
ENVIRONMENTALISTS - Friends of the Earth's Big Ask Campaign was one of the factors that influenced the government to include the Climate Change Bill in their legislative programme.[45] The organisation demanded that the Bill should include legally binding targets for a reduction of at least 3% a year, amounting a total cut of around 80% by 2050. They considered that a 60% cut in carbon emissions by 2050 was not a sufficient contribution from developed countries to the international action on climate change.

The UK arm of WWF supported the Bill, but launched its Get on Board campaign for the 2050 carbon reduction target to be raised to at least 80%, including the UK share of emissions from international aviation & shipping. In addition, WWF-UK called for retention of the House of Lords' amendment that at least 70% of the UK's reduction should be achieved domestically (limiting to 30% the proportion of the reduction that can be achieved through purchasing 'carbon credits').

The other 50 or so environmental, international development and other organisations belonging to the Stop Climate Chaos coalition backed the Big Ask Campaign and shared similar views. The coalition itself criticised the Government for failing to acknowledge the 'global warming danger threshold' of 2 °C. Taking this into account, they believed that the 2020 target should be a minimum of 30%, with an 80% target for 2050. They also considered that the Bill should include annual 3% reduction targets, cover aviation and shipping within its scope, and ban the purchase of carbon credits from overseas, a practice which they believe exports the emissions problem elsewhere.

The Joint Public Issues Team of the Baptist, Methodist, and United Reformed churches called for an 80% reduction in carbon emissions [by 2050], for not ignoring the contribution of air and sea travel, and for reductions of the United Kingdom's own emissions rather than relying on buying carbon credits from other countries.
HERITAGE INDEX A - Z
BARCLAYS BANKING LET DOWN - MISSING ACCOUNT MONEY
CHURCH - MULTI-FAITH PLACE OF WORSHIP
FILM PRODUCTION - LOCATIONS & SETS
CAMPBELL HALL - BLUEBIRD ELECTRIC CARS - BE1 - BE2 - BE3 - BE4
CLIMATE CHANGE - ACT 2008
GAS ENGINES - COAL CONVERSION, INTERNAL COMBUSTION
OBSERVATORY - HERSTMONCEUX CASTLE
PERGOLA - MOUNT FOR SOLAR PANELS
SOLAR LADY - STATUE
CONFERENCES OF THE PARTIES (COP) INDEX A - Z
1995 COP 1, BERLIN, GERMANY
1996 COP 2, GENEVA, SWITZERLAND
1997 COP 3, KYOTO, JAPAN
1998 COP 4, BUENOS AIRES, ARGENTINA
1999 COP 5, BONN, GERMANY
2000:COP 6, THE HAGUE, NETHERLANDS
2001 COP 7, MARRAKECH, MOROCCO
2002 COP 8, NEW DELHI, INDIA
2003 COP 9, MILAN, ITALY
2004 COP 10, BUENOS AIRES, ARGENTINA
2005 COP 11/CMP 1, MONTREAL, CANADA
2006 COP 12/CMP 2, NAIROBI, KENYA
2007 COP 13/CMP 3, BALI, INDONESIA
2008 COP 14/CMP 4, POZNAN, POLAND
2009 COP 15/CMP 5, COPENHAGEN, DENMARK
2010 COP 16/CMP 6, CANCUN, MEXICO
2011 COP 17/CMP 7, DURBAN, SOUTH AFRICA
2012 COP 18/CMP 8, DOHA, QATAR
2013 COP 19/CMP 9, WARSAW, POLAND
2014 COP 20/CMP 10, LIMA, PERU
2015 COP 21/CMP 11, Paris, France
2016 COP 22/CMP 12/CMA 1, Marrakech, Morocco
2017 COP 23/CMP 13/CMA 2, Bonn, Germany
2018 COP 24/CMP 14/CMA 3, Katowice, Poland
2019 COP 25/CMP 15/CMA 4 Chile
2020 COP 26/CMP 16 (TBA)
CLIMATE CHANGE LINKS & REFERENCE
ACIDIFICATION - OCEANS
AGRICULTURE - FARMING FOR OUR FUTURE
ANTHROPOCENE - GEOLOGICAL EPOCH
BERLIN, 6TH CLIMATE CHANGE CONFERENCE
BIO FUELS - FROM CROPS & OCEAN FLORA
CALIFORNIA AIR RESOURCES BOARD - CARB
CHANGE - THE HARDEST THING OF ALL
CIRCULAR ECONOMY - RESTRAINT
CLIMATE CHANGE - ACT 2006 CLIMATE CHANGE & SUSTAINABLE ENERGY
- ACTS 2008, TARGET AMENDMENTS 2050 ORDER
- THE FACTS
COAL - FOSSIL FUEL
CONFERENCES OF THE PARTIES - UNITED NATIONS COP
CONSULTANCY - LOW COST EV INFRASTRUCTURE ACCELERATION
DESERTIFICATION - SOIL DEGRADATION TURNING AGRICULTURAL LAND TO DESERTS
- COP 1, COP 2, COP 3, COP 4, COP 5, COP 6, COP 7, COP 8
- COP 9, COP 10, COP 11, COP 12, COP 13, COP 14
DIESEL - FOSSIL FUEL FOR TRUCKS, TRACTORS AND FISHING BOATS
ECONOMICS - CIRCULAR
ELECTIONS - LOCAL UK 2019
ELECTRIC VEHICLES - ECONOMICS
ELIZABETH SWANN - CHALLENGER WORLD RECORD CIRCUMNAVIGATION - SPECIFICATIONS - SUNSHINE ROUTE
ENERGY SECURITY - EUROPEAN THREATS - SHORT TERM - LONG TERM - FUTURE WORLD ENERGY, ABU DHABI 2020
EVENTS -
EXTINCTION REBELLION - ROGER HALLUM NOT GUILTY MAY 2019
FOSSIL FUELS - COAL, NATURAL GAS & OIL
FUSION - HYDROGEN ATOMIC ENERGY
G20 - GROUP OF TWENTY MOST POLLUTING COUNTRIES
GEOTHERMAL - HEAT ENERGY
GRETA THUNBERG - SWEDISH ACTIVIST
HORIZON 2020 - DECARBONISING LONG DISTANCE SHIPPING, (CALL OPENS) SEPTEMBER 2019
- MANUAL FOR PARTICIPANTS, MANAGEMENT GUIDANCE
- SMART GREEN TRANSPORT BRIEFING BROKERAGE EVENT, 7 OCTOBER 2019 (CARS)
- UK H2020 NATIONAL POINTS OF CONTACT
HOUSING - SUSTAINABLE BUILDINGS
HUMANITARIAN AID - MOBILE POWER FOR REFUGEE RELIEF
IMO - INTERNATIONAL MARITIME ORGANIZATION
IPCC - INTERGOVERNMENTAL PANEL ON CLIMATE CHANGE (UNITED NATIONS)
KEROSENE - AVIATION FUEL
METHANE -
MOBILE RENEWABLE ENERGY - FOR THIRD WORLD COUNTRIES AND EMERGENCIES
OZONE -
PLANETSOLAR - IMMO STROEHER, RAPHAEL DOMJAN
POLICIES - THAT PROMOTE GLOBAL WARMING
- THAT REDUCE GLOBAL WARMING
POLITICS - LOCAL POLITICS & POWER CORRUPTION
POPULATION - WORLD GROWTH
PROTESTS -
RANGE ANXIETY - FEAR OF EV'S WHERE NO SERVICE INFRASTRUCTURE EXISTS
RENEWABLE ENERGY - 100+ COMPANIES A - Z INDEX
ROGER HALLAM - EXTINCTION REBELLION
SECURITY - ENERGY - SHORT TERM - LONG TERM
SLAVERY - FINANCIAL & GLOBAL WARMING
SOLAR POWER - PHOTOVOLTAIC AND HEAT CONCENTRATORS
TRANSPORT - FROM COAL TO PETROL TO EV'S
TU DELFT - SOLAR BOAT OFFSHORE RACE @ MONACO JULY 2019
UNITED NATIONS - CONVENTION TO COMBAT DESERTIFICATION
- CONFERENCES OF THE PARTIES COPS
- GENERAL ASSEMBLY SEPTEMBER 2019
- ACTION PORTFOLIOS TO REDUCE GREENHOUSE GASES - FINANCE, ENERGY, INDUSTRY, NATURE, CITIES
- ADAPTATION , MITIGATION, YOUTH, POLITICS
WAVE & TIDAL - POWER GENERATION
WIND POWER - TURBINES & WINDMILLS
DESERTIFICATION COP HISTORY
| | |
| --- | --- |
| COP 1: Rome, Italy, 29 Sept to 10 Oct 1997 | COP 9: Buenos Aires, Argentina, 21 Sept to 2 Oct 2009 |
| COP 2: Dakar, Senegal, 30 Nov to 11 Dec 1998 | COP 10: Changwon, South Korea, 10 to 20 Oct 2011 |
| COP 3: Recife, Brazil, 15 to 26 Nov 1999 | COP 11: Windhoek, Namibia, 16 to 27 Sept 2013 |
| COP 4: Bonn, Germany, 11 to 22 Dec 2000 | COP 12: Ankara, Turkey, 12 to 23 Oct 2015 |
| COP 5: Geneva, Switzerland, 1 to 12 Oct 2001 | COP 13: Ordos City, China, 6 to 16 Sept 2017 |
| COP 6: Havana, Cuba, 25 August to 5 Sept 2003 | COP 14: New Delhi, India, 2 to 13 Sept 2019 |
| COP 7: Nairobi, Kenya, 17 to 28 Oct 2005 | COP 15: 2020 |
| COP 8: Madrid, Spain, 3 to 14 Sept 2007 | COP 16: 2021 |
http://www.legislation.gov.uk/ukpga/2006/19/enacted
https://www.theccc.org.uk/tackling-climate-change/the-legal-landscape/global-action-on-climate-change/