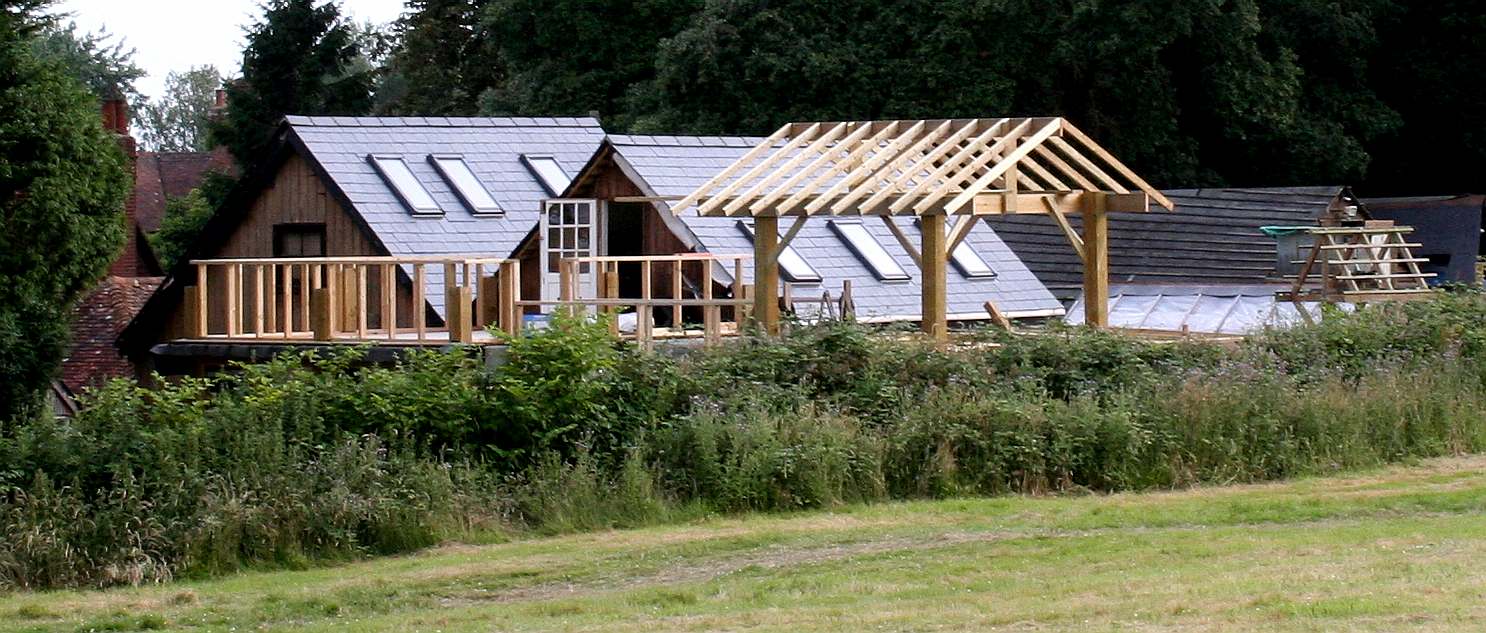 2017 - Time is captured in the preservation of the electricity generating complex at Herstmonceux in Sussex. This unique reminder of our past could have been open to the public, but for the onerous conditions that the local authority would seek to apply if the Trust were to allow site visits. We receive no financial help from Historic England, the Heritage Lottery Fund, or Wealden District Council. Copyright © photograph 30 June 2017.
Herstmonceux Museum is a monument to the early electrical generating age. This little gem of a wooden building once provided electricity to the whole village of Herstmonceux before 1909, including giving electric cooking demonstrations in the old village hall in 1913. The local bakery cooked their loaves using electricity generated from this building.
We are proud to be able to say that our efforts over the past few years have resulted in time being encapsulated for future generations. Not only that, but with the advent of digital media and Virtual Reality now fast becoming a practical and interesting way of sharing experiences we may be able to bring the gas engine to life in a virtual re-creation of what the plant was like running in the days of Charles (Charlie) de Roemer, even though the National engine was removed in 1936.
Can you imagine watching the coal being converted to gas and the National engine spinning to turn the Crompton DC generator with sparks coming from the commutator and gas bubbles frothing in the glass cased accumulators as they charged up the banks for the villagers to use at night.
See the newspaper report by the Sussex Express below from 1913, Herstmonceux had street lighting and electric ovens in the houses, all powered by electricity. In the village, the bakery used electric ovens to bake the loaves from locally ground flour from the windmill at Windmill Hill.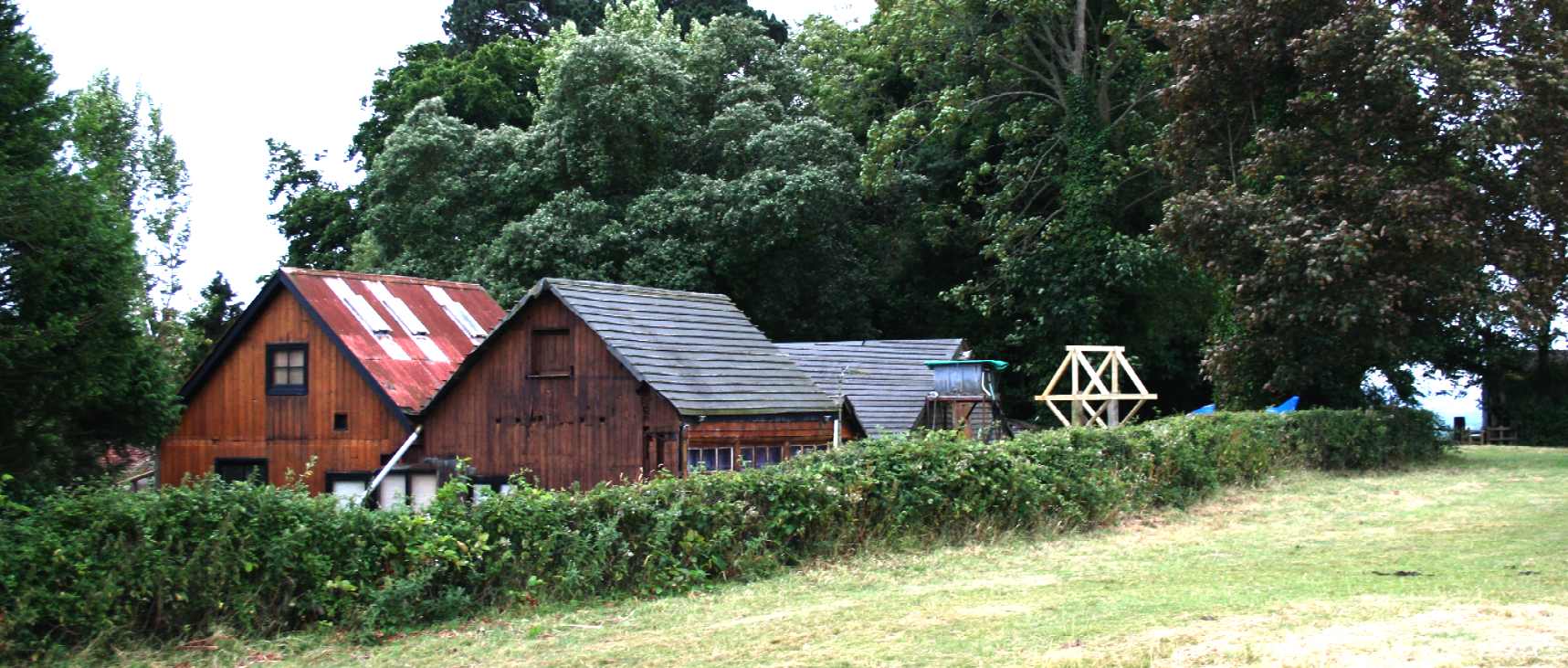 MONUMENT AT RISK - The main generating buildings when in need a new roof and other repairs. The felt roof was a temporary measure to prevent water ingress, where privately owned historic buildings are not considered to be important enough to warrant help from the Heritage Lottery Fund or Historic England. A third range of the twin gabled building is missing where it is taken down to remove the large gas engine inside, but not returned to the original layout because of World War Two. Planning permission is not required to re-instate as this would constitute a repair, but in any event Permitted Development rights allow up to a 50% percent increase in area if the height of the original building is not exceeded. The Trust is considering full reinstatement, subject to building regulations being relaxed to enable an authentic reconstruction.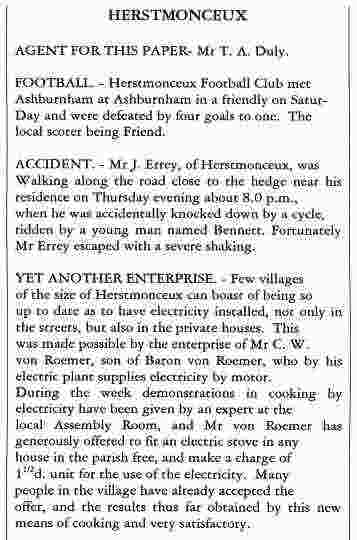 SUSSEX EXPRESS FRIDAY, OCTOBER 10 1913 -- HERSTMONCEUX

AGENT FOR THIS PAPER - Mr T. A. Duly.
FOOTBALL - Herstmonceux Football Club met Ashburnham in a friendly on Saturday and were defeated by four goals to one. The local scorer being Friend.
ACCIDENT - Mr J. Errey, of Herstmonceux, was walking along the road close to the hedge near hi residence on Thursday evening about 8.0 p.m., when he was accidentally knocked down by a cycle, ridden by a young man named Bennet. Fortunately Mr Errey escaped with a severe shaking.
YET ANOTHER ENTERPRISE - Few villages of the size of Herstmonceux can boast so up to date as to have electricity installed, not only in the streets, but also in the private houses. This was made possible by the enterprise of Mr C. W. von Roemer, son of Baron von Roemer, who by his electric plant supplies electricity by motor.
During the week demonstrations in cooking by electricity have been given by an expert at the local Assembly Room, and Mr von Roemer has generously offered to fit an electric stove in any house in the parish free, and make a charge of 1 1/2d. unit for the use of electricity. Many people in the village have already accepted the offer, and the results thus far obtained by this new means of cooking and very satisfactory.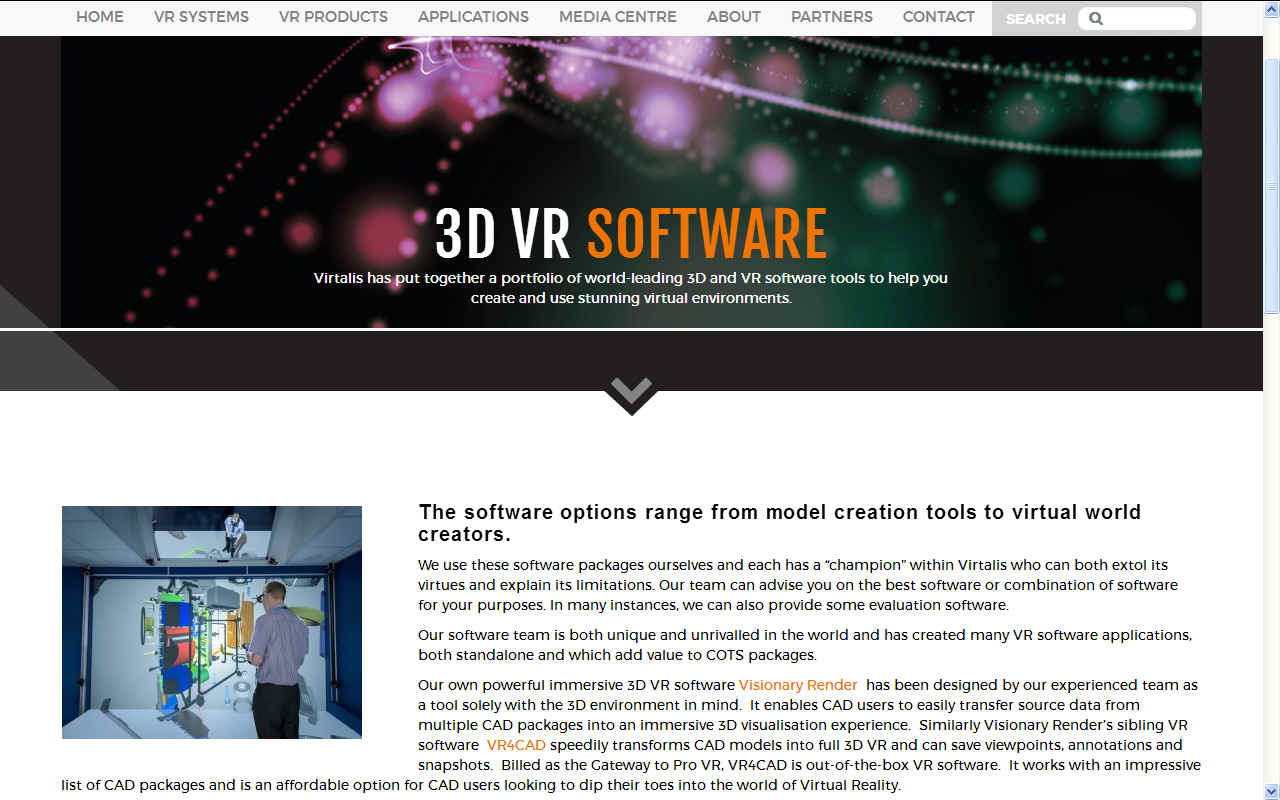 VIRTALIS 3D VR - Virtalis produce a powerful immersive 3D VR software: Visionary Render, that has been designed by their experienced team as a tool solely with the 3D environment in mind. It enables CAD users to easily transfer source data from multiple CAD packages into an immersive 3D visualisation experience. Similarly Visionary Renderís sibling VR software VR4CAD speedily transforms CAD models into full 3D VR and can save viewpoints, annotations and snapshots. Billed as the Gateway to Pro VR, VR4CAD is out-of-the-box VR software. It works with an impressive list of CAD packages and is an affordable option for CAD users looking to dip their toes into the world of Virtual Reality.
LINKS
http://www.sussexmuseums.co.uk/
http://www.museumsassociation.org/
http://www.english-heritage.org.uk/
http://www.thekeep.info/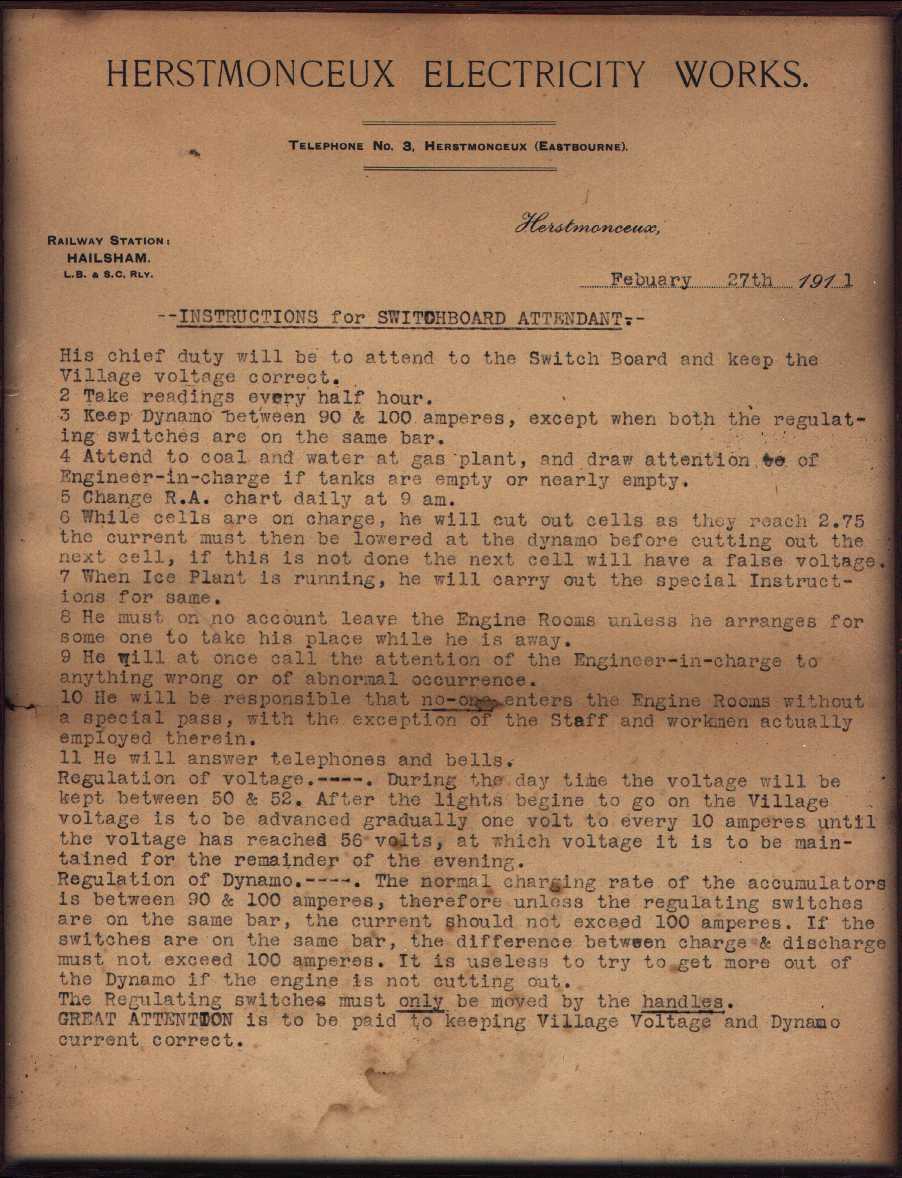 ANTIQUE DOCUMENT - This is an amazingly rare find, a document dated from February of 1911. These are one of a series of instructions to the engineers who were operating the generating machinery in Lime Park. You may notice that in addition to generating electricity for the village, that plant was in situ for making ice. Luxury indeed in 1911.
HERITAGE INDEX A - Z
CAMPBELL HALL - BLUEBIRD ELECTRIC CARS - BE1 - BE2 - BE3 - BE4
GAS ENGINES - COAL CONVERSION, INTERNAL COMBUSTION
OBSERVATORY - HERSTMONCEUX CASTLE
SOLAR LADY - STATUE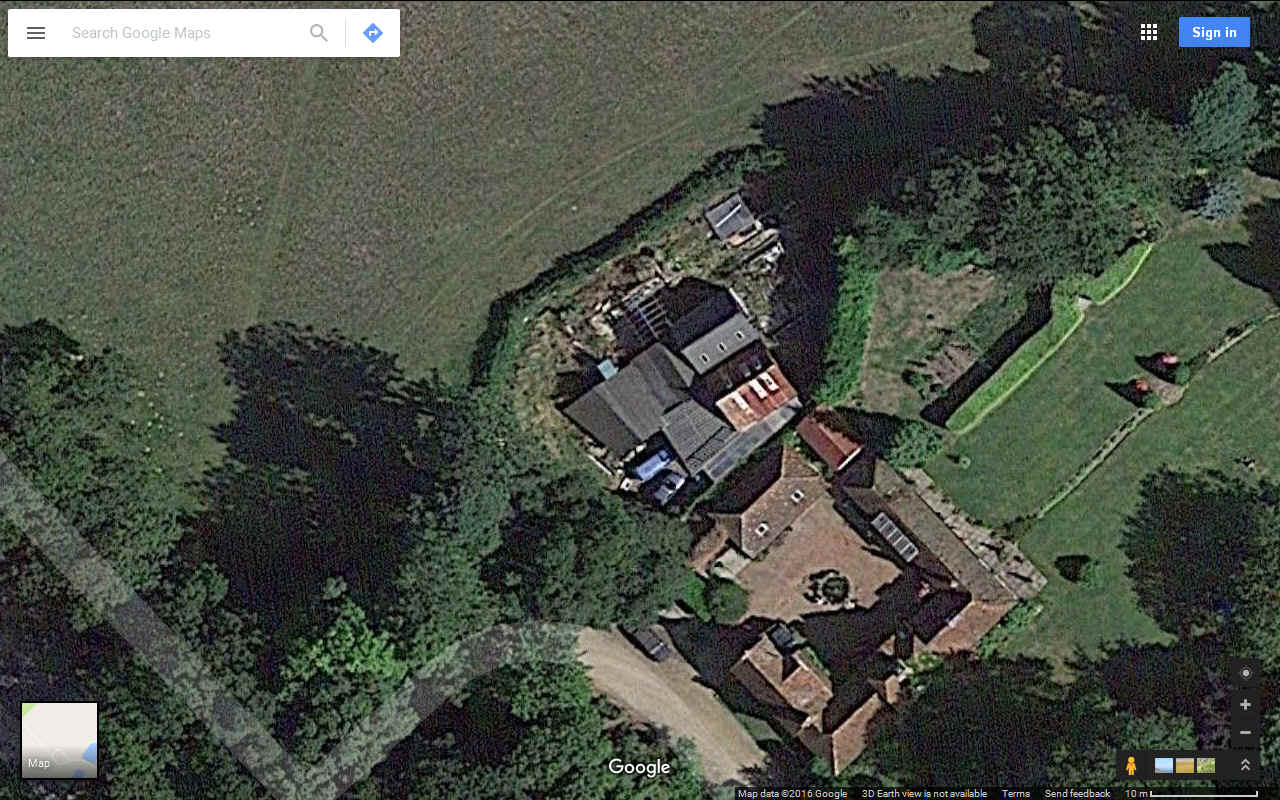 GOOGLE MAPS - The detail is not that great and the situation on the land is significantly improved in that the site has undergone a massive clean up to remove the build up of flora. You can though see the brick walls indicative of the extent of the foundation layout to the rear (north-east) of the main generating buildings. The walls have been partly repaired and a smaller part of the footprint covered with decking and water goods to protect the archaeological features. The eventual objective is to restore the section that was taken down completely.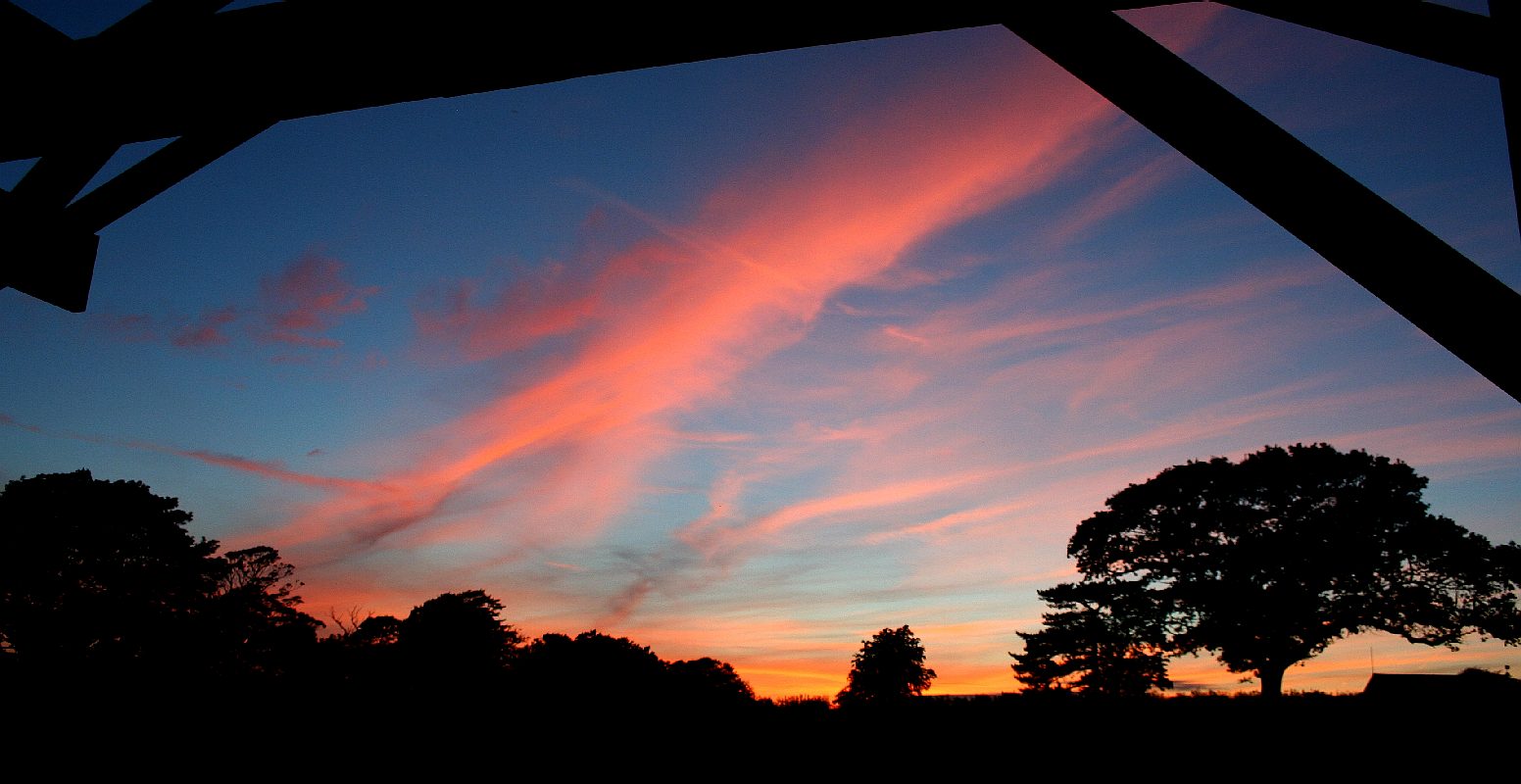 RED SKY - Red sky at night, shepherds delight. This stunning sunset was taken one balmy evening in Herstmonceux, Sussex as the sun went down. We tend to take these glorious views for granted, when they are spectacular and sometimes take your breath away from the sheer beauty. Copyright © photograph June 30 2017. You will need the permission of Lime Park Heritage Trust to use this picture. All rights reserved.