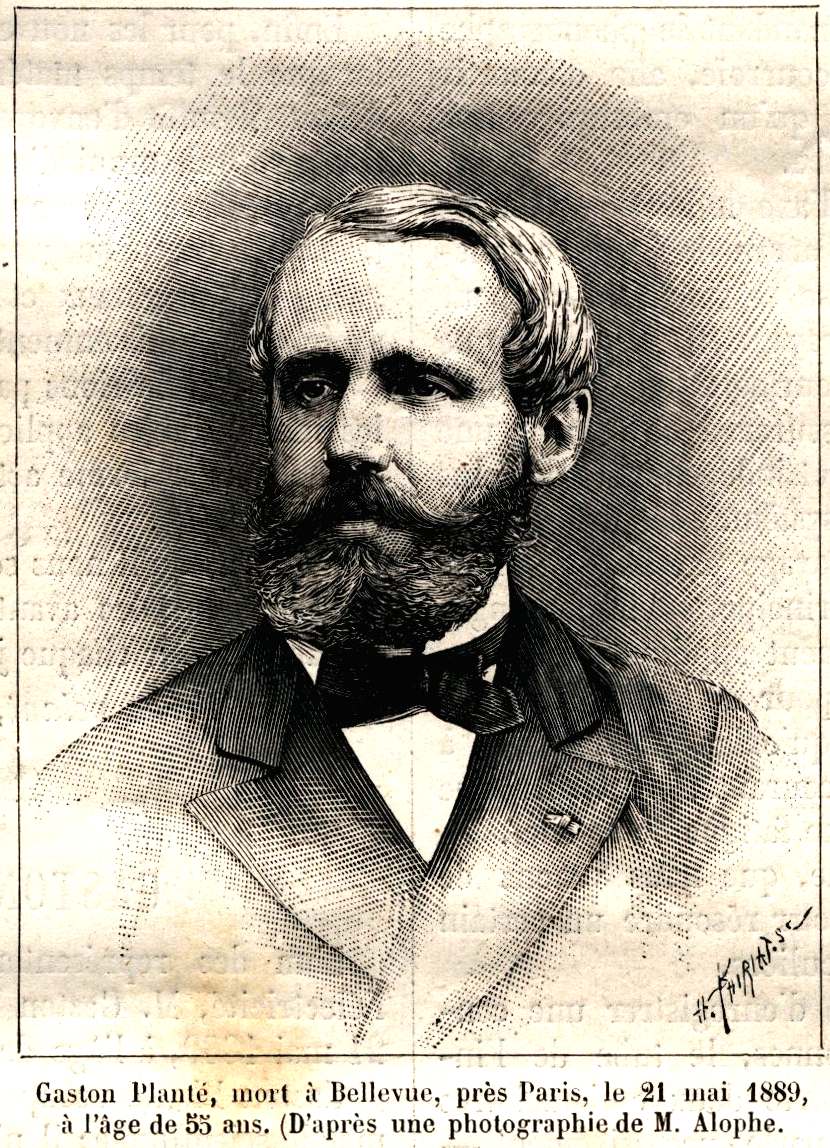 GASTON PLANTE - The obituary of the battery inventor in a Paris newspaper in 1889.


Gaston Planté (22 April 1834 – 21 May 1889) was the French physicist who invented the lead–acid battery in 1859. The lead-acid battery eventually became the first rechargeable electric battery marketed for commercial use.

Planté was born on 22 April 1834 in Orthez, France. In 1854 he began work as an assistant lecturer in physics at the Conservatory of Arts and Crafts in Paris, and in 1860, rose to the post of Professor of Physics at the Polytechnic Association for the Development of Popular Instruction. An amphitheatre at that institute is named after him.

In 1855, he discovered the first fossils of the prehistoric flightless bird Gastornis parisiensis (named after him) near Paris. This gigantic animal was a very close relative of the famous diatrymas of North America. At that time, Planté was at the start of his academic career, being just a teaching assistant to A. E. Becquerel (father of the Nobel laureate Henri Becquerel). Thus, this early discovery - despite causing considerable furor in 1855 - was soon to be overshadowed by Planté's subsequent discoveries.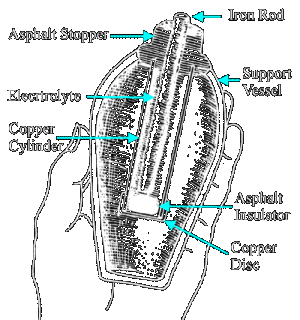 BAGHDAD BATTERY - The first battery is believed to date from 248 BC: The Bagdad Battery was built in the Parthian or Sassanid period ~248 BC - 226 AD. The battery consisted of a carbon rod in the center of a clay (earthenware) vase. The rod was surrounded by an unknown electrolyte (likely to be orange/lemon juice), then copper, then asphaltum. Each battery had a weight of about 2 kilograms and produced 0.4 - 0.5 volts with open contacts. These batteries were very weak. The "Bagdad Battery" was found in 1936 and is believed to be authentic by many reputable sources.
One of these batteries rests in the National Museum of Iraq is a jar about the size of a man's fist. The little jar in Baghdad suggests that Volta reinvented the battery but of course had no knowledge of ancient history to go on. The jar was first described by German archaeologist Wilhelm Konig in 1938. It is unclear if Konig dug the object up himself or located it within the holdings of the museum, but it is known that it was found, with several others, at a place called Khujut Rabu, just outside Baghdad.

The jars are believed to be about 2,000 years old. Konig thought these things looked like electric batteries and published a paper on the subject in 1940.
THE LEAD-ACID BATTERY (ACCUMULATOR)

In 1859, Gaston invented the lead-acid cell, the first rechargeable battery. His early model consisted of a spiral roll of two sheets of pure lead separated by a linen cloth, immersed in a glass jar of sulfuric acid solution. The following year, he presented a nine-cell lead-acid battery to the Academy of Sciences. In 1881, Camille Alphonse Faure would develop a more efficient and reliable model that saw great success in early electric cars.

Planté also investigated the differences between static electricity and dynamic electricity (i.e., from batteries). As part of this investigation, Planté invented a mechanical device that he called the Rheostatic Machine. The Rheostatic Machine used a bank of mica capacitors, a clever rotating commutator and a series of contacts to alternately charge a bank of capacitors in parallel (from a high-voltage battery source) and then connect the capacitors in series. This arrangement multiplied the battery voltage by the number of capacitor stages to obtain very high voltages. By rapidly rotating the shaft, a series of high-voltage sparks many centimetres long could be generated rapidly. This device was a mechanical predecessor of the modern-day Marx generator. Using this device, Planté explored the electrical breakdown of air, the formation of Lichtenberg figures, and the behaviour of thin wires when pulsed by high electric currents.

Gaston died on 21 May 1889 in the Bellevue part of Meudon, near Paris. In 1989 the Bulgarian Academy of Sciences established the Gaston Planté Medal, which is awarded every few years to scientists who have made significant contributions to the development of lead-acid battery technology.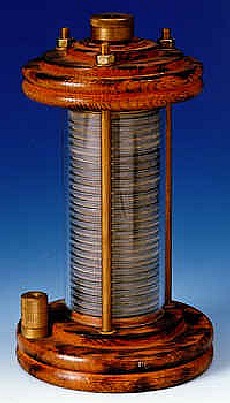 ALLESANDRO VOLTA - The "Voltaic pile", a stack of zinc and silver disks separated by a wet cloth containing a salt or a weak acid solution, was the first battery known to Western civilization. The important part of the equation being more than one cell in combination to form a battery of cells, whereas the Baghdad battery is more accurately described as a cell. Of course today we describe AA and AAA size single cells as batteries.
Alessandro Giuseppe Antonio Anastasio Volta (Italian: [alesˈsandro ˈvɔlta]; 18 February 1745 – 5 March 1827) was an Italian physicist, chemist, and a pioneer of electricity and power, who is credited as the inventor of the electrical battery and the discoverer of methane. He invented the Voltaic pile in 1799, and reported the results of his experiments in 1800 in a two-part letter to the President of the Royal Society. With this invention Volta proved that electricity could be generated chemically and debunked the prevalent theory that electricity was generated solely by living beings. Volta's invention sparked a great amount of scientific excitement and led others to conduct similar experiments which eventually led to the development of the field of electrochemistry.
AUSTIN HOPKINSON MP
Austin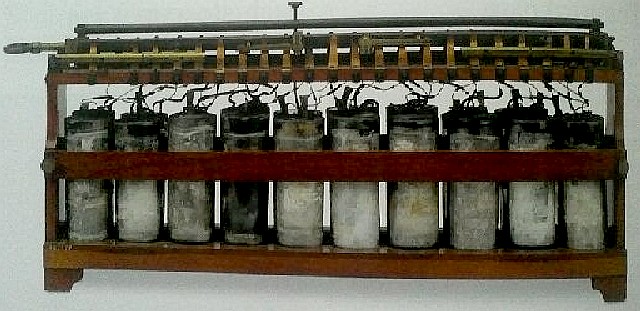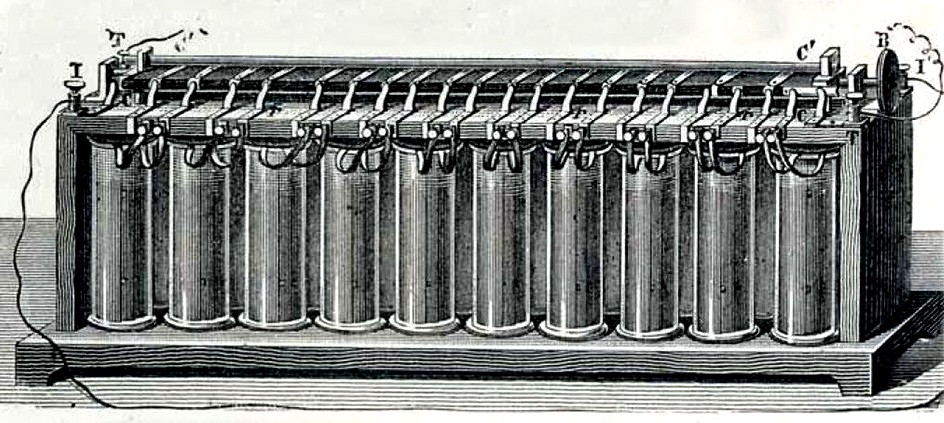 A BATTERY OF CELLS - Gaston Plante(1834-1889), while working in Paris invented this lead-acid ancestor of today's car battery. Lead-acid batteries remain the commonest type of vehicle battery to this day.In 1868 French chemist Georges Leclanche created the first "wet cell" battery also called as Leclanche cell.
A battery is made of two or more cells. Each cell is composed of two different materials with an electrolyte in between. Early engineers discovered that with the right materials, negatively charged ions are attracted to the cathode (-), meanwhile positively charged ions are attracted to the anode(+) (the other electrode). There are many types of batteries and please see the list further down this page.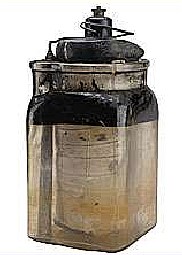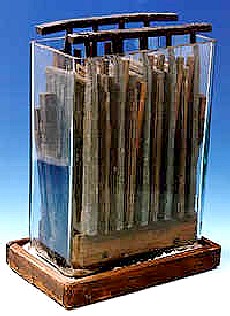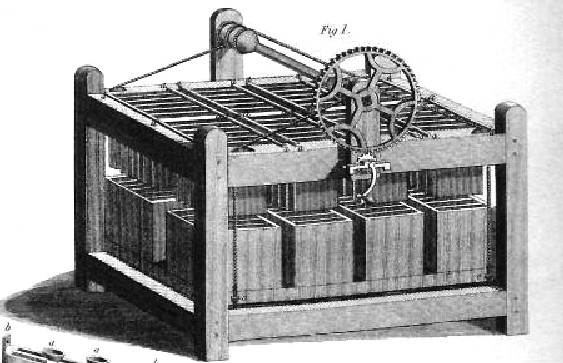 By 1868 twenty thousand Leclanché cells were being used in telegraph systems. The original Leclanché cells were built in porous pots which were heavy and subject to breakage. Within twenty years other inventors had modified the design into what we now know as "dry cells" which became widely used in the first flashlights (1909) and in battery-powered radios of the 1920s.
A battery converts chemical energy into electrical energy. The battery was the first device developed to power electrical devices, only later on in the mid 1800's did the dynamo and generator take over as a primary power source. Batteries still occupy an indispensable role everywhere in our lives. They come in all shapes and sizes. Today's engineers are working on exciting advancements, mainly improving energy density and recharge speeds.
Improvements in batteries result in very visible changes in society because often it is often battery size, weight and cost which are limiting factors in the advancement of a technology. There are many ways to make a battery and some using carbon nanotubes are being advanced as fast as researchers can go today, looking for ways to improve the energy density and longevity for electric cars and trucks.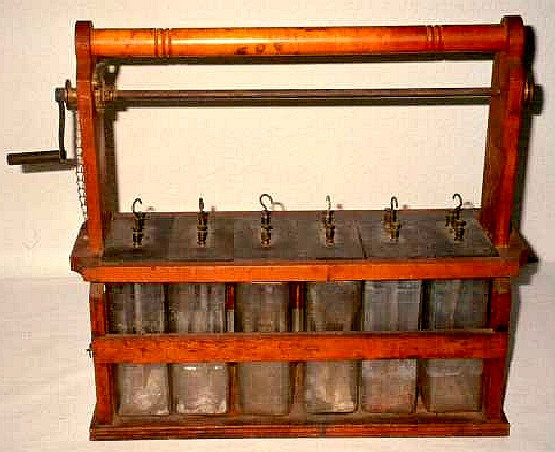 LECLANCHE BATTERY - This handsome, six-element plunge battery is in the Jack Judson Collection at the Magic Lantern Museum in San Antonio, Texas. It is marked "C.H. Stoelting Co." of Chicago.

The 1912 Stoelting catalogue lists a six cell plunge battery at $16.00. All of the cell tops holding the two carbon and one zinc electrodes can be lifted simultaneously by turning the crank; the flat ladder-chain drive at the left end lifts the sliding wooden frame holding the top of each cell. Or, one or more of the cells can be placed in use, with the electrodes of the others hooked over the horizontal brass rod to keep them out of the electrolyte.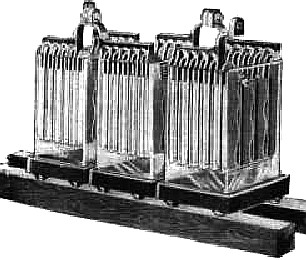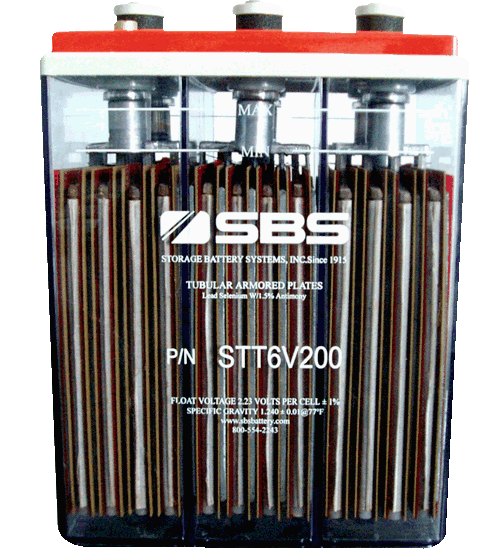 MORE RAW STORAGE - For energy storage at Herstmonceux more grunt was needed to be able to light the manor house and the houses in the village, to include the street lighting. Accumulators like that seen above were placed in rows on timber beams balanced on circular glass supports that we have buckets of in the museum. These small bowl-like glass supports allowed the underside of the battery trays to breathe and stop condensation. Many of these were dug up on site during the restorations. Modern batteries, such as the SBS brand seen above, use similar construction and glass casings and have a claimed life-span of up to 20 years, compared with the life of a car battery that is around 3 to 5 years for the better made units.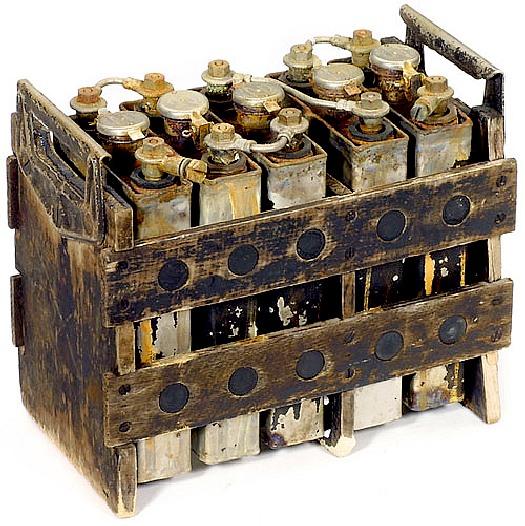 NIFE 1905 - Thomas Edison, who was as much a chemist as an all-around inventor, thought that the lead in Planté-type cells made them too heavy, and that having acid in contact with any metal was an inherently bad idea. After much experimentation, he developed a successful alkaline battery. The Edison cell uses an iron anode, nickel oxide cathode, and KOH electrolyte. This cell is extremely rugged and is still used in certain industrial applications and locomotives, but it was never able to displace the lead-acid cell as Edison had hoped.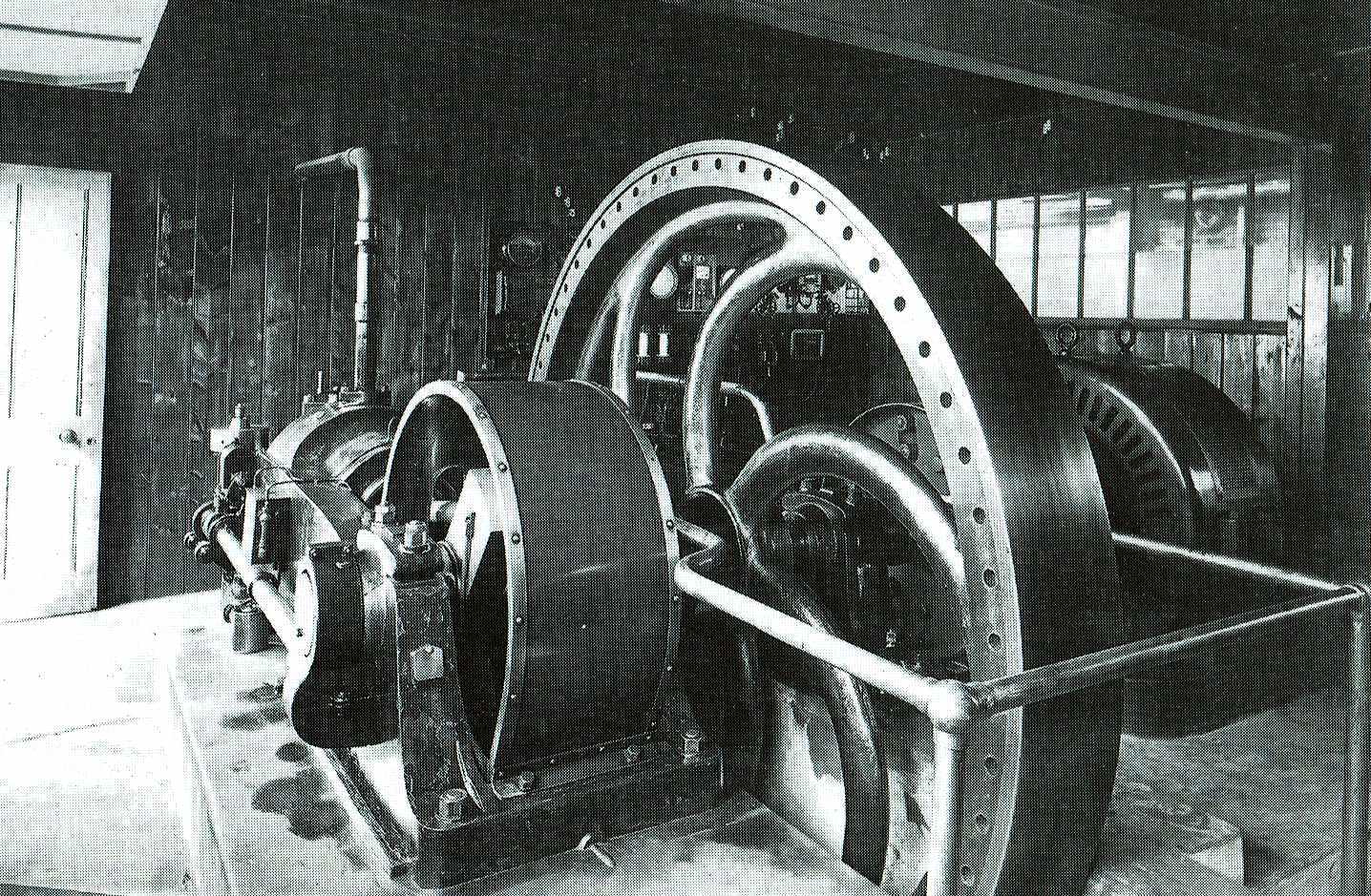 GAS ENGINE - Mounted on substantial concrete bases and secured by large steel bolts, this is a picture of a generator that did the rounds in Sussex, finally ending up powering a tram in Eastbourne in the 1960s, but not before being used to drive machinery for the Eastbourne Aviation Company between 1911 and 1924. This generator set is virtually identical to the one that was situated in Herstmonceux Museum around 1909, identified by the concrete base footprint. This is a 36 horsepower National unit mated to a Crompton dc machine of 110/220 volts. Charles de Roemer (von Roemer) the installer of these units, is known to have had an association with John Hopkinson and possibly also Thomas Edison, because of the litigation between Joseph Swan and the American inventor.
TYPES OF BATTERY - PRIMARY & SECONDARY CELLS



Primary Batteries:

(cannot be recharged)

Zinc Chloride
Zinc Carbon
Alkaline
Oxy nickel hydroxide
Lithium Copper Oxide
Lithium Iron Disulfide
Lithium Iron sulfide
Lithium Manganese Dioxide
Lithium Copper oxyphosphate
Lithium Silver oxide+vanadium
Lithium Silver chromate
Lithium Carbon monofluoride pentoxide (SVO)
Li-I2
Li-CuO
Li-CuS

Li-MnO2 (Li-Mn, "CR")
Thionyl chloride
Li-SOCl2,BrCl, Li-BCX
Sulfuryl chloride
Li-SO2
Li-PbCuS
Li-Bi2Pb2O5
Li-V2O5
Li-Bi2O3
Li-CoO2
Mercury Oxide
Zinc-air
Silver Oxide
Plutonium batteries and other nuclear batteries

Secondary Batteries:

(can be recharged)

NiCd or NiCad Nickel-cadmium 1899
Lead Acid 1859
NiMH
NiZn
Alkaline (some are rechargeable)
Lithium-ion Li-ion
Lithium-ion polymer
Lithium titanium oxide
Lithium iron-phosphate Batteries
Lithium iron magnesium phosphate
Nickel-iron Batteries (NiFe)
NIH2
Ni-zinc
LiFePO4
Li sulfur
Li titanate
Thin film Li
ZnBr
V redox 10
NaS
Molten salt
Silver zinc (Ag-zinc)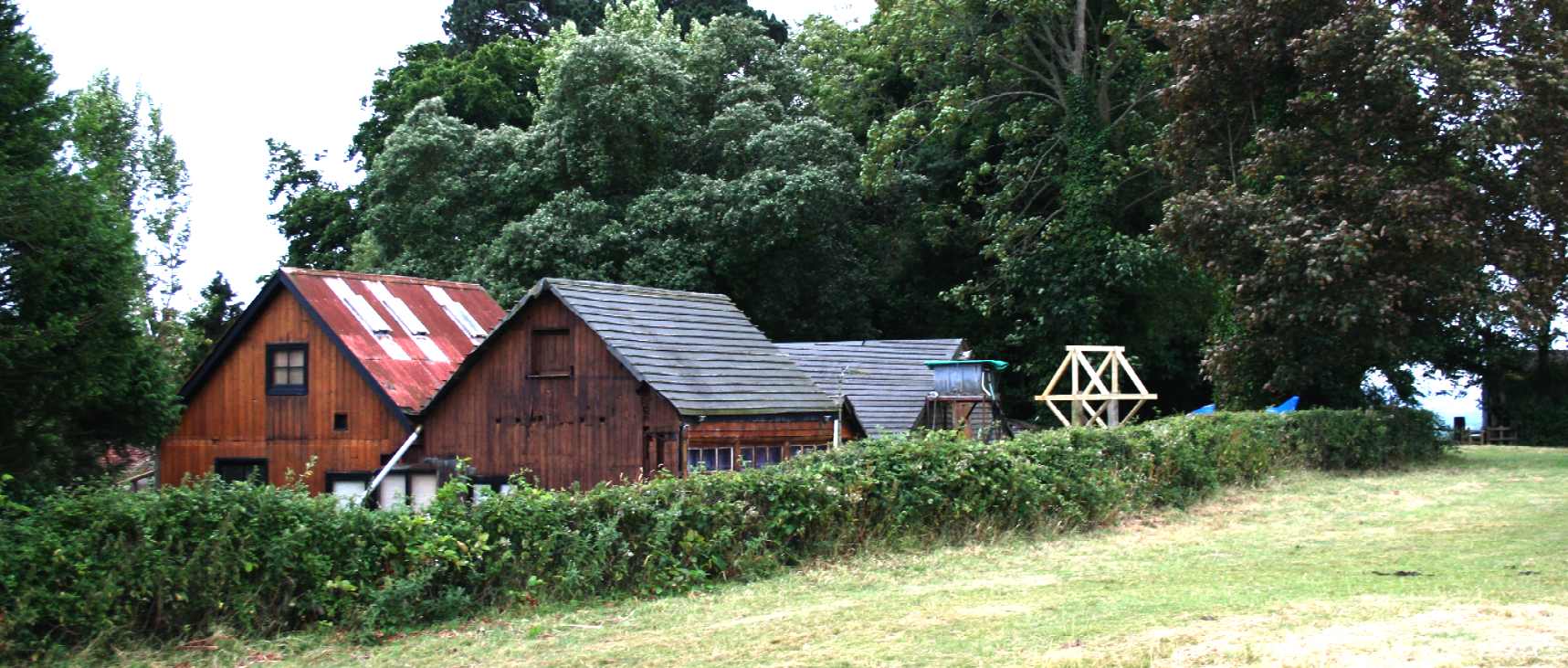 BATTERY BANK - The old generating rooms just outside of Herstmonceux village in Lime Park. The building on the left was the battery store. It is now a domestic store. The skylights were a necessary feature to ventilate the battery and generating rooms of fumes from the sulfuric acid when they charged which gave off an explosive gas.
This picture was taken some years ago when the Second World War covering of corrugated iron was first removed from the north facing elevation. Since then the perforated iron roof has been replaced with slate and vehicles on display in the grounds have been housed, along with other improvements that include solar water heaters and photovoltaic panels to provide heat and electricity from nature to be harvested for a sustainable future.
HERITAGE INDEX A - Z
AVIATION - EASTBOURNE
BARCLAYS BANKING LET DOWN - MISSING ACCOUNT MONEY
BARON CARL VON ROEMER & CHARLES de ROEMER
CAMPBELL HALL - BLUEBIRD ELECTRIC CARS
GAS ENGINES - COAL CONVERSION, INTERNAL COMBUSTION
OBSERVATORY - HERSTMONCEUX CASTLE
SOLAR LADY - STATUE
LINKS & REFERENCE
https://en.wikipedia.org/wiki/John_Hopkinson
https://en.wikipedia.org/wiki/Edward_Hopkinson
https://en.wikipedia.org/wiki/Austin_Hopkinson
https://en.wikipedia.org/wiki/Alfred_Hopkinson