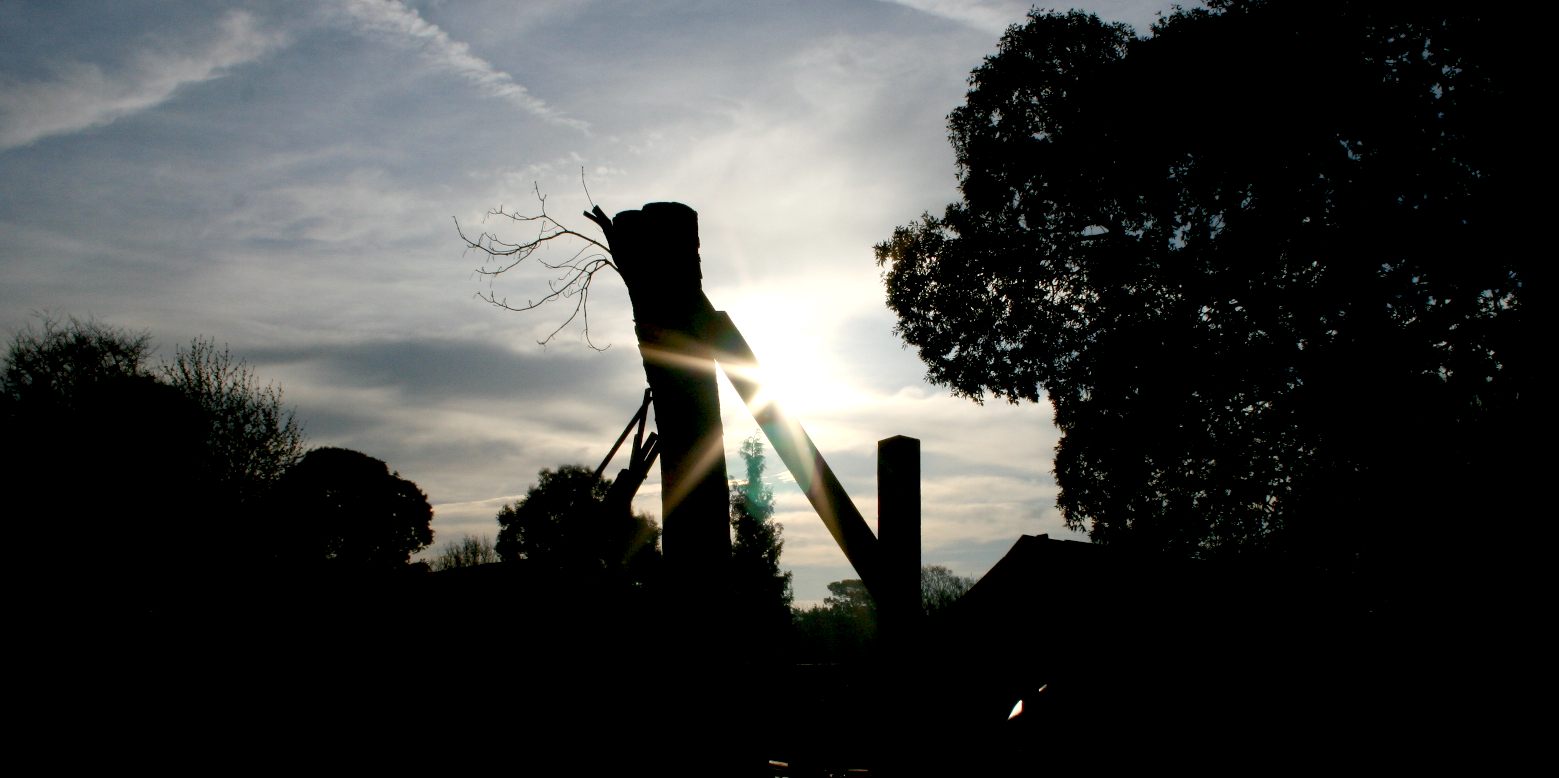 REGENERATION - There are signs of life in that new buds are appearing on the endangered sycamore. This tree is in the grounds of Herstmonceux Museum in Sussex just outside of the Lime Park boundary in no-mans-land - so previously, totally uncared for. As the Trustees love trees and natural surroundings, they have decided to pull out the stops and do what they can Copyright © photograph April 10 2017. You will need the permission of Lime Park Heritage Trust to use this picture. All rights reserved.
ANCESTRY
Many people would agree that we have many characteristics of monkeys and apes, and few would disagree with or try to deny their own natural urge to want to climb, whether that is a tree or a mountain. Our hand is designed for it, though we have lost our tails as have many monkeys.
As children we have fewer inhibitions and for this reason young humans will readily take to climbing trees (or frames) and swinging from ropes, when they have great fun doing what comes naturally.
ADVENTURE

Climbing frames and other features are becoming more popular all over England, Europe and across the globe, as adventure or theme parks spring up to cater for what is missing at home. That is to say, what most people cannot afford to make in the back yard and would never obtain consents for, and so have to travel to a designated gathering place to do what we used to do every day in our natural surroundings hundreds of thousands of years ago.
This natural urge is being bred out of us as children who are brought up in cities find it impossible to relieve themselves in the wild, and would rather walk several miles in severe discomfort to find a porcelain pot to urinate. Such traits reveal just how far we are removing ourselves from nature and how dependent we are on man-made conveniences for our survival.
MONKEYS & APES
Animals that live in, or climb trees as part of their everyday life are herded into zoos so that we can gawp at them, once again, at a designated location for convenience. As an educational tool and attraction zoos will always have their place in modern society provided that we treat the inhabitants humanely. Sometimes we treat captive animals better than we treat ourselves.
PUNY HUMANS - It is more than likely that our early ancestors possessed apelike strength, at least for the skeletal muscles - according to a recent study. Human brawn is much reduced, while other body tissues, like kidneys, have remained relatively unchanged over millions of years. Over the same time period, the brain evolved four times faster than the rest of the body.

A metabolic study pitted people against chimps and monkeys in contests of strength. The upshot, according to biologist Roland Roberts, is that "weak muscles may be the price we pay for the metabolic demands of our amazing cognitive powers."

Scientists have long noted that the major difference between modern humans and other apes, like chimps, is our possession of an oversize, energy-hungry brain. ("Human Origins Project.") It was the development of our brain that drove the evolution of our early human ancestors away from an apelike ancestor, starting roughly six million years ago.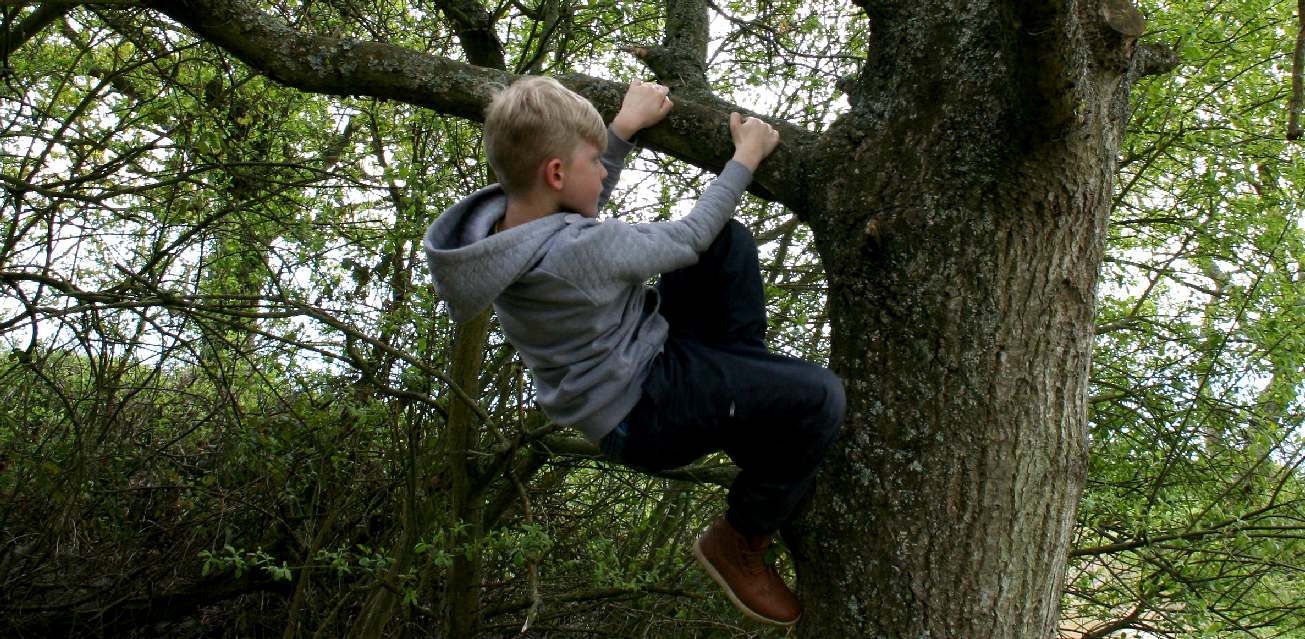 LITTLE MONKEYS - Humans love climbing trees when they are young. Some people maintain this urge and climb trees at every opportunity, despite health and safety regulations - and it is good exercise that promotes hand and eye coordination and builds muscle tone - apart from the sheer enjoyment of a good stretch.

COUCH POTATO - To confirm findings based on analysis of 10,000 metabolic molecules, researchers pitted people, chimps, and macaques against each other in a contest of strength.

All participants had to lift weights by pulling a handle. "Amazingly, untrained chimps and macaques outperformed university-level basketball players and professional mountain climbers," Roberts is quoted as saying. People were only about half as strong as the other species.

Looking for an explanation, the team also subjected the macaques to two months of a "couch potato" lifestyle: little exercise, high stress, poor diet.

At the end of the two months, a strength contest with the couch potato macaques found that the animals' strength hadn't declined much. In fact, the scientists deduced from those macaques that humanity's "soft" lifestyle accounts for 3 percent of the strength difference between people and monkeys. This appears to confirm the idea that weak muscles, along with a weakness for the couch - so conducive to brain-intensive exercises like watching movies and reading - could be our evolutionary inheritance.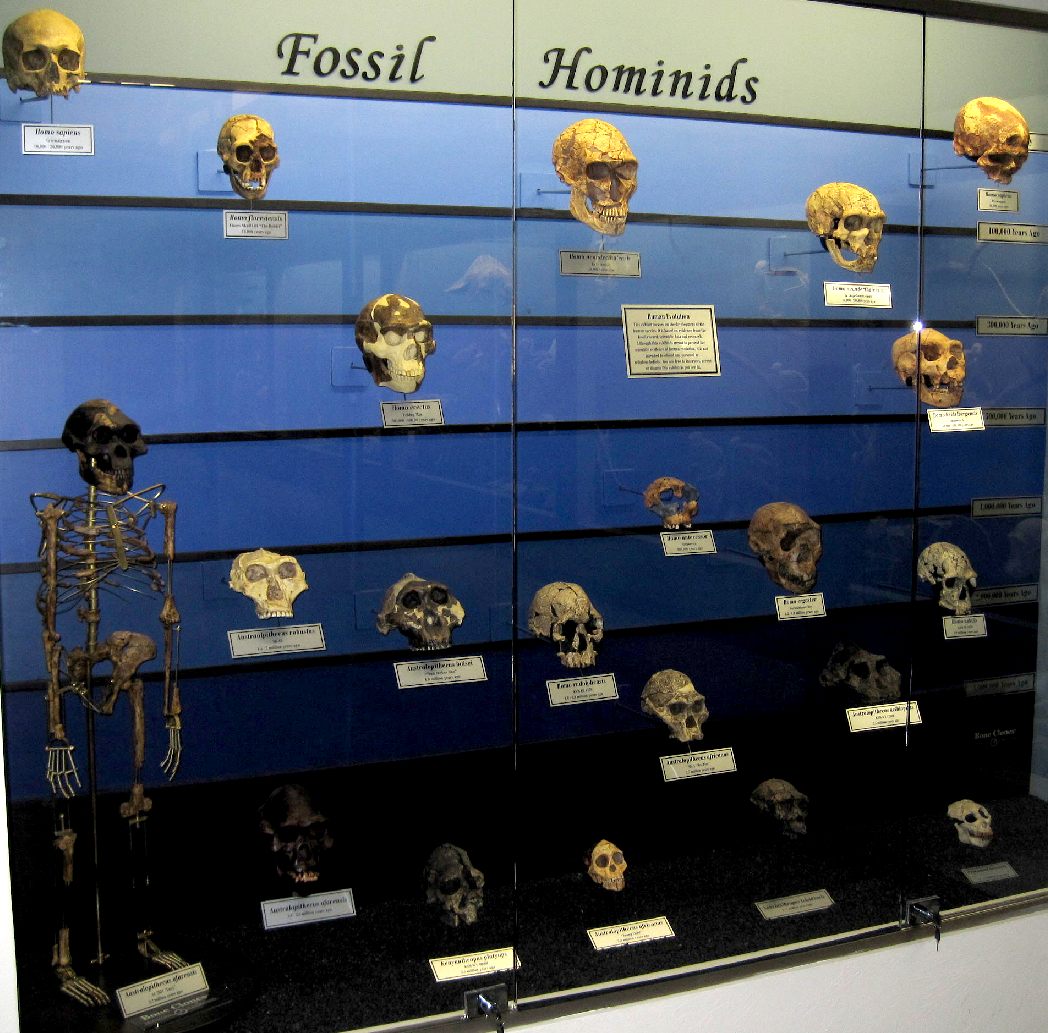 PALEOANTHROPOLOGY - Paleoanthropology or paleo-anthropology (from Ancient Greek: παλαιός (palaeos) "old, ancient", ἄνθρωπος (anthrōpos) "man, human" and the suffix λογία (logia) "study of"), the combination and a sub-discipline of paleontology and biological anthropology is the study of the formation and the development of the specific characteristics of humans (hominization) and the reconstruction of evolutionary kinship lines in the family Hominidae, by means of the study of fossils, such as petrified skeletal remains, bone fragments, footprints and associated evidence, stone tools, artifacts, and settlement localities. As technologies and methods advance, genetics plays an ever increasing role in paleoanthropology, in particular examining and comparing DNA structure as a vital tool of research of the evolutionary kinship lines of related species and genera.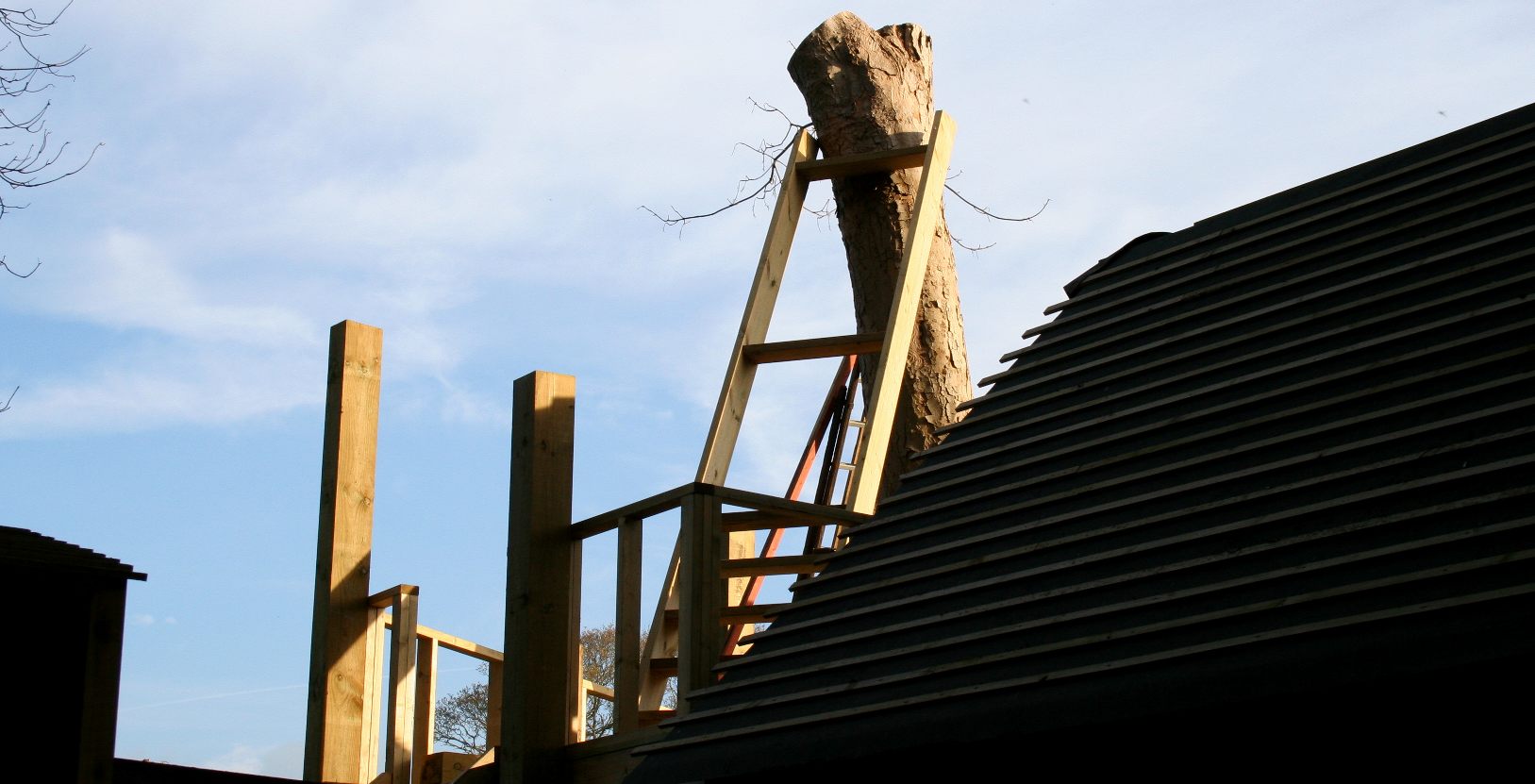 STAIRWAY TO HEAVEN - These steps (unfinished) can be used on any tree or building and can be moved around, but at the moment, with the anchors on the other side, form a triangle to help the tree grow surely on the path to recovery. Copyright © photograph April 10 2017. You will need the permission of Lime Park Heritage Trust to use this picture. All rights reserved.

HERITAGE INDEX A - Z
BARCLAYS BANKING LET DOWN - MISSING ACCOUNT MONEY
CAMPBELL HALL - BLUEBIRD ELECTRIC CARS
GAS ENGINES - COAL CONVERSION, INTERNAL COMBUSTION
OBSERVATORY - HERSTMONCEUX CASTLE
PETE NELSON - TREEHOUSE MASTERS
SOLAR LADY - STATUE
LINKS & REFERENCE
http://sussextreehouses.co.uk/outdoor-classrooms.html
http://www.theedinburghreporter.co.uk/2010/12/chimpanzanees-at-edinburgh-zoo-train-the-marines/